TV Watch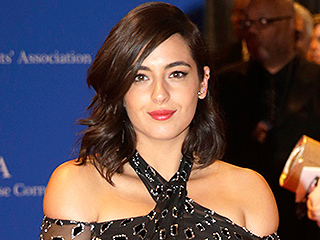 Credit: Getty
The actress and boyfriend Brick Stowell are expecting their first child
Mom always knows best.

In a bonus clip from Sunday night's premiere episode of I Am Cait, Caitlyn Jenner sits down with her two sisters, mom Esther and a therapist for families with a special focus on gender diversity, which leads to some powerful dialogue.

"At some point our society, our culture decided to be a binary society, which means you've got boys and you've got girls," counselor Susan P. Landon says. "That gets determined when children are born. The cluster of flesh, if you will, between your legs is what determines your gender. It doesn't. It determines your anatomical sex, but it does not determine your gender, okay? When I see children who are sort of taking information in from the time that they're born, and at 3 years old or 5 years old they say, 'You know what? I'm not who you told me I am,' that comes from an experience they feel inside."
Uncle Jesse and Aunt Becky forever!

John Stamos, who is reprising the beloved character of Uncle Jesse on the Netflix series Fuller House, took to Instagram on Monday to make our inner '90s child squeal.

Stamos, 51, posted a photo of himself holding hands with his television wife Lori Loughlin (a.k.a. Aunt Becky), and it has us saying "Have Mercy!"
It's the Battle of the Bens, featuring Jared and "Cupcake" – who will be the next Bachelor?

The Bachelorette season finale airs Monday, and fans are dying to know which of Kaitlyn Bristowe's handsome castaways could become the next Bachelor – something host Chris Harrison usually announces during the After the Final Rose special that follows the finale.

We've narrowed it down to the four picks with the most potential to land the coveted role of The Bachelor's season 20 leading man.
TV Watch