TV Watch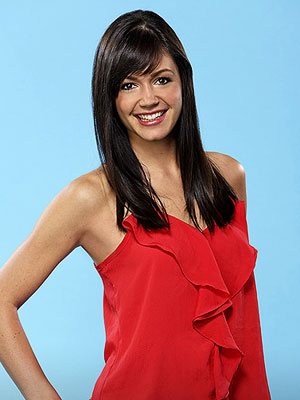 Credit: Kevin Foley/ABC
After a hometown date from hell, The Bachelor's Sean Lowe withheld the rose from early frontrunner Desiree Hartsock. The L.A.-based bridal stylist was devastated and the audience was stunned, but now the fan favorite will be the one handing out the flowers when The Bachelorette premieres May 27 on ABC. Although she would not say if her TV journey ended in jewelry, Hartsock spoke to reporters this week about her suitors, strategies and surviving Sean.

What did you learn from your experience on The Bachelor? Did you steal any of Sean's strategies?
I was able to put myself in the guys' shoes to really understand what they were feeling. From Sean, I [learned] to take each and every day separately and really focused on each and every relationship.

You seemed heartbroken when Sean eliminated you. Why put yourself through this very public experience again?
I was upset when Sean sent me home but that just showed the emotions are real and you really can fall for someone. But before going on this show, I had already [moved] past that and knew Sean and I weren't meant to be together. I figured why not give The Bachelorette a chance? I was honestly able to put my whole heart out there and just let it happen.
The Real Housewives Of New Jersey
Before the explosive new season of The Real Housewives of New Jersey premieres June 2 on Bravo, Andy Cohen is sitting down with the show's feuding stars to discuss a number of topics, including how close relationships were fractured.

Among them? Melissa Gorga's song, "On Display."

Apparently, her sister-in-law Teresa Giudice thinks the song – which Gorga wrote and recorded during her first season on the show – may be about her.

"So many people told me that," Teresa tells Cohen in a clip of Watch What Happens Live: NJ Housewives Tell All, airing Sunday (8 p.m. ET) on Bravo.

The issue is in the lyrics about being followed by paparazzi.
Time slowed down, and when the moment of truth arrived, Candice Glover and Kree Harrison both found themselves muttering the other's name – each believing the night belonged to their close friend and rival.

"I was saying her name, because I was just certain he was going to say it, so I was like, 'Oh yeah, Kree, Kree, Kree,' and she was like, 'No, Candice, Candice, Candice,' " a stunned Glover told reporters shortly after Wednesday's American Idol finale.

In the end, Harrison was right. But while there is only one American Idol, these two women both found, in each other, a friend for life.
There were plenty of divas on the stage at the American Idol finale Thursday night. But two of them had the distinction of being – at one time or another – judges on the show. (They're also both moms to twins!)

Mariah Carey and Jennifer Lopez took the stage during the two-hour musical extravaganza, which crowned Candice Glover the winner of season 12.

Mariah, dressed in a glittering, feathered gown and gobs of jewels, performed a medley of her hits, including "Vision of Love," "Make It Happen," "My All," "Hero" and "We Belong Together," as well as her new song, "#Beautiful." It was a fluttering – and, yes, pre-recorded – performance of vocal acrobatics from the singer and current judge.
The series finale of The Office took up an hour and 15 minutes of NBC's prime-time schedule Thursday night. The last quarter-hour had a special sentimental magic, as we got parting moments with each of the characters at the Dunder Mifflin paper company of Scranton, Pa.

The rest you could have fed into a shredder.

After a season that carefully worked out significant narrative strands – the ultimately inevitable ascension to manager of the insufferable Dwight Schrute (Rainn Wilson), the unexpectedly tender travails in the marriage of Jim and Pam (John Krasinski and Jenna Fischer) – this episode was poorly conceived and clumsily structured.

It really wasn't worthy of all the years of affectionate humor that had gone before it.
TV Watch
Get PEOPLE Everywhere
Advertisement