TV Watch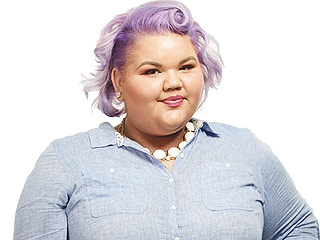 Credit: Barbara Nitke/Lifetime
Project Runway contestant Ashley Tipton wants to see a major change in the plus-size fashion industry.

"I feel like there's not enough clothing out there to show our personality, and just to be comfortable and to be fashion-forward and to be a trendsetter," the designer, 24, tells PEOPLE. "There are a lot of clothes out there for the straight-size woman to be able to show that, but in the plus-size industry, I don't feel like it's there just yet."

Tipton – who is the first designer to appear on the show that specializes in plus-size apparel – was actually inspired to pursue her dreams by all the bullies who told her she'd never succeed at anything.

"When people told me that I couldn't do something, I wanted to always prove them wrong," she says. "That comes a lot from people always bullying me because of my size, and not thinking that I could do anything to impact the world or inspire other people. I feel like this first episode is showing that what they've done to me in the past does not affect who I am. I'm still going to do what I want to do."
The Real Housewives of New York City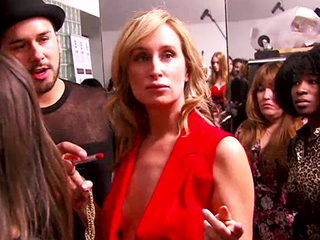 It was a major fashion don't on Tuesday's episode of The Real Housewives of New York City.

Sonja Morgan debuted her fashion line at New York Fashion Week, and the wheels nearly came off the clothing rack before the models were in their outfits.

"I'm hoping Sonja pulls this off," said Dorinda Medley. "I think she's going to pull that rabbit out of her hat."

But there was no magic behind the scenes.
Jessa (Duggar) Seewald may be eagerly awaiting the arrival of her first baby, but on Tuesday she spent some quality time with her newest niece, Meredith Grace Duggar.

"Loving my little niece," Seewald Tweeted, along with a photo of her holding the 3-week-old baby in her arms.

Seewald's brother Josh Duggar and his wife, Anna, announced Meredith's birth via social media on July 19. She is the couple's fourth child, after daughter Mackynzie, 5, and sons Michael, 4, and Marcus, 2. On Wednesday, Josh and Anna were photographed eating dinner out with Meredith in tow.
Six seasons and a movie? That's an affirmative for Community if Ken Jeong has a say.

Joel McHale may have broken the news that the sitcom will not be returning to air after its most recent season on Yahoo (where it moved after NBC announced the show's cancellation in 2014), but his former costar says he hopes fans haven't seen the last of the cast.

"I would love to do a movie," Jeong told press at ABC's summer press tour. "I think a movie would be amazing."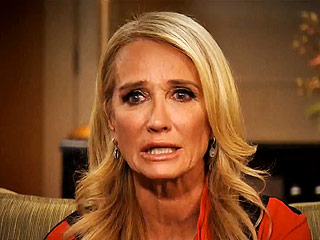 It's been a bumpy year for Kim Richards.

The former star of The Real Housewives of Beverly Hills, who left rehab in June, was arrested on Sunday for allegedly shoplifting close to $600 from Target, and a source close to Richards says her behavior of late has been increasingly bizarre.

"No one understands what she's doing," says the source, who adds that Richards is still not speaking to sister Kyle. "Her family is so concerned. And they're fed up. She's cut herself off from friends and family who care about her."
I Am Cait Recap: Caitlyn Jenner Isn't Ready to 'Expose' Herself in a Swimsuit