TV Watch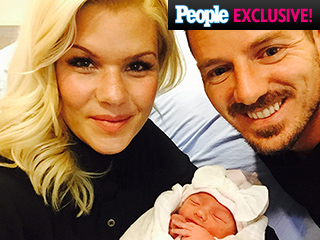 Credit: Courtesy Caldwell Harvey Family
The singer and husband Jordan Harvey welcomed their first child, daughter Harlow Monroe, on Wednesday
Joe Giudice knows how he and wife Teresa will be spending their time when she returns home from prison.

"We'll be spending a lot of time in the bedroom for awhile, that's for sure," the Real Housewives of New Jersey husband said with a smile during an interview on Thursday's E! News. "Every night until I go in."
Remember bad boy Damon Salvatore? He's back and boozier than ever in Thursday night's Vampire Diaries season 7 premiere.

The episode opens with Damon (Ian Somerhalder), whose soulmate Elena (Nina Dobrev) is asleep in a tomb for the next 60 or so years, partying in Amsterdam with Alaric (Matthew Davis), whose fiancé and unborn twins were slaughtered on their wedding day.

Though Damon is missing Elena, he's focused on getting Alaric through his tragedy – with some liquid courage.
At just 2 years old, identical twins Emelia and Layla Golfieri have already made their television debut.

The girls – who were discovered by a talent manager during a trip to the grocery store – landed their first print ad at 6 months. Now they share the role of Edie, acting alongside John Stamos and Josh Peck in Fox's new comedy Grandfathered.

"The actors are so great in this show that they really bring out the personalities of the girls – when you're watching that's truly Layla and Emelia," mom Nicole, 31, co-owner of an Los Angeles-based consulting firm, says of her little ones with husband Valter, 42, a yacht captain and dock master.
Neil Patrick Harris: 'I'm the Bad Cop' When It Comes to Parenting the Twins