TV Watch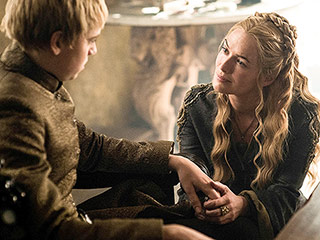 Initial thoughts…

– Maester Aemon had the most shocking death yet on Thrones: Natural causes! No gushing blood or swords or eye gouging. Just a peaceful death from old age (but I half expected the next scene to be Jon Snow walking into Aemon's office and going, "Hey Aemon, I wanted to ask you who my real mom is – Aemon?").

– Sam lost his virginity after defending Gilly from being attacked. Our heads are spinning. Last week Sansa thought she was going to lose her virginity to her new husband, then got brutally raped. Now Gilly thought she was going to get gang-raped, yet helps Sam lose his virginity instead.

– How angry did Sansa's bruises make you? How much do we hate Ramsay at this point? Did everybody come back this week despite their anger? Show us on the doll where Game of Thrones hurt you.
Within the Kardashian-Jenner clan, reactions to Bruce Jenner's transition from male to female have been supportive but wide-ranging.

As we saw in last week's Bruce-focused Keeping Up with the Kardashians, Khloé Kardashian reacted to the news of Bruce's transition by being upset with him for not being straightforward about how soon he intended to fully transition.

As shown on this week's KUWTK, Kylie Jenner – Bruce and Kris' youngest – went the complete opposite direction and withdrew into herself.

When Khloé suggested therapy, Kylie demurred, saying that she had no real intention of working through her feelings in that way and that therapy only works for people who want it. However, she admitted, "I feel like I go through these times where I hate my life."
TV Watch
Get PEOPLE Everywhere
Advertisement