TV Watch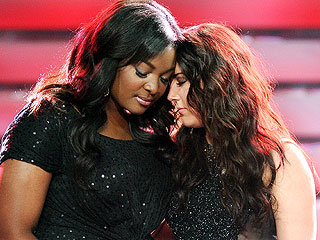 Credit: Frank Micelotta/PictureGroup
After months of auditions, eliminations, performances and judges' feedback, American Idol finally has its season 12 winner.

Candice Glover and Kree Harrison each performed three songs on Wednesday night – a favorite of their choice from the season, one picked by producer Simon Fuller and the song that would become the winner's first single – in front of fans, friends, family and the Idol judges at the Nokia Theatre L.A. Live.

Mariah Carey said, "It's going to be very, very difficult for America" to decide a winner. Indeed, PEOPLE readers voted, giving R&B diva Candice only a slight edge over authentic country girl Kree.

So, who's the winner? Candice Glover is the new American Idol! And Kree Harrison is season 12's runner-up.
Known for its bombshells and cliffhangers, Scandal's season 2 finale was far from an exception.

The edge-of-your-seat political drama had even its cast in shock – especially at the very end.

"The last word [dropped my] jaw," Scott Foley, who plays Jake Ballard, told PEOPLE at the Academy of Television Arts & Sciences in North Hollywood shortly before the big episode aired.

"What? No. Oh, my god! There are so many questions that are answered and then these new questions pop up and we were all so taken aback. It was right there in front of us and we didn't know! It was right there."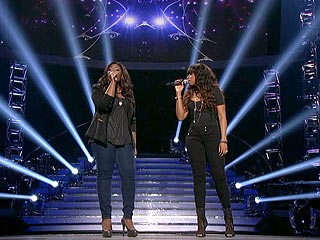 One of the biggest stars to grace the stage at the American Idol finale on Thursday night was the talent competition's own Jennifer Hudson.

The Oscar- and Grammy-winning performer – looking super slim in a black top and black jeans – took the stage to sing "Inseparable" with finalist Candice Glover.

Though Hudson, who was shockingly eliminated from the top seven of season 3, belted out high note after glorious high note, she let Candice, 23, have her a moment in the spotlight at the end of the song when she stood back and said, "Sing it, Candice."

And sing it she did! Candice held her own, hitting the final notes of the Natalie Cole song.
It couldn't be closer.

Candice Glover and Kree Harrison are in a virtual dead heat as they prepare to find out Thursday night which of them will be the next American Idol.

At this stage, it's less a battle than the final leg of a journey for these two powerful singers, who have become close friends – Harrison even fell asleep on Glover as they lounged around watching TV on Tuesday night, ahead of Wednesday's final performances. ("We just chilled and then she ordered some food," Candice told reporters Wednesday. "Me and Kree are, we get our fix by like coming to the center and knowing what we have to do the next day and getting as much rest as we possibly can.")

Each of them wants to win, of course, but neither seems to feel like the favorite.
She's ready for her close-up!

Christina Aguilera Tweeted a photo from the set of her new video on Tuesday, giving fans a clear look at her slim figure.

"On set shooting music video with @Alexoficial for #HoyTengoGanasDeTi," she writes.

In the image, The Voice judge, who will return as a mentor when season 5 picks up Sept. 23, shows off her curves by posing in a black bra and skin-tight skirt.
CBS is the warrior king of networks, and its upfront typically feels like the ritual unfurling of an illustrated tapestry of conquests.

This year's event included the cast of How I Met Your Mother, now heading into its final season, singing a parody of Les Misérables beneath yellow umbrellas on the Carnegie Hall stage.

David Letterman, who is now the official anti-Jimmy of late night, made a brief (and rare) appearance, and Robin Williams, a high-profile addition to the lineup with a new sitcom called The Crazy Ones, gave the crowd a few moments of fast-riffing standup. He mentioned prostitutes, cocaine, FOX News and the notoriously bizarre variety show Pink Lady and Jeff.

Here are three shows that struck me as keepers, at least for as long as the audience will have them.
The entire season of American Idol came down to three final performances from two dueling divas, country crooner Kree Harrison and R&B singer Candice Glover, on Wednesday night at the Nokia Theater L.A. Live.

At the end of the night, Mariah Carey summed up the competition best. After noting that both women offered something special, she said, "It's going to be very, very difficult for America tonight."

But before one note was sung, Kree seemed to have an edge – she got a more rousing round of applause when host Ryan Seacrest asked the studio audience to cheer for their favorite. Then round one seemed to change up the momentum. Here's how it all played out ...
It's an American Idol showdown!

Season 12's top two, Kree Harrison and Candice Glover, are facing off Wednesday on the final night of competition at the Nokia Theater L.A. Live. And they couldn't be more talented – or different. Kree has an authentic country vibe while Candice is pure R&B diva. They each will sing their "coronation song," a song of their choice from the season and a song chosen by producer Simon Fuller.

Judges Keith Urban, Nicki Minaj, Mariah Carey and the departing Randy Jackson are definitely making their opinions known as the contestants sing one more time for America's votes. But we want to know what you think about the all-female finale as it's happening.

Tweet your thoughts @peoplemag and your comment may end up right here on People.com.
Ingo Rademacher wasn't wiping away any tears over his Dancing with the Stars semi-finals elimination on Tuesday night.

"I'm really happy that I don't have to learn two or three of those dances [next week]," the actor told PEOPLE just after his dismissal, while attending the show's 300th episode celebration at Boulevard 3 nightclub in Hollywood.

"I'm sore, I'm tired and this is it. We're going to have a party tonight while everyone else has to worry about choreographing. I'm really going to party."
TV Watch
Get PEOPLE Everywhere
Advertisement