TV Watch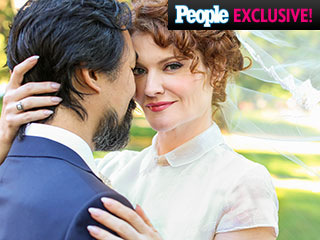 Credit: Shannon Cronin
Devious Maids star Rebecca Wisocky said 'I do' to award-winning theatrical lightning designer, Lap Chi Chu in Boston on Oct. 10.


On Monday night, Harris posted photos on his Instagram account of the massive birthday cake he and Burtka created for their twins
It's been over three months since Kourtney Kardashian and Scott Disick broke up – and it looks like things might really be over for good.

"Kourtney really seems finished with Scott this time," a source tells PEOPLE.
As a mother of two, reality star Nicole "Snooki" Polizzi couldn't imagine having to leave her children behind for months at a time. And because of that, she feels sympathy for Teresa Giudice, who has been parenting from prison for the last 10 months.

"I mean, dude, it's hard – imagine your mom going to jail when you're a kid," the star told PEOPLE Now.
Amy Schumer says she didn't mean any offense by making Khloé Kardashian the butt of the joke in her Saturday Night Live monologue.

"Nothing but love for that family. I like idea of sending women the message to be happy in their own skin," the comedian tweeted late Monday night, along with a photo of her adorable baby niece known as "the Dutchess."


Nothing but love for that family. I like idea of sending women the message to be happy in their own skin. #peace pic.twitter.com/95KJVdRY6i

— Amy Schumer (@amyschumer) October 12, 2015
Her message comes a day after Kardashian, 31,
defended her 35-lb. weight loss
on Twitter: No need 2 tear down others just 2 make urself feel bigger. It actually makes u quite small. I'm on a healthy journey. I don't care 4the hate."
NBC's ties with Donald Trump appear to be temporarily uncut.

The presidential hopeful is set to host Saturday Night Live on Nov. 7, the network announced on Tuesday.

Trump hosted the show in April 2004 (check out his monologue from more than a decade ago here) to plug his reality competition series The Apprentice before its debut, delivering what would become his famous catchphrase: "You're fired!"

The musical guest on Trump's upcoming episode will be artist Sia, who will be making her second appearance on the show.
There's a new Flash in town.

In Tuesday's new episode of The Flash, Barry Allen (Grant Gustin) meets Jay Garrick (Teddy Sears), the Flash from a parallel Earth who has traveled to our Earth to warn Team Flash about the villain Zoom (voiced by Tony Todd) and to help them save the world. At first, Barry isn't willing to accept Jay's assistance.

"Barry and Jay don't necessarily hit it off right away," Gustin tells PEOPLE. "Barry's a little bit apprehensive just because of how things turned out with his last mentor in season one, obviously with Dr. Wells."
Steve Carell does not mess around when it comes to Halloween.

The Freeheld actor, 53, told Ellen DeGeneres during an appearance on her show Tuesday that he lives in a neighborhood infamous for going all-out on the night of the dead, so the pressure to scare is at an all time high.
Neil Patrick Harris: 'I'm the Bad Cop' When It Comes to Parenting the Twins