TV Watch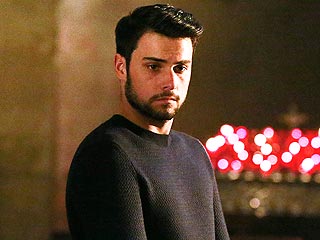 Credit: Mitchell Haaseth/ABC
No, you didn't dream it.


Tony Dovolani gives credit where credit is due – to his wife, Lina.

"My wife is my rock," Dovolani, the longest-running dance pro on Dancing with the Stars, tells PEOPLE.

"She is the most amazing person I have ever met in my life. She takes care of the kids. She takes care of the house. She makes sure that I am successful. If I didn't have her, I don't think I would be where I am today," he says. "Marrying her is probably one of the best decisions I have ever made in my life."
As Glee nears its series finale, both Gleeks and the cast have begun to mourn.

Jane Lynch – whose character Sue Sylvester reinvigorated the art of the snippy one-liner and made track suits acceptable office apparel – tells PEOPLE she was flooded with emotions while filming the show's final episode last Saturday.

"It was waterworks," admitted the Emmy winner, 54, who teamed with the ASPCA and Febreze on Wednesday to educate pet owners against the affects of noseblindness.

"There are some takes I'm sure they can't use because we were all weeping," she continues. "It was hard to get through."
Ice T has one of the most distinctive voices in pop culture. And whether you know him more as a rapper or a detective on Law & Order: SVU, you're bound to recognize that iconic rasp, even if it were coming out of, say, a G.I. Joe character.

That was the theory Jimmy Fallon set out to test on Wednesday's Tonight Show, anyway.
Stephen Fishbach was the runner-up on Survivor: Tocantins and has been blogging about Survivor strategy for PEOPLE since 2009. Follow him on Twitter @stephenfishbach.

"This game is about who you are. Your character is your strategy." –Rafe Judkins, Survivor: Guatemala

Survivor is back for another season of terrible liars, over-attached creeps, self-aggrandizing loudmouths – and a couple of smart gamers.

The big twist this season is that contestants are divided into three tribes: White Collar, Blue Collar, and No Collar. White Collars make the rules; Blue Collars follow the rules; and No Collars break the rules and give uncomfortably long hugs.
[BRIGHTCOVE "4080855867001" "" "" "auto"]
The Louisianimals are back, y'all!

After the Party Down South crew tore through South Carolina and Georgia in seasons 1 and 2, now they're taking their traveling show to Mississippi, where Ryan (a.k.a. "Daddy") promises, "I'm about to throw down so hard. Them last summers? We're going to make them look like kindergartners, man."
Melissa Rauch is justly adored from her starring role in The Big Bang Theory, but beneath that innocent exterior, Rauch is hiding a racy past.

Exhibit A: The star brought some home movies of her childhood to Conan Wednesday night, including this clip of her singing a very age-inappropriate song from A Chorus Line.
Sean Lowe and Catherine Giudici celebrated their first wedding anniversary last month and continue to keep the romance alive with fun date nights.

"But we can't just go out to eat," Lowe, 31, told Hudson and Emily. "She needs it to be really intentional and have a lot of thought behind it." He adds, "She's all about themes."

For example: "If she wanted to go have Chinese food, she might want to go see Chinese lanterns in the park afterwards," says Lowe, 31.
"Isn't that a good wig?" Julianna Margulies asked David Letterman Wednesday night on The Late Show.

She was talking about the wig she apparently wears on The Good Wife, which was a surprise to us – and to Letterman.

"That's fantastic," he responded. And it is. It should be, for what it cost.
TV Watch
Get PEOPLE Everywhere
Advertisement