TV Watch
Blake Shelton's hosting stint on Saturday Night Live played largely around his strengths: Charm, a willingness to play ball and that big ol' grin.


Considering how much it dominated the public conversation this past week, it was a given that Saturday Night Live was going to take on the New England Patriots and the football controversy people have dubbed "DeflateGate."

The show quickly cut to the chase on Saturday's show, using the scandal as fodder for the episode's cold open.
Kylie Jenner is keeping mum about the upcoming season of her family's reality show, Keeping Up with the Kardashians, but she did put to rest one rumor swirling around her.

"I haven't dropped out of school," Jenner told PEOPLE on Friday night during the grand opening of the Sugar Factory American Brasserie in Rosemont, Illinois, just outside Chicago. "I still go to school every day."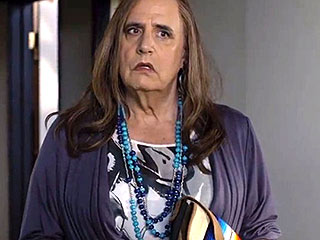 Amazon announced Thursday that it will offer the entire first season of the hit series Transparent for free.


Is the world ready to see John Stamos as a grandfather?

Fox has ordered a pilot starring the Full House alum as a longtime bachelor who suddenly discovers that he's not only a father … but a grandfather.

At a very youthful 51, it's hard to wrap our heads around seeing Stamos play a grandpa, but the Hollywood Reporter says that the series will show the actor playing a version of himself.
When fandoms collide!

Game of Thrones actress Sophie Turner will be joining the cast of X-Men: Apocalypse, director Bryan Singer confirmed on Twitter on Thursday.

While Sansa Stark is definitely a strong character in her own right, we wouldn't mind watching Turner, 18, suit up and unleash some mind-control powers on her enemies.

Also announced was the casting of Alexandra Shipp as Storm and Tye Sheridan as Cyclops.
The 'Batch is back!

Benedict Cumberbatch, once the Internet's boyfriend and now an Oscar-nominated global sensation, has returned to the role that initially broke his career – the charming, asexual, modern day Sherlock Holmes.

In between attending awards shows in Hollywood for his role in The Imitation Game, the newly engaged actor has been seen filming in London with costar Martin Freeman for a one-off Sherlock special set to air later this year.
Looking hot in a cleavage-baring black dress, Jennifer Lopez was in a sharing mood on Thursday as she got chatty with Andy Cohen about her famous exes.

Now single, Lopez, 45, struck a candid note on Watch What Happens Live as she dished on her past while also confiding that, yes, she'd be open to dating another younger man in the wake of her split with Casper Smart, who is 18 years her junior.
Before the catfights and controversy of The Real Housewives of Beverly Hills, Kim Richards was a celebrated child actress. Now, the reality star is back with a guest-starring role on ABC's Revenge.

In the episode, airing Sunday, Richards plays Stephanie, a socialite pal of Victoria Grayson's who is also a member of Nolan Ryan's beach club.
TV Watch
Get PEOPLE Everywhere
Advertisement