TV Watch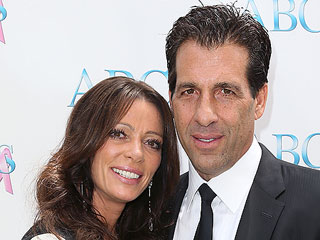 Credit: David Livingston/Getty
Former Real Housewives of Beverly Hills star Carlton Gebbia has separated from her husband, David, a source close to the reality star confirms to PEOPLE.

"Carlton and her husband have recently separated but are living together under the same roof for the wellness of their children," the source tells PEOPLE of the couple, who have been married for 18 years.
For the second time in herstory, RuPaul's Drag Race is running an all-star season, bringing back 10 of the most popular non-winners from previous seasons for another chance at the crown.

While the show will have big changes – including the dissolution of the widely-criticized team competition that plagued the first All Stars season – none are as welcome as new permanent judge Todrick Hall.
Larry King and his wife were struggling in their marriage for some time before news surfaced of her alleged infidelity, a source tells PEOPLE exclusively.

"Things have not been great with Larry and Shawn for a long time," the source reveals of growing distance between the TV legend, 82, and his seventh wife, 56.

"They've been extremely unhappy for years," adds the source. "They've been living in separate bedrooms for a while."
The KUWTK stars share inside their beach getaway
The father of a Florida State University student accused of stabbing a married couple to death last week, before allegedly attempting to bite chunks off of one of their faces, is speaking out in an emotional sit-down with Dr. Phil McGraw.


Kassie DePaiva has gone public about her battle with cancer.

On Thursday, the Days of our Lives star took to her website and shared with fans the reason she's been "quiet" lately. The actress was diagnosed with Acute Myeloid Leukemia in July and sought treatment right away.

"I know that I have been quiet lately and I want to let you know what's been going on in my life," her post began. "I was asked back to play Eve on Days and had begun my exciting return. During the 3-week July hiatus I was diagnosed with Acute Myeloid Leukemia and have spent 6 of the last 9 weeks in the hospital. I will continue treatment over the next 3 months."
TV Watch