TV Watch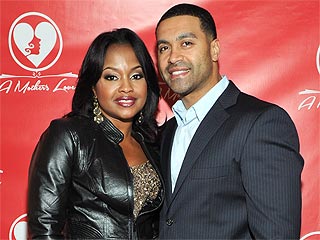 Credit: Prince Williams/FilmMagic
One place Phaedra Parks is planning to visit this holiday season? Prison.

When TMZ cameras asked the Real Housewives of Atlanta star if she was planning to let sons Ayden, 5, and Dylan 19 months, visit her estranged husband Apollo Nida in jail over the holidays, Parks made it clear there's no more bad blood between the two.

"I would love to," she said. "I have sent him a Christmas card and everything. I speak to him all the time."
After nearly 10 years on the air, The Colbert Report ended its run Thursday with a star-studded farewell for its host, Stephen Colbert. (Or "Stephen Colbert," as it were.)


He went out like he came in – in absurdly epic fashion.

Stephen Colbert, who perfected biting political satire as the faux-bloviating host of The Colbert Report, wrapped up the Comedy Central show Thursday night after almost a decade on the air. And he had plenty of friends around to send him off right.
Can a girl get a better Christmas present than a kiss from George Clooney?

And not just any kiss. If you happen to be the Countess of Grantham, you get to enjoy a Clooney smooch the full length of your left arm from wrist to shoulder.
[YOUTUBE "g0gbPuuPPyg"]
Neil Patrick Harris's character in American Horror Story: Freak Show is really terrible at the saw-a-woman-in-half trick.

In the first sneak peek at NPH's character in Freak Show, Elsa (Jessica Lange) tells her freaks that Chester (Harris) is the new owner of their show as she preps for her big move to Hollywood. (Or so she thinks, anyway.)

Bette and Dot (Sarah Paulson) seem to have moved on from Dandy and Jimmy, respectively, and have taken a shine to Chester. "With every reason to hide themselves away," Dot intones in a voiceover, "the freaks believe in absolute pleasure – the very thing we've been taught to deny ourselves."
Paradise has ended for Cody Sattler and Michelle Money, who met on ABC's Bachelor in Paradise over the summer.

While former castmates Marcus Grodd and Lacy Faddoul have wedding bells in their future, Money and Sattler took to social media Thursday to share that they have split after six months together.

"Cody and I have decided that we are going to move on from our relationship," Money, 34, wrote on her Facebook page. "I feel very blessed and fortunate to have shared such beautiful memories with such an incredible guy. ... This decision has been a very difficult one to make, to say the least."
Stephen Fishbach was the runner-up on Survivor: Tocantins and has been blogging about Survivor strategy for PEOPLE since 2009. Follow him on Twitter @stephenfishbach.

"So I did what I had to, I made huge moves, I dug around for the idols to make sure nobody else had them, and I won challenges when I absolutely had to. Everything I did was strategic, nothing was out of malice, and I'm here – day 39 – because Rachel made that sacrifice." – Tyson Apostol, Winner of Survivor: Blood vs. Water

In a humdrum season, we actually have a great winner.

On Survivor's season finale Wednesday, Natalie Anderson plotted and finessed her way to a million dollars and the title of sole survivor.
One thing you can say for Nicki Minaj is that she's never boring – and that goes for her raps and her wardrobe.


Although Survivor: San Juan Del Sur was an uneven entry in the long-running reality show, the season finale had its share of blindsides and backstabbing – and, ultimately, a satisfying winner.

At the beginning of the final episode, it looked as though former Miss Michigan USA Jaclyn Schulz would be the next to go – and she would have been, had perennial CBS reality star Natalie Anderson not saved her with her immunity idol.

After Schulz won the final immunity challenge, the tribe voted out likable Louisiana firefighter Keith Nale, leaving an all-female final 3. At the final tribal council, Schulz, Anderson and Texas cheerleading coach Missy Payne answered the pointed questions of the jury.
TV Watch
Get PEOPLE Everywhere
Advertisement