TV Watch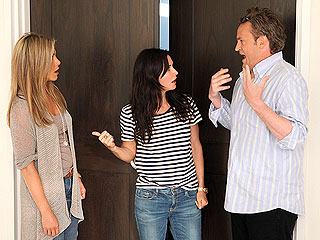 Credit: Michael Rozman/Warner Bros.
A little too friendly?

That was the scene for Jennifer Aniston when she sought some impromptu hosting advice from her former Friends costar Matthew Perry in a funny new skit to promote her Wednesday gig as co-host of The Ellen DeGeneres Show.

In the clip (watch it below), Aniston knocks Perry's door to get some tips from her former castmate, who also has co-hosted the show.

"We haven't actually seen each other in like a really long time, 8 years. ... You really should have called," said a nervous Perry, who looked on sheepishly as their mutual pal and former costar Courteney Cox emerges from his house after an obvious sleepover.


While Kellie Pickler says she had no sense she would win the mirror-ball trophy Dancing With the Stars, her fellow contestants said there were clues all along the way that she would be a star on this season's show.

Country singer Pickler, 26, who rose to fame on the fifth season of American Idol, said her ballroom strategy was to focus on being in the moment each week, not on the long-term outcome.

"I just tried to take it one week at a time, one dance at a time," the North Carolina-born Pickler told PEOPLE after her victory, with her partner Derek Hough at her side.
Oklahoma native Blake Shelton drew on the comfort of his wife Miranda Lambert on The Voice Tuesday night as the couple opened the results show with a touching duet tribute to those affected by Monday's devastating tornadoes.

Shelton, 36, and Lambert, 29, delivered a touching and somber "Over You" as the show called its fans to donate to the Red Cross and its relief efforts for victim families and survivors of the deadly storm, which smashed into Moore, Okla., about 100 miles from the couple's home.

"I think "Over You" was the perfect song for this situation," Shelton said after the show. "The moment was right. I wish things could have been different. I wouldn't have thought about performing a song like that, but it seemed like the right thing to do."
Being the first one eliminated on the last night of competition was rough for Dancing with the Stars contestant Alexandra Raisman.

"I'm sad it's over," Mark Ballas's partner, 18, told PEOPLE in the ballroom immediately after Tuesday's finale. "Right when they announced [our elimination], it was just heartbreaking. You work so hard and everyone wants to win."

Fortunately, after news of the fourth-place pair's dismissal sunk in, Raisman had a new outlook on the situation.
On Tuesday, Dancing with the Stars named its season 16 champions.

At the end of Monday night's episode, Zendaya and an injured Val Chmerkovskiy received perfect 30s for both of their full-length routines, and then tacked on an additional five points to their score for winning the cha cha relay.

But only one point below the highest scoring pair were Kellie Pickler and Derek Hough, who earned perfect 30s for their routines, which included a dramatic freestyle number that had viewers in tears. They came in second place during the cha cha relay, and scored four extra points.

Below them were Alexandra Raisman and partner Mark Ballas, followed by Jacoby Jones and Karina Smirnoff.

And the winners are Kellie and Derek!
The Voice said goodbye to two more contestants Tuesday night, leaving just eight skillful singers in the competition.

The tragedy in Oklahoma once again took center stage at the top of the show when coach Blake Shelton, an Oklahoma native, and wife Miranda Lambert delivered a heartfelt version of her song, "Over You," dedicated to the victims of the devastating tornado.

Later, host Carson Daly presided over the tense eliminations, as the saved artists were slowly revealed over the course of the show.

So who went home Tuesday night? Read on to find out ...
Zendaya's elbow went flying, and Val Chmerkovskiy's night was suddenly in jeopardy.

But Chmerkovskiy, 27, being the pro that he is, soldiered on after the accident in dress rehearsal for Monday's Dancing with the Stars left him with a deep gash over his right eye that almost sent him straight to the hospital before the first night of the season 16 finale.

"That's what I was worried about," he told PEOPLE after the show. "It's going to keep pouring, pouring, pouring, and I'm going to need stitches. If I was going to have to go get stitches, then I wouldn't have time to make it back. So thank God the blood subsided."
It wasn't just teary-eyed viewers who were left speechless after Kellie Pickler's flawless, dramatic freestyle performance with Derek Hough on Monday night's Dancing with the Stars finals. The country starlet herself was also at a loss for words.

"I just feel like I let all of my walls down and I just got out there and just did my little dance," Pickler, 26, told PEOPLE backstage after her performance. "I just let myself go. There was a freedom, in a sense, that I felt. I really don't even know how to put it into words. Regardless of what happens tomorrow, I feel like I've accomplished so much being here."

Hough, 28, who admitted he and Pickler struggled with the routine during rehearsals, said, "We were super, super nervous, but right before we went on there, I kind of gave Kellie a little pep talk. I was just like, 'This is your dance. There is nobody here that can do this dance but you. This is what you're meant to do.' "
Competition tightened for the top 10 on Monday's episode of The Voice, with star potential growing as singers showed off deeper range and greater confidence in their performances.

As rescuers searched for survivors of Monday afternoon's Oklahoma tornadoes, Voice host Carson Daly offered a shout out of support to all affected by the tragedy.

Oklahoma native Blake Shelton said his family is safe but that the violent, massive storm made it hard to focus on the competition.

"They are going through hell right now," Shelton said. "It's bad news. [But] I've got a job to do and the team is counting on me."
The final four couples performed three routines each on Monday's Dancing with the Stars. By the end of the night, one pair were in the lead with a perfect score for all three dances.

However, the episode kicked off with an imperfect – though energetic – jive.

Karina Smirnoff and partner Jacoby Jones – who judge Carrie Ann Inaba previously called "the number one entertainer of season 16" – were told by judge Len Goodman that they showed improvement, but that "you got excited at times and lost it."
TV Watch
Get PEOPLE Everywhere
Advertisement