TV Watch
The Real Housewives of New York City
Lesson to all would-be cheaters: If you're going to be unfaithful, don't let Patti Stanger see it.

On Thursday's Watch What Happens Live, the Millionaire Matchmaker star told a shocked Andy Cohen that she was a firsthand witness to Mario Singer stepping out on his now-estranged wife Ramona Singer.

Now, Stanger has exclusively talked to PEOPLE to fill in the details of the night when she "saw the whole thing go down." In fact, Stanger says she witnessed what she believes was the beginning of Mario's long-term affair with twenty-something Kyle "Kasey" Dexter.
This is Patrick Stewart as you've never seen him before – snorting coke, drinking, fighting and getting into trouble with police.

No, this isn't an episode of Star Trek Captains Gone Wild. Sir Patrick is playing a debauched cable news host named Walter Blunt in the new Starz series Blunt Talk.
Ten years ago Americans got their first taste of McDreamy when Grey's Anatomy premiered on March 27, 2005.


The reality star says he's excited to welcome "my little partner in crime," who's due in July
She's got a British accent in real life and speaks fluent Dothraki as Daenerys Targaryan on Game of Thrones, but these days Emilia Clarke is working on a more American sound.

Gearing up to star in the upcoming movie prequel Terminator Genisys, to out this summer, Clarke says she's not new to the popular franchise.

"I was absolutely a fan. I watched Terminator growing up," Clarke told PEOPLE at this week's Game of Thrones Season 5 premiere in San Francisco.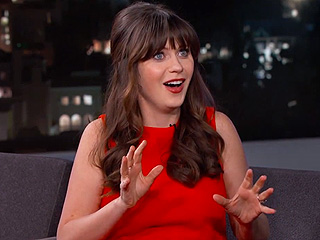 "It's more fun, you know? Make it into a game," the New Girl star joked
Jimmy Fallon's dream came true – and turned into our nightmare.

"It's an emotion I can't describe," Tonight Show host said about the creation of his five new Madame Tussaud's wax figures. "I've never had this type of feeling. It's not as creepy as you'd think, it's more surreal because I'm a big fan of Madame Tussaud's and the fact that my career has gone this way, I'm very very lucky."

But it might be as creepy as you'd think.

Fallon celebrated his new likenesses with a video of himself singing The Beach Boys' "Barbara Ann" ... with the wax figures singing backup.
Though the show's massive international success could hardly have been anticipated, Downton Abbey star Hugh Bonneville is somehow "amazed" that the award-winning show went beyond its first season – as was everybody else involved.

"Those who follow the show might remember at the end of [season] 1, there was a slightly odd feeling because some of it was wrapped up in case the show never returned and some of it was led to pen in case it did – so, there was no guarantee the show was going to continue," Bonneville, 51, told ITV's Good Morning Britain.
TV Watch
Get PEOPLE Everywhere
Advertisement