TV Watch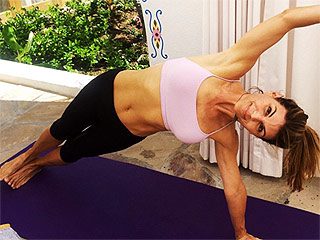 Credit: Courtesy Lori Loughlin
It looks like Lori Loughlin has found her Zen – not to mention a rock-solid core.


On the second season of VH1's daring-and-baring reality show Dating Naked, two singles prove without a doubt that they're in the, uh, nude for love.


Wilmer Valderrama says it was "a blast" watching his longtime love Demi Lovato sink her teeth into a role on his vampire show From Dusk Till Dawn: The Series.

"She has a very significant part in it, and it was fun," Valderrama said Sunday at the afterparty for the Los Angeles premiere of the new Arnold Schwarzenegger movie Terminator Genisys. "It was a blast."
When a winking experiment goes awry, Duff's son Luca decides to break out the pirate impression
Tig Notaro's career was on the rise when a number of personal tragedies befell her in quick succession, forcing her to find humor in the face of death.

Not long after her mother died suddenly from a fall, the comedian was diagnosed with cancer in both breasts. Notaro, 44, recalls thinking at the time: "After everything that had happened, I have cancer?"

On July 17, Netflix's documentary Tig gives an inside look at what else what running through Notaro's mind during one of the most trying – and strangely amusing – periods of her life.

"As soon as I was diagnosed, everything came over me as funny," she adds in PEOPLE and Entertainment Weekly's exclusive First Look trailer. "I love stand-up so much. I wanted to do it one more time."
A roundup of the pregnant star's sexiest weekend outfits
According to her husband John Legend, Chrissy Teigen is what you might call geographically challenged.

In an exclusive clip of the season 3 premiere of Hollywood Game Night, host Jane Lynch introduce Teigen's team captain and mentions that he's from Clovis, California.

While Teigen, 29, is perfectly happy to vaguely admit that she and her crooner hubby have a "running joke about Clovis," Legend takes the story a step farther – too far, in fact, judging by the expression on Teigen's face.
When Rob Kardashian didn't show for his 10-year high school reunion, Kim came away with the goodie bag.

On Sunday, the reality star, 34, posted a photo of a letter Rob wrote to himself back when he was in high school. The photo was sent to her by Rob's BFF, but she hasn't yet taken a look at its contents.

"I wonder what it says," Kim captioned the photo. "Rob can't remember either," she continued, adding that they're "dying to read it together." (Kim wrote a similar letter in high school and also skipped out on her reunion!)


Oh, how the time flies.

It was way back on Oct. 7, 2008, when the world was introduced to The Real Housewives of Atlanta – and now the Bravo reality show is celebrating a milestone with a brand-new TV special.

"I've been on the show for 100 episodes?" NeNe Leakes asks host Andy Cohen in a preview clip exclusive to PEOPLE. "Stop it ... Oh my God. We need a therapist."
TV Watch