TV Watch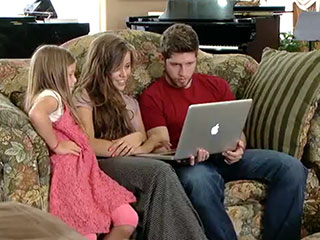 While much of the focus of this season of 19 Kids & Counting has so far been placed on Jessa and Ben Seewald's wedding planning, this week paid some more attention to Josh, Anna and even Jim Bob and John David.

Of course, nothing in the Duggar family is more exciting than a wedding – save for perhaps a birth – and so we still got plenty of behind-the-scenes looks at Jessa and Ben's eventual 1,000-person wedding extravaganza.
Ellie Kemper has plenty of experience playing polite characters, and the former star of The Office follows the same philosophy when it comes to her personal life.

"It drives me crazy when people don't have good manners," Kemper, 34, tells PEOPLE. "I think it's inexcusable."

But that's not all the actress – who stars in Tina Fey's latest comedy Unbreakable Kimmy Schmidt doesn't like.
It's un-Dean-iable, the trailer for the new season of Community has us super excited for season 6 to hit Yahoo! Screen on March 17.

For those who have not had the chance to watch it, here are the five most hilarious quotes from the new trailer:
[BRIGHTCOVE "4091464820001" "" "" "auto"]
His eyes! His eyes!

Wednesday's episode of Schitt's Creek is called "The Walk In" for a reason: Snotty son David Rose (Daniel Levy) finds his parents Moira (Catherine O'Hara) and Johnny (Eugene Levy) in flagrante delicto.

Since the riches-to-rags Roses are currently in very close quarters after losing everything, David easily storms out through the adjoining door so he can express his revulsion to sister Alexis (Annie Murphy).
As Dancing with the Stars enters its 20th season in just two weeks, one very important question has yet to be answered: Who will dance alongside Witney Carson, the winner of last season's mirror-ball trophy?


Hardcore House of Cards fans who spent the weekend bingeing on all 13 episodes are already hungry for the next chapter in Netflix's drama.

Season 3 saw Frank Underwood (Kevin Spacey) as president, but the Oval Office seemed to sap the power he had wielded so ruthlessly for two seasons. Both parties hated him. Congress sought to block the crown jewel of his tenure, America Works, a program that broke the first rule of politics: leave Social Security alone.
As Bobbi Kristina Brown remains on life support after being found unresponsive in her bathtub on Jan. 31, some of her family members are planning to share their grief with TV audiences.

According to two family sources, some of her father Bobby Brown's siblings are in the earliest stages of shooting a reality show. The footage will include scenes from their daily life – and will also spotlight how the family copes as Bobbi Kristina remains in the hospital.

But not everyone is on board with the idea. "I hope it's not true," says Randy Kessler, an Atlanta-based attorney who represents Nick Gordon, Bobbi Kristina's boyfriend.

According to one family source, Bobby is "not happy" that his relatives are planning to do a reality show. Brown's lawyer tells TMZ that his client will not be participating.
They were born and bred in Hollywood, and now, sisters Erin and Sara Foster (daughters of superstar music producer David Foster) are poking fun at the reality-TV genre in a parody on VH1.

Barely Famous follows the duo as they navigate the celebrity-obsessed world of Los Angeles. Sara, 34, and Erin, 32, offer a tongue-in-cheek perspective in the satirical comedy series with help from celebrity pals like Kate Hudson, Nicole Richie and Jessica Alba.

In the clip, Erin, who claims she is looking for a normal guy, is having drinks on a date when she gets a late-night text from James Franco, derailing her claim that she doesn't associate with Hollywood ilk.

Sara, best known for her role as Jen Clark on 90210, and Erin, a writer and actress, are the stepdaughters of Real Housewives of Beverly Hills star Yolanda Foster, and they even have a Kardashian connection. Their father, David, was married to Brody and Brandon Jenner's mom, Linda Thompson, for 14 years.
We've all wept over the end of Parks and Recreation. Some of us grieve in different ways, though. For example, we've made a life-size papier-mâché replica of Ron Swanson that's glowering at us from the corner this very moment. Aubrey Plaza?

Well, Aubrey Plaza gave one of her castmates a vial of blood and some of her hair.
Seeing as she speaks fluent emoji, it should come as no surprise Mindy Kaling was cast in Pixar's upcoming Inside Out.


TV Watch
Get PEOPLE Everywhere
Advertisement