TV Watch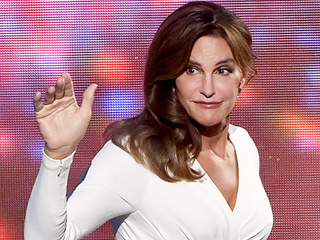 Credit: Kevin Winter/Getty
Caitlyn Jenner says that before she came out as a transgender woman, she had "totally isolated" herself from the trans community. Meeting others like her, she says, has been "an eye-opening experience." Touched by their harrowing but often inspiring stories of survival, Jenner, 65, has partnered with WhoSay to release a weekly series of editorials called "The Real Me" that shine a light on the issues and people in the LGBT community.

Hello friends! I hope your week is off to an awesome start.

I've been going through all of the messages that you've sent me, and I'm overwhelmed by your kindness, words of encouragement and insightful questions. While I can't respond to each of you, I want you to know that I'm reading everything and it means so much to me.

Here's a fun question that I seem to get a lot … enjoy!

Nancy T.: You are so awesome. I'm just wondering where you keep your gold medal. Is it on display?
Besties abroad!

Bravo's Andy Cohen posted an Instagram on Wednesday of himself laughing with his A-list pal Sarah Jessica Parker while vacationing in Europe.

"Morning sunshine in Spain!" he captioned the shot, in which Parker's trademark Carrie Bradshaw curls cascade over her shoulders.

Speaking of her iconic, unlucky in love character, news broke Wednesday that Parker originally tried to back out of Sex and the City.
To help prepare for his journey as the new star of The Bachelor, Ben Higgins reached out to a franchise alum for some guidance.

"I reached out to Sean Lowe and asked him for advice," Higgins tells PEOPLE. "Years ago, I watched his season, and I had a lot of respect for how he handled himself, as a man, as a man of faith and as a man who stood for something."
Sometimes the happiest time of your life can also be the most bittersweet.

Earlier this summer, Little Women: Terra's Little Family star Terra Jolé and Joe Gnoffo tied the knot in a beautiful ceremony in Chicago.

But the final weeks leading up to the wedding were extra emotional for the reality star, who lost her father, Richard Odmark, in October 2013.

"It's really hard not having him here on a moment like my wedding and Penelope's birth and just life moments," Jolé says in an exclusive clip from this week's episode.
James Harden's lavish 26th birthday bash was a family affair for the Kardashians and Jenners.


Anna Duggar's siblings beg her to leave husband Josh after his shocking double life is revealed. Subscribe now for more on the cheating scandal and the Duggars' ultra-conservative lifestyle, only in PEOPLE!

Just under a week after Josh Duggar confessed to cheating on his wife Anna and having an addiction to pornography, he has entered rehab.

"We are so thankful for the outpouring of love, care and prayers for our family during this most difficult situation with Josh," reads the statement posted to the Duggar family website Wednesday. "As parents we are so deeply grieved by our son's decisions and actions. His wrong choices have deeply hurt his precious wife and children and have negatively affected so many others. He has also brought great insult to the values and faith we hold dear."

"Yesterday Josh checked himself into a long-term treatment center," continues the statement. "For him it will be a long journey toward wholeness and recovery. We pray that in this he comes to complete repentance and sincere change. In the meantime, we will be offering our love, care and devoted support to Anna and our grandchildren as she also receives counsel and help for her own heart and future. During this time we continue to look to God – He is our rock and comfort. We ask for your continued prayers for our entire family."
Anna Duggar's siblings beg her to leave husband Josh after his shocking double life is revealed. Subscribe now for more on the cheating scandal and the Duggars' ultra-conservative lifestyle, only in PEOPLE!

Jim Bob and Michelle Duggar have always said that they are not part of the Quiverfull movement.

Although they have carefully avoided an association with any specific ideology, the Duggars' publicly held beliefs mirrors that of the conservative patriarchal movement, a catch-all term that encompasses several fundamentalist Christian sects – including the best known, Quiverfull.

The movement took off in the mid-'80s with the publication of Mary Pride's book The Way Home: Beyond Feminism, Back to Reality, in which Pride argued for a bible-based role for women.

Quiverfull takes its name from an Old Testament psalm that likens children to "arrows" and says, "Blessed is the man whose quiver is full of them."

"In the Quiverfull movement, your kids are blessings from God and they are also weapons in the culture war," says Cavan Concannon, assistant professor of religion at the University of Southern California. "Some people in the movement would say that part of having a lot of kids is an attempt to birth more conservative Christians in a world that doesn't have enough of them."
Backstreet's back, all right!

Boy band heartthrob Nick Carter will compete on Dancing with the Stars, ABC announced Wednesday.

"We're not playing games with your heart - @NickCarter is on this season of #dwts!" the show's official account Tweeted.

The Backstreet Boys singer shared the news with a video of his vintage moves. "You ain't seen nothing yet," he posted.
Kardashian-Jenner loves: past and present.


I Am Cait Recap: Caitlyn Jenner Isn't Ready to 'Expose' Herself in a Swimsuit