TV Watch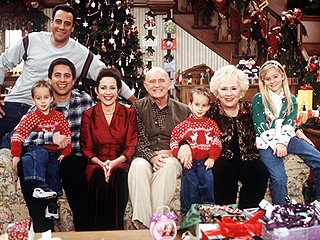 Credit: CBS/Everett
Following his suicide at the age of 19, Sawyer Sweeten's family and Everybody Loves Raymond costars have spoken out about the loss.

"I'm shocked and terribly saddened by the news about Sawyer," said Sweeten's TV dad, Ray Romano, in a statement released to PEOPLE. "He was a wonderful and sweet kid to be around. Just a great energy whenever he was there. My heart breaks for him, his family and his friends during this very difficult time."

Sweeten's TV mom also shared her condolences with PEOPLE: "Sawyer was a funny and exceptionally bright young man. He is gone from us far too soon," said Patricia Heaton. "The loss the Sweeten family is experiencing is unimaginable. Tonight hug your children a little tighter and please keep Sawyer and his family in your thoughts and prayers."

Sawyer was visiting family in Texas on Thursday when he died of an apparent suicide, according to reports.
Kat Graham couldn't be more thrilled about Vampire Diaries costar Ian Somerhalder's engagement to actress Nikki Reed.

"I haven't met two people that were more of soul mates than those guys," Graham recently told PEOPLE during her shoot for Foster Grant. "They are so absolutely amazing. Everyone loves them, and I really can't imagine him with anyone else."
The battle between Dr. Mehmet Oz and the medical community continued on Friday morning as Oz addressed the concerns of Columbia University faculty members on the Today show.

Unlike the 10 physicians led by Dr. Henry Miller who called for Oz's dismissal from the university at which he is a vice-chair and professor for the department of surgery, eight members of Columbia's faculty were more measured in an op-ed written in USA Today Thursday in which they suggested that, perhaps, Oz begin adding the following disclaimer to his show: "The opinions expressed on this program may not be evidence-based or part of accepted medical practice and have no endorsement from Columbia University."
ESPN reporter Britt McHenry will return to television this weekend after a video showing her berating a parking attendant made waves on the Internet last week.

ESPN senior coordinating producer Seth Markman confirmed to Sports Illustrated that McHenry will continue her role as reporter at NFL games on most weekends, adding that she will be in St. Louis next Thursday for the NFL draft.
Teenage American Horror Story actor Dalton Gray was seriously hurt in a car accident last weekend, but he's already recovered enough to joke about the incident.

Gray, 17, posted several photos online showing his injuries, which included serious facial lacerations. TMZ.com reports that the car he was traveling in was hit by a drunk driver, and that Gray also suffered a broken hip/pelvis and femur.
As Jessa Seewald awaits the birth of her first child with husband Ben, she's making it a priority to stay fit and keep healthy.

When she learned that she was expecting – on their first wedding anniversary, no less – Jessa tells PEOPLE that one of the first things on Ben's mind was, " 'What does it mean for your workouts? Let's adjust them for pregnancy.' "

Because they're both concerned about her potentially straining herself, says Jessa, "I'm just trying not to overdo it right now. I am still working out, but not trying to break any records."
There's nothing like a casual game of flip cup between friends. Or family. Or stars of what's surely going to be one of the biggest blockbusters of the year, hosts of long-running late-night television institutions, and their siblings.

That was the premise of this segment of The Tonight Show Thursday, which saw Chris Evans, Jimmy Fallon, and their siblings Scott and Gloria (respectively) play a game of that old college warhorse, flip cup.
How would you like to have Chris Evans as an uncle?

If you're Evans' actual nephew Miles, you're probably less enthused than we thought you'd be.
TV Watch
Get PEOPLE Everywhere
Advertisement