TV Watch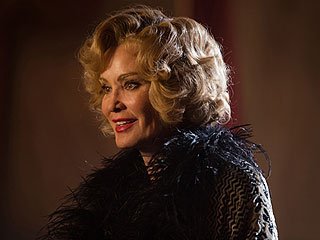 Credit: Sam Lothridge/FX
Barkers rev up your engines. The Freak Show is over, and the incessant quote canonizing can begin.

As another season of American Horror Story closed on Wednesday, the freak fetishist became the freak. (If that meant we got to see Finn Wittrock in his skivvies, then so be it.) But Dandy Mott's downfall was just the beginning of the curiosities delivered by Elsa Mars and her band of outsiders.

Picking up short after Dandy (Wittrock) began his tyrannical rule of the side show, the anthology show's season finale was a veritable a parade of zingers and bon mots worthy of creator Ryan Murphy, starting with …
Looks like Lisa Rinna gets to play another drama queen in primetime.

The 51-year-old actress and star of The Real Housewives of Beverly Hills – who played the shrewy Taylor McBride on Melrose Place – will show up in a guest-starring role on CSI, PEOPLE has learned exclusively.

Rinna will play Cindy, an immature and irresponsible parent whose two daughters go missing.

Her episode is expected to air in February.
When we last left the denizens of Mystic Falls, many of them were in mortal (or immortal) peril. Obviously.

Elena (Nina Dobrev) was kidnapped by Kai (Chris Wood), Enzo (Michael Malarkey) has vowed to ruin Stefan's life, and Matt (Zach Roerig) has been roped into helping him. Meanwhile, Caroline's (Candice Accola) mother has an inoperable brain tumor that vampire blood can't cure.

To find out whether our intrepid heroes will ever experience any modicum of happiness, The Vampire Diaries returns from its midseason hiatus on Thursday, with Paul Wesley at the helm as director.
Survivor is one of those shows that rises and falls on its casting. When the contestants are interesting, we get a stellar season like last spring's Survivor: Cagayan. If the cast is bland, we get a mediocre season like last fall's Survivor: San Juan Del Sur. (Don't take our word for it; even host Jeff Probst called it a "frustrating" season.)

But Survivor is shockingly resilient. Now entering its 30th season, it has been around so long that this season's youngest contestant was in the first grade when the show premiered. She's now 22.

This season, producers have divided the 18 contestants of Survivor: Worlds Apart into three tribes based on socioeconomic status. There's a white collar tribe: professionals and executives. The blue collar tribe includes a cop, hairdresser and postal worker. The no-collar tribe is full of bohemians who sell coconuts or design jewelry.
Fans of Diem Brown knew her last moments on The Challenge would be heart-wrenching. They also knew Brown would not leave the show without her signature strength and passion.

Tuesday's episode of Battle of the Exes 2 saw Brown, 34, sidelined by the excruciating pain she would later learn was colon cancer. After an overnight stay, the pain returned, forcing her to be medically evacuated from the competition.

Accompanying shots of her flight from Panama to New York City, where she underwent surgery and months of treatment before dying on Nov. 14, Brown began her final words on the show: "I'm at a point in my life where I want to just live life."
[YOUTUBE "YJJFrnsBdZA"]
Larry Wilmore waited all of 24 hours before addressing one of the most polarizing figures in America right now: Bill Cosby.

The 52-year-old writer/commentator – who just started hosting Comedy Central's The Nightly Show on Monday – used his second night on the job to take aim at the "hurricane of horrors" surrounding Cosby.

"Tonight, we're talking Bill Cosby," Wilmore announced at the start of the show. "We'll ask the question, 'Did he do it?' The answer will be yes."
Real Housewives of Beverly Hills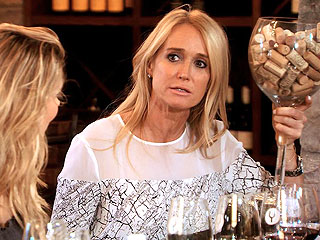 Eileen Davidson organized a poker party on Tuesday's The Real Housewives of Beverly Hills, and any time the wives have a game night you can bet it's not going to end well.

Things got off to shaky start at a spa day Kyle Richards organized.

"If Eileen can be in a van with Brandi Glanville after getting a glass of wine thrown in her face, I guess I can, too," said Lisa Vanderpump.

Things got shakier when a luncheon turned into wine tasting, something that made Richards and her sister, Kim – who entered rehab in 2012 and is now sober – uncomfortable.
How much do we all wish we were just like The Good Wife's Alicia Florrick?

Maybe we should ask Michelle Obama if she feels the same way.

During Tuesday's State of the Union address, the First Lady could be seen wearing what appears to be the same suit worn by Julianna Margulies, who plays the First Lady of Illinois on CBS's hit drama series. An eagle-eyed fan made the connection and posted the comparison shots on Instagram, generating lots of buzz and OMGs on social media.
TV Watch
Get PEOPLE Everywhere
Advertisement