TV Watch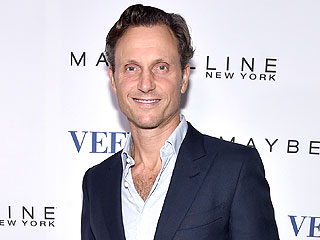 Credit: Alberto E. Rodriguez/Getty
Good morning, Mr. President.

Scandal's Tony Goldwyn, who plays President Fitzgerald Grant on the ABC hit political drama, took to Instagram on Tuesday morning to share a sleepy video with fans.

"Okay, first day directing 502," said Goldwyn in the video, lying in bed in a dark room. "Got to get up."
The Seven Year Switch is about to get more intense than ever as a husband reveals his infidelity.

In an exclusive preview of Tuesday's episode, Neal admits to his "experimental spouse" Alesha that he cheated on his estranged wife.

"When Neal opened up to me that he was having sex with other women, it was a little bit of a shock because Neal had told me that he'd never shared a bed with another woman," Alesha says.
Kaitlyn Bristowe and Shawn Booth open up about breaking the rules and their plans for a (really big) family. Subscribe now for all the details plus exclusive photos, only in PEOPLE!



Though he made a fairly poised exit on the season finale Monday night, The Bachelorette runner-up Nick Viall did let his composure slip a little.

During his limo ride after he all but proposed to Kaitlyn Bristowe – and got rejected – Viall, 34, called himself the "world's biggest joke," and, staying true to the show's dramatic nature, took off a ring he and Bristowe had gotten together in Ireland and tossed it across the car.
When Little People, Big World star Zach Roloff prepared for his wedding to Tori Patton on Saturday, it wasn't cold feet he was worried about.

"I've been in chill mode for the last week," Roloff, 25, told PEOPLE exclusively, just ahead of his country-chic nuptials held on his parents' farm in Hillsboro, Oregon. "Whatever happens, happens."

And though the ceremony, which hosted nearly 200 guests, went off without a hitch, Roloff said it was his proverbial two left feet that made him nervous for the reception.
Meet Lady Mary Crawley, family photographer.

It's almost time for Michelle Dockery and the rest of the Downton Abbey cast to say goodbye after six seasons. But first, the actress, 33, who plays Lady Mary in the beloved British period drama, will get as many pictures as she can for posterity.

The Golden Globe and three-time Emmy nominee is documenting the final days of production in a series of photos that she is tagging #LastDaysOfDownton.

So far, she has been focusing mostly on the off-screen talent, including producers and crew who've worked behind the scenes to make the program, which premiered in 2010, such a success.
My Giant Life's Haleigh is planning on taking one giant step – and Dad isn't happy about it.

The 6-foot-7 professional volleyball player, 23, is dating 5-foot-8 Brian, 32, who popped the question in last week's episode with a romantic sunset-painting session on the beach.

In an exclusive sneak peek at this week's episode, Haleigh takes her parents to meet with a wedding planner in the hopes that they can help convince her father to be more on board with the marriage – but dad Tay isn't afraid to speak his mind about his apprehensions.

"My dad has objections to Brian and I getting married this summer because he thinks I'm getting married too young, and he also doesn't like the fact that it's happening so soon," the TLC star says. "He wants to keep me his little girl for a little while longer, but I'm a young woman now, and a young woman who wants to get married."

Haleigh reveals to the wedding planner that she hopes to set a date for the big day in June, something Tay isn't on board with.
Kaitlyn Bristowe and Shawn Booth open up about breaking the rules and their plans for a (really big) family. Subscribe now for all the details plus exclusive photos, only in PEOPLE!



This is called putting your money where your heart is.

Bachelorette lovebirds Kaitlyn Bristowe and Shawn Booth were guests Monday on Jimmy Kimmel Live!, shortly after their romance went public in the ABC dating show's finale. And they vowed not to end up like so many other Bachelor and Bachelorette couples – even wagering money that they'll be married, or at least still together, a year from now.

"Twice a year for like 13 years now, we've seen people get together. They come on the show and they seem to be very much in love … And then the next thing we know, we see them on the cover of a magazine with a tear down the center," Kimmel said.
On Monday night's season finale of The Bachelorette, leading lady Kaitlyn Bristowe's two final suitors picked out a ring and prepared to propose.

Bristowe chose to send Nick Viall home and accepted Shawn Booth's proposal, and the two made their public debut as an official couple on the live After the Final Rose special.


This wasn't Viall's first time making it to the final two on
The Bachelorette
: He also came in second place while courting
Andi Dorfman
on the show last spring.
The two-time runner-up sat down with Bristowe on Monday night on
After the Final Rose
for the first time since she sent him home.
Amy Poehler on Wet Hot American Summer Reunion: Everyone Was Still as 'Immature' as They Were 15 Years Ago