TV Watch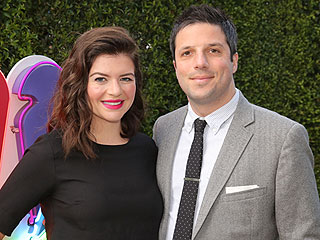 Credit: Chris Haston/NBC/NBCU Photo Bank
It's the first child for the former Marry Me star and her husband
Taylor Schilling admits she's not exactly eager to peel off the orange jumpsuit to show the world what's underneath.

"I've been scared of the nudity," Schilling, 30, said during a panel for the Academy of Television Arts and Sciences' screening of Orange Is the New Black in West Hollywood on Wednesday. "Just as an actor [that] has been frightening for me."

But if filming a nude scene is what's needed to get to the heart of her character, the star isn't afraid to undress. The actress, who plays Piper Chapman on the hit Netflix show, made the admission after she was asked about the last time she called show creator Jenji Kohan to talk about a scene.
The actress sports a white crop top and flowing skirt as she cradles her bare bump
Growing up in the '70s and '80s on a farm in Kansas City, Kansas, Eric Stonestreet says, he never had much interaction with the gay community.

Having just wrapped season 6 of Modern Family as the out-and-proud Cam Tucker, the actor says that playing a gay character has changed his perspective.
Girls fans know all about the bumbling romantic lives of Hannah, Marnie, Shoshanna and Jessa, but we haven't gotten very much insight into the love escapades of Elijah, Hannah's former closeted boyfriend-turned-BFF. Now, star Andrew Rannells says Elijah is finally in for an in-depth romantic storyline.

"Elijah gets to be a little bit serious this season, and he gets to have a serious relationship. I'm very excited about it," Rannells told PEOPLE about Girls' upcoming fifth season at the Olevolos Project brunch.

Like most characters on the HBO show, Elijah must contend with a learning curve when it comes to matters of the heart.

"We haven't seen it before so it's not like something he is good at. You're going to see him sort of flail around a lot," Rannells teased.
As the winner of a Daytime Emmy Award for her MTV docuseries, Laverne Cox could find her work as an entertainer colliding with her work as an activist and outspoken advocate for LGBT rights.

However, Cox, 30, maintains that being an actress comes first, which can sometimes be challenging.
DJ Quintero tells PEOPLE all about her major mane transformation
As a curvy woman, Danielle Brooks has always struggled with society's standards of beauty – she even wrote a whole essay about it recently for Glamour. And now that the Orange Is the New Black star is a role model for women like her – well, it's clearly an overwhelming blessing.

The actress, 25, who plays Tasha "Taystee" Jefferson on the Netflix show, broke down in tears talking about the topic Wednesday at an Academy of Television Arts and Sciences "For Your Consideration" screening of the show in West Hollywood.

"Being a woman of curves, I really find that it's very important to talk about loving your body where you are," she said during a panel discussion. "People's beauty standards [are] something I've definitely struggled with in my life. And I'm just so grateful to be on a show where people love me, Taystee, for who she is – and they've come to love Danielle for who I am, and it's not because I'm a size 2 and it's not because I'm light-skinned with long hair."
Over more than 30 years on the air, David Letterman went from the class clown of late night to one of its most respected icons.

In the '80s, Letterman's Midwestern snark and ironic sensibilities were considered groundbreaking in the comparatively staid world of Johnny Carson and Tom Snyder; now they've provided the groundwork for many of today's mainstream comedy trends.

Now that Letterman has officially said farewell to late night, let's look back at the 10 best things Letterman gave us. (Could it have been any other number?)
TV Watch
Get PEOPLE Everywhere
Advertisement