TV Watch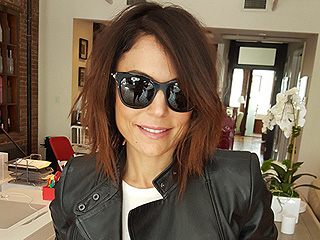 Credit: Courtesy Bethenny Frankel
DJ Quintero tells PEOPLE all about her major mane transformation
As a curvy woman, Danielle Brooks has always struggled with society's standards of beauty – she even wrote a whole essay about it recently for Glamour. And now that the Orange Is the New Black star is a role model for women like her – well, it's clearly an overwhelming blessing.

The actress, 25, who plays Tasha "Taystee" Jefferson on the Netflix show, broke down in tears talking about the topic Wednesday at an Academy of Television Arts and Sciences "For Your Consideration" screening of the show in West Hollywood.

"Being a woman of curves, I really find that it's very important to talk about loving your body where you are," she said during a panel discussion. "People's beauty standards [are] something I've definitely struggled with in my life. And I'm just so grateful to be on a show where people love me, Taystee, for who she is – and they've come to love Danielle for who I am, and it's not because I'm a size 2 and it's not because I'm light-skinned with long hair."
Over more than 30 years on the air, David Letterman went from the class clown of late night to one of its most respected icons.

In the '80s, Letterman's Midwestern snark and ironic sensibilities were considered groundbreaking in the comparatively staid world of Johnny Carson and Tom Snyder; now they've provided the groundwork for many of today's mainstream comedy trends.

Now that Letterman has officially said farewell to late night, let's look back at the 10 best things Letterman gave us. (Could it have been any other number?)
From the lemon blazer to the pinstriped PJ pants, the talk show host went out in (relative) style
The final night of David Letterman's CBS Late Show, marking his formal retirement from television, was not actually all that special. Which is what made it so special.

Even with an opening that featured a bunch of presidents and a closing that revealed the presence of Letterman's son, Harry, in the audience, it was a modest and self-deprecating evening.

Letterman, who began his career bristling with porcupine quills and has lost all but a few of them over three decades, was too kind to tell his fans that they face a troubling new era fraught with doubt and questions.
If you're thinking about getting in shape for summer, skip the latest fitness trend in favor of something a bit more retro: the celebrity workout video.


The star speaks out on her youngest sister's decision to enhance her pout
Moments after taping his final Late Show ever, David Letterman was walking the streets of Manhattan like any other New Yorker.

Reportedly using a fake limousine as a decoy, the notoriously low-key host actually snuck through Angelo's Pizza, next door to the Ed Sullivan Theater, and walked the few blocks from Broadway and West 53rd Street to the afterparty at the Museum of Modern Art on 53rd between Fifth and Sixth Avenues, according to the Daily News.

There, he mingled with friends and stars including Steve Martin, Tina Fey and Foo Fighters frontman Dave Grohl. Not much else was known about the afterparty, with the guests generally staying off social media during the event. A reporter for The Wrap said he was told Letterman, 68, "only stayed for a bit."
TV Watch
Get PEOPLE Everywhere
Advertisement