TV Watch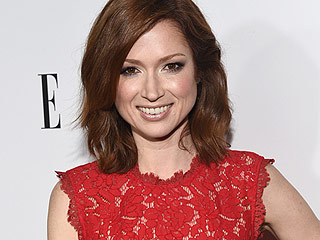 Credit: Michael Buckner/Getty; Michael Stewart/WireImage
Does this mean Kimmy Schmidt will be sporting fringe in the near future?
All the scoop on the host's latest look!
There could be a familiar face on the shores of Westeros soon.

Ed Sheeran has revealed that he's already in talks with the producers of the hit HBO fantasy drama Game of Thrones to discuss a role in the show.
It had to be her!

Though he had a tense night on Wednesday's American Idol, you wouldn't know it based on Harry Connick Jr.'s upbeat social media dedication to his wife on Thursday.

The singer made good use of the #tbt meme and melted hearts with a sweet shot from his and wife Jill Goodacre's 1994 nuptials.

"21 years with the greatest woman on earth… happy anniversary, Jill," the American Idol judge, 47, wrote of the former Victoria's Secret model, 51, with whom he has three daughters.
He now stars in Broadway's Finding Neverland and lives a happy life with wife Kayte Walsh and their two children. But Kelsey Grammer still revisits a family tragedy that occurred 40 years ago.


Stephen Fishbach was the runner-up on Survivor: Tocantins and has been blogging about Survivor strategy for PEOPLE since 2009. Follow him on Twitter @stephenfishbach.

"My whole goal coming into this game was to play the underdog, be underestimated and just kind of slide through, which is what I've done, and it's gotten me this far." –Natalie White, winner of Survivor: Samoa

What do you do on Survivor when nobody seems to like you?

What kind of moves can you make when you're an outcast from your tribe?

Every season it seems to happen to somebody. For whatever reason, the groupthink that sets in with any tribe dynamic leads one person to be unfairly pilloried and excluded.

Eliza on Vanuatu. Erinn in Tocantins. Cochran in South Pacific.

All outcasts. All excluded. All ended up completely flipping the game on its head.
What's better than an airport reunion?


TV Watch
Get PEOPLE Everywhere
Advertisement