TV Watch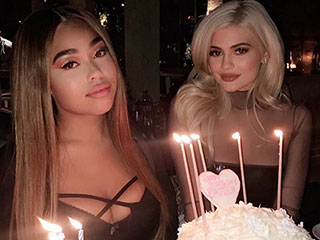 Credit: Instagram
Diamonds are a girl's best friend – and that's exactly what Kylie Jenner gifted her best friend Jordyn Woods for her 19th birthday.

On Thursday evening, the Keeping Up with the Kardashians reality star celebrated her BFF's birthday with a night out on the town.

After Woods was presented with two cakes during her "Happy Birthday" serenade, Jenner placed a large, pink polka dot-wrapped box on the table in front of the birthday girl.
Emmy nominee Viola Davis sat down with Jimmy Kimmel on Thursday night and revealed a surprising tidbit about the awards show to the Emmy host.


Kylie Jenner is now getting pulled into her boyfriend's financial lawsuit.


George Stroumboulopoulos is "heartbroken" after learning that his "dear friend" was murdered while staying at the Canadian TV presenter's rented Los Angeles home.

At 2:17 a.m. on Friday, Los Angeles Police Department officers responded to a burglary call in the 6700 block of Milner Road in Hollywood Hills, officer Aareon Jefferson confirms to PEOPLE. Upon arrival, officers were directed to the body of a male, identified as 41-year-old L.A. resident and Canadian actor Richard Hong, who was the apparent victim of a homicide.

According to witnesses, a black male – described as five-feet-eight-inches tall with a thin build and wearing a black jacket – was seen fleeing westbound on Milner Road and southbound on Las Palmas.
Scott Disick Says He Is Thinking About Retiring from the Nightlife Scene