TV Watch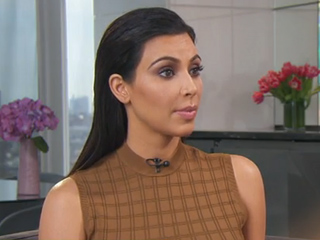 Now that Bruce Jenner has finally revealed his long-held secret, his family is speaking out to show their support and to promote understanding and awareness of what it means to undergo a gender transition.

"Bruce is the most honest ... He has the biggest heart and I'm really happy for him that he is living his life the way he wants to live it and that he has found inner peace and just pure happiness," said Kim Kardashian West in a taped segment on the Today show on Monday. "That's what life is about. I don't know what life would be like if you always felt like you weren't yourself."

The reality star, 34, went on to acknowledge that she – and most of the general public – could never truly understand what her stepfather is going through, but, "I don't even think we have to," she says. "I think as long as he is happy and he wants to live his life however he wants to live it, that just makes me happy and I support him 100 percent."
The penultimate episode of Gotham's inaugural season has Barbara in more danger than ever before following her date night with the city's most dangerous romantic-at-heart.

In an exclusive sneak peek at the first two minutes of "The Anvil or The Hammer," Jason (Milo Ventimiglia) invites Barbara (Erin Richards) to stay for breakfast after their night of marathon sex. (Barbara's morning-after hair is particularly enviable, we must say.)

When Barbara declines, insisting that he "talked a good game, but let's not pretend this is more than what it is," the man known to Gotham P.D. as "The Ogre" comes clean about his secret in a last-ditch effort to get her to stay … voluntarily.
Bruce Jenner's first wife Chrystie Scott has revealed the moment he opened up to her about his gender identity – calling it a "shock."

Scott, the mother of Jenner's two oldest children, was the first person that Olympic champion confided in, he admitted in his 20/20 interview on Friday night.

In the interview, Jenner told Diane Sawyer, "For all intents and purposes, I am a woman." In the days following the interview, which drew nearly 17 million viewers to ABC, Jenner's famous family members have spoken candidly with the media regarding his transition.

On Monday, Scott – who was married to Jenner from 1972 to 1981 – opened up to George Stephanopoulos during Good Morning America's 7 a.m. hour: "I can't remember the exact words because it was such a shock to me, but he opened up his heart and confessed, and he had to share this deep, dark secret," Scott told Stephanopoulous about her ex-husband's confession from their first year of marriage.

"He told me he wanted to be a woman, and understandably, I didn't know what to say."
TV Watch
Get PEOPLE Everywhere
Advertisement