TV Watch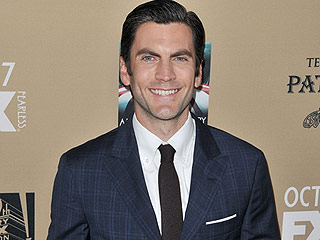 Credit: Sthanlee B. Mirador/Sipa
"I didn't know I was going to love being a dad so much," the American Horror Story: Hotel star tells PEOPLE
"We have kids now – plural! Now it's like, 'I got to go pick up the kids,' " the actor tells PEOPLE
Before Jase Robertson's younger brother Willie was hitting the campaign trail with Donald Trump, the older Duck Dynasty star came to know Trump and his family in a slightly less pleasant circumstance.

"I was here in New York a couple of years ago, and I get escorted out of of the Trump hotel that I was staying in," the Duck Dynasty star tells PEOPLE Now. "But a guy, when I asked him where the bathroom is, he looked at me, and thought, 'Right this way,' and he grabbed my arm, took me outside and pointed at Central Park and said, 'Have a nice day.' "

When word of the incident got back to the Trumps, they immediately called Robertson to apologize and told him to contact them the next time the family was in town. Well, naturally, Robertson took them up on that offer.
These Empire actors have something to sing about.

Grace Gealey has confirmed her engagement to her costar Trai Byers.

PEOPLE learned of Byers popping the question in late July, but the two kept mum about their relationship until Gealey discussed the happy news during Wednesday's episode of FABLife, hosted by Tyra Banks and Chrissy Teigen.
Neil Patrick Harris is hitting the books!

As he readies to release a new middle grade fiction series called The Magic Misfits in spring 2017, the Best Time Ever host is releasing The Magic Misfits tells PEOPLE that "reading and books have become a mainstay in my family, and they have gotten me thinking in a new way about the power of storytelling."

Though Harris, 42, is already a best selling author (he released his memoir Choose Your Own Autobiography last October), this is his first go at writing for a younger audience.

"Playing with the elements of magic, adventure and friendship, The Magic Misfits is the kind of series that would have thrilled me as a kid," Harris said. "And I hope it does just that for today's young readers."
Neil Patrick Harris: 'I'm the Bad Cop' When It Comes to Parenting the Twins