TV Watch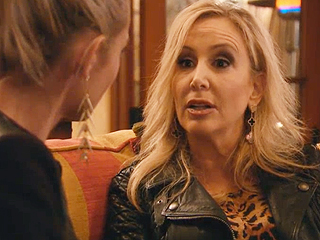 The Real Housewives of Orange County's whine tour of Napa continued Monday night, with Shannon Beador and Meghan King Edmonds battling over – of all things – charity.

"You can't insinuate I'm not charitable," said Beador, who upset the new Housewife when she abruptly ended a call and didn't return a text from Edmonds asking questions about a charity event she was hosting. "Who do you think you are, Miss 30-Year-Old?"

"She thinks I'm trying to paint her as a bad person," said Edmonds, who then apologized to Beador. "I'm really sorry … I feel awful."

"I felt completely ambushed," replied Beador, upset anew. "I bend over backwards for my friends."
Due to the nature of The Bachelorette's bizarre, semi-polyamorous approach to dating, more than a few tears were shed on this week's episode as Kaitlyn got closer to making her final choice.

For her part, Kaitlyn continued to feel guilty about her decision to sleep with Nick, as seen in last week's audience-dividing episode. Meanwhile, Shawn was as singularly focused on Nick's relationship with Kaitlyn as ever, likely because this is the first time in his life he's ever not had a woman's undivided attention. That's fair, really.

This week's episode also culled the herd ever more following a rose ceremony and a two-on-one date, and JJ confessed his darkest secret. (Spoiler alert: He cried a little but did not slap himself in the face this time over it. Character progression!) He was not the only crier, though – one of the men dropped to his knees on the cold, Irish ground as his body was wracked with sobs after Kaitlyn didn't hand over a rose. Really!
He's one lucky duck.

Duck Dynasty star John Luke Robertson married wife Mary Kate on Saturday, and their first photo as a married couple shows the bride looking beautiful on her big day.

Mary Kate wore a fairly traditional white gown with a lace top but eschewed a veil for a crown of pink, orange and yellow flowers on her hair.
You're going to need a glass of wine for this one. After nearly eight drama-filled years on Bravo's hit Real Housewives of Atlanta, fast-talking fan favorite NeNe Leakes is calling it quits, she tells PEOPLE exclusively.

Leakes, 48 – arguably the network's biggest star, who's been with the show since its inception – will not be returning for season 8. She says there comes a time when enough is enough.

"This was definitely a hard decision for me," Leakes tells PEOPLE. "Me and my husband [Gregg Leakes] have been going back and forth on it for weeks now. But my contract is up and I just think this is the right time. This is my opportunity to spread my wings and do different things."
See the actress's hair transformation
TV Watch