TV Watch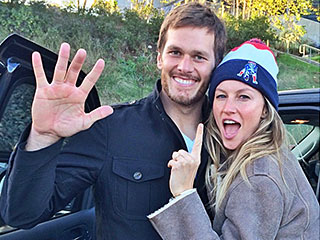 Credit: Getty; Courtesy Charlotte McKinney; Courtesy Gisele Bundchen
Sure, the Super Bowl is first and foremost a sporting event, the battle of the top two teams in the NFL.

But it's also the one day you actually want to watch commercials. (Because seriously, who can resist that Budweiser puppy?) It's a time to fearlessly gorge yourself on greasy food and beer. And this year, it's also the perfect opportunity to star-gaze as Katy Perry performs and Hollywood's hottest celebs cheer on their favorite teams.

As the New England Patriots prepare to face off against the Seattle Seahawks in Phoenix, PEOPLE is bringing you inside access, from the tastiest dishes to cook for your viewing party to the ads that will have your office buzzing Monday morning.

And yeah, we'll keep you updated on that whole football thing, too. Here's your guide to Super Bowl Sunday:


During his Saturday Night Live monologue last night, Oscar nominee J.K. Simmons sought to prove that he is nothing like his aggressive, domineering band leader character in Whiplash.

To prove his conviviality, Simmons prepared a song with the SNL cast – and then proceeded to yell in everyone's faces for being off-tempo.

"This isn't one of your weird videos!" he yelled at Kyle Mooney on the drums. "This is the opening of the show!"
It's hard to imagine anyone besides Jennifer Aniston playing Rachel Green on Friends.

But according to the actress, the producers were almost forced to replace her before the show even aired.
Thursday night's series finale of Parenthood left many fans with tears streaming down their face.

Between Zeek's (Craig T. Nelson) death and Hank (Ray Romano) and Sarah's (Lauren Graham) wedding, the finale made it hard to say goodbye.

Good news, we have more Bravermans for you!

Check out these deleted scenes that didn't make it into the very last episode.
TV Watch
Get PEOPLE Everywhere
Advertisement