TV Watch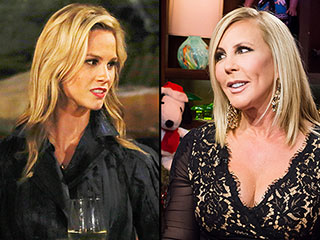 Credit: Getty(2)
Don't mess with Meghan King Edmonds' stepdaughter.

After an on-camera dispute between King-Edmonds and Vicki Gunvalson turned ugly, the Real Housewives of Orange County star's teenage stepdaughter Haley took to Twitter to call Gunvalson a "dumb bitch" on Monday.


You're a dumb bitch @vgunvalson

— Hayley Edmonds (@HayleyEdmonds15) September 1, 2015
While her comments didn't get a response back from Gunvalson, this isn't the first time she's had some choice words about the reality star.
"We go to Target, we go to Gap Kids, they wear sneakers," she told reporters of her daughters' style
For her first television talk show appearance since transitioning, Caitlyn Jenner gets candid about how her new life has impacted her conservative views – and when she'll be ready to jump back into the dating pool.


It's the second child for the football player and country star
"I really had no vision other than I didn't want a pink room," Cobb says of daughter Wilder's nursery
I Am Cait Recap: Caitlyn Jenner Isn't Ready to 'Expose' Herself in a Swimsuit