TV Watch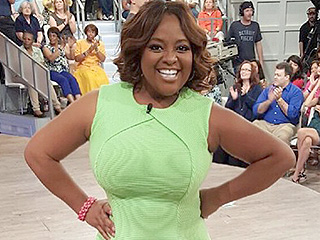 Credit: Courtesy Sherri Shepard
Sherri Shepherd learned a month ago that she would be held legally responsible for the child she had via surrogate with her ex-husband Lamar Sally. And on Thursday's episode of The View, she didn't hide her displeasure with the decision.

After Shepherd glowingly discussed her 10-year-old biological son Jeffrey, co-host Raven-Symoné said to the panel, "I want a baby so bad. I've wanted one since I was 15."

Shepherd barely took a breath's pause before replying, "Girl, I got one or two you could have of mine."
The star knows about baring it all
The sisters' collection launches next week!
Uncle Jesse and Aunt Becky are officially reuniting.

Lori Loughlin will be part of the upcoming Full House spinoff Fuller House, premiering next year on Netflix.

Loughlin, 50, tells PEOPLE she will do the reunion episode and is eager to reunite with her former castmates and longtime friends. "Doing that show was one of the best jobs I've ever had," she says. "It was just so much fun."
The famously conservative Duggars seemed to be models of wholesome family life, but son Josh was hiding a dark past: He allegedly molested five young girls as a teen. Subscribe now for an inside look at the Duggars' dark family secrets, only in PEOPLE.

The ripple effect of the shocking molestation scandal embroiling 19 Kids and Counting continues this week as more high-profile advertisers have stated their intention to distance themselves from TLC's once dominant reality show.

Companies including Ace Hardware, David's Bridal and Pure Leaf Iced Tea announced on social media that they would no longer advertise on the show in the wake of the news that eldest son Josh Duggar had been investigated for child molestation as a teen.

As the fate of the series remains in question, TLC has temporarily pulled all episodes of the show from the air and online; streaming service Hulu has also removed 19 Kids from its website. If the series returns, numerous advertisers made it clear they are actively working to pull all ads from the show that has been a tentpole for the cable channel.
TV Watch
Get PEOPLE Everywhere
Advertisement