TV Watch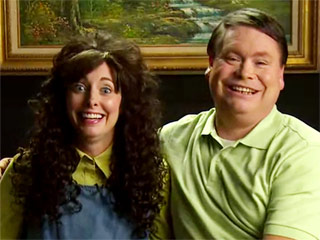 The famously conservative Duggars seemed to be models of wholesome family life, but son Josh was hiding a dark past: He allegedly molested five young girls as a teen. Subscribe now for an inside look at the Duggars' dark family secrets, only in PEOPLE.

Though the future of their show remains uncertain, the Duggars still have a spot on TV – the reality stars are being ripped apart by comedians.

The Nightly Show's Larry Wilmore, The Daily Show's Jon Stewart and the brains behind Funny or Die have all ridiculed the family's handling of a dark scandal this week.
It turns out Whitney Bischoff won't be moving to Iowa after all – and there's much to be said about her new plans in 140 characters or fewer.


About three months after surviving a car accident while on a family ski trip in Montana, the Kardashians are bringing viewers inside the aftermath of the terrifying crash.

A clip from this week's Keeping up with the Kardashians episode shows Kim Kardashian, Khloé Kardashian, Kylie Jenner and little North West sitting in their GMC Yukon after they hit a patch of ice and spun out of control.
On America's Got Talent's season premiere Tuesday, comedian Drew Lynch didn't let his stutter keep him from winning over the audience and judges, especially Howie Mandel.

Lynch, 23, started stuttering at age 20 after he was hit in the throat at a company softball game. According to his website, "This life-changing injury sparked a passion for writing and performing stand-up, bringing to life the social hardships of dealing with a newly found speech impediment."

After a set of jokes revolving around his injury, including a particularly successful one imagining what he would be like as the voice of a navigation system, Lynch received a standing ovation from the crowd and Mandel, 59.

"I believe you can turn anything into a positive, that's why I'm here," Lynch said, and the judges clearly admired this optimistic attitude.
TV Watch
Get PEOPLE Everywhere
Advertisement