TV Watch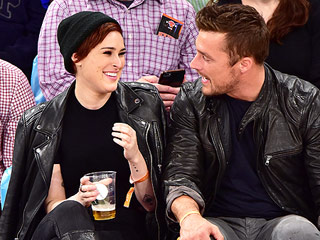 Credit: James Devaney/GC Images
There's no final rose here! Rumer Willis and former Bachelor leading man Chris Soules are just friends.

Though the two sparked speculation when they attended a Knicks game together at New York City's Madison Square Garden on Wednesday, Willis says there's no romance in this relationship.

"We became friends from the show, and he happened to be in town, and he invited me to the game," Willis told PEOPLE on Thursday at the Clinique cotton candy food truck event celebrating their new editorial platform, The Wink. "It's really nothing more than that."
Margaret Cho doesn't shy away from the risqé and raunchy during her standup act. Even so, she admits that her late mentor Joan Rivers managed to shock her with her material.

"I saw her perform in many countries and many situations. I was always shocked, because she was so filthy. It's really hard to shock me, and I was really shocked," Cho tells PEOPLE. "She was really going for it in her late 60s and early 70s. She was so hardcore. I was always so impressed by her."
Tracy Morgan's much-anticipated return to the screen is officially in progress.

The actor was spotted in costume on the Atlanta, Georgia, set of his first film since the deadly 2014 traffic accident that left him hospitalized in critical condition.

The comedy Fist Fight will feature Morgan, 46, as a high school staff member alongside Charlie Day as an English teacher who accidentally crosses a colleague played by Ice Cube. The rapper's menacing character subsequently challenges Day's mild-mannered Andy to a schoolyard brawl.
"Saved by the Bell just continues to generate more and more fans," he tells PEOPLE
With her best friend entombed until the natural death of her other best friend, her mom dead from cancer and her hometown overrun by vampire/witch hybrids, Caroline Forbes isn't exactly her sunny self when The Vampire Diaries returns.

"Caroline is is trying to make sense of what is happening in Mystic Falls," star Candice King tells PEOPLE of the season 7 premiere. "She's dealing with the separation from Elena (Nina Dobrev), knowing that she will be gone for a while. She's still mourning the death of her mother, and she's also starting to mourn the death of Mystic Falls. In the season opener, we get to see how Mystic Falls became the desolate shell of what it was that we saw at the end of season 6 when Damon (Ian Somerhalder) was standing on the clock tower."

While Caroline knows she'll see fellow bloodsucker Elena in 60 or so years ("She's got eternal life on her side!"), King says Bonnie (Kat Graham) is grieving more.
Neil Patrick Harris: 'I'm the Bad Cop' When It Comes to Parenting the Twins