TV Watch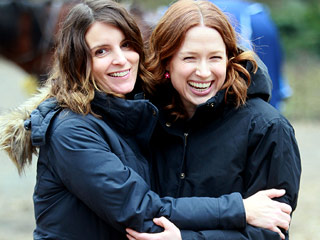 Credit: Getty
When it comes to Ellie Kemper, Tina Fey is a big fan.

"She's just delightful," Fey tells PEOPLE of the actress who stars in her new Netflix comedy Unbreakable Kimmy Schmidt. "She is so intelligent and energetic and adorable."

In Kimmy Schmidt (on Netflix now), Kemper plays the eponymous twentysomething woman who starts a new life in New York after escaping a doomsday cult.

"I think she is so likable and warm and skilled that I hope people really enjoy watching her," says Fey, 44, who created the show with fellow 30 Rock executive producer Robert Carlock.
Love is in the air – and on Instagram – for Jessa and Ben Seewald, who posted adorable pics of their walk along the coast of Georgia on Thursday.


Can we all finally agree it's black and blue?


In its first episode since Olivia Pope's (Kerry Washington) escape, Scandal didn't pull any punches.

The ABC drama doesn't openly discuss race often, but when it does – from Olivia's searing "I'm feeling a little, I don't know, Sally Hemings/Thomas Jefferson about this" jab to her father's mantra that she had to be "twice as good" – it's a raw reminder that, even in Shondaland, America is far from color-blind.

Thursday night's episode handled the shooting of a young, unarmed black man – a clear statement on Ferguson's Michael Brown – with profound grace, exploring police brutality, racial identity and grassroots activism from all sides.
TV Watch
Get PEOPLE Everywhere
Advertisement