TV Watch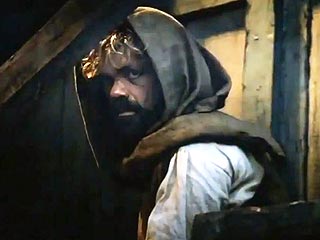 "Nothing is more hateful than failing to protect the one you love."

It's a line from the new season of Game of Thrones, but it could have easily been uttered by one of the HBO drama's very protective producers.

Fans who attended Thursday night's special IMAX presentation of the hit series were treated to what was supposed to be an exclusive trailer from the fifth season.
[YOUTUBE "feuNeJewzDo" "auto"]
Matt Damon, Ben Affleck, John Krasinski and others turned on their best Boston accents on Jimmy Kimmel Live to throw support behind Tom Brady and the New England Patriots on Thursday in a new Super Bowl sketch, "I Am the Locker Room Guy."

Technically, however, it was "Donald O'Donnell McDonald," "Ryan Salty Flannigan" and others who took turns confessing to deflating the footballs during the AFC Championship Game on Jan. 18.

"I deflated those balls myself, all right? I did it. I'm the perpetrator. If you don't believe me, there's nothing I can say to change your mind. I'm turning myself in!" Affleck, a.k.a. Ryan Salty Flannigan, said in his on-camera testimony.
[BRIGHTCOVE "20897531" "" "" "auto"]
You can't keep him away from Saturday Night Live forever. He's Gumby, dammit.

The Today show confirmed Friday morning that Eddie Murphy will take part in SNL's 40th anniversary special on Feb. 15, in what will be his first appearance on the show in more than 30 years.

The comedian, 53, first revealed the news in a phone interview with News One Now.
From Breaking Bad to busting baddos?

Anna Gunn – who won two Emmys for playing Walter White's wife Skyler on Breaking Bad – is headed to CBS to play a legal eagle in a possible Criminal Minds spinoff.

Gunn is set to star opposite Gary Sinise (CSI: New York) in a backdoor pilot about an FBI team that handles cases involving Americans overseas.
Any How to Get Away with Murder episode that begins with Annalise Keating (SAG award winner Viola Davis) putting on her wig is bound to be full-throttle.

HTGAWM has made a point of showing its anti-heroine in various states of polish and rawness. The dynamic between Annalise's fundamentally broken internal life and her very together outside appearance – not to mention when those two collide violently – is largely what has made the show so intriguing. Thursday's winter premiere, "Hello Raskolnikov," was no exception.

The episode opened as Annalise braced herself for questioning about her husband Sam's murder. As we saw in the midseason finale, Annalise is well aware what happened – and, frankly, not that all that bothered about it. Like a skilled lawyer/liar (funny how those words sound so similar), she ingeniously deflected her interrogator's questions, emphasized Sam's infidelity and cruelty, denied any knowledge of the infamous d--- pic and capped off her sob story with a gnashing-of-teeth recollection of discovering her dead husband's body.

It's worth noting that the wig Annalise put on in the episode's opening moments was very suburban soccer mom. Whereas the first half of the season saw Annalise in a gloriously alpha female short crop, now it's all about softening the look, presenting the image of a spurned wife and a would-be mother (after all, it's not the first time Annalise has used her womb as an excuse). Well-played, show. Well-played, Annalise.
TV Watch
Get PEOPLE Everywhere
Advertisement