TV Watch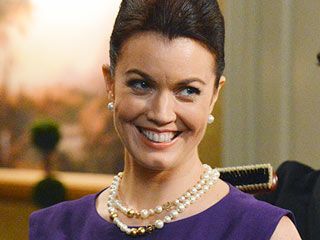 Credit: Eric McCandless/ABC
After the death of her son, Scandal's first lady went through a deep depression this season – but actress Bellamy Young says playing the grieving Mellie Grant was "the most fun I've had on the job."


Despite being eliminated from The Bachelor on Monday night's episode, esthetician Juelia Kinney insists she has no hard feelings against the show's hunky star, Chris Soules.

"We both were fond of each other, but we just didn't have that chemistry," Kinney says.

While Soules's lips may not have been completely in sync with Kinney's, "Prince Farming" has proved that he is no rookie when it comes to planting – kisses, that is.
It all comes down to this.

After months on the Biggest Loser ranch, the three Biggest Loser: Glory Days finalists were sent home to see who could return for the live finale Thursday with enough weight lost to take home the title of The Biggest Loser.

The competition is always steep on the NBC reality weight-loss show, but on a season where every contestant was a former athlete, no one was making it to the finals without putting up a major fight.


Snickers' 2015 Super Bowl has gone back to the '70s with a character-actor twist on The Brady Bunch.

The latest riff on the candy bar's ongoing "You're Not You When You're Hungry" campaign enlists tough guy Danny Trejo in the role of Maureen McCormick's Marcia, whose face was famously pummeled by a football in a 1973 episode.

Trejo stars in the clip, showing off his trademark tattoos while he throws an ax-wielding tantrum while pretending to be the famous small-screen daughter.

Once Florence Henderson's mom Carol hands "Marcia" a Snickers and gets her oldest daughter back to her smiling self, Steve Buscemi shows up as Jan (originally played by Eve Plumb).
TV Watch
Get PEOPLE Everywhere
Advertisement