TV Watch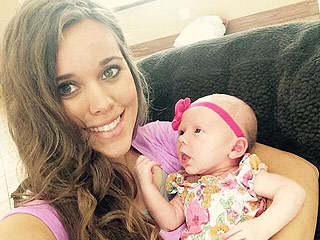 Credit: Courtesy Jessa Seewald
Jessa (Duggar) Seewald may be eagerly awaiting the arrival of her first baby, but on Tuesday she spent some quality time with her newest niece, Meredith Grace Duggar.

"Loving my little niece," Seewald Tweeted, along with a photo of her holding the 3-week-old baby in her arms.

Seewald's brother Josh Duggar and his wife, Anna, announced Meredith's birth via social media on July 19. She is the couple's fourth child, after daughter Mackynzie, 5, and sons Michael, 4, and Marcus, 2. On Wednesday, Josh and Anna were photographed eating dinner out with Meredith in tow.
Six seasons and a movie? That's an affirmative for Community if Ken Jeong has a say.

Joel McHale may have broken the news that the sitcom will not be returning to air after its most recent season on Yahoo (where it moved after NBC announced the show's cancellation in 2014), but his former costar says he hopes fans haven't seen the last of the cast.

"I would love to do a movie," Jeong told press at ABC's summer press tour. "I think a movie would be amazing."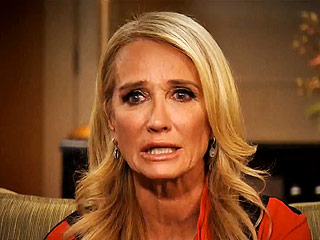 It's been a bumpy year for Kim Richards.

The former star of The Real Housewives of Beverly Hills, who left rehab in June, was arrested on Sunday for allegedly shoplifting close to $600 from Target, and a source close to Richards says her behavior of late has been increasingly bizarre.

"No one understands what she's doing," says the source, who adds that Richards is still not speaking to sister Kyle. "Her family is so concerned. And they're fed up. She's cut herself off from friends and family who care about her."
After 40 years as a couple, Kermit and Miss Piggy called it quits Thursday, vowing the breakup won't affect their work – but could the frog's wandering eye have been the final straw?

Last March, Kermit, 60, got flirtatious with Muppets Most Wanted costar Tina Fey – who wed composer, director and producer Jeff Richmond in 2001 – during a press conference in Los Angeles. Piggy, 41, arrived conspicuously late to the event.

"I'm actually stretching myself quite a lot as a dramatic actor in this thing. I did many, many scenes with Tina. One particular scene stands out to me. It was a closed set. It was the scene where she licks me," Kermit told reporters. "But I just want to clear it up right here with the press that Tina is happily married. Jeff was there during the shooting. Closed set."
Kelly Osbourne has apologized after making a racist comment about the Latino community on The View on Tuesday, admitting she "whole-hearted[ly] f---ed up."

Osbourne, 30, who was a guest co-host on the show, was trying to make a point about presidential hopeful Donald Trump when she asked, "If you kick every Latino out of this country, then who is going to be cleaning your toilet, Donald Trump?"

Immediately after making the remark, the other co-hosts were taken aback and tried to stop Osbourne from speaking further, but she continued.
I Am Cait Recap: Caitlyn Jenner Isn't Ready to 'Expose' Herself in a Swimsuit