TV Watch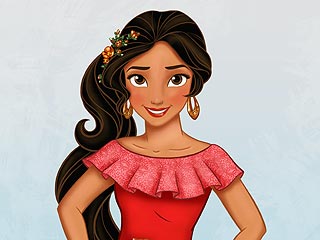 Credit: Courtesy Disney
There's a new Disney princess in town – and for the first time, she's Latina.


Wednesday's episode of Empire saw a kinder, gentler Cookie (Taraji P. Henson) – but only because she was successfully playing with everyone's strings like the leopard print-wearing puppet master she is.

While youngest son Hakeem (Bryshere Gray) still won't give her the time of day, Cookie managed to gain one more client in Tiana (Serayah McNeill) Hakeem's kind-of girlfriend, and orchestrate another in jailed rapper Titan (Jim Beans).

Meanwhile, Lucious's (Terrence Howard) old boss, Billy Beretti (Judd Nelson) threatened to bring Empire down should they go through with going public.
While How to Get Away with Murder's midseason finale revealed that Wes (Alfred Enoch) killed Annalise's (Viola Davis) two-timing husband, fans still don't know the central mystery of who killed college student Lila Stangard – whose body was found in a water tank on her sorority house's roof.

But we may be closer to getting an answer! Here are a few other tidbits to get you ready for Thursday's winter premiere:
The Real Housewives of Orange County
The Real Housewives of Orange County family is getting a little larger.

Not only are all the season 9 regulars returning for the hit Bravo reality show's 10th season, PEOPLE has learned that two new faces are being added to the cast: Meghan King Edmonds and Katie Chadwick Hamilton.

Bravo has not commented on any casting news, but while Edmonds and Hamilton may be new to the show, baseball fans will already be familiar with their husbands.
TV Watch
Get PEOPLE Everywhere
Advertisement