TV Watch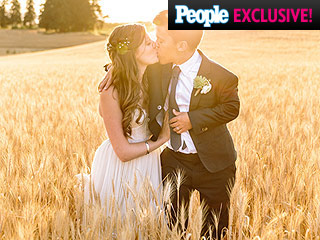 Credit: Julia Green Photography
When planning a wedding, choosing the venue is usually the first and hardest decision to make. That wasn't the case for Little People, Big World's Zach Roloff, 25, and his new wife Tori, 24.

Just as his twin brother Jeremy did last September, Roloff married his bride at home on the grounds of his parents Amy and Matt Roloff's picturesque farmland.

"My parents played a huge role in setting up the farm," Zach tells PEOPLE exclusively.
Armie Hammer revealed a little more than he bargained for when he accidentally gave his hairstylist a peek at his naked body while showing her pictures of his baby girl.

The actor, who shared the story on Jimmy Kimmel Live! Tuesday, said the incident happened while he was getting his hair cut that morning.
Can we get some fries with that shake?


Do you have fond memories of the house Aaron Paul's character Jesse Pinkman lived in on the show Breaking Bad? Like when he dissolved a corpse in acid in the bathtub, for example? Or when he had a drug-addled descent into depression and solitude via a series of never-ending parties with his meth-head cronies Badger and Skinny Pete?


The Bachelorette's Kaitlyn Bristowe and Shawn Booth Vow to Pay Jimmy Kimmel $1,000 If They Split Up