Dancing with the Stars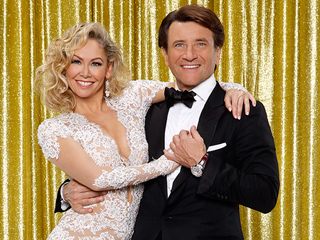 Credit: Movi Inc./ABC
It appears as if Robert Herjavec and Kym Johnson have the tools to console each other through their elimination from Dancing with the Stars.

The couple have been the subject of rumors ever since their touchy-feely cha-cha on the premiere, but it seems as if they're taking their showmance to a romance.

Herjavec, 51, and Johnson, 38, were snapped kissing in Palm Springs, California, over the weekend following their elimination, and the dancing duo also shared a kiss on the May 4 episode, but Herjavec insisted at the time, "We're professional dancers – we were just in the moment!"
It's going to be a sibling showdown!

In a preview of this week's Lip Sync Battle against sister Julianne, Derek Hough does his best Macklemore impression as he lip syncs along to "Can't Hold Us."

Although Hough, 29, does an impressive job of rapping along to every word of the fast-moving song, he doesn't show off too many of the dance moves that have earned him five mirror ball trophies on Dancing With the Stars, opting instead for moves of the "run, jump, pose" variety.
Dancing with the Stars contestant Nastia Liukin and partner Derek Hough no longer have a chance at the Mirrorball, but both of them agree it didn't come as too much of a surprise after Monday's episode.

"I feel like that when we finished the dance, it felt a little bit like a final dance, a final moment and a beautiful moment," Hough told PEOPLE backstage after the show. "So I think, for us, I'm not terribly surprised, but I'm very pleased. I can't believe what [Nastia's] accomplished."
When Noah Galloway proposed to girlfriend Jamie Boyd on Dancing with the Stars on Monday, host Erin Andrews was roundly criticized on social media for what appeared to be an annoyed reaction on her part.

However, the host went into damage-control mode on Twitter, insisting that her reaction wasn't what it seemed to many – she was trying not to cry!

After responding directly to a few of her critics ("It's called an emotion," she Tweeted at one user accusing Andrews of rolling her eyes), Andrews finally posted a screenshot of her tearful face to set the record straight.
When Rumer Willis told mom Demi Moore that she wanted to do Dancing with the Stars, Moore had an immediate gut reaction.

"My whole insides, I have to be honest, were screaming, 'No,' " the actress said in a taped segment on Monday night's episode.
Noah Galloway's live marriage proposal on Monday's Dancing with the Stars may have surprised America – and most of the other semi-finalists – but one of his fellow contestants already knew it was coming.

"I actually knew it was going to happen beforehand," Riker Lynch told reporters backstage after the show. "I was so excited."

Galloway, 33, had told Lynch his plans after dress rehearsals, and the musician was worried he would ruin the surprise.
It's semifinals week, Dancing with the Stars fans, which this season means more than the usual ramped up chest exposure and ramped up Hough exposure; season 20 means ramped up judge exposure! But really, why has it taken 20 seasons to integrate the judges into the dance to make them prove they're worthy?

I've spent 10 years Googling Carrie Ann Inaba each season to remember what it is that qualifies her to critique ballroom dancing – or any dancing – and 10 years discovering that being a fly girl is apparently all it takes. (That's 20 seasons of face palms for those of you keeping score.)

Tonight's semifinals was about more than technique, skill, and judges stepping on toes (metaphoric and literal) however, it was a show full of surprises, emotion, and a lot of tissues ...

To keep reading, visit EW.com.
Even if he doesn't get their votes, Dancing with the Stars contestant Noah Galloway just won America's hearts.

Galloway, 33, proposed to Jamie Boyd during Monday's live show, presenting his Army Reserve specialist girlfriend with a two-carat, princess-cut diamond on an 18-karat white gold band from XIV Karats in Beverly Hills.
Monday's Dancing with the Stars Judge's Choice Night might just be the most emotional selection Len Goodman has ever made.

Goodman, 71, has tapped five-time Mirrorball Trophy winner Derek Hough to embody him in a routine with Nastia Liukin. And, in a real treat for loyal DWTS fans, Goodman will also cameo at the end, taking a few turns around the ballroom with Liukin, 25.

In an exclusive clip from Monday's episode, Goodman – who struggles with arthritis – address the emotional motivation for the dance: "For everyone, there comes a time when you can no longer do something. But you always think back to how it was and what it was like."
Dancing with the Stars
Get PEOPLE Everywhere
Advertisement