Dancing with the Stars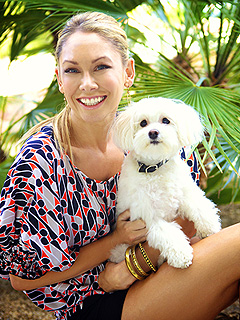 Credit: Courtesy LIFE+DOG magazine
Looks like Lola is taking after mommy!

When Dancing with the Stars pro Kym Johnson hits the studio to perfect her choreography, she brings her Bichon Frise-Pomeranian mix along for company.

"She's used to me dancing around. She actually sort of follows me," Johnson, 36, tells PEOPLE. "She prances around with the music, and then when it stops, she'll go and sit down."

A gift from her mother, Lola has been with Johnson for more than two years and first joined her when she was performing on Broadway.
Fresh off the heels of his winning Dancing with the Stars's all-star competition, was Wynonna's partner Tony Dovolani upset to be part of the second couple who went home during season 16?

"In any other situation, I'd say yes, but not in this one," the ballroom pro, 39, told PEOPLE backstage on Tuesday, right after the pair had been eliminated. "I'm so grateful to have met someone like Wynonna."

Despite their early dismissal, Dovolani has a season's worth of memories with Wynonna, 48, who got teary-eyed as she made her way through the press line.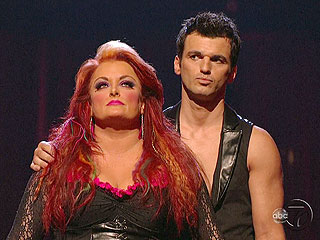 Backstage after Monday's Dancing with the Stars, Wynonna told PEOPLE that she's been on an especially "emotional ride."

Then came Tuesday's elimination, after the singer ended Monday's prom-themed night in last place with only 15 points for her samba with partner Tony Dovolani.

And though D.L. Hughley and partner Cheryl Burke were only one point ahead with their salsa to James Brown's "Sex Machine," Wynonna and Tony are heading home.

Derek Hough almost took a break from Dancing with the Stars this season. Is he ever glad he changed his mind.

Hough and Kellie Pickler have been tearing up the ballroom this spring, mostly recently with a killer "Footloose" jive that snagged them the top score Monday during prom night – leaving Hough, 27, once again astonished at his partner's dancing skills.

"She's got that ability, which for me is so fun to discover," he told PEOPLE of his country-singer partner after Monday's show. "It's wonderful."


Karina Smirnoff and Jacoby Jones are getting to know each other's bodies very well.

The pair have spent hours clutching one another as they rehearse for Dancing with the Stars. And, in particular, they appear to have spent hours more analyzing Jones's torso – which he bared Monday during the couple's impressive 24-point rumba.

"He took the shirt off [in rehearsal], and I was like, 'Hello! Let's investigate! What are these?!' " Smirnoff told PEOPLE after Monday's show, as the Super Bowl champion stripped down once again to reveal the dozens of tattoos emblazoned on his body.
Gleb Savchenko is not only one of the new pros added to season 16's Dancing with the Stars cast, but he's also partners with glamorous Real Housewives of Beverly Hills star, Lisa Vanderpump.

Read on to learn five things about the sexy, Russian, 6"1' animal lover, including what he thinks of Vanderpump, partying and making his private life public.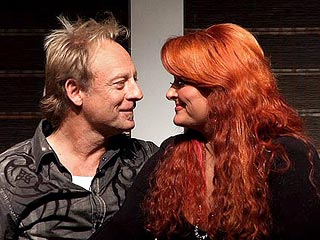 Michael Scott "Cactus" Moser is up and at 'em again, following the August motorcycle accident that took one of his legs – and nearly his life.

"After eight months of waiting, he walked towards me for the first time two days ago," Moser's wife, Wynonna, 48, told PEOPLE backstage at Dancing with the Stars on Monday, adding that fellow contestant Lisa Vanderpump was one of the first people to walk with him. "It's been an emotional ride for me this week."

Of Moser's prosthetic leg, the country star said, "It freaked me out because I've seen him in a wheelchair and using a walker, and he just walked towards me and I was like, 'Wow.' I was so stunned. I saw the wreck, I saw him lose the leg."
There can only be one king and queen of any prom – and Dancing's prom-themed show was no exception. So, which couple made magical memories in the ballroom Monday night?

Derek Hough and partner Kellie Pickler reigned once again this week, according to tough judge Len Goodman, who declared the singer "queen" for their "Footloose" jive. Carrie Ann Inaba called the performance "ridiculously amazing." They earned the top score of 25 points.

Hot on their heels were early frontrunners Zendaya and partner Val Chmerkovskiy, who earned 24 points for a Viennese waltz that Bruno Tonioli called as "enchanting and charming as Venice in the moonlight."

NFL star Jacoby Jones was sexy and shirtless for an impressive, 24-point rumba with partner Karina Smirnoff. "This had a refinement," Len said. "It had quality of movement."
Lisa Vanderpump is a restaurateur, designer, author, philanthropist and star of The Real Housewives of Beverly Hills. She's competing on season 16 of Dancing with the Stars with new pro Gleb Savchenko – and blogging about it on PEOPLE.com

Here we are again ... this time in our third round in the Dancing with the Stars ballroom.

Before the first elimination of the season, my partner Gleb Savchenko and I were around the middle of the leader board but the fan vote was low, which put us in jeopardy. I have a feeling that because The Real Housewives of Beverly Hills was airing its final episode and the first part of the reunion at exactly the same hour, we may have lost my fan base.
It's only fitting that Lisa Vanderpump drew Gleb Savchenko as her Dancing with the Stars pro: She's a restaurateur, and he's DWTS fresh meat. But the 29-year old newbie already has a slew of tactics to keep himself from being swallowed up by his dance partner.

"I actually took my shirt off on the very first rehearsal to be like, 'Okay girl, we gotta work it! If you want to be in this rehearsal, maybe I can drag you in by taking off my shirt,' " Savchenko tells PEOPLE of working with the Real Housewives of Beverly Hills star (and PEOPLE.com blogger). "And she was like, 'I like that! Okay, let's go.' "
Dancing with the Stars
Get PEOPLE Everywhere
Advertisement