Dancing with the Stars
"It's my ham, wooh!," Chris Soules yells at the camera.

"You have my keys?" Val Chmerkovskiy asks his dancer partner, Rumer Willis. "Because we can't perform without keys."

These statements weren't actually uttered backstage at Dancing with the Stars, but it really, really looks like they were in this hilarious new video, "Not Good Lip Reading – Dancing with the Stars," posted on the DWTS YouTube channel.

The premise is simple. The results? Magnificent.
After 10 weeks, 13 episodes and a two-hour finale highlighting them all, Dancing with the Stars season 20 is officially in the books, dance fans. And as usual, it was a season filled with countless incredible dances and a handful of painful ones, stars that made us roll our eyes and stars that made us cry, rewarding victories and astonishing exits, medical miracles and plenty of gratuitous Chmerkovskiy chest.

Before we get to the final fusion dances and the last, agonizing three minutes, let's take a look at that jam-packed first hour.
Patti LaBelle turned out some impressive moves during this season of Dancing with the Stars, but in an exclusive clip she shows off the voice that made her famous in the first place.

Performing her 2004 hit "2 Steps Away" was just a warm-up for LaBelle, 70, as she prepped for "Most Memorable Year" night on DWTS. That night, she would earn a solid 30 out of 40 points traveling back to 1973 and performing a jazz routine to her hit "Dan Swit Me."

Partner Artem Chigvintsev is just one of LaBelle's castmates, including Derek Hough and Suzanne Somers, watching in awe as the legend freestyles with the show's house band, Ray Chew Live.
For all those hoping Maksim Chmerkovskiy will return to Dancing with the Stars, don't hold your breath.

The pro dancer recently revealed in a Glamour magazine interview that he would "definitely not" be returning to the show.

"You have to walk away when the time is right, and the time was right, " he says, adding, "I think the change of guard is necessary."
After a "flawless" night on Monday's Dancing with the Stars performance finale, Rumer Willis and partner Val Chmerkovskiy are just hours away from learning whether they'll take home season 20's Mirrorball Trophy – and, based the flood of A-list love the pair are receiving on social media, they're certainly in a strong position.

Celebrities have been Tweeting up a storm for Willis, 26, and Chmerkovskiy, 29. Among those they're fielding warm wishes from: Willis' mother Demi Moore, Moore's ex Ashton Kutcher, Willis' gal pals Miley Cyrus, Zendaya and Courtney Love, to name a few.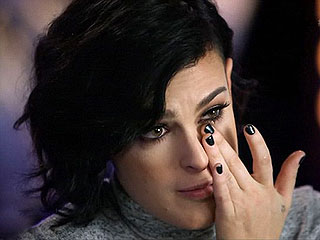 The waterworks really flowed on the penultimate episode of Dancing with the Stars on Monday – and the Willis family was responsible for most of tears.


It's finals night, Dancing with the Stars fans, and after the shocking elimination last week where one of the best remaining dancers was cut, many of you seemed to think tonight would be just a two couple race. But after watching each of them perform their two dances tonight, did any of you change your minds?

Let's hit the dance floor and break down each couple's repeated favorite dance and their final Freestyles; dances that I'm betting are going to get a lot of people in trouble on Tuesday for watching – over and over again – instead of working. (That's right, I'm looking at you.)
Dancing with the Stars
Get PEOPLE Everywhere
Advertisement