Dancing with the Stars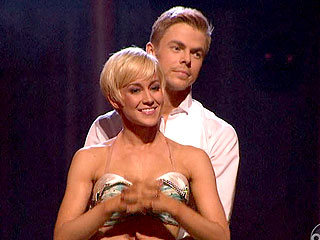 On Tuesday, Dancing with the Stars named its season 16 champions.

At the end of Monday night's episode, Zendaya and an injured Val Chmerkovskiy received perfect 30s for both of their full-length routines, and then tacked on an additional five points to their score for winning the cha cha relay.

But only one point below the highest scoring pair were Kellie Pickler and Derek Hough, who earned perfect 30s for their routines, which included a dramatic freestyle number that had viewers in tears. They came in second place during the cha cha relay, and scored four extra points.

Below them were Alexandra Raisman and partner Mark Ballas, followed by Jacoby Jones and Karina Smirnoff.

Keep reading to find out all the results from the season finale ...
The final four Dancing with the Stars contestants – Jacoby Jones, Kellie Pickler, Alexandra Raisman and Zendaya – and their pro partners have overcome injuries and potential eliminations to make it all the way to the season 16 finale. But only one couple can take home the tantalizingly close mirror-ball trophy.

Pickler's strong performances throughout the season were magnified Monday night, when she and Derek Hough earned a perfect 30 score for a freestyle dance judge Carrie Ann Inaba called "one of the most beautiful things I've ever seen." Pickler later admitted "I let all of my walls down" for the fearless show-stopper.

NFL player Jones and pro partner Karina Smirnoff did not have the most stellar performances, getting flak from the judges for an imperfect jive, and later for a super-sized freestyle dance. But Inaba nevertheless dubbed the wide receiver the "number one entertainer of season 16," in the semifinals the previous week.
Val Chmerkovskiy isn't about to let 14 stitches get in the way of his quest to earn the coveted mirror ball trophy with partner, Zendaya, on Tuesday night's Dancing with the Stars finale.

The ballroom pro, 27, took an accidental elbow jab to the eye during rehearsals with the Disney starlet just an hour before Monday's show. Following their 65 out of 65-point night, a bandaged Chmerkovskiy was taken to Beverly Hills plastic surgeon Dr. Rady Rahban, who sewed him up.

"He took it like a champ," Rahban told PEOPLE on Tuesday. "He was actually pretty calm and handled it pretty well. When we numbed it up, it was pretty easy."
Zendaya's elbow went flying, and Val Chmerkovskiy's night was suddenly in jeopardy.

But Chmerkovskiy, 27, being the pro that he is, soldiered on after the accident in dress rehearsal for Monday's Dancing with the Stars left him with a deep gash over his right eye that almost sent him straight to the hospital before the first night of the season 16 finale.

"That's what I was worried about," he told PEOPLE after the show. "It's going to keep pouring, pouring, pouring, and I'm going to need stitches. If I was going to have to go get stitches, then I wouldn't have time to make it back. So thank God the blood subsided."

Chmerkovskiy did hurry off after the interview to seek medical care – brother Maks took him for 14 stitches! – but not before he and Zendaya earned perfect scores on all of their dances.
It wasn't just teary-eyed viewers who were left speechless after Kellie Pickler's flawless, dramatic freestyle performance with Derek Hough on Monday night's Dancing with the Stars finals. The country starlet herself was also at a loss for words.

"I just feel like I let all of my walls down and I just got out there and just did my little dance," Pickler, 26, told PEOPLE backstage after her performance. "I just let myself go. There was a freedom, in a sense, that I felt. I really don't even know how to put it into words. Regardless of what happens tomorrow, I feel like I've accomplished so much being here."

Hough, 28, who admitted he and Pickler struggled with the routine during rehearsals, said, "We were super, super nervous, but right before we went on there, I kind of gave Kellie a little pep talk. I was just like, 'This is your dance. There is nobody here that can do this dance but you. This is what you're meant to do.' "
The final four couples performed three routines each on Monday's Dancing with the Stars. By the end of the night, one pair were in the lead with a perfect score for all three dances.

However, the episode kicked off with an imperfect – though energetic – jive.

Karina Smirnoff and partner Jacoby Jones – who judge Carrie Ann Inaba previously called "the number one entertainer of season 16" – were told by judge Len Goodman that they showed improvement, but that "you got excited at times and lost it."
Who's going to take home the coveted mirror-ball trophy?

The top four couples on Dancing with the Stars – Kellie Pickler and Derek Hough, Alexandra Raisman and Mark Ballas, Zendaya and Val Chmerkovskiy, Jacoby Jones and Karina Smirnoff – are hitting the ballroom one last time Monday night in hopes of earning high scores from judges and lots of votes from viewers to win the competition.

And the competition is fierce! Kellie and Zendaya have been clear frontrunners from the beginning, while Alexandra has also scored big and Jacoby is finishing strong, charming the judges and picking up enough votes to make it to the finale.

We want to hear from you about Monday's show. Share your thoughts on Twitter @peoplemag and we'll post the best Tweets right here.
Chaz Bono is a changed man.

The LGBT activist showed off a much different side at Tuesday night's Dancing with the Stars's 300th anniversary celebration, compared to when he competed on the show in 2011.

"I'm feeling really good," the once-timid son of Cher told PEOPLE at the Boulevard 3-held event in Hollywood. "I'd love to do Dancing all over again. I'd do it much better now than I did it then."
Ingo Rademacher wasn't wiping away any tears over his Dancing with the Stars semi-finals elimination on Tuesday night.

"I'm really happy that I don't have to learn two or three of those dances [next week]," the actor told PEOPLE just after his dismissal, while attending the show's 300th episode celebration at Boulevard 3 nightclub in Hollywood.

"I'm sore, I'm tired and this is it. We're going to have a party tonight while everyone else has to worry about choreographing. I'm really going to party."
It was frontrunner Zendaya who had the surprise slip-up on Monday night's Dancing with the Stars semi-finals, but at the end of the evening, it was Ingo Rademacher who ended up at the bottom of the leader board.

With the three other remaining contestants ending the night with near perfect scores, Rademacher, whom judge Carrie Ann Inaba called "the underdog," was at a disadvantage with a mere 51 points out of 60 for his and partner Kym Johnson's samba and Charleston.

On Tuesday, during DWTS's 300th episode, did Rademacher get the boot? Or was there a surprise elimination?
Dancing with the Stars
Get PEOPLE Everywhere
Advertisement