Dancing with the Stars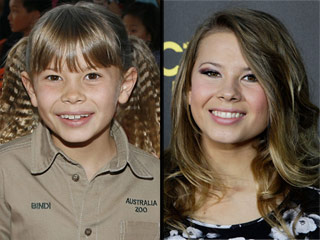 Credit: John Stanton/WireImage; Lisa Maree Williams/Getty
When it comes to things that scare Bindi Irwin, competing on Dancing with the Stars ranks higher than spending time with sharp-toothed wildlife.

"This is going to be more terrifying than jumping on top of a crocodile," Irwin, the daughter of the late Steve Irwin, says in the latest issue of PEOPLE. "Crocodiles, they are very special because they are modern-day dinosaurs. But I've kind of worked with them my whole life, whereas I've never danced before in my life."
Internet sensation Hayes Grier is getting ready to bust a move on Dancing with the Stars.

The Vine and YouTube personality will compete on this season of the ABC reality series, he announced via Twitter on Thursday.

The reveal came early after Hayes, 15, teased his nearly 3 million followers that he's "not good at keeping secrets."
Backstreet's back, all right!

Boy band heartthrob Nick Carter will compete on Dancing with the Stars, ABC announced Wednesday.

"We're not playing games with your heart - @NickCarter is on this season of #dwts!" the show's official account Tweeted.

The Backstreet Boys singer shared the news with a video of his vintage moves. "You ain't seen nothing yet," he posted.
Bindi Irwin has found herself in many different spotlights since her father's unexpected death in 2007. In her 17 years, she's starred in award-winning children's shows and become an outspoken teenage leader. Now Irwin is gearing up for a new adventure on Dancing with the Stars.

"I am absolutely thrilled. I can't tell you how excited I am," she told PEOPLE about joining the show's season 21 roster. "I think that it is going to be a truly unbelievable new experience. I can't wait to see what is to come."

As we get ready to see what killer moves the wildlife conservationist will bring to the competition, we take a look back at her journey from a crocodile-befriending cutie to a confident, wise young woman.
They're jumping for joy – literally!

Julianne Hough and Brooks Laich, a Washington Capitals hockey player, announced their engagement on Tuesday with an adorable photo on Instagram.

"We are overwhelmed with joy and excitement to share with you our recent engagement! #fiancé #love," the Dancing With the Stars judge captioned the picture, where the professional dancer is wrapped around her NHL star beau with her hand extended in a happy wave as she admires her engagement ring.
You learn a lot over the course of 27 years, and we've learned from birthday girl Rumer Willis that one the most important lessons is discovering how to be proud of who you are.

The Dancing With the Stars winner has never shied away from talking about the challenges – both internal and external – that she's overcome over the years, and her journey to self-acceptance has inspired all of us.

As Willis celebrates her birthday, let's look back at five of her most empowering and inspiring moments.
Dancing With the Stars champs Val Chmerkovskiy and Peta Murgatroyd dazzled the Disney Legends Awards crowd with a waltz to Sleeping Beauty's "Once Upon a Dream" at the D23 Expo in Anaheim, California, on Friday, but Chmerkovskiy told PEOPLE he is clear-eyed about the effusive praise heaped upon him days ago by his winning partner Rumer Willis.

"This is a person I don't expect anything less from," he says. "That's the first thing I noticed about her, was the amount of gratitude she exudes towards the people that care about her and the opportunities that she gets."

Chmerkovskiy adds, "She's an incredible person, very humble and very talented and that's one of the reasons why we worked out so well is because I was very much inspired by her and her spirit and her energy, and I gave her my all. She obviously reciprocated that."
Dancing with the Stars