Dancing with the Stars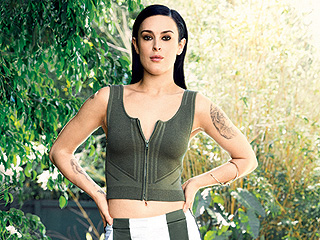 Credit: Doug Inglish/Glamour
Rumer Willis triumphantly won Dancing with the Stars last season – but the actress and singer said her emotional victory wasn't embraced by everyone.

Long dogged by Internet bullies, Willis, 26, said bringing home the Mirrorball Trophy did little to silence the critics.

"Just because I was celebrated on Dancing With the Stars doesn't mean the bullying has stopped," she tells Glamour in the magazine's July issue. "After the show started, I had to block almost 10 people every day on social media because they wouldn't leave me alone."
Rumer Willis didn't just win the Dancing With the Stars competition this season.


Rumer Willis has some new ink, and it's all thanks to her victorious Dancing with the Stars run!

The starlet, 26, shared a shot of her new tattoo – a sketch of one of her performances on the ABC reality competition – Tuesday on Instagram.

"I got it because I really wanted to just have a reminder of the journey I went through. I don't think I've ever put so much – physically, mentally, emotionally – into anything, or wanted something so badly," Willis told PEOPLE Wednesday at the StarShop launch in New York City.
Val Chmerkovskiy may have recently scored the coveted mirror ball trophy, along with his partner Rumer Willis, as this season's Dancing with the Stars champs, but according to the professional dancer, that experience pales in comparison with the spin he got to take on Tuesday with another champion.


You can take the girl out of the ballroom ...

PEOPLE can exclusively announce that Dancing with the Stars' season 20 Mirrorball Trophy winner Rumer Willis will join the show's Dancing with the Stars: Live! Perfect Ten tour for 25 dates this summer, beginning June 13.

While cha cha-ing her way to victory with partner Val Chmerkovskiy, Willis "fell in love with dancing and ... didn't want to stop," she said in a press release for the tour.

"Val and I were lucky enough to have incredible fans that supported us throughout the entire show, and they are the reason we won. I can't wait to meet the fans and perform for them live."
There's nothing like a turn on Dancing with the Stars to kick the rumors of your love life into overdrive, as Rumer Willis has discovered.

However, she's taking it in stride. Following their Mirrorball Trophy win, Willis is still friendly with her pro partner, Val Chmerkovskiy, and late on Tuesday, she posted a cute Dubsmash of Chmerkovskiy's "audition" for the next Despicable Me movie.

Earlier that day, Chmerkovskiy and Willis were snapped enjoying a friendly lunch date in Beverly Hills.
"It's my ham, wooh!," Chris Soules yells at the camera.

"You have my keys?" Val Chmerkovskiy asks his dancer partner, Rumer Willis. "Because we can't perform without keys."

These statements weren't actually uttered backstage at Dancing with the Stars, but it really, really looks like they were in this hilarious new video, "Not Good Lip Reading – Dancing with the Stars," posted on the DWTS YouTube channel.

The premise is simple. The results? Magnificent.
Dancing with the Stars