Dancing with the Stars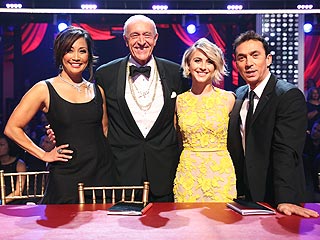 Credit: Kelsey McNeal/Getty
Say it ain't so, Len Goodman!

The senior-most member of the Dancing with the Stars judging panel said he plans to leave the ABC series after the upcoming season.

Goodman told reporters that traveling back and forth to England has become too overwhelming. Goodman is also the head judge on Strictly Come Dancing, the original, U.K. version of DWTS.

"I've got my wife, I've got my son, my mother is still alive and she's in hospital – I've had virtually no time to go and visit her," Goodman said Monday. "So, I just need a bit of time off to get on with a normal life. And it was either Strictly went or the American one went or the tour went. ... I'm doing the spring one when I go out there ... and that's going to be my last one. Dancing with the Stars, next year is their 10th year ... so I think that's a nice place to stop."
It was a year marred by painful injuries (bummer about your groin, Alfonso Ribeiro!) and awkward wardrobe malfunctions (pink boas will never mean the same again to Betsey Johnson), but the 19th season finale of Dancing with the Stars Tuesday was no less dramatic.

Ribeiro, who has said he waited 10 years for a moment like this, became the latest amateur to take home the mirror ball trophy. "I cannot believe this!" he told host Tom Bergeron. "I don't even know what to say! These are happy tears!"

"He deserves this so much," added his partner, Witney Carson. "He's one of the most hard-working people I know."


Derek Hough has won Dancing with the Stars a record five times as a pro. But if he's not going to win, he'd rather not even make the finale.

Hough, 29, was paired with YouTube star Bethany Mota this season. And they reached the end of the road Monday, falling just short of the three-team finale despite some brilliant dancing.

But in a way, Hough was okay with that.
It seemed wrong to send someone home on a night when everyone got a 10 or two, but there can only be three couples in Tuesday's Dancing with the Stars finale.

Even though she was partnered with repeat winner Derek Hough, YouTube star Bethany Mota was the latest hoofer to leave the ballroom.

"I discovered things about myself, things I thought I could never do," Mota said. "I never thought I'd be this far in the competition. To be in the finals was the best thing ever."
Janel Parrish is best known for playing Mona Vanderwaal on the TV drama Pretty Little Liars. She's been paired with pro Val Chmerkovskiy for season 19 of Dancing with the Stars, and she'll be blogging for PEOPLE about her experience on the hit ABC show.

It's honestly surreal to be going into the finals tonight. I don't know how it happened so quickly. I feel like just yesterday I was having my first rehearsal with Val! It's amazing, it's exciting, and I'm also really sad for this journey to end.

I'm kind of surprised I stuck around this long. Honestly, my goal was just to make it through each week, and now I have a new goal, which is to win. Now that it's actually here and it's in sight, I want to go all the way and I want to go all the way with Val and I want us to win.
Winnie Cooper found her Kevin Arnold – and married him!


Getting eliminated from Dancing with the Stars can be a disappointing experience. But Lea Thompson admits it does have its perks.

Specifically, a free pass to devour everything in sight.

"I just ate everything," she told PEOPLE at The Hunger Games premiere in Los Angeles on Monday. "It wasn't like I was trying not to eat [while on Dancing]. It was just so nerve-wrecking I couldn't eat. I was so scared – and you don't get a day off for two and a half months!"
The final five couples took to the stage for this week's Dancing with the Stars semifinals, and while each duo had impressive performances, one couple had to be sent home. This week Tommy Chong and Peta Murgatroyd took their final bows on the dance floor after performing two dances to different types of music – one plugged and the other unplugged – for this week's theme.

"I've just showed that old stoners can perform when they need to!" joked Chong during his final send-off.

Here's how the couples fared:
Janel Parrish is best known for playing Mona Vanderwaal on the TV drama Pretty Little Liars. She's been paired with pro Val Chmerkovskiy for season 19 of Dancing with the Stars, and she'll be blogging for PEOPLE about her experience on the hit ABC show.

The quickstep we performed last week was honestly one of my favorite dances we've done. I thought it was amazing. It was America's choice dance, so they chose everything down to our costumes and the song and the style, and at the end they wanted us to kiss, so we threw that in for America!

Even though Val had a little bit of a stumble during the dance, it didn't throw us off at all. The poor thing, his patent leather shoes got stuck together, but we both just kept going and we were able to get back on track. I know Val felt really bad because of the slip, but I was like, "You're human! Sometimes humans slip. It's all good!"
The injury-plagued Alfonso Ribeiro may have danced his last paso doble.

PEOPLE has confirmed that the 43-year-old actor is now battling another injury after having pulled a groin muscle earlier this season. As a result, The Fresh Prince of Bel Air star remains under medical supervision and may not be able to perform on Monday – or the rest of the season.

According to TMZ, Ribeiro hurt his back Wednesday after over-compensating for the groin injury he endured earlier this year while performing his iconic dance, The Carlton. He reportedly skipped another rehearsal Thursday so he could take further tests.
Dancing with the Stars
Get PEOPLE Everywhere
Advertisement