Dancing with the Stars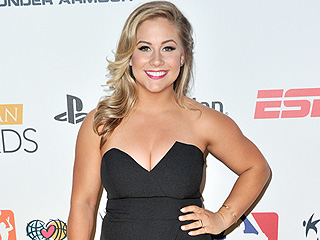 Credit: Allen Berezovsky/WireImage
Olympic gold medalist and Dancing with the Stars champion Shawn Johnson faced more than grueling practices and fierce competitors growing up as an elite gymnast – she felt such pressure to adhere to the 'look' of a svelte gymnast that she sometimes restricted her diet to 700 calories a day.


Tamar Braxton is on the mend after being hospitalized last week for blood clots in both of her lungs – a health scare that ended her run on Dancing with the Stars.

The R&B singer and The Real co-host called into the show for Thursday's episode to give the ladies and viewers an update on her health after leaving the hospital.
Looking at Shawn Johnson, you wouldn't expect the Olympic gold medalist and Dancing with the Stars champion to be someone who struggles with her body – but she used to hide a lot of insecurity beneath her bubbly exterior.


Even Bindi Irwin has to curse every now and then.

The daughter of late conservationist Steve Irwin is known for her positive, squeaky-clean image, but on Monday's episode of Dancing with the Stars, the 17-year-old was bleeped in a pre-taped package that showed the moment after she fell to the ground during a rehearsal.

"Oh my gosh," Irwin told PEOPLE after the show. "I felt so bad. But I just wasn't expecting it. I was dropped and so I just screamed and it came out. I couldn't even tell you what word I said."
Whether it's in gymnastics competition or on Dancing with the Stars, Shawn Johnson is all about performing under pressure. But when she takes the dance floor on her wedding day, the gold medal winner tells PEOPLE she won't be looking for a perfect score.


Alexa PenaVega may not be down for the count on Dancing with the Stars.

Things at the ABC reality dance competition are up in the air after Tamar Braxton, 38, revealed on Wednesday that she has blood clots in her lungs and is dropping out of the competition.

With Braxton's spot in the season 21 final 5 now open, there is discussion among the show's producers about bringing back PenaVega, 27, who was just eliminated on Monday.

"The producers are looking at all possibilities right now," a DWTS insider tells PEOPLE. "There is a possibility that Alexa could be reinstated."
Dancing with the Stars