Dancing with the Stars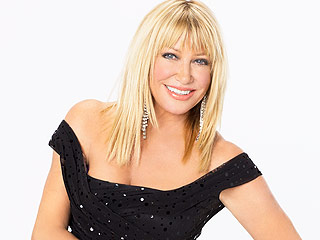 Credit: Craig Sjodin/ABC
Actor and best-selling author Suzanne Somers, best known for her role as Chrissy Snow on Three's Company, was paired with pro Tony Dovolani for season 20 of Dancing with the Stars. She blogged for PEOPLE about her experience on the hit ABC show.

Going into to Disney Night, I did not try to anticipate anything. Every single minute on that show was the best I could possibly do, and, in doing so, I feel very good about my participation. My experience had nothing to do with whether I won or not; it had to do with me breaking out of my comfort zone and being challenged in an arena that is totally alien to me. I am an entertainer who dances rather than a professional dancer, and I love how much I took on and accomplished.

I'm really my own person when it comes to being competitive. I compete with only myself. When they announced I was in jeopardy, it just surprised me since I have been improving every single week that I've been on the show. However, it did not change how I would approach my performance – that was really locked in big-time.
Rare family portrait!

Rumer Willis' mom, dad and sisters have been supporting her all season long on Dancing with the Stars. But on Monday night, they gathered for a quick Instagram photo together.

That's Rumer, 26, in the back, in her Ursula outfit from The Little Mermaid (it was Disney Night on the show), flanked by dad Bruce, 60, mom Demi Moore, 52 – and younger sisters Scout, 23, and Tallulah, 21, in the front.
While an obvious plug to the show's parent company, Disney Night made for some of the most inventive routines yet – not to mention some of the most creative costumes yet (Prince Farming in a skirt! Rumer Willis in full-on purple body paint!).

Paying homage to Disney favorites both new and old, the stars channeled their favorite characters while animated support "joined them," appearing on-screen at home. A cute idea in theory, it usually just took attention away from the performance or was so fleeting it was easy to be forgotten.

The night got a slow start, but the final three stars of the night – Rumer, Riker Lynch and Nastia Liukin – hit the ballroom floor with sets to remember. Elsewhere, opener Suzanne Somers and Robert Herjavec, uh, Floundered.

Read on for the highlights of Dancing with the Stars' Disney Night.
Permalink | Filed Under: Dancing With the Stars, TV News, Allison Holker, Bruno Tonioli, Carrie Ann Inaba, Chris Soules, Derek Hough, Julianne Hough, Kym Johnson, Len Goodman, Mark Ballas, Nastia Liukin, Patti LaBelle, Rumer Willis, Sharna Burgess, Suzanne Somers, Tony Dovolani, Val Chmerkovskiy, Valentin Chmerkovskiy, Willow Shields, Witney Carson
We know Julianne Hough's Lip Sync Battle moves "straight-up traumatized" her big brother, but was it ever awkward for the Dancing with the Stars pros to groove together?

"It's been weird in the past," Derek Hough admitted to PEOPLE. "I started dancing because I wanted to be around girls. My parents were like, 'Why don't you dance with your sister?' I was like, 'No, you're defeating the entire purpose of why I'm dancing!' "
Maksim Chmerkovskiy and Meryl Davis just can't stay away from each other.

The pair, who scored the top prize on Dancing with the Stars in 2014, will be reuniting at his upcoming dance extravaganza, SWAY: A Dance Trilogy, on June 5 and 6 at the Hammerstein Ballroom in New York City.

"I can't stay away," Chmerkovskiy, 35, tells PEOPLE about his former dance partner. "We love working together. Any opportunity I get to dance with her is welcome."
Actor and best-selling author Suzanne Somers, best known for her role as Chrissy Snow on Three's Company, has been paired with pro Tony Dovolani for season 20 of Dancing with the Stars. She'll be blogging for PEOPLE about her experience on the hit ABC show.

The show asked what was my most memorable year. Relative to my career, it had to be the year I was cast as Chrissy Snow in Three's Company. There's no getting around people (only remembering her for) the character. She's iconic. I realized that last year when I turned on Saturday Night Live and I saw Lady Gaga playing me as Chrissy Snow and Justin Timberlake as Jack Tripper. Very few actors get the opportunity to play such a complete and full character that it is remembered for decades. It was a wonderful moment in my career.

In order to make sense of Chrissy Snow dancing, we almost had to do the skit at the beginning to establish the character and the times. It was a lot of fun.

Wearing the ponytails put me back in that space and time. I found it interesting that the moment the ponytails went in, I morphed back into that character. My body language changed and allowed me to enter a fantasy that Chrissy Snow must've taken dancing lessons and she thought she was Cyd Charisse!
Michael Sam, the NFL's first openly gay player, was eliminated from Dancing with the Stars on Monday following his best, most emotional performance yet.

The theme was "my most memorable year," and, like Rumer Willis, Sam's most memorable year was 2014. It was the year he came out as gay, and the year he and his father stopped speaking for the second time in their tumultuous relationship.

Sam's dance, a rumba performed with Peta Murgatroyd to "I'm Not My Father's Son," was not met well by the judges from a technical standpoint – the pair received a 30 out of 40. However, judge Bruno Tonioli praised Sam, 25, for his "guts": "Your voice is very important, and I guarantee you, it's helped a lot of people." Carrie Ann Inaba echoed the sentiment, telling Sam that "Dance is so much more than movement."
Rumer Willis was candid about the bullying she faced as a teenager on Monday's Dancing with the Stars.

Often unfavorably compared to her "beautiful mom" Demi Moore and instead to her "masculine father" Bruce Willis, the actress was well aware of the things said about her in the press as she was growing up, as she revealed in a pre-taped segment.

"When you grow up with parents that are known worldwide and having so much attention from media and all of the tabloids magazines, it's really tough," said Willis, now 26. "When I was a teenager I was super awkward. I don't think I really felt comfortable in my body or with how I looked, and people were nasty."
If you think Len Goodman's comments had a particularly harsh "get off my lawn" quality to them on Monday's Dancing with the Stars, it's because something's been eating at the show's elder statesman.

Years of watching old-school dances like the waltz get watered down by young and hip pros have taken a toll on the judge, who's about to turn 71 later this month.

"The show is becoming performance-driven. It's all about the performance," Goodman told PEOPLE exclusively after the show. "For me, that's not what ballroom dancing is about. The waltz, next to the Viennese waltz, is the oldest dance of all. There is a tradition. When you think of the waltz, you think of elegance, sophistication, fluidity of movement. Sometimes I look at a dance and I have to check what dance it is, because it doesn't look like what I think it should be."
Dancing with the Stars
Get PEOPLE Everywhere
Advertisement