Dancing with the Stars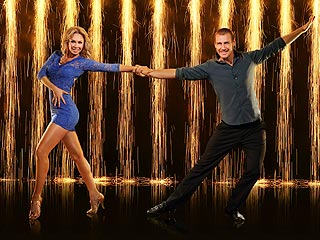 Credit: Craig Sjodin/ABC
Ingo Rademacher wasn't wiping away any tears over his Dancing with the Stars semi-finals elimination on Tuesday night.

"I'm really happy that I don't have to learn two or three of those dances [next week]," the actor told PEOPLE just after his dismissal, while attending the show's 300th episode celebration at Boulevard 3 nightclub in Hollywood.

"I'm sore, I'm tired and this is it. We're going to have a party tonight while everyone else has to worry about choreographing. I'm really going to party."
It was frontrunner Zendaya who had the surprise slip-up on Monday night's Dancing with the Stars semi-finals, but at the end of the evening, it was Ingo Rademacher who ended up at the bottom of the leader board.

With the three other remaining contestants ending the night with near perfect scores, Rademacher, whom judge Carrie Ann Inaba called "the underdog," was at a disadvantage with a mere 51 points out of 60 for his and partner Kym Johnson's samba and Charleston.

On Tuesday, during DWTS's 300th episode, did Rademacher get the boot? Or was there a surprise elimination?
Alexandra Raisman has come out of her shell.

The once shy Olympic gymnast, 18, was ever the giddy competitor backstage after Monday night's Dancing with the Stars.

"I've just been having so much fun that I don't think I'm being interviewed right now or I'm on TV," Raisman – who admitted she was previously nervous to interact with reporters – told PEOPLE. "It's just been such an amazing experience. I just feel like a new person. I know I keep saying this, but I've never had this much fun in my life, so it's been really awesome."
It was a Bachelor party at the Thompson Beverly Hills hotel rooftop on Saturday.

Sean Lowe and fiancée Catherine Giudici bonded with former Bachelorette, Ali Fedotowsky, when the trio attended the fifth annual On the Go Mother's Day event.

At the pool party, Fedotowsky – who showed up sans new beau Kevin Manno – "grabbed Sean and Catherine and congratulated them on everything," an onlooker tells PEOPLE. "Sean spoke about his recent stint on Dancing with the Stars and he and Catherine joked about them having choreographed a wedding dance."
Monday night's Dancing with the Stars semi-finals got off to a lively start.

Kellie Pickler and Derek Hough's Argentine tango was a routine that judge Carrie Ann Inaba called "perfection."

The other two judges echoed similar sentiments and gave the pair 30 points out of 30.

Ingo Rademacher, who Inaba called "the underdog," had judges only semi-impressed with the 24-point samba he completed with partner, Kym Johnson.
She's made the reality television leap from singing on season 5 of American Idol to tearing up the parquet each week on Dancing with the Stars, but even Kellie Pickler thinks there's an Idol alum she'd rather see getting fake tanned and sequined.

Katharine McPhee "would do amazing," Pickler told PEOPLE while at the 20th Annual Race to Erase MS event in Beverly Hills.

The "Best Days of Your Life" singer doesn't have to stretch her imagination too far to explain why she feels the Smash actress would dominate on Dancing with the Stars.

"First of all, she's an amazing performer – obviously a very talented singer," says Pickler, 26, "but if you've seen her show Smash, she's dancing. I really don't think there's anything she can't do."
Jacoby Jones and Karina Smirnoff were practicing a flip when something went wrong.

Smirnoff landed on the NFL pro Sunday, twisting her neck and banging her face, and she had to be taken to Cedars-Sinai Medical Center for possible whiplash and a dislocated jaw, a source tells PEOPLE.

The ballroom pro later Tweeted that she was "still a bit sore" but would make it to Monday night's semi-finals on Dancing with the Stars..
After Dancing with the Stars on Monday, Cheryl Burke celebrated her 29th birthday with the help of her fox-trotting friends.

Kelly Monaco, Karina Smirnoff and Kym Johnson were on hand for the celebration at Mixology 101 in Los Angeles, where they presented the birthday girl with a towering red velvet cake.

"Cheryl is one of my best friends," Johnson told PEOPLE. "I loved being at Mixology to help her celebrate alongside these gorgeous ladies!"

Reflecting on the occasion, Burke said, "I've spent my entire twenties on DWTS. It was incredible to be able to celebrate 29 with my show family and friends," adding, "I can't wait to see what this year brings."
– Michele Stueven
There's an upside to Sean Lowe's elimination on Tuesday from Dancing with the Stars.

The former Bachelor star, 29, can finally give undivided attention to his fiancée, Catherine Giudici, who supported him all season as he competed for the mirrorball trophy with Peta Murgatroyd.

"I've gone from one show to the next for the past 12 or 14 months," Lowe told PEOPLE backstage after being sent home. "It's nice now. I'll have a little bit of a break and I can take a deep breath. [Catherine and I will] definitely take a vacation and relax. I'm definitely going to spend a lot of quality time with her because dancing consumed my life for the past few months, so it'll be nice to play with my dogs – the simple things."
Were Sean Lowe's fans able to save him from being eliminated on Tuesday night's Dancing with the Stars?

On Monday, the former Bachelor star failed to impress the judges with a pair of foot-fumbling routines that put him at the very bottom of the leader board with 42 points out of 60.

Soap star Ingo Rademacher trailed not too far behind with 48 points for the night.

Read on to find out if one of these handsome men were forced to say goodbye to the ballroom.
Dancing with the Stars
Get PEOPLE Everywhere
Advertisement