Dancing with the Stars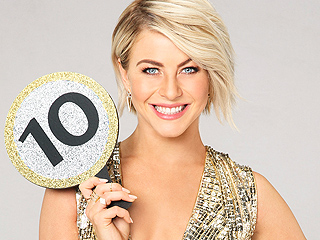 Credit: Craig Sjodin/ABC
Last year, Dancing with the Stars pulled out all the stops for its 10th-anniversary (not to mention 20th) season – but that doesn't mean fans are any less excited that season 21 is just around the corner.

Now PEOPLE can reveal the first glimpse at the new season.
They were a match made in Dancing with the Stars heaven.

Rumer Willis took to Instagram on Wednesday to post a lengthy and emotional thank-you message to her former DWTS partner, Val Chmerkovskiy.

"As my journey as your partner comes to an end and your next season with a whole new partner and new experience begins, there are a few things I thought about today," she wrote as the caption to the adorable collage of photos of the two together, from selfies to on-stage embraces. "I honestly don't know if I have words to describe what this past season or this tour, but most importantly our partnership has meant to me. I know I have tried on many occasion while on tour to describe to the audience what I felt but I have always fallen short to put in words how I feel."
Tony Dovolani is used to racking up perfect 10s on Dancing with the Stars – but he hopes to be the one handing out scores sooner rather than later.

"I would love to judge, and I think I would be a great judge," Dovolani told PEOPLE at the 10th anniversary party for Dance With Me, a chain of dance studios co-founded by Dovolani's fellow DWTS pro Maksim Chmerkovskiy.

"Considering I've had so many different partners, I know the road that every single one of those partners has taken. It's not like I've always had the ringers," Dovolani said, making a convincing argument for why he could follow in the footsteps of Julianne Hough, who moved from the ballroom floor to the judges' table in 2014.
Nobody knows better than Dancing with the Stars favorites Maksim Chmerkovskiy and Peta Murgatroyd that it takes two to tango.

Chmerkovskiy admits that he and Murgatroyd, 29, must make an effort to keep in touch as she travels around the country on this summer's Dancing with the Stars Live! tour. But, says the former pro, a brief time apart is only a small bump in their journey.

"We just decide to not go longer than a couple weeks [without seeing each other]," Chmerkovskiy tells PEOPLE at the 10th anniversary party for Dance with Me, a chain of dance studios that he co-founded. "It's a hiccup in the grand scheme of things. There's a whole life together depending on how you take of yourself."

Chmerkovskiy, 35, says he and his on-again/off-again girlfriend, who have been romantically linked since 2012, could not be happier. "Everything's amazing," he gushed. "She's awesome."
She's gotten used to working with celebrities on Dancing with the Stars, but for Witney Carson, being nominated for an Emmy Award was wonderfully "surreal."

"It's a huge honor," the DWTS Dancing Pro tells PEOPLE of her July 16 nomination for outstanding choreography. "You know, I idolized these people [like Julianne Hough and Derek Hough] when I was little, so to be alongside them with this Emmy nomination is incredible."
Victor Ortiz, ex-boxing champ who competed on Dancing with the Stars in season 16, was arrested over the weekend for assault with a deadly weapon, PEOPLE can confirm.


Here comes the bride – a whole lot sooner than we thought!


Noah Galloway is the first to admit his life has had its "ups and downs," including his recent on-camera proposal to his girlfriend of two years, Jamie Boyd (a major up), and he wants to formally share his stories – high, low and everywhere in between.

"I want to get a book done as quickly as possible," Galloway told PEOPLE on the red carpet of the CLIO Sports Awards. In a slick Kenneth Cole suit, the double amputee and U.S. Army veteran had Boyd by his side and said he plans to center his memoir on "my different experiences."

At Wednesday's ceremony, Galloway was met with a standing ovation when he introduced the Innovative Grand CLIO. The notoriety leading up to that standing O accelerated dramatically this spring during his time on Dancing with the Stars, when he won over fans' hearts with his passionate dancing and by dropping down on one knee in front of Boyd in an unforgettable moment that's racked up plenty of hits on YouTube.

After wowing on the screen, now the real-life Iraq hero hopes to inspire on the page, too.
If dancing ever fails for Derek and Julianne Hough, the siblings already have their backup plans in place.

Instead of making a living as a professional dancer, "I'd be Indiana Jones," Derek quipped to PEOPLE at a dance class sponsored by Proactiv+ that the duo led in New York City. "That's not even a joke answer. That's a real answer. … I would be traveling the world finding relics."

Julianne also has a foolproof career ready to go, too – it just involves a bit of luck. Julianne proclaimed, "I would win the lottery so I could travel the world and do seminars with young girls about self-esteem and encouragement and empowerment."
Dancing with the Stars