Dancing with the Stars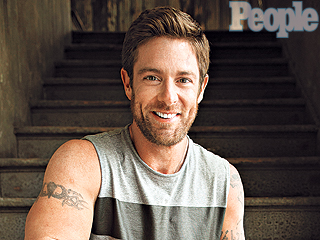 Credit: Ari Michelson
Wishes continue to come true for Noah Galloway!

The Dancing with the Stars contestant – who's set to compete in the finals Monday and Tuesday on ABC – was gifted a motorcycle after he told PEOPLE that he wanted one to go with his new leather jackets from Kenneth Cole. Besides becoming a fan favorite on DWTS, Galloway is also a spokesman for Kenneth Cole's Mankind fragrance.

The 33-year-old Army veteran, who just got engaged last week on the ABC show, posted a picture of himself straddling a new Harley Davidson on Instagram.
Now that a spin-off of Full House is underway, it's only natural to wonder which much-beloved '90s sitcom will be next to get the Netflix treatment.

However, don't bet on a Fresh Prince of Bel-Air reunion.

"I'm ready to let it go," Alfonso Ribeiro told PEOPLE at the Evening of Dancing with the Stars event at the Paley Center in Beverly Hills on Thursday. "I'm like, go ahead – let Fresh Prince and Carlton go into TV foreverland and let it live there."
Olympian Amy Purdy has a sparkly reason to celebrate: She's engaged!


They were one of the most classic pairings ever on Dancing with the Stars, with electric chemistry, rumors of off-screen romance and moves that carried them to a third-place finish.

Now, five years later, Erin Andrews recalls meeting Maksim Chmerkovskiy for the first time – and just being terrified.

"When I first met Maks, I broke out in hives because I was like, 'Wow, you really are delicious, and I cannot walk in heels,' " Andrews said Thursday at "An Evening with Dancing with the Stars" – an event at the Paley Center in Los Angeles featuring a panel discussion about the show.
It appears as if Robert Herjavec and Kym Johnson have the tools to console each other through their elimination from Dancing with the Stars.

The couple have been the subject of rumors ever since their touchy-feely cha-cha on the premiere, but it seems as if they're taking their showmance to a romance.

Herjavec, 51, and Johnson, 38, were snapped kissing in Palm Springs, California, over the weekend following their elimination, and the dancing duo also shared a kiss on the May 4 episode, but Herjavec insisted at the time, "We're professional dancers – we were just in the moment!"
It's going to be a sibling showdown!

In a preview of this week's Lip Sync Battle against sister Julianne, Derek Hough does his best Macklemore impression as he lip syncs along to "Can't Hold Us."

Although Hough, 29, does an impressive job of rapping along to every word of the fast-moving song, he doesn't show off too many of the dance moves that have earned him five mirror ball trophies on Dancing With the Stars, opting instead for moves of the "run, jump, pose" variety.
Dancing with the Stars contestant Nastia Liukin and partner Derek Hough no longer have a chance at the Mirrorball, but both of them agree it didn't come as too much of a surprise after Monday's episode.

"I feel like that when we finished the dance, it felt a little bit like a final dance, a final moment and a beautiful moment," Hough told PEOPLE backstage after the show. "So I think, for us, I'm not terribly surprised, but I'm very pleased. I can't believe what [Nastia's] accomplished."
When Noah Galloway proposed to girlfriend Jamie Boyd on Dancing with the Stars on Monday, host Erin Andrews was roundly criticized on social media for what appeared to be an annoyed reaction on her part.

However, the host went into damage-control mode on Twitter, insisting that her reaction wasn't what it seemed to many – she was trying not to cry!

After responding directly to a few of her critics ("It's called an emotion," she Tweeted at one user accusing Andrews of rolling her eyes), Andrews finally posted a screenshot of her tearful face to set the record straight.
Dancing with the Stars
Get PEOPLE Everywhere
Advertisement