Dancing with the Stars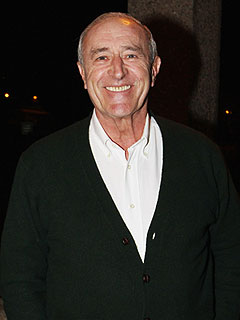 Credit: Phillip Massey/FilmMagic
Three's a crowd?

Hardly for one competitor, who snagged the season's first perfect 30-point score on Dancing with the Stars on Monday.

The trio of 10s came appropriately enough on threesome night, when the stars each teamed up with two pros for the second round of dances.

The trio dances added complexity and sass – and at one point had one judge melting down in an angry clash with his colleagues.


There's no dirty dancing going on between Sean Lowe and Peta Murgatroyd.

The Dancing with the Stars pro tells PEOPLE that despite rumors, she and her partner Lowe, 29, are "just good friends like brother and sister."

The season 14 champ says gossip is to be expected given Lowe's sexy (and sometimes shirtless) routines but that it's tough for the former Bachelor star and his new fiancée, Catherine Giudici. "[The rumors are] something that [have] gotten a little out of hand with Sean and Catherine because they had just gotten engaged and it's just so crazy to think that people are making up all these stories," she says in an interview with PEOPLE. "They have to have something to talk about and it's ridiculous. There's nothing going on."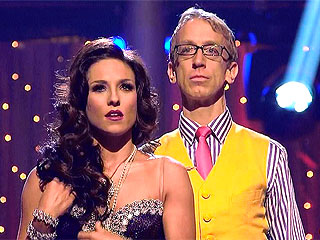 It was an especially sad goodbye on Tuesday night's Dancing with the Stars elimination episode.

"I'm clenching my jaw because if [the tears] start going, they won't stop," Andy Dick, 47, told PEOPLE backstage after he and partner Sharna Burgess bid adieu to the dance floor. "We wanted one more week."

But before receiving big hugs from the reporters who were sad to see the pair go home, Dick reflected positively on his time as a competitor.
Week after week of consistently low scores haven't spelled the end of the road for Dancing with the Stars competitors Andy Dick and Sharna Burgess. But is their time finally up?

The actor and his pro partner scored just 17 points for their rumba on Monday night's all-Latin show, putting them at the bottom of the leader board below soap star Ingo Rademacher and his partner, Kym Johnson. Burgess even spoke out in anger against the judges for their harsh critiques.

But their fans have saved Team Dick before. Did they do it again? Read on to find out who was sent home on Tuesday's elimination show ...
Andy Dick and his pro partner Sharna Burgess felt a little Dancing déjà vu on Monday, when the judges once again gave them a harsh critique.

"I'm angry, because, for example, Bruno – he stands up every week and says something mean to be funny," Burgess, 27, told PEOPLE backstage after Monday night's show. "You're here to be a judge, to tell us how to be better."

Burgess does commend judge Carrie Ann Inaba for her feedback.

"As far as her giving us a five, yeah, that sucked, but she had constructive criticism at least," Burgess said. "And if she put so much importance on those dead arms, then trust me, we won't have any next week."
The ballroom heated up on Monday night's Latin-themed Dancing with the Stars.

Seven weeks into the competition, almost all of the remaining couples came up with impressive routines. But it was Alexandra Raisman and Mark Ballas who landed their first 10s of the season, with a salsa that Len Goodman – who gave the pair a nine – called, "tasty and refreshing."

The pair got 10s from the other two judges, which put them at a total of 29 points out of 30. They also received an additional three points for winning a dance-off against Andy Dick and Sharna Burgess.

Raisman and Ballas tied with regular high-scoring duo, Derek Hough and Kellie Pickler, who wowed judges with their samba to Ricky Martin's "Shake Your Bon Bon."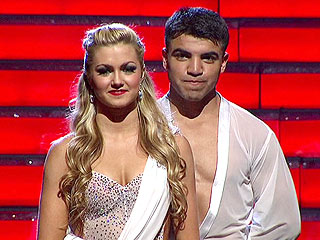 Although Victor Ortiz wouldn't say he's "relieved" he and partner Lindsay Arnold got eliminated on Tuesday night's Dancing with the Stars show, he's content to move on from the ballroom competition.

"I definitely feel like, hey, you know what? This journey's over for me," the welterweight champ told PEOPLE backstage after his dismissal. "I'm going to focus on what I do again, which is boxing. The world championships are waiting, and I'm coming."

While he joked that he would "miss the fact that [Lindsay] can tolerate me and put up with me," one thing he's happy about is not having to put in daily effort to win the competition.

"I'm not going to sit back and think, 'Oh, my god, I miss rehearsing,' " he told reporters with a laugh. "No."
It was another week of low scores for Andy Dick and Victor Ortiz, who performed on Monday's Stevie Wonder-themed episode of Dancing with the Stars.

Dick and partner Sharna Burgess struggled through an 18-point samba and earned 25 additional points for their group dance as part of Team Samba. And Ortiz and partner Lindsay Arnold failed to impress the judges with their rumba, which earned 18 points. They later added 22-points as part of Team Paso.

Did Dick or Ortiz get the boot at the end of Tuesday's elimination episode? Or was there a surprise dismissal? Read on to find out ...


The work is exhausting and all-consuming. But it takes you places you never thought you could go.

The contestants on this season's Dancing with the Stars are united on what makes competing on the show so difficult – but at the same time, so amazing.

It comes down to a simple maxim: No pain, no gain.
Stevie Wonder was the guest of honor Monday night on Dancing with the Stars. Between performances by the iconic singer, the eight remaining couples competed with two dances each to his hits.

Once again, Kellie Pickler and Zendaya were atop the leaderboard – and both earned 10s for their respective routines.

Zendaya and Val Chmerkovskiy's cha cha to "Do I Do" was "full of snap, crackle and pop," according to Len Goodman. Carrie Ann Inaba called the routine "perfection in motion." They earned 29 points.

Kellie and Derek Hough's quickstep to "Part-Time Lover" was "the best dance I've seen on season 16," Len said. Carrie Ann added, "Everything about it was perfect except there was some space in your hold." They also earned 29 points.

But Kellie and Derek finished slightly ahead of Zendaya and Val after the second routine, a team dance in which four couples performed at the same time.
Dancing with the Stars
Get PEOPLE Everywhere
Advertisement