Dancing with the Stars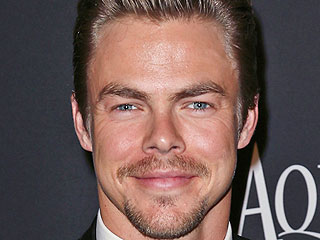 Credit: David Livingston/Getty
Demi Moore wasn't the only big star in the ballroom Monday night at Dancing with the Stars.
Routines themed around the Stars' most memorable years made for good video packages but not-so-inspired dances. I mean, how do you adequately pay homage to an IED attack?

Judge Len Goodman certainly wasn't in the mood for sob stories: the ol' boy was grumpy all night and didn't seem to like anybody, least of all Rumer Willis, who performed a brilliant waltz as a snub to all her early haters.

Then again, anybody can have a bad night in the ballroom. Witness: Michael Sam and Riker Lynch, who both found themselves in jeopardy by the end of Monday's episode.

Before you learn the guys' fate, check out a sampling of the performances from a night of memories (as well as a few moments we'd love to forget).
Permalink | Filed Under: Dancing With the Stars, TV News, Allison Holker, Bruno Tonioli, Carrie Ann Inaba, Chris Soules, Derek Hough, Julianne Hough, Kym Johnson, Len Goodman, Mark Ballas, Michael Sam, Nastia Liukin, Patti LaBelle, Peta Murgatroyd, Rumer Willis, Sharna Burgess, Suzanne Somers, Tony Dovolani, Val Chmerkovskiy, Valentin Chmerkovskiy, Willow Shields, Witney Carson
Rumer Willis says the past 12 months have easily been her most inspirational year ever.

On Monday's episode of Dancing with the Stars, the celebrities and their pros are told to choreograph a number inspired by their most memorial year.

"I've had the most personal growth I've ever had this year," says Willis, 26, in an exclusive clip of this week's rehearsal footage. "People are so ready to jump on anything you do and have an opinion on it."
When Derek Hough was young, he started dancing for the same reason many boys do anything at all: to get girls.

As the DWTS pro reveals in PEOPLE's 10 Years of Dancing with the Stars Collector's Edition – available in stores, online or by download – that initial motivation to dance definitely made it "super awkward" for him to dance with his sister, Julianne.

In the following excerpt from 10 Years of Dancing with the Stars, read on to find out how Derek and Julianne moved past the awkwardness and how the super competitive brother-sister duo made it up as they went along on DWTS's very first season 10 long years ago.
When producers first approached Noah Galloway about joining season 20 of Dancing with the Stars, they took for granted just how challenging the show would be for the 33-year-old Army veteran.

Galloway lost his left leg above his knee and his left arm above the elbow during his second tour in Iraq. Though he isn't the first amputee to appear on DWTS – Heather Mills and Amy Purdy preceded him – he's the first to do it with only one knee.

"Most people take it for granted," Galloway told PEOPLE. "Before I was injured, I wouldn't have thought about it either. I don't take offense to that. Anytime that I brought it up to my friends that I don't have a knee, it clicks with people, like, 'Oh, that is different.' But I also felt like that was an opportunity to put me on a larger platform to show how different is is for me. Every amputation is different. Where it is changes everything."
Noah Galloway was a voracious fitness buff with an enviable six-pack before he dropped out of college to join the military after 9/11.

But a 2005 incident in Iraq would alter his life forever. Three months into his second tour of duty, Galloway, now 33, lost his left leg above his knee and his left arm above his elbow during an improvised-explosive-device attack. He remained unconscious in a German hospital for five days.

After returning home to Alabama, the vet says he fell into a deep depression.

"I was drinking, eating bad, spending days at the house without leaving," Galloway told PEOPLE. "And then one day I realized I wasn't being a good father, a good person. I let myself get out of shape, and something needed to change."
Actor and best-selling author Suzanne Somers, best known for her role as Chrissy Snow on Three's Company, has been paired with pro Tony Dovolani for season 20 of Dancing with the Stars. She'll be blogging for PEOPLE about her experience on the hit ABC show.

I loved my Carmen Miranda-style costume. What girl wouldn't want to wear it? Tony designed it for movement. I thought it was fantastic. The hat was heavy, but I was most worried being thrown through Tony's legs that I'd get a banana in his crotch.

Competitions are fierce. I had that dance nailed, performed perfectly in rehearsal, but all that counts is performance, and I did miss a step. I actually appreciate the judges' comments. Compliments are hard-won, and I don't need any special coddling.

I feel very proud that I'm out there on that dance floor. My objective is to do my best each week, and I look forward to next week for another shot. We have a big surprise for next week. Really fun!
Charlotte McKinney didn't seem too surprised to learn that she was the second dancer to leave Dancing with the Stars on Monday – but she seemed to indicate that her struggles with dyslexia could have been at the root of her poor performance.

In the rehearsal clips from Monday's episode, McKinney can be seen struggling to learn the dance steps from her partner Keo Motsepe. "This stuff with the left instead of the right really throws me off," she said.
An interesting development occurred before everyone laced up their Danskins on Monday's Dancing with the Stars – Noah Galloway was fixing to dance with a prosthetic arm!

The Alabama native picked up a space-age prosthetic limb that "works through sensors in the sockets that touch what's remaining of my tricep and bicep," he told PEOPLE. Ultimately, the motivational speaker-cum-Kenneth Cole cologne pitch man left the prosthetic at home since the Argentine tango was no dance to try out a fancy new artificial limb.
Dancing with the Stars
Get PEOPLE Everywhere
Advertisement