Glee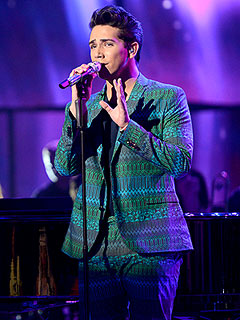 Credit: Frank Micelotta/FOX
The end of the line is just the beginning of the story.

So it is for Lazaro Arbos, who learned Thursday, after several tough weeks, that his American Idol dream is over.

But all that means is he can focus on his other dreams – one in particular, which involves a visit to the glee club at William McKinley High School.
She might not be feeling totally Glee-ful, but Lea Michele keeps smiling as she goes about her everyday life with boyfriend Cory Monteith in rehab.

The actress, who is credited as being a rock for her Glee costar as he battles addiction, is getting some support of her own – from her parents, who have been visiting her in Los Angeles this week.

Michele, 26, was seen grinning as the family arrived at the Sugarfish sushi restaurant on Thursday – her first photo out since Monteith's news broke.
Cory Monteith looked as if he didn't have a care in the world. It was March 16, and he was in Vancouver for a pal's wedding. On his arm was his castmate and girlfriend Lea Michele, and as usual the Canadian actor, who overcame drug problems in his teens to become a wholesome star of Glee, had a ready smile for all.

"He had his arm around Lea, and they were laid-back, friendly, genuine," says Shawn Miller, who officiated at the ceremony. "They seemed chilled out and happy."

Few knew then that Monteith, 30, was struggling with past demons. But within weeks he checked into rehab for substance abuse at the urging of Michele and others, according to an insider.
As Cory Monteith continues his stint in rehab, friends say he has a stabilizing element waiting for him when he returns home ­to girlfriend Lea Michele.

"Lea is an excellent influence on him. She's good for him," a Monteith source tells PEOPLE. "She's really calmed him."

Since taking their relationship public in April of last year, Monteith, 30, and Michele, 26, appear to have been a positive influence on each other.

"They seem to compliment each other's personalities very well," says another source. "They are always very affectionate and sweet to each other. Cory acts very protective of Lea."
The show must go on for the cast and crew of Glee.

Following news that Cory Monteith checked into rehab for substance addiction, Deadline reports that the remaining two episodes still to be filmed this season will be done without the actor.

The absence of Monteith's character, McKinley High graduate Finn, will be explained to viewers.

"I am so proud of Cory Monteith and love and support him 100 [percent]," Glee creator Ryan Murphy Tweeted Monday.
Glee star Lea Michele is supporting her costar and boyfriend Cory Monteith as he enters rehab for substance addiction.

"I love and support Cory and will stand by him through this," she tells PEOPLE exclusively. "I am grateful and proud he made this decision."

Michele and Monteith took their romance public in April of last year and have been spotted around Los Angeles together, most recently at a Los Angeles Kings game on March 23.
Actor Cory Monteith, who stars as Finn Hudson on the Fox series Glee, has checked into rehab, PEOPLE has learned exclusively.

The actor "has voluntarily admitted himself to a treatment facility for substance addiction," his rep tells PEOPLE. "He graciously asks for your respect and privacy as he takes the necessary steps towards recovery."

Monteith, 30, has been open about his past struggles with substance abuse. He admitted in a 2011 interview that he had previously entered rehab when he was 19.
She may have been runner-up on American Idol, but Jessica Sanchez is stepping in to the main spotlight for the season finale of Glee.

"I'm playing a student from a rival school who is supposed to be a legendary diva – a powerhouse singer," the season 11 Idol contestant told PEOPLE last week after performing with Ne-Yo on the FOX reality show that made her famous.

Sanchez, 17, will film Glee beginning in April and be featured in two episodes, including the finale.
On Wednesday night, Glee and The New Normal creator Ryan Murphy was honored with the PaleyFest Icon Award in Beverly Hills...and the actors whose careers he helped launch were there to celebrate.

Lea Michele, Cory Monteith, Chris Colfer, Andrew Rannells, Jane Lynch, NeNe Leakes, Justin Bartha and Chord Overstreet all stepped out to honor Murphy, who also created Nip/Tuck, American Horror Story and Popular.

At the event presented by Samsung Galaxy, costars turned couple Michele and Monteith were "super lovey dovey," an onlooker tells PEOPLE. "They barely left each other's side throughout the evening."
The stars arrived by the dozens to Park City, Utah, for the 2013 Sundance Film Festival and PEOPLE has the details of their busy weekend.

James Franco was one of the last to arrive to the Stella Artois-hosted dinner for his documentary Kink on Saturday evening. Later, the Lovelace star hosted a large 1 a.m. "after, after party" at Everest Mansion powered by Saygus high up in the nearby mountains. The actor still managed to be up in time to surprise the guests at the Outfest Queer Brunch at Grub Steak Restaurant in Prospector Square Sunday morning with his Interior. Leather Bar. co-director Travis Mathews.

"James was the hit of the party," one brunch attendee tells PEOPLE. "Everyone wanted their picture with him."
Glee
Get PEOPLE Everywhere
Advertisement