Glee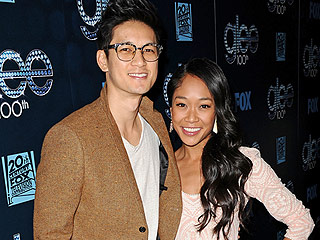 Credit: Jason LaVeris/FilmMagic
Harry Shum Jr. has a big reason to be Glee-ful: He's married!

Shum, who starred on the musical TV show as Mike Chang and next plays Magnus Bane on Shadowhunters, tied the knot with longtime girlfriend Shelby Rabara, a dancer and actress who appeared in a few episodes of Glee, in Costa Rica last month, according to E! News.

On Thursday, Shum, 33, seemed to confirm the news by posting a romantic Instagram of the couple lighting paper lanterns on the beach – complete with bride and groom emojis.
[YOUTUBE "KFQjp43NW_8"]
Matthew Morrison and Jane Lynch have reunited to give fans the gift of song this holiday season.

Lynch tells PEOPLE of her former Glee costar: "We have our own lovely way of working together."

So when the opportunity presented itself for the 55-year-old to select a singing partner for Febreze's 12 Stinks of Christmas campaign, she didn't think twice about re-teaming with the one-time Will Schuester to her Sue Sylvester – but just because the two are happy to be paired up again doesn't mean they miss the good old days on Glee.

"We don't," the two say in unison with a laugh.

"It ended at the right time," Lynch adds.
Who better to play Supergirl's love interest than Melissa Benoist's real-life husband Blake Jenner?

Jenner is set to join the Supergirl cast as a potential romantic partner for Benoist's character, Kara Zor-El, reports TVLine.

E! Online adds that Jenner, 23, is set to appear in several episodes of the new CBS show as Adam Foster, a handsome figure linked to Cat Grant (Calista Flockhart).
Everyone knows that a Sadie Hawkins dance is the yearly high school tradition in which the girls ask guys out – even if they have no idea who Sadie Hawkins is. In fact, most people probably know this even if their particular high school didn't offer any such opportunity to reverse gender norms.

Why, then, is it so celebrated? Well, for one it's long been a staple of pop culture and of teen-centered TV shows in particular. In fact, a lot of people may have only ever experienced a Sadie Hawkins dance through TV. And TV shows are still doing it today, even if we've gotten to a point in American society where it wouldn't be all that strange for a girl to ask a guy to prom, homecoming or any other major dance. (Actually, it wouldn't be so out of left field for a girl to ask a girl, a guy to ask a guy, or any other combination these days either.)

In honor of Sadie Hawkins Day, which is generally celebrated in early November, we're recounting its history and its long life as a plot device in TV shows.


Lea Michele is opening up about how she found love again after losing Cory Monteith, her boyfriend of two years, in 2013.

"I wanted to make sure that I was okay with me, feeling strong and feeling happy on my own," Michele told FLARE magazine in an interview for its October issue.
Hot mama!

Just one day after announcing her second pregnancy, a glowing Heather Morris stepped out looking stylish as ever in black shorts and a long-sleeved red print top as she ran errands in Santa Monica, California, on Thursday.

The Glee star took to Instagram on Wednesday to share the happy news that she is expecting her second child with husband Taylor Hubbell.
They'll always have Lima.

Five months after the cast of Glee took its final curtain call, two stars reunited in their natural setting: Broadway!

Jenna Ushkowitz caught Jonathan Groff's performance of the historical musical Hamilton in New York, documenting the adorable reunion on Instagram on Thursday night.
Ryan Murphy spoke eloquently about Cory Monteith on what would have been his 33rd birthday on Monday – and says time has not healed the deep wound left by his death.

"It's always hard when I speak about Cory because I miss Cory," the Glee co-creator, 49, told PEOPLE at the EW/PEOPLE Upfronts party in New York City. "It's a very sort of sad feeling when I think about him. I miss him. I loved him. I think about him every day."
The show that brought them together has ended, and she has moved on with a new man, but Lea Michele is still sharing her love for Cory Monteith.

The Glee alum Tweeted a photo of her late on- and off-screen boyfriend in honor of his birthday. Monteith would have been 33 Monday.

"I know you're serenading everyone right now," Michele, 28, captioned a shot of Monteith – who died in July 2013 of a drug overdose – playing the drums and smiling.
Glee