Glee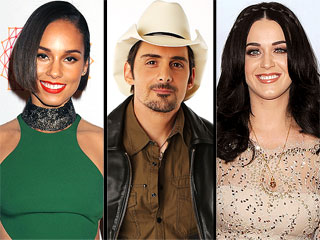 Credit: Jeff Kravitz/FilmMagi; Gatty; Splash News Online
Talk about a lot of talent in one place!

The Presidential Inaugural Committee announced Friday that Usher, John Legend, Stevie Wonder, Alicia Keys, Brad Paisley and Katy Perry will be performing for the Kids' Inaugural and official inaugural balls in Washington, D.C., to celebrate President Barack Obama's being sworn in for a second term.

The kids' concert (Jan. 19) continues a tradition started by First Lady Michelle Obama and Vice President Joe Biden's wife, Dr. Jill Biden, four years ago during the President's first inaugural celebration.
Permalink | Filed Under: Glee, Music News, Alicia Keys, Barack Obama, Brad Paisley, John Legend, Katy Perry, Kelly Clarkson, Michelle Obama, Nick Cannon, Usher
The 2013 Award Season officially kicked off Wednesday morning with the announcement of the 19th annual Screen Actors Guild Awards nominations – and double nominees Nicole Kidman (for HBO's Hemingway and Gellhorn and the movie The Paperboy) and Maggie Smith (for PBS's Downton Abbey and the film The Best Exotic Marigold Hotel), as well as Kevin Costner, Julianne Moore, Jim Parsons, Alec Baldwin, Betty White, Tina Fey, Javier Bardem and Anne Hathaway all have reasons to be smiling.

In the theatrical motion picture division, the SAG/AFTRA nominated the following for outstanding performance for a cast (SAG's version of the best picture prize):
• Argo
• The Best Exotic Marigold Hotel
• Les Misérables
• Lincoln
• Silver Linings Playbook
Lea Michele is on top of the world – and she has her on and off-screen love interest, Cory Monteith, largely to thank.

"I don't even remember a time when he wasn't my boyfriend. No one knows me better than Cory," Michele, who graces the cover of Marie Claire's January issue, told the magazine.

"No one knows what it's been like to go through this more than he does. Feeling like you have that net underneath you allows you to jump higher and go farther. He makes me feel like I can do anything."
It's not every house – or couple – that can welcome Reese Witherspoon, Jane Lynch and Julie Roberts to dinner all on the same night, but Glee, American Horror Story and The New Normal creator Ryan Murphy and his husband, photographer David Miller, did just that, when in June they hosted the $40,000-a-plate dinner for President Obama.

Of course, besides great connections, it also helps to have a $10 million showplace to call home, which the couple – who wed last 4th of July – also have, as seen in The Hollywood Reporter's first-ever Home Issue.

Located near the Beverly Hills Hotel, the Spanish Colonial residence was first built in 1927 and last owned by Diane Keaton. Murphy bought it in 2010 and worked with designer Cliff Fong to add several colorful touches – including quirky antiques and figurines with sombreros circling a courtyard water fountain.
The Twilight Saga might be coming to a close, but Robert Pattinson's career continues to make headlines.

Deadline confirmed that Pattinson will star opposite Carey Mulligan in Hold On To Me, the inspired-by-true-events story of a kidnapping gone wrong directed by James Marsh (who won Oscars for his films Man On Wire and Project Nim). The steamy crime drama follows a couple who kidnap the richest man in town for ransom and bury him.

Glee and Gossip Girl also announced a slew of cameos, while Aaron Paul secured a very different film role for the Breaking Bad star.

Keep up with who has been cast below:
Permalink | Filed Under: Glee, Gossip Girl, Movie News, TV News, Aaron Paul, Bette Midler, Carey Mulligan, Cory Monteith, Katie Cassidy, Kristen Wiig, Lea Michele, Nick Nolte, Robert Pattinson, Taylor Momsen
Madge-ic!

Neil Patrick Harris, David Burtka, Emma Roberts, Brad Goreski, Revenge's Ashley Madekwe, Pretty Little Liar's Shay Mitchell, Glee's Darren Criss and Mark Salling all attended A|X Armani Exchange's takeover of HYDE Lounge at the Staples Center for Madonna's "MDNA" concert in Los Angeles on Wednesday night.

"Neil Patrick Harris and David Burtka were on their feet for 'Like a Prayer'," an onlooker tells PEOPLE."They were adorable and loved it."

Guests danced to some of the singer's greatest hits like "Holiday" and "Turn Up the Radio."

"Emma and Shay put on Madonna-inspired lace gloves and pearls while they tried voguing," the source adds.
– Jennifer Garcia
Kate Hudson is feeling gleeful.

The Glee guest star, 33, was all smiles when she walked the carpet for the season 4 premiere of Fox's hit show recently – where she gushed about her rocker fiancé, Matthew Bellamy.

"My love is just insanely, incredibly supportive of everything, and that's the best," Hudson told PEOPLE. "Everything is wonderful. Everything is really wonderful."
New song and dance routines weren't the only things Kate Hudson had to learn on the Glee set.

The actress, 33, was taken out of her comfort zone as Cassandra July, Rachel Berry's (Lea Michele) not-so-nice dance instructor.

"Being that mean for me, it's pretty difficult," Hudson told reporters on Wednesday at the Fox show's season 4 premiere at Paramount Studios in L.A. "It was challenging to keep a straight face."
Apparently Lea Michele has no problem mixing business with pleasure.

Becoming the real-life girlfriend of her Glee costar Cory Monteith, 30, has made collaborating with him that much easier.

"I love working with Cory, I always have," Michele, 26, told PEOPLE on Wednesday at the Fox show's season 4 premiere at Paramount Studios in L.A. "He really, really inspires me, and he motivates me and I think he's just so talented."
Lately, when Kevin McHale goes out at night, he thinks about how much he's missing the new lady in his life. She seems to miss him, too: She hugs him when he gets home, and then they cuddle. Sometimes, she even visits him on the set of Glee.

Sophie, of course, is a 45-lb Wheaten terrier mix that the actor rescued in April via Los Angeles's Bark n' Bitches boutique.

"She's got all of my attention," McHale, 24, tells PEOPLE.com of the main female in his life, who often wraps her paws around him in what he describes as a canine take on a bear hug.
Glee
Get PEOPLE Everywhere
Advertisement