Glee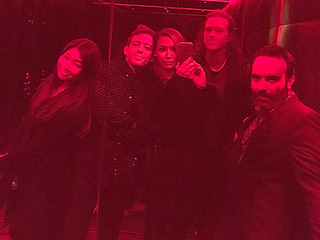 Credit: Source: Naya Rivera/Instagram
New Directions, assemble!

Amber Riley's William McKinley High School classmates came together to celebrate their Glee costar's 30th birthday at the W Hotel Hollywood on Saturday night – almost a year after the show aired its final episode.

Kevin McHale (Artie), Jenna Ushkowitz (Tina) and new mom Naya Rivera (Santana) all joined in the festivities, during which Riley took center stage to sing.

Rivera posted a photo with Ushkowitz, McHale and her husband Ryan Dorsey to Instagram, writing, "The crew last night celebrating @msamberpriley."
Lea Michele is opening up about her painful past and how she moved on.


Mark Salling was photographed leaving a Los Angeles federal detention center on Tuesday after being arrested in connection with possession of child pornography.


Former Glee star Mark Salling has been arrested in connection with possession of child pornography, PEOPLE confirms.


Harry Shum Jr. has a big reason to be Glee-ful: He's married!

Shum, who starred on the musical TV show as Mike Chang and next plays Magnus Bane on Shadowhunters, tied the knot with longtime girlfriend Shelby Rabara, a dancer and actress who appeared in a few episodes of Glee, in Costa Rica last month, according to E! News.

On Thursday, Shum, 33, seemed to confirm the news by posting a romantic Instagram of the couple lighting paper lanterns on the beach – complete with bride and groom emojis.
[YOUTUBE "KFQjp43NW_8"]
Matthew Morrison and Jane Lynch have reunited to give fans the gift of song this holiday season.

Lynch tells PEOPLE of her former Glee costar: "We have our own lovely way of working together."

So when the opportunity presented itself for the 55-year-old to select a singing partner for Febreze's 12 Stinks of Christmas campaign, she didn't think twice about re-teaming with the one-time Will Schuester to her Sue Sylvester – but just because the two are happy to be paired up again doesn't mean they miss the good old days on Glee.

"We don't," the two say in unison with a laugh.

"It ended at the right time," Lynch adds.
Who better to play Supergirl's love interest than Melissa Benoist's real-life husband Blake Jenner?

Jenner is set to join the Supergirl cast as a potential romantic partner for Benoist's character, Kara Zor-El, reports TVLine.

E! Online adds that Jenner, 23, is set to appear in several episodes of the new CBS show as Adam Foster, a handsome figure linked to Cat Grant (Calista Flockhart).
Everyone knows that a Sadie Hawkins dance is the yearly high school tradition in which the girls ask guys out – even if they have no idea who Sadie Hawkins is. In fact, most people probably know this even if their particular high school didn't offer any such opportunity to reverse gender norms.

Why, then, is it so celebrated? Well, for one it's long been a staple of pop culture and of teen-centered TV shows in particular. In fact, a lot of people may have only ever experienced a Sadie Hawkins dance through TV. And TV shows are still doing it today, even if we've gotten to a point in American society where it wouldn't be all that strange for a girl to ask a guy to prom, homecoming or any other major dance. (Actually, it wouldn't be so out of left field for a girl to ask a girl, a guy to ask a guy, or any other combination these days either.)

In honor of Sadie Hawkins Day, which is generally celebrated in early November, we're recounting its history and its long life as a plot device in TV shows.


Glee