Glee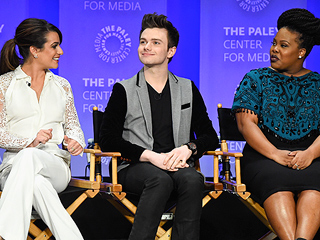 Credit: Frazer Harrison/Getty
Glee is entering the final week before its two-hour series finale on March 20, but Darren Criss said the last days of shooting were beautiful – not sad.

"I remember the very last shot, we were all crying and holding on to each other and Chord [Overstreet] just started bursting out laughing because, at that point, those emotions were all next to each other," Criss, 28, told reporters at PaleyFest in LA on Friday. 
From comedy queen to Scream Queens: Nasim Pedrad is joining Ryan Murphy's latest star-studded series.


It was a Glee-ful night in Hollywood on Saturday night as many of the hit Fox series cast members such as Lea Michele, Chris Colfer and Chord Overstreet along with the series creator Ryan Murphy attended the Family Equality Council Dinner. 


As Glee nears its series finale, both Gleeks and the cast have begun to mourn.

Jane Lynch – whose character Sue Sylvester reinvigorated the art of the snippy one-liner and made track suits acceptable office apparel – tells PEOPLE she was flooded with emotions while filming the show's final episode last Saturday.

"It was waterworks," admitted the Emmy winner, 54, who teamed with the ASPCA and Febreze on Wednesday to educate pet owners against the affects of noseblindness.

"There are some takes I'm sure they can't use because we were all weeping," she continues. "It was hard to get through."
Rachel and Finn, together forever.

The Glee cast wrapped filming this week after six years, and Lea Michele took a very special souvenir from the set – the No. 5 jersey worn by Finn, her on-screen love played by her off-screen sweetheart, the late Cory Monteith.

Michele, 28, posted a photo on social media showing her carrying Finn's framed football jersey out into the night – an image both sad and incredibly sweet.
You are cordially invited to celebrate the wedding of Brittany S. Pierce and Santana Lopez.

Don't believe us? Well, don't just take our word for it.

Fox has put together an official invitation for Glee fans to (virtually) attend the nuptials of Brittany (Heather Morris) and Santana (real-life newlywed Naya Rivera), which takes place during Friday's episode of the musical dramedy.
[YOUTUBE "yJb0XQAUFLI"]
Can't wait to find out what the star-studded show Scream Queens is all about? You may have to wait a little longer.


Naya Rivera has already lined up her first post-Glee acting gig.

The 28-year-old actress – best known for playing Santana Lopez on Fox's musical dramedy – will recur as a maid on the Lifetime drama Devious Maids.

Rivera will play Blanca, a new maid who lands what appears to be a perfect gig with a Beverly Hills family. Naturally, she discovers all is not what it seems.

That's not all that Rivera has booked in the coming months. Deadline reports that Rivera is expected to return as a guest host on The View, which will certainly reignite speculation that ABC News may be considering her for a bigger role on the morning talk show.
Even Becky knows when Sue has gone off her rocker.

In this exclusive clip from Friday's episode of Glee, Sue (Jane Lynch) takes Becky (Lauren Potter) into her private, intimately lit locker to expose her next mission: getting Blaine (Darren Criss) and Kurt (Chris Colfer) back together.

As part of her new strategy to mend relationships, Sue waxes on about Kurt and Blaine's "love for the ages" and how their chemistry is so intense, it would be a hump-a-palooza if they ever actually locked eyeballs.

Needless to say, Becky's a little blown away by all the imagery.
Glee