Glee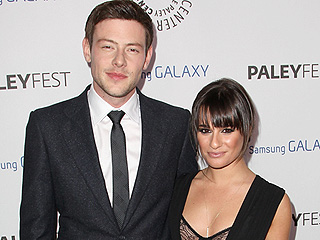 Credit: Jonathan Leibson/WireImage
Lea Michele is opening up about how she found love again after losing Cory Monteith, her boyfriend of two years, in 2013.

"I wanted to make sure that I was okay with me, feeling strong and feeling happy on my own," Michele told FLARE magazine in an interview for its October issue.
Hot mama!

Just one day after announcing her second pregnancy, a glowing Heather Morris stepped out looking stylish as ever in black shorts and a long-sleeved red print top as she ran errands in Santa Monica, California, on Thursday.

The Glee star took to Instagram on Wednesday to share the happy news that she is expecting her second child with husband Taylor Hubbell.
They'll always have Lima.

Five months after the cast of Glee took its final curtain call, two stars reunited in their natural setting: Broadway!

Jenna Ushkowitz caught Jonathan Groff's performance of the historical musical Hamilton in New York, documenting the adorable reunion on Instagram on Thursday night.
Ryan Murphy spoke eloquently about Cory Monteith on what would have been his 33rd birthday on Monday – and says time has not healed the deep wound left by his death.

"It's always hard when I speak about Cory because I miss Cory," the Glee co-creator, 49, told PEOPLE at the EW/PEOPLE Upfronts party in New York City. "It's a very sort of sad feeling when I think about him. I miss him. I loved him. I think about him every day."
The show that brought them together has ended, and she has moved on with a new man, but Lea Michele is still sharing her love for Cory Monteith.

The Glee alum Tweeted a photo of her late on- and off-screen boyfriend in honor of his birthday. Monteith would have been 33 Monday.

"I know you're serenading everyone right now," Michele, 28, captioned a shot of Monteith – who died in July 2013 of a drug overdose – playing the drums and smiling.
With Glee ending last month, Chris Colfer closed a chapter in his life.


[YOUTUBE "qaqVwlkTENc"]
Many faces have passed through the halls of William McKinley High School.

On Glee's series finale Friday, an impressive number of the show's alums – not to mention some of its more memorable fashion fads and cultural touchstones – appeared in Lima for one last song and dance.

Here are a few of the highlights from the welcome returns, quirky character traits and celebrity cameos from Glee's two-hour finale.
Permalink | Filed Under: Glee, TV News, Amber Riley, Chris Colfer, Cory Monteith, Darren Criss, Heather Morris, Jane Lynch, Jenna Ushkowitz, Kevin McHale, Lea Michele, Matthew Morrison, Naya Rivera
Over its six seasons, Glee has consistently proven that it can stick a landing, and the series finale was the absolute epitome of the scrappy musical dramedy's ability to obliterate the memory of the bumpy road behind with one revelatory moment of heart-pumping, tear-jerking, can't-stop-yourself-from-smiling, singing-and-dancing glory.

The series's two-hour finale appropriately ended with One Republic's anthemic feel-good tune "I Lived." Indeed, the show "did it all." It was, for better or (often) worse just as messy and ridiculous as life – but, in its best moments, also as uplifting and powerful.

Considering how wildly uneven Glee has been for, well, most of its run, the ending turned out to be pretty darn near pitch-perfect.
Permalink | Filed Under: Glee, TV News, Amber Riley, Chris Colfer, Cory Monteith, Darren Criss, Heather Morris, Jane Lynch, Jenna Ushkowitz, Kevin McHale, Lea Michele, Matthew Morrison, Naya Rivera
Glee