Glee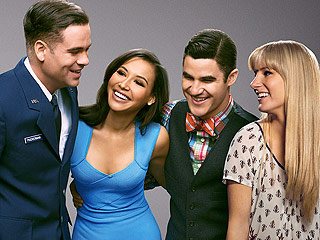 Credit: Tommy Garcia/FOX
After six emotional seasons of song covers and endless ups and downs at William KcKinley High School, the cast of Glee are bidding farewell to the musical series.


After six seasons, Glee airs its series finale on Friday.

Things have changed a lot for our core cast, with many of them going on to star in films (Lea Michele, Dianna Agron) or even become New York Times bestselling authors (Chris Colfer) while still calling Glee their home.

However, even superstars need their first big break – see below for the very first auditions from your Glee faves.
The Broadway version of Finding Neverland is finally taking flight.


Glee is entering the final week before its two-hour series finale on March 20, but Darren Criss said the last days of shooting were beautiful – not sad.

"I remember the very last shot, we were all crying and holding on to each other and Chord [Overstreet] just started bursting out laughing because, at that point, those emotions were all next to each other," Criss, 28, told reporters at PaleyFest in LA on Friday. 
From comedy queen to Scream Queens: Nasim Pedrad is joining Ryan Murphy's latest star-studded series.


It was a Glee-ful night in Hollywood on Saturday night as many of the hit Fox series cast members such as Lea Michele, Chris Colfer and Chord Overstreet along with the series creator Ryan Murphy attended the Family Equality Council Dinner. 


As Glee nears its series finale, both Gleeks and the cast have begun to mourn.

Jane Lynch – whose character Sue Sylvester reinvigorated the art of the snippy one-liner and made track suits acceptable office apparel – tells PEOPLE she was flooded with emotions while filming the show's final episode last Saturday.

"It was waterworks," admitted the Emmy winner, 54, who teamed with the ASPCA and Febreze on Wednesday to educate pet owners against the affects of noseblindness.

"There are some takes I'm sure they can't use because we were all weeping," she continues. "It was hard to get through."
Rachel and Finn, together forever.

The Glee cast wrapped filming this week after six years, and Lea Michele took a very special souvenir from the set – the No. 5 jersey worn by Finn, her on-screen love played by her off-screen sweetheart, the late Cory Monteith.

Michele, 28, posted a photo on social media showing her carrying Finn's framed football jersey out into the night – an image both sad and incredibly sweet.
You are cordially invited to celebrate the wedding of Brittany S. Pierce and Santana Lopez.

Don't believe us? Well, don't just take our word for it.

Fox has put together an official invitation for Glee fans to (virtually) attend the nuptials of Brittany (Heather Morris) and Santana (real-life newlywed Naya Rivera), which takes place during Friday's episode of the musical dramedy.
Glee