Glee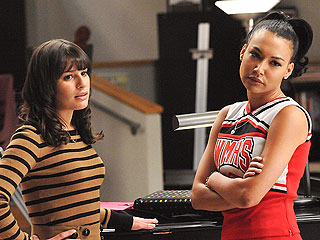 Credit: Ray Mickshaw/FOX
Everything is just peachy keen on the Glee set, according to its co-executive producer Ryan Murphy.

Despite multiple reports of drama and weeks of silence from the show's cast about the rumors, Murphy told Extra on Tuesday, "I always marvel at the things that become headline news that most of the time are completely fabricated."

More specifically, Murphy addresses Lea Michele's reported feud with costar Naya Rivera, who apparently got booted from the show for poor behavior on set.
Chris Colfer leaves the headline-making to his costars.

The Glee star, 23, told PEOPLE on Friday that he makes "a great deal of effort" to stay out of the controversy that some of his castmates have unfortunately been unable to avoid.

"It's really sad," he said. "I've seen some of my closest friends on Glee go through where these horrible things are written about them and none of it is true, but some reporter wants to get a hit, they say so-and-so is a raging bitch."
After slamming rumors she was fired from Glee, Naya Rivera is letting her body do all of the talking.

The FOX star, 27, took to Instagram on Monday to show off her bikini ensemble, writing, "Look back at it."

Her carefree snapshot follows a flurry of less light-hearted rumors that included everything from a nasty feud with star Lea Michele to a meltdown that got her written off the remaining shows.
Is Glee's Naya Rivera singing the blues?


Naya Rivera is likely not in the most gleeful of spirits.


After a dark year, the future for the many cast members of Glee is looking quite bright – white to be precise!

On the heels of Dot Marie Jones's December nuptials, three other weddings are in the works for her Glee costars.

"Everybody is involved. Even [my publicist] is involved," Naya Rivera, 27, tells PEOPLE of being "very deep" into the planning of her walk down the aisle with rapper Big Sean.
Glee star Harry Shum Jr. will be dancing down the aisle.


Lea Michele's debut album marks the former stage star's official transition to pop. But the Glee actress hasn't completely shed some of her theater habits – like being comfortable in the nude.

"I come from Broadway – everybody's naked on Broadway," Michele, who earned rave reviews as a teenager in Spring Awakening, tells Seventeen magazine for its April issue, on sale March 11.

"I like to think of myself as more granola. I'm not going to run around naked or anything like that unless I'm at my own home," she says. "Today, I walked into my backyard and was standing out there naked for a while. Don't tell: My neighbors will freak out!"
Cheyenne Jackson is ready to walk down the aisle again.


Glee
Get PEOPLE Everywhere
Advertisement