Top Chef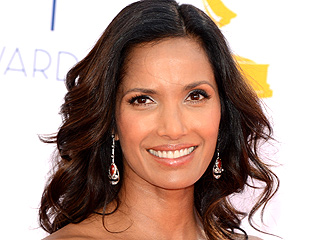 Credit: Courtesy Fitness
Hosting Top Chef has many perks, but staying super-slim after a season sampling an array of dishes is not one of them.

Luckily, Padma Lakshmi doesn't mind one bit – and even admitted she goes up two dress sizes at the end of every season.

"I love food way too much to starve myself just to look good," the single mom told Fitness for its November/December cover story, out Oct. 29. "I will put in the work at the gym so I can enjoy what I eat."
The Top Chef season 4 winner, Stephanie Izard, wed craft-beer consultant Gary Valentine on Sunday in Chicago and, as expected, the menu was something to talk about.

"I was blown away by the food at our wedding! We had such amazing friends put together an incredible menu that everyone loved," the bride, 36, tellsPEOPLE.

The reception at the Bridgeport Art Center featured a "phenomenal pasta course" made by Chris Pandel, the chef of Chicago's The Bristol and Balena. Guests, including Top Chef season one finalist Lee Ann Wong, had a choice of cavatelli, smoked eggplant and heirloom tomatoes or a rigatoni dish with pork ragu.
The chef and owner of the artisan cookie company Alchemy by Carla Hall whips up a special recipe for your holiday party and is featured in this week's PEOPLE.
Ever have one of those weekends where you feel like you just ate too much?

Welcome to the Aspen Food & Wine Classic, where that happens – in the absolute best way.

At the weekend-long event, star chefs like Ming Tsai rolled sushi, Duff Goldman baked a lava cake bursting with Godiva chocolate, and new Top Chef champ Kristen Kish divulged that she eats chicken fingers and fries almost three times a week!

Check out some of the fun at the Aspen Food & Wine Classic – including a cameo by actress Allison Janney and a dance party featuring chef Marcus Samuelsson.
The heat is on!

Top Chef Masters returns on July 24, with a twist.

The fifth season of Bravo's hit show will feature a new online competition, Battle of the Sous Chefs, which will directly impact the master chefs, the network announced in a press release on Wednesday. Every episode of the web series leads up to the next episode of Top Chef Masters, and explores the uniquely interdependent relationship between a master chef and their sous chef.
Not in the mood for barbecue this Memorial Day? Top Chef Season Three winner Hung Huynh suggests you try his tuna tacos instead.

"They're a perfect party food to serve for Memorial Day Weekend since they are delicious and different from the usual burger and barbecue options," the executive chef for restaurants Catch (in New York and Miami) and The General tells PEOPLE. "Tuna tacos are also nice for summertime as it's light and refreshing, and when mixed with a little taco crunch, it is ideal on a hot day."

Sound good? Here's the recipe:
Kate Bosworth, 30, stars in the thriller Black Rock, in theaters now, and chatted with PEOPLE this week about "one last thing" ...

Last sunset I watched: "Last night. I live in the hills of L.A., and I get a beautiful view of the sunset on my patio. The sunrise, however – that normally escapes me."

Last reality TV I watched: "I love all the cooking shows like Chopped and Top Chef. I've just started to learn to cook in the last couple of years, and I love it. My specialty is a sausage ragu; it takes about six or seven hours to cook. That's almost my mini-vacation, cooking with my fiancé [director Michael Polish] and his daughter. Just having that family time.

Last activity: "Boxing. I've never been a very patient yoga student, so my exercise of choice is something a little bit more action-oriented."
Wondering what to serve at your Kentucky Derby party this weekend?

Let Edward Lee, one of Louisville, Ky.'s celebrity chefs, help you out.

The former Top Chef contestant (he made it to the top five in season 9) and brand new dad – his daughter Arden Rose Lee was born on April 29 – shares his special version of the quintessential cocktail typically served at the premiere horse race.
From Top Chef to top cyclist!

Top Chef judges chef Tom Colicchio and Gail Simmons kicked off 2013 on a healthy note by they visiting SoulCycle's Tribeca location on Wednesday.

"While Gail was upfront wearing a SoulCycle t-shirt, Tom was in the back wearing black shorts, an Under Armour tank and a do-rag," an onlooker tells PEOPLE.

The co-judges are no strangers to the cycling craze, the source adds. "They both spin on a regular basis" and "spin together regularly when they're filming Top Chef".

After powering through the last song of the class – Beyoncé's "Halo" – Colicchio stopped to chat with Food & Wine magazine publisher Christina Grdovic.

Here's to hoping for a Quickfire Competition on a bike!
– Lesley Messer


Andy Cohen may be a seasoned host on Bravo, but on the harbor he's definitely a bit of a fish out of water.

In a sneak peek of Tom Colicchio's Hooked Up, Cohen guest stars and catches his first big one on a fishing trip in New York Harbor.

This is one set up that's hardly smooth sailing. From the initial look of disgust on Cohen's face when talking about worms and his self-proclaimed title of "Jewish Adventurist," the episode is filled with laugh-out-loud moments. Even the Top Chef judge pulls one over on Cohen with a less-than-appropriate outfit for his novice guest.
Top Chef