Top Chef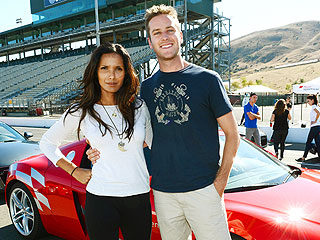 Credit: Michael Buckner/WireImage
Stop! Hammer time.

Armie Hammer and Padma Lakshmi felt the need for speed during the Audi Sportscar Experience at the Raceway at Sonoma, Calif. on Saturday.

Alongside his wife Elizabeth Chambers, the Lone Ranger star had the chance to drive Audi R8, RS 5 and TT RS vehicles.

"Armie and Elizabeth were lovey-dovey the entire time, constantly holding hands or with their arms around one another," an onlooker tells PEOPLE.

"They both got behind the wheel to take laps on the track, but after just one round, Armie swooped Elizabeth up up in his arms and carried her – Prince Charming style – after they got out of the car," the source adds.

Meanwhile, Top Chef host Lakshmi came dressed like a pro in black leggings, boots and a stunning red and black leather jacket.
– Jennifer Garcia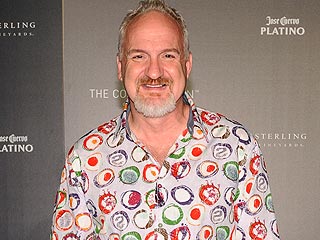 Celeb chef Art Smith shocked his fellow contestants and viewers by stripping down to a teeny-weenie Speedo on Wednesday night's episode of Top Chef Masters.

It was all for a good reason: He's lost over 120 lbs.!

"I'd never worn a Speedo in my life!" Smith tells PEOPLE. "When you feel fit, you don't want to wear any clothes and let it all hang out."
If working on your costume for Comic-Con International 2012 has you working up an appetite, here are a few solutions straight from San Diego, where all of the action is happening.

Even if you can't make it to the renowned geek-fest, try out these recipes in the spirit of the ultimate pop culture convention that unites Twilight fans and superhero junkies alike.
Memorial Day marks the start of the summer grilling season, and what better way to spend the holiday that with your family and friends – outside.

Celebrity chef Cat Cora – and star Bravo's Around the World in 80 Plates – says including your children in your meal planning can lead to fun and, most importantly, healthy dining experiences.

In Smart Chefs Stay Slim: Lessons in Eating and Living from America's Best Chefs, by PEOPLE senior editor Allison Adato, Cora is just one of many celebrity chefs (including Tom Colicchio, Wolfgang Puck, Rick Bayless) with nutritious tips to share.


Let the games – er, shows – begin!

Bravo's summer programing slate is heating up, and the network has recruited a fleet of its "Bravolebrities" – more than 30 in total – for a fun, fast-paced new promo, and PEOPLE.com has a first look. (The commercial will make its TV debut during Wednesday's Watch What Happens Live.)

The Olympics-themed clip finds various Housewives – NeNe Leakes, Kyle Richards and Ramona Singer – facing off for race ... in heels! And with drinks in hand.
Permalink | Filed Under: Bravo, Real Housewives of Atlanta, The Real Housewives Of New Jersey, The Real Housewives Of Orange County, The Real Housewives of Beverly Hills, Top Chef, The Real Housewives of..., TV News, Andy Cohen, Caroline Manzo, Gretchen Rossi, Kathy Griffin, LuAnn de Lesseps, Padma Lakshmi, Ramona Singer, Teresa Giudice
The heat was on Wednesday night for the Top Chef: Texas finale as two contestants – Paul Qui and Sarah Grueneberg – battled it out in Vancouver to determine who would ultimately come out on top.

The chefs were asked to prepare four courses of their choice for 100 diners and the panel of judges, with the help of some familiar faces. Paul enlisted Barbara Lynch, Ty-Lor Boring, Chris Crary and Keith Rhodes, while Sarah had the help of Nyesha Arrington, Tyler Stone, Heather Terhune and Grayson Shmitz in the kitchen.

And if it were up to People.com readers, Qui would persevere: He polled far ahead of his competitor, with 90% of readers voting that he deserved to take the Top Chef title.

Sarah, however, has been formidable competitor throughout the season, collecting thousands of dollars and big wins in elimination challenges.

Both, interestingly, also have a connection to the Lone Star State. Paul currently cooks in Austin and Sarah, who now lives in Chicago, was born in Texas.

So who won in the end? Keep reading to find out:
After toiling away in snowy Vancouver in a series of physical challenges – even, at one point, shooting for their ingredients last week – three contestants were left standing at the beginning of Wednesday's Top Chef.

Warning: Spoiler Alert Ahead:
For nine seasons, Top Chef fans have known Gail Simmons to be a thoughtful and incisive judge, a dessert enthusiast (she does host Top Chef: Just Desserts, after all) and a friendly, familiar face.

But for Simmons, being a TV personality was never in the cards. In fact, after graduating from college in Montreal, neither was a career in food – initially.

In her new book, Talking with My Mouth Full: My Life as a Professional Eater, Simmons shares "the story of my life – so far – and the mentors and the adventures I've had along the way," as she tells it in her warm, conversational voice.
How do country's biggest stars prep for the CMT Artists of the Year show? With some southern-style cooking, of course!

This year's crop of honorees – Taylor Swift, Brad Paisley, Kenny Chesney, Lady Antebellum and Jason Aldean – all chowed down on a feast prepared by Top Chef winner Stephanie Izard prior to the show, which airs Tuesday (9 p.m. ET on CMT).

"For the dinner, I wanted to show my style of cooking but have influence from the artists and Nashville," Izard told PEOPLE of the three-course meal, complete with wine pairings. (See the full menu below.)

Using notes from each musician, the Top Chef winner created a meal tailor-made for the stars.

"Taylor Swift loves sausage and gravy from Cracker Barrel, so we did mini biscuits with goat and pork gravy," Izard, who owns the Chicago restaurant the Girl & the Goat, said. (She also personally met Swift because, Izard explains, "All of the young guys that work for me would have been disappointed had I not!")
She was away for her actual birthday (Sept. 1!) filming Top Chef: Texas, but Padma Lakshmi's friends did not forget her. Instead, they threw her a surprise belated birthday bash at New York's Sons of Essex. The group all sipped Armand de Brignac Brut Gold champagne, and some signature cocktails. "She was completely surprised and had no idea," a source says. Lakshmi also took a trapeze lesson earlier in the day. Says the source: "Her friends made it a really special day for her." – Jennifer Garcia
Top Chef