Top Chef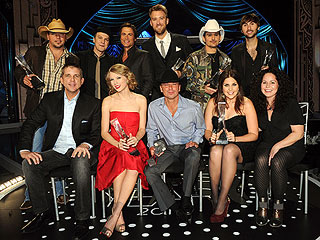 Credit: Getty
How do country's biggest stars prep for the CMT Artists of the Year show? With some southern-style cooking, of course!

This year's crop of honorees – Taylor Swift, Brad Paisley, Kenny Chesney, Lady Antebellum and Jason Aldean – all chowed down on a feast prepared by Top Chef winner Stephanie Izard prior to the show, which airs Tuesday (9 p.m. ET on CMT).

"For the dinner, I wanted to show my style of cooking but have influence from the artists and Nashville," Izard told PEOPLE of the three-course meal, complete with wine pairings. (See the full menu below.)

Using notes from each musician, the Top Chef winner created a meal tailor-made for the stars.

"Taylor Swift loves sausage and gravy from Cracker Barrel, so we did mini biscuits with goat and pork gravy," Izard, who owns the Chicago restaurant the Girl & the Goat, said. (She also personally met Swift because, Izard explains, "All of the young guys that work for me would have been disappointed had I not!")
She was away for her actual birthday (Sept. 1!) filming Top Chef: Texas, but Padma Lakshmi's friends did not forget her. Instead, they threw her a surprise belated birthday bash at New York's Sons of Essex. The group all sipped Armand de Brignac Brut Gold champagne, and some signature cocktails. "She was completely surprised and had no idea," a source says. Lakshmi also took a trapeze lesson earlier in the day. Says the source: "Her friends made it a really special day for her." – Jennifer Garcia
It's said that everything is bigger in Texas – and the upcoming season of Bravo's
Top Chef
set in the Lone Star State is no exception. It's also way tougher, too.
The
29 chefs chosen for the ninth season
were stunned to learn upon arriving in San Antonio that they'd first have to pass a cooking challenge before even earning a spot as a contestant. (Watch a clip above.)
"This season's raising the level of intensity pretty fast," said contestant Chaz Brown, after hearing that the original pool will be whittled down to 16.
A finalist from the first season of Top Chef: Just Desserts has been charged with possession and intent to distribute child pornography.

Morgan Wilson, 38, of Plano, Texas, was indicted on three second-degree felony charges and could face up to 10 years in jail if convicted, the Plano Star-Courier reports.

Wilson, who was a controversial and hot-tempered contestant on the Bravo show, prone to angry outbursts, was arrested last December after undercover investigators received file transfers from his computer that allegedly contained images and videos of children as young as toddlers engaged in sexual acts.
Top Chef season 7 runner-up – and recent Top Chef: All-Stars competitor – Angelo Sosa is cooking his way into fall.

As the leaves change color, and the temperatures drop, the chef is preparing a special, seasonal meal inspired by the Hudson Valley on Oct. 15 in Milbrook, N.Y.

"The beauty of Millbrook reminds me of a European winery," Sosa tells PEOPLE. "The inspiration behind the menu is to create a meal pulling from the accumulations of my travels and taking the aesthetic of the vineyard, the beauty of the wine and infusing them with my food."

Sosa will cook a tasting menu – it's $125 per person – in association with Bull & Buddha restaurant. Among his offerings: curried apple soup and duck pastrami with cherry confit to start.

The three-course meal will also feature spiced pumpkin pie soup; slow-roasted salmon with charred eggplant and sweet and sour cherry; and pork belly with old-fashioned mustard, apple and ginger chutney.
After weeks of toil, twists and tight competition, Richard Blais and Mike Isabella were both left standing, seeking redemption and victory in Wednesday's Top Chef All-Stars finale.

Over the course of an especially rigorous season, in which the two competed against fellow Top Chef alums, all of whom came just this close to winning their respective seasons, Blais and Isabella distinguished themselves with their invariably impressive and high-level cooking.

Blais, a master of molecular gastronomy, led with his intellect, serving playful, high-concept dishes and showcasing a variety of sophisticated techniques. Isabella, meanwhile, really stepped up mid-season, displaying expertise and confidence with Italian and Mediterranean cooking that afforded him an early lead in the final challenges.

So which chef was named the ultimate winner? Keep reading to find out.
And then there were two.

On Wednesday's Top Chef, the judges narrowly decided which of the three finalists – Richard Blais, Mike Isabella or Antonia Lofaso – would be competing in the final episode. And it was a nail biter.

After a Quickfire challenge where the chefs assigned each other classic tasks from seasons past – plus an eleventh hour twist – Mike Isabella claimed another victory from guest judge Wolfgang Puck for his braised pork, which he cooked in a pressure cooker. (Antonia had to use canned products for her meal, while Richard used hot dogs in his dish.)
There's another cook in the kitchen – Top Chef's Tom Colicchio has welcomed his third son.

Wife Lori Silverbush gave birth to Mateo Lev Colicchio on Tuesday at 12:11 p.m. in New York City, his rep tells PEOPLE.

Weighing in at 7.9 lbs., Mateo joins big brothers  Luka Bodhi, 19 months, and Dante, 17, the chef's son from a previous relationship. Mom and baby are both doing well, says the rep.


With four chefs left standing, it's pretty much anybody's game to lose at this point. True, Mike Isabella earned a major victory last week but his competitors – Tiffany Derry, Antonia Lofaso and Richard Blais – aren't going to let him run away with the title that easily.

In fact, on Wednesday's Top Chef, the four had to work together for a Quickfire challenge that prized consistency and precision over everything else. Split into two teams – men vs. women – the finalists had just an hour to make 100 dishes which needed to be plated and seasoned identically. The guys served homemade pasta with pork bolognese, while the women cooked beef tenderloin and plated it with a salad and lentils.

Tough talk abounded in the kitchen. Richard and Mike complained that their rivals played it too safe as they sweated it out and grated fresh cheese over their array of plates.
They've arrived in the Bahamas – and not for a vacation.

Five chefs were left to battle it out in the Top Chef finale in an episode that supplied one heated Quickfire challenge and an actual fire.

Immediately faced with the chefs who defeated them on their original seasons, the finalists – Richard Blais, Tiffany Derry, Antonia Lofaso, Carla Hall and Mike Isabella – were fighting for redemption and $10,000 in the challenge, which found them using proteins hand-selected by Tom Colicchio.
Top Chef