Top Chef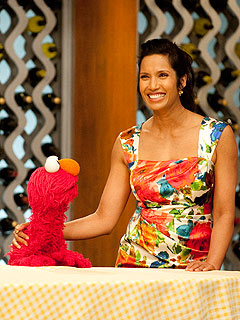 Credit: David Giesbrecht/Bravo
Wednesday's Top Chef was a feat of endurance for the remaining contestants who endured one of their toughest challenges yet – a late-night cooking competition at Target, where they built their cooking stations from scratch.

First, though, the chefs faced a decidedly more genteel task – to bake a delicious cookie for one of the pastry's most iconic connoisseurs: Cookie Monster!

Yes, the beloved Sesame Street character was joined by Telly Monster and Elmo to judge the chefs' Quickfire challenge. While some chefs (like Dale Talde) admitted they were a bit rusty in the cooking-making department, Antonia Lofaso was confident she could win.
Energetic Top Chef contender Richard Blais and his wife Jazmin, already the parents of daughter Riley, now 2½, have just expanded their family.

"Welcome Embry Lotus Blais!" the Atlanta-based Bravo chef Tweeted about his new daughter, along with posting a photo of the new arrival.

The girl arrived in Atlanta's Piedmont Hospital, said the dad, who owns the Flip Burger Boutique in that city.
On Wednesday's episode of Top Chef, designer Isaac Mizrahi challenged the remaining All Stars to indulge their artistic side and create an delicious-looking dish. Forget flavor. Nobody tasted the food. Instead, the chefs would be assessed on aesthetics alone.

While many – including Carla Hall and Richard Blais – took to the challenge with alacrity, Dale Talde struggled. And Angelo Sosa, who professed his love of Roberto Cavalli, served his dish in a grotesque-looking plastic bag after being inspired by the designer's use of crocodile skin.

Mizrahi seemed nonplussed by the reptilian offering – and maybe even a little disgusted. He didn't love Talde's messy plate either, though he had plenty of praise for Richard, whose sophisticated black ice cream topped with greenery earned him a victory.
With eight chefs left in the competition, Wednesday night offered up a classic Top Chef challenge: Restaurant Wars! And, this year, there was a twist.

Split into two teams of five, the chefs had one day to open "pop up" style restaurants, and their diners would pick the winning eatery – not the judges!

The first team was helmed by Dale Talde, who won immunity in a Quickfire challenge that involved butchering fish at Le Bernardin, then making an entrée with the discarded parts (like the heads and fins). Talde enlisted Richard Blais, Tre Wilcox, Fabio Viviani and Carla Hall to join him, and they began to conceptualize their restaurant.
Forget the well-stocked Top Chef pantry, this week the contestants had to forage for their own food – at sea.

With 12 chefs still standing, it was off to Montauk, the most eastern point of New York's Long Island, and all aboard two fishing vessels for an adventure. With no Quickfire challenge to warm them up, the chefs were split into four teams of three and told to catch their own fish, then cook and serve them on the beach to 200 people.

As the chefs struggled to find their sea legs, the pressure ratcheted up – and that's before any fishing lines were even cast.
It's Top Chef's 100 episode – and even Tom Colicchio joined the party by rolling up his sleeves and cooking for the first time ever on the Bravo show. And it wasn't just in good fun.

Nope, Chef Tom laid down an imposing Quickfire challenge. The chefs would have to test their speed and ability and cook a dish in the time in took him to prep his own creation. In the end, it took Colicchio just eight minutes and 37 seconds to whip up black sea bass with clams, zucchini and tomatoes.

"This will be the first and last time I do this," he quipped after finishing the dish, while the contestants looked on with terror in their eyes.
Top Chef
celebrates a major milestone – its 100th episode! – on Wednesday (10 p.m. ET) by pitting the remaining contestants against head judge Tom Colicchio in a speedy Quickfire challenge. While Tom's swift knives and culinary skills put the heat on the chefs, PEOPLE has cooked up a list of the show's most fiery moments to get in on the celebration. If you can't stand the heat, turn off the TV! Here are five heated moments from 100 episodes of
Top Chef
:
5. Sibling Rivalry:
Brothers Michael and Bryan Voltaggio faced off over and over again in Las Vegas but in the emotional season 6 finale, which took them to Napa Valley, they competed against each other to the very end – with their mother on hand to witness the showdown. Bryan earned compliments for his venison with an orange-juniper sauce and cheesecake with fig sorbet. But Michael took the title of Top Chef for his dishes, which included fried broccoli with prawn and fennel-scented squab with pistachio cassoulet and reconstructed mushrooms.
Let's give a big hootie-hoo to Carla Hall, who nabbed her first Top Chef: All-Stars victory in Wednesday's episode – a strenuous challenge that found the chefs competing head-to-head at the US Open.

Split into two teams – orange and yellow – the chefs each devised a dish that would be appropriate to serve to tennis players and US Open-attendees. Translation: their food needed to be elegant, light and healthful.

At first, it seemed like Hall could end up in the bottom: She insisted on making an African nut stew – healthy, sure, but not necessarily to the liking of her teammates. No matter, though, the Washington, D.C.-based chef stuck to her guns – and showed a resilient spirit even as she sliced her finger in the kitchen. (Unlike Jamie Lauren weeks earlier, Hall decided to bandage herself and keep it moving, earning her the respect of her fellow chefs.)
After several weeks of competition it was time for the remaining chefs to really make an impression. And on Wednesday night's Top Chef: All-Stars, they did that – literally.

Split into teams, the contestants were tasked with replicating four famous chefs' signature styles and cooking up a dish the esteemed bunch would be proud to serve at their various New York City restaurants.
A night at the museum was more like a nightmare for some contestants on Wednesday's Top Chef: All-Stars.

In a demanding challenge, the 17 remaining chefs were asked in their Quickfire challenge to make a kid-friendly snack for a group of children who were spending the night at New York's American Museum of Natural History.

Judging them – Joe Jonas, whose celebrity impressed some, like Antonia Lofaso, who said her young daughter would freak out if she knew her mom met the rocker. Others, like Dale Talde, weren't as star-struck. "I had no idea who Joe Jonas was," he said. "I thought he was a pastry chef."

With 45 minutes to cook, everyone got to work, whipping up saccharine treats for the kids to enjoy at midnight.
Top Chef