The Amazing Race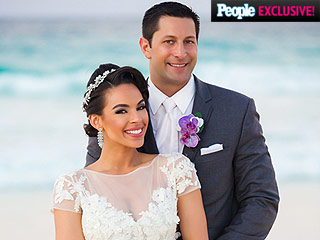 Credit: Michelle Carpenter Photography
When it comes to traveling, Jason Case and Amy Diaz are pros.

In 2013, the dating couple competed on The Amazing Race's 23rd season. During the competition, they traveled more than 35,000 miles to four continents – and walked away with the show's $1 million prize.

Last month, the couple added another destination to their passports when they tied the knot in the Dominican Republic. The ceremony took place at the Hard Rock Hotel and Casino in Punta Cana.
PEOPLE Staff Writer Patrick Gomez was assigned to cover the starting line of the new season of The Amazing Race and documented his experience of attempting to complete the first challenge of the season.

As a big Amazing Race fan, I am most definitely guilty of sitting on my couch watching the show (probably while eating pizza) and thinking, "I could totally do that."

Well, I finally had to put my money where my mouth is.
Jonathan Knight has traveled the world as a member of New Kids on the Block, but he's not sure anything could prepare him for competing on The Amazing Race with his boyfriend, Harley Rodriguez.

"This is probably going to be the most time that we've been together continually," Knight tells PEOPLE about spending more than three weeks traveling with Rodriguez on the 26th installment of the CBS reality competition show. "I don't know if I am looking forward to that much time together with him. It's going to be interesting."

In fact, since meeting through a mutual friend in 2008 (when Knight was in Los Angeles working on the NKOTB reunion album and tour), the couple have come to relish their time apart.
Whitney Duncan is no stranger to reality TV.

In 2007, she finished fifth on season five of Nashville Star. Then, in 2011, she lasted 28 days on Survivor: South Pacific. Now, audiences will see her again on The Amazing Race, which kicks off season 25 Friday night. 

And who is Duncan competing with? Keith Tollefson, a fellow Survivor contestant – who also happens to be her new husband.
It's a classic Western tale but with a prime-time TV twist – the cattle thieves could have appeared in an episode of Breaking Bad, and the cowboy is a reality star.


Will the second time again be the charm for Rachel Reilly?


Jen Hoffman is on a roll.

In 2011, she and her sister, Kisha, won the million dollar prize on The Amazing Race. The following year, she and her fiancé, Ryan Fowler, became parents to daughter Nylah Mackenzie.

And on Saturday, Hoffman and Fowler tied the knot during a sunset ceremony at the Muhammed Ali Center in Louisville, Ky.

"It was a fantastic ceremony," Hoffman tells PEOPLE exclusively. "We had about 130 guests – all close friends and family."
Playing in the NFL is one thing, but competing on The Amazing Race is a whole different beast.

"This might be the most unpredictable season yet," Phil Keoghan, host of the hit CBS reality competition, tells PEOPLE.

"[Teams of] pro athletes, feisty fit couples, people with practical hard-working skills, book smarts and strong friendships make it almost impossible to predict who will have an advantage," he says.

Eleven teams will embark on a race around the world for the 23rd installment of show, which premieres Sept. 29 (8 p.m. ET). Two of them are former NFL teammates.
Jaymes Vaughan wanted to win The Amazing Race to raise funds for his father, who has been battling a rare form of cancer.

The fan favorite, a Chippendales dancer in Las Vegas, came up just short by finishing second, but he hasn't stopped trying to help his dad, Ed Vaughan.

His latest effort: moving up the release date of his new single, "Tonight," when his father's health took a turn for the worse. Proceeds from the song will go toward Ed's care and Jaymes says he was determined to release it while his father is here to see it.
The Amazing Race