The Amazing Race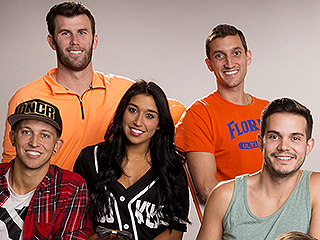 Credit: Cliff Lipson/CBS
It was a very influential season of The Amazing Race.


Like many new moms, morning news anchor Kellie Patterson of ABC's Denver affiliate station was having trouble losing weight after giving birth to her son.


The next season of The Amazing Race is going to be very social.

Season 28 of the CBS reality competition will feature a crop of contestants who are all social media stars, and PEOPLE can exclusively reveal one of the teams: Vine star Cole LaBrant and his mom Sheri!
Just because it's The Amazing Race 27th season, that doesn't mean the 10-time Emmy Award-winning reality competition show can't bring something new to the table – including some new destinations for the 11 teams of two, who are traveling the world in hopes of winning the $1 million grand prize.

In anticipation for the Sept. 25 premiere, PEOPLE can exclusively reveal the five continents and 10 countries the season 27 contestants will visit on their more-than-34-thousand-mile journey.
When it comes to traveling, Jason Case and Amy Diaz are pros.

In 2013, the dating couple competed on The Amazing Race's 23rd season. During the competition, they traveled more than 35,000 miles to four continents – and walked away with the show's $1 million prize.

Last month, the couple added another destination to their passports when they tied the knot in the Dominican Republic. The ceremony took place at the Hard Rock Hotel and Casino in Punta Cana.
PEOPLE Staff Writer Patrick Gomez was assigned to cover the starting line of the new season of The Amazing Race and documented his experience of attempting to complete the first challenge of the season.

As a big Amazing Race fan, I am most definitely guilty of sitting on my couch watching the show (probably while eating pizza) and thinking, "I could totally do that."

Well, I finally had to put my money where my mouth is.
Jonathan Knight has traveled the world as a member of New Kids on the Block, but he's not sure anything could prepare him for competing on The Amazing Race with his boyfriend, Harley Rodriguez.

"This is probably going to be the most time that we've been together continually," Knight tells PEOPLE about spending more than three weeks traveling with Rodriguez on the 26th installment of the CBS reality competition show. "I don't know if I am looking forward to that much time together with him. It's going to be interesting."

In fact, since meeting through a mutual friend in 2008 (when Knight was in Los Angeles working on the NKOTB reunion album and tour), the couple have come to relish their time apart.
Whitney Duncan is no stranger to reality TV.

In 2007, she finished fifth on season five of Nashville Star. Then, in 2011, she lasted 28 days on Survivor: South Pacific. Now, audiences will see her again on The Amazing Race, which kicks off season 25 Friday night. 

And who is Duncan competing with? Keith Tollefson, a fellow Survivor contestant – who also happens to be her new husband.
The Amazing Race