The Amazing Race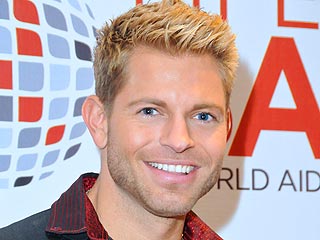 Credit: Mindy Small/FilmMagic
Everyone knows the Amazing Race has an amazing prize for the pair who makes it around the globe – a cool $1 million.

But viewers may not know what fan favorite Jaymes Vaughan (who partnered with his best friend and fellow Chippendales dancer James Davis on the show) plans to do with the money if he wins.

Shortly before his Amazing Race adventure began, "I found out my father was diagnosed with one of the rarest cancers that there is," Vaughan, 31, tells PEOPLE. "At this point it's an incurable cancer, and we're trying to do everything we can to help him turn it into a curable cancer."
Rachel Reilly and Brendon Villegas spent two summers living with strangers on Big Brother and traveled around the world on The Amazing Race, but now they have taken their boldest trip ever – down the wedding aisle.

The reality stars married Saturday atop the AT&T Center in downtown Los Angeles, where the redheaded bride arrived via helicopter.

"She wanted to arrive like a big celebrity," celebrity wedding planner – and host of WE tv's My Fair Wedding – David Tutera tells PEOPLE. "The guests will watch her arrive on live camera before she walks down the aisle, which to me is one of the most over the top processionals ever."
The Amazing Race is back!

On Sept. 30, 11 teams will start a journey around the world with hopes of clenching the CBS show's largest prize ever: $2 million.

So, who will be racing?

Season 21's teams include twin sisters from Sri Lanka; a pair of musically-inclined Chippendales dancers; and married Monster Truck racers.

There's also a heavy metal rocker from the band Megadeath; goat farmers (and stars of The Fabulous Beekman Boys, Josh Kilmer-Purcell and Brent Ridge); a competitive lumberjack and a double amputee.
They have spent the past two summers pent up in the Big Brother house but now engaged couple Rachel Reilly and Brendon Villegas are travelling the world on The Amazing Race.

"We thought we would do well on The Amazing Race because its more our style of competition. We don't have to worry about getting along with everybody the whole time, we can just compete," Villegas told PEOPLE on Valentines Day, the couples' one-year anniversary of their engagement.

Just days after taking home the $500,000 Big Brother prize last September, Reilly and her fiancé were asked to join ten other teams for the upcoming season premiering Sunday.

"I don't think I knew what I was getting myself in to," Reilly said. "I thought, 'We could totally do this,' but the Race is so different from Big Brother."
Engaged duo Ernie Halvorsen and Cindy Chiang covered four continents, 20 cities and nearly 40,000 miles in their quest to win the latest season of The Amazing Race.

Putting their wedding plans aside to complete the competition, project manager Halvorsen, 29 and his brand manager fiancée Cindy Chiang, 30, walked away with $1 million, a group of new friends and an even stronger bond.

PEOPLE caught up with the happy couple, who dished about their win and what's next for them.
It was bound to be a season of high drama on the The Amazing Race.

The teams hadn't even left the States at the start of the competition when a missing-passport mishap threatened to send one pair of competitors home before their race across the world even began.

The winning duo covered four continents, 20 cities and nearly 40,000 miles in their quest to beat out two other fiercely competitive teams – but not before the season's biggest shocker last week with the elimination of Olympian snowboarders Tommy Szechin, 31, and Andy Finch, 30, who seemed to have a lock on the win after snagging six leg-victories.

Their elimination left the $1 million competition up to dating couple Jeremy Cline, 35, a real estate broker, and Sandy Draghi, 33, a nurse practitioner; project manager Ernie Halvorsen, 29 and his fiancée Cindy Chiang, 30, a brand manager; and retired NFL tight end Marcus Pollard, 39, and his wife, business owner Amani, 36. Keep reading to find out who won:
Leaving the pit stop first does not necessarily give teams an advantage on The Amazing Race.

The first teams to leave – Andy and Tommy and Zac and Laurence – had the advantage of being the first to book flights to Thailand. But the other teams, who left the pit stop later, managed to find flights with earlier departures.

Despite the setback, all eight teams began their detour challenges at the same time. Andy and Tommy were able to use their athletic skills to breeze through the ocean challenge and take the lead once again.

Couples Bill and Cathi, Amani and Marcus and Jeremy and Sandy had a tougher time with the detour and switched tasks halfway through. Twins Liz and Marie struggled to complete their task even after receiving advice from their nearest competition, Bill and Cathi.
Former Las Vegas showgirls Kaylani Paliotta and Lisa Tilley thought their people skills would help them win The Amazing Race – but in the end it was not working with others that cost them the $1 million prize.

After choosing to work alone during Sunday's road block, the best friends fell to the back of the pack before losing in a foot race and becoming the third team eliminated this season. Paliotta and Tilley spoke to PEOPLE after their elimination about losing a passport, their final challenge, and just what Paliotta's daughter Seneca thinks of mom's race around the world.

Was The Race harder than you expected?
Kaylani: You have all the confidence in the world that nothing is going to get between you and that million dollars and you get out on The Race and you realize how hard each leg is. We went some days with no sleep. We went some days with no food and no bathroom because every second counts. Once you get out there it is a whole different beast.
On The Amazing Race teams can go from the front to the back of the pack at the drop of a hat – or the loss of a pedal.

After leaving the pit stop at Kraton, the Sultan's palace in Yogyakarta, Indonesia, in third place, Ernie and his fiancée Cindy quickly saw their lead disappear after the pedal on his bike fell off, allowing all but one team to cruise by the couple.

Snowboarders Andy and Tommy were the first to reach the detour with Laurence and his father Zac quickly catching up. But after misreading the clue and using three buckets instead of two to fill up a trough for the sheep, Laurence and Zac made a costly mistake.

Arriving to the detour last, Amani and Marcus fell even further behind after switching tasks halfway through. They received a helping hand when Andy and Tommy gave them the answer to the road block, but unfortunately the married couple were unable to remember the answer by the time the reached the challenge.
Both Ethan Zohn and Jenna Morasca have won the title of sole Survivor, but another $1 million prize eluded the couple when they were eliminated Sunday from The Amazing Race.

Zohn and Morasca, who have been dating for eight years, decided to attempt the challenge of racing around the world after Zohn successfully battled cancer. But after misinterpreting a clue on the second leg of the race, the couple were eliminated in the show's first-ever double elimination.

Now in Los Angeles filming their new show Everyday Health, Zohn and Morasca spoke with PEOPLE about traveling around the world together and explained the costly blunder that caused their demise.

Before the Race you both mentioned that having won Survivor could work against you. Did it?
Jenna: I thought it would more than Ethan did because I tend to be more evil when it comes to planning game stuff like that. I though, "They're going to use it against us." But it wasn't as big of a deal as I made it out to seem. It's not like Survivor.
Ethan: When you're racing, you're just with your partner against the elements. It's not like teams can gang up on you and create an alliance and force you out in any way. Everyone is doing their own thing.
The Amazing Race