The Amazing Race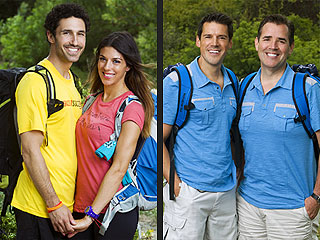 Credit: CBS
For the first time in 19 seasons, two teams were sent home on The Amazing Race Sunday.

After grandparents Bill and Cathi were saved from elimination on the season premiere last week, two teams were left vulnerable as all 11 teams raced from Taipei, Taiwan, to Yogyakarta, Indonesia.

Engaged couple Ernie and Cindy left the pit stop first but their advantage disappeared when they learned that the next flight Indonesia wasn't until the next morning.

In Indonesia, Bill and Cathi arrived at the roadblock first but because they were spared the week before, they had to untangle a large knot before spelunking down a cave with the rest of the teams. Still, they maintained their lead.

Ernie and Cindy once again took the lead after the detour and headed to a local orphanage where they supposed to hand over all the money in their possession. But after misreading the clue and leaving only the money earned during the detour, they were forced to return to the orphanage to complete the task correctly.
Ethan Zohn and Jenna Morasca have been through a lot in the eight years they've been together, including his battle against Hodgkin's disease and the death of her mother to cancer.

Now the Survivor champs (he's the winner of Survivor: Africa and she won in the Amazon) just want to escape from the day-to-day – and possibly take the next step in their relationship.

Zohn, 37, and Morasca, 30, will compete against 10 other teams on the fall season of The Amazing Race, which premieres Sept. 25 on CBS, and it just might be right time for the couple to become engaged.

"He says that if he feels so moved on the Race that it's possible," Morasca says of a proposal. "It is definitely something that we think about!"
Last season may have featured familiar faces on The Amazing Race but season 19's contestants bring something else to the competition. "I'm not sure we've ever had a season like this where there are so many proven athletes," host Phil Keoghan tells PEOPLE of the teams, which include Olympians, a former NFL player, ocean lifeguards and even Survivor champs.

But even if these seasoned players are used to competition, they've never had to face the challenges of a race around the world.

"There is also a lot of effort put forth to make athletes' lives easier so they can perform," Keoghan explains. "But on The Amazing Race all those things are not taken care of. They're not going to eat what they want, sleep when they want – and they are doing it with someone else."

Just before they began filming, PEOPLE met the new teams to find out why they think they have what it takes to win $1 million. Meet the contestants:
Sisters LaKisha, 30, and Jennifer Hoffman, 26, endured five continents, 23 cities, 40,000 miles and zero emergency potty breaks to become the second all-female team to finish first in 18 seasons of The Amazing Race.

Following their big win over the Globetrotters and Gary and Mallory, the sisters spoke with PEOPLE about second chances, strategy switch-ups and how they'll spend their $1 million prize.

Just how close was this final leg?
Jen: Given the circumstances of the final task where we had to set up the entire trailer and pay such close attention to detail and the wind was so bad, it was a very close race. Even Gary and Mallory who came in after we were almost finished knocked it out. It was a great final three. It was anybody's game that whole leg and even on that bridge for those seven miles, we weren't positive we were going to win.
Kisha: You see glimpses behind you. We may have been delirious. You know someone is back there but you never know just how far behind you and that's motivating and terrifying.
These Amazing Race winners knew just what to do at the finish line.

Meghan Rickey and Cheyne Whitney ended their wedding ceremony Saturday night at the Hard Rock Hotel San Diego with an undoubtedly romantic smooch.

"When they kissed, the whole crowd started clapping and cheering loudly," a wedding guest tells PEOPLE.
It all came down to a mobile home. After countless physically and mentally taxing challenges, the final three teams got caught up trying to recreate the perfect south Florida mobile home. And though windy weather and a tough judge kept everyone from moving forward quickly, the entire two-hour race to the finish line was full of quirky tasks and not-so-lucky breaks.

The four remaining teams left Switzerland and arrived in sunny Rio de Janeiro. Once there, they grabbed cabs and hitched a tram to the historic Escadaria Selarón steps. The Globetrotters, stuck with a slow cabbie, missed the first tram, and had to wait 30 minutes for the next ride, as the rest of the teams sped ahead. After finding tiles imprinted with a clue, everyone ran for the next Roadblock: a Carnival-themed samba challenge!
When LaKisha and Jennifer Hoffman signed on for season 18 of The Amazing Race, the Chicago sisters had a talk about their plans.

"We decided if we were going to run the race again, we'd run it to win," says Jennifer Hoffman, 26. "We were definitely ready for our a second chance!"

The sisters, who were standout athletic stars at the University of Louisville, knew that they'd have to rely on their physical prowess to win the Race. (Witness the final leg, when the teams had to ride oversized tricycles against the wind along the Seven Mile Bridge in the Florida Keys.)

"It was such a hard race," Kisha, 30, tells PEOPLE. "From the start, it was like they had really stepped it up. And we'd get to the end of a leg, and there would be Phil Koeghan, giving us another clue and telling us to keep running!"
Talk about one amazing night!

Amazing Race winners Meghan Rickey and Cheyne Whitney gathered over 200 of their closest friends and family for their romantic and stylish nuptials Saturday evening at the Hard Rock Hotel San Diego.

"I'm a little bit hoarse, a little sick, but I'm excited," Rickey told PEOPLE. "This is our day!"

Added Whitney: "It's been perfect. The ceremony couldn't have been better."
They came. They raced. They're exhausted.

After racing around the world, the cast of the Amazing Race: Unfinished Business took a moment to relax at the Amazing Race 10-year anniversary bash in Miami on Saturday.

Sitting poolside at the Loews Hotel, the final four teams laughed and chatted with PEOPLE about their Race experience – though all were careful not to give away Sunday's results.


Zev Glassenberg and Justin Kanew
After surviving a dip in the Ganges, a cracked rib, driving the wrong way for hours, Globetrotter bullying, lots of bickering and runny makeup, L.A.-based models Vyxsin Fiala, 32, and Kent Kaliber, 35, were ultimately taken down on The Amazing Race by a misread clue. The pair placed fifth as they had done in season 12, but argued to PEOPLE that didn't mean they didn't improve.

How'd it feel to have your elimination airing preempted by President Obama?
Kent: We were having a viewing party. When we turned it on and saw the big news instead of the show, we announced, "World news is a little more important than The Amazing Race." We're cool taking a back seat to the death of Osama Bin Laden.
The Amazing Race