The Amazing Race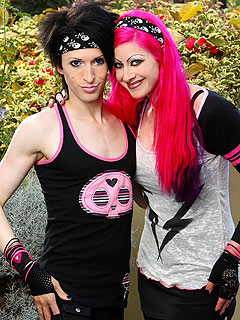 Credit: Monty Brinton/CBS
After surviving a dip in the Ganges, a cracked rib, driving the wrong way for hours, Globetrotter bullying, lots of bickering and runny makeup, L.A.-based models Vyxsin Fiala, 32, and Kent Kaliber, 35, were ultimately taken down on The Amazing Race by a misread clue. The pair placed fifth as they had done in season 12, but argued to PEOPLE that didn't mean they didn't improve.

How'd it feel to have your elimination airing preempted by President Obama?
Kent: We were having a viewing party. When we turned it on and saw the big news instead of the show, we announced, "World news is a little more important than The Amazing Race." We're cool taking a back seat to the death of Osama Bin Laden.
When teams kicked off the second-to-last leg of the race with just one dollar in hand, you had to wonder what was going to happen next on The Amazing Race. But a night out in the cold and a search-and-rescue mission isn't exactly what we had in mind.

Racers were told they were heading for the unknown, and stayed in Zermatt, Switzerland, making their way to the nearby Air Rescue Helicopter Port. There, each pair signed up for a departure time, and then spent the snowy night waiting for the facility to open.
Oklahoma-based brothers Jet, 31, and Cord McCoy, 30, saddled up for a second trip around the world on The Amazing Race despite knowing they'd have a target on their backs. The cowboys spoke with PEOPLE about eating cheese, the cutthroat competition, climate change and couples massage.

Despite losing, are you glad you raced a second time?Cord: What I tell everybody is that The Race is perfectly named. It really is amazing. I can't believe how lucky we are to have done a once-in-a-lifetime experience twice.
Jet: I came home with enough stories to last a week. Getting to go to all those countries would be enough, but then you get to do all these things and go places you wouldn't be able to if you just went there as a tourist.

The general consensus seems to be that this all-star season was much tougher than previous seasons. Do you agree?
Cord: Yes. It certainly seemed like there were extra twists everywhere we went.
Jet: But it was tougher on everyone. We were all in the same boat.
This week's Amazing Race challenges weren't as crazy as they were quirky. Electric-bike riding, luggage delivery, fondue – it was a little taste of Europe, Race-style.

Teams left Austria and grabbed a train to Lichtenstein, one of the smallest countries in the world. Everyone ended up on the same train, then hopped taxis to the border crossing, but unfortunately for Gary and Mallory, they ended up with a clueless cab driver. As they worked to catch up, racers arrived at the Roadblock. One member from each team had to hop an electric bike and ride through Lichtenstein from one end to the other, measuring the distance with an odometer, and reporting that number to the country's skiing champ, Marco Büchel, at the finish line.
We knew something might be up when we saw Gary and Mallory speak at the beginning of Sunday night's Amazing Race. Reflecting on their last race – when they were eliminated in the eighth leg – they said they didn't want to leave the competition that early for a second time. And while they came close, luck was on their side.

Teams left India and headed for Vienna, Austria. After some non-drama at two travel agencies – the Cowboys chose a slightly later series of flights that had one less stopover, while the remaining teams selected the same two-stop flight – everyone arrived on time in Vienna, hopped into their Ford Focuses and backed up over their first clue: Schloss Schallaburg. Racers zipped off to the gorgeous castle, and received a large book, directing them to Librarian Prunksaal Österreichische Nationalbibliothek Wien – a.k.a. the National Library.
When Ron Hsu, 61, and his daughter Christina, 29, first competed on The Amazing Race, they came in second place despite major communication issues. While they didn't make it to the final Pit Stop on Unfinished Business, the father-daughter team approached their "second-in-a-lifetime opportunity" with an emphasis on the journey rather than the finish line. After their elimination on Sunday's episode, Ron and Christina spoke with PEOPLE about the detour that did them in, enjoying the local cuisine, and what it was like for Ron to walk Christina down the aisle to her most important Pit Stop yet – the wedding altar! – where she married her fellow season 12 competitor Azaria Azene this spring.
Jet and Cord: Just that talented, or just that lucky? Again the cowboys found themselves way behind the pack, but managed an epic catch-up in a semi-easy leg of The Amazing Race on Sunday.

Teams left Kolkata, India, and headed for the country's holy city of Varanasi. Everyone ended up on the same late-night flight, except Jet and Cord, who found themselves landing an hour later. It wasn't until they made a connection in New Delhi, India, that they realized they were all alone. But as Vyxsin later said, the brothers are efficient, so even though they were behind, the remaining teams knew they'd be hot on their heels.


This week's episode of The Amazing Race was anything but a cup of tea.

Upon waking up in China, teams zipped off to a quick tasting, sampling a warm cup of papaya-mango infused tea. While everyone saw it as a minor stop on their way to the next challenge, host Phil Keoghan clued us in: that flavor would come back later in the episode.

After jetting to Kolkata, India – everyone was on the same flight, which arrived around midnight – teams worked their way through the massive crowds to Town Hall, where they camped out until 10 a.m. Once inside, they were faced with a Roadblock. One person would have to taste from thousands of cups of tea, working to find the flavor they'd sampled before leaving China.
Former Dolphins cheerleaders Cara Rosenthal, 28, and Jaime Edmondson, 32, had very little to cheer about as the third team eliminated from The Amazing Race. The current law student and Playboy Playmate spoke with PEOPLE about the tough course, getting U-turned, the lying Goths and rooting for Margie and Luke.

Why did you want to race again?
Jaime: To win this time.
Cara: We're competitive girls so the prize could have been a crappy man's T-shirt, which it sometimes was at cheerleading competitions, and we'd still want to win.

The general consensus is that this all-star season is much tougher.
Jaime: It was more challenging in the way the course was designed. The first time we didn't have as much travel in between challenges, which is the part we really enjoy. This one was designed to break you down with four days in between pit stops with very little food or time to sleep. It took forever to get to and from challenges.

So much for that big cliffhanger! After leaving us on the edge of our seats last week, Sunday's episode of The Amazing Race was relatively normal. Kent and Vyxsin found their missing fanny pack, breezed through the remaining challenges and caught up with the other teams, who were all waiting together for a nighttime train back to Kunming, China. In fact, all the teams appeared downright relaxed, shooting hoops and playing cards in a quiet train station until their ride arrived.

But once that train stopped in Kunming, the competition became cutthroat. After hopping cabs and grabbing clues in a chaotic flower market, teams sped to the Golden Horse and Jade Cock Memorial Archways. But the cowboys' cab went missing, so they stole the Globetrotters' ride, stranding the tall teammates in the middle of nowhere. Though they found another cab, it put them dangerously behind in the very tight pack.
The Amazing Race
Get PEOPLE Everywhere
Advertisement