The Amazing Race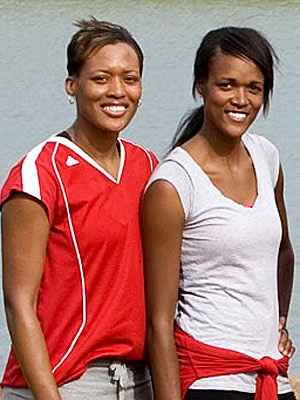 Credit: Robert Voets/CBS/Getty
Sisters LaKisha, 30, and Jennifer Hoffman, 26, endured five continents, 23 cities, 40,000 miles and zero emergency potty breaks to become the second all-female team to finish first in 18 seasons of The Amazing Race.

Following their big win over the Globetrotters and Gary and Mallory, the sisters spoke with PEOPLE about second chances, strategy switch-ups and how they'll spend their $1 million prize.

Just how close was this final leg?
Jen: Given the circumstances of the final task where we had to set up the entire trailer and pay such close attention to detail and the wind was so bad, it was a very close race. Even Gary and Mallory who came in after we were almost finished knocked it out. It was a great final three. It was anybody's game that whole leg and even on that bridge for those seven miles, we weren't positive we were going to win.
Kisha: You see glimpses behind you. We may have been delirious. You know someone is back there but you never know just how far behind you and that's motivating and terrifying.
These Amazing Race winners knew just what to do at the finish line.

Meghan Rickey and Cheyne Whitney ended their wedding ceremony Saturday night at the Hard Rock Hotel San Diego with an undoubtedly romantic smooch.

"When they kissed, the whole crowd started clapping and cheering loudly," a wedding guest tells PEOPLE.
It all came down to a mobile home. After countless physically and mentally taxing challenges, the final three teams got caught up trying to recreate the perfect south Florida mobile home. And though windy weather and a tough judge kept everyone from moving forward quickly, the entire two-hour race to the finish line was full of quirky tasks and not-so-lucky breaks.

The four remaining teams left Switzerland and arrived in sunny Rio de Janeiro. Once there, they grabbed cabs and hitched a tram to the historic Escadaria Selarón steps. The Globetrotters, stuck with a slow cabbie, missed the first tram, and had to wait 30 minutes for the next ride, as the rest of the teams sped ahead. After finding tiles imprinted with a clue, everyone ran for the next Roadblock: a Carnival-themed samba challenge!
When LaKisha and Jennifer Hoffman signed on for season 18 of The Amazing Race, the Chicago sisters had a talk about their plans.

"We decided if we were going to run the race again, we'd run it to win," says Jennifer Hoffman, 26. "We were definitely ready for our a second chance!"

The sisters, who were standout athletic stars at the University of Louisville, knew that they'd have to rely on their physical prowess to win the Race. (Witness the final leg, when the teams had to ride oversized tricycles against the wind along the Seven Mile Bridge in the Florida Keys.)

"It was such a hard race," Kisha, 30, tells PEOPLE. "From the start, it was like they had really stepped it up. And we'd get to the end of a leg, and there would be Phil Koeghan, giving us another clue and telling us to keep running!"
Talk about one amazing night!

Amazing Race winners Meghan Rickey and Cheyne Whitney gathered over 200 of their closest friends and family for their romantic and stylish nuptials Saturday evening at the Hard Rock Hotel San Diego.

"I'm a little bit hoarse, a little sick, but I'm excited," Rickey told PEOPLE. "This is our day!"

Added Whitney: "It's been perfect. The ceremony couldn't have been better."
They came. They raced. They're exhausted.

After racing around the world, the cast of the Amazing Race: Unfinished Business took a moment to relax at the Amazing Race 10-year anniversary bash in Miami on Saturday.

Sitting poolside at the Loews Hotel, the final four teams laughed and chatted with PEOPLE about their Race experience – though all were careful not to give away Sunday's results.


Zev Glassenberg and Justin Kanew
After surviving a dip in the Ganges, a cracked rib, driving the wrong way for hours, Globetrotter bullying, lots of bickering and runny makeup, L.A.-based models Vyxsin Fiala, 32, and Kent Kaliber, 35, were ultimately taken down on The Amazing Race by a misread clue. The pair placed fifth as they had done in season 12, but argued to PEOPLE that didn't mean they didn't improve.

How'd it feel to have your elimination airing preempted by President Obama?
Kent: We were having a viewing party. When we turned it on and saw the big news instead of the show, we announced, "World news is a little more important than The Amazing Race." We're cool taking a back seat to the death of Osama Bin Laden.
When teams kicked off the second-to-last leg of the race with just one dollar in hand, you had to wonder what was going to happen next on The Amazing Race. But a night out in the cold and a search-and-rescue mission isn't exactly what we had in mind.

Racers were told they were heading for the unknown, and stayed in Zermatt, Switzerland, making their way to the nearby Air Rescue Helicopter Port. There, each pair signed up for a departure time, and then spent the snowy night waiting for the facility to open.
Oklahoma-based brothers Jet, 31, and Cord McCoy, 30, saddled up for a second trip around the world on The Amazing Race despite knowing they'd have a target on their backs. The cowboys spoke with PEOPLE about eating cheese, the cutthroat competition, climate change and couples massage.

Despite losing, are you glad you raced a second time?Cord: What I tell everybody is that The Race is perfectly named. It really is amazing. I can't believe how lucky we are to have done a once-in-a-lifetime experience twice.
Jet: I came home with enough stories to last a week. Getting to go to all those countries would be enough, but then you get to do all these things and go places you wouldn't be able to if you just went there as a tourist.

The general consensus seems to be that this all-star season was much tougher than previous seasons. Do you agree?
Cord: Yes. It certainly seemed like there were extra twists everywhere we went.
Jet: But it was tougher on everyone. We were all in the same boat.
This week's Amazing Race challenges weren't as crazy as they were quirky. Electric-bike riding, luggage delivery, fondue – it was a little taste of Europe, Race-style.

Teams left Austria and grabbed a train to Lichtenstein, one of the smallest countries in the world. Everyone ended up on the same train, then hopped taxis to the border crossing, but unfortunately for Gary and Mallory, they ended up with a clueless cab driver. As they worked to catch up, racers arrived at the Roadblock. One member from each team had to hop an electric bike and ride through Lichtenstein from one end to the other, measuring the distance with an odometer, and reporting that number to the country's skiing champ, Marco Büchel, at the finish line.
The Amazing Race
Get PEOPLE Everywhere
Advertisement