The Amazing Race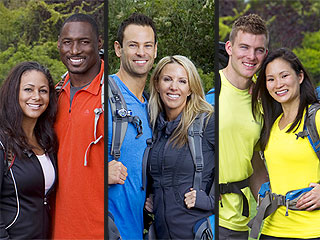 Credit: CBS
It was bound to be a season of high drama on the The Amazing Race.

The teams hadn't even left the States at the start of the competition when a missing-passport mishap threatened to send one pair of competitors home before their race across the world even began.

The winning duo covered four continents, 20 cities and nearly 40,000 miles in their quest to beat out two other fiercely competitive teams – but not before the season's biggest shocker last week with the elimination of Olympian snowboarders Tommy Szechin, 31, and Andy Finch, 30, who seemed to have a lock on the win after snagging six leg-victories.

Their elimination left the $1 million competition up to dating couple Jeremy Cline, 35, a real estate broker, and Sandy Draghi, 33, a nurse practitioner; project manager Ernie Halvorsen, 29 and his fiancée Cindy Chiang, 30, a brand manager; and retired NFL tight end Marcus Pollard, 39, and his wife, business owner Amani, 36. Keep reading to find out who won:
Leaving the pit stop first does not necessarily give teams an advantage on The Amazing Race.

The first teams to leave – Andy and Tommy and Zac and Laurence – had the advantage of being the first to book flights to Thailand. But the other teams, who left the pit stop later, managed to find flights with earlier departures.

Despite the setback, all eight teams began their detour challenges at the same time. Andy and Tommy were able to use their athletic skills to breeze through the ocean challenge and take the lead once again.

Couples Bill and Cathi, Amani and Marcus and Jeremy and Sandy had a tougher time with the detour and switched tasks halfway through. Twins Liz and Marie struggled to complete their task even after receiving advice from their nearest competition, Bill and Cathi.
Former Las Vegas showgirls Kaylani Paliotta and Lisa Tilley thought their people skills would help them win The Amazing Race – but in the end it was not working with others that cost them the $1 million prize.

After choosing to work alone during Sunday's road block, the best friends fell to the back of the pack before losing in a foot race and becoming the third team eliminated this season. Paliotta and Tilley spoke to PEOPLE after their elimination about losing a passport, their final challenge, and just what Paliotta's daughter Seneca thinks of mom's race around the world.

Was The Race harder than you expected?
Kaylani: You have all the confidence in the world that nothing is going to get between you and that million dollars and you get out on The Race and you realize how hard each leg is. We went some days with no sleep. We went some days with no food and no bathroom because every second counts. Once you get out there it is a whole different beast.
On The Amazing Race teams can go from the front to the back of the pack at the drop of a hat – or the loss of a pedal.

After leaving the pit stop at Kraton, the Sultan's palace in Yogyakarta, Indonesia, in third place, Ernie and his fiancée Cindy quickly saw their lead disappear after the pedal on his bike fell off, allowing all but one team to cruise by the couple.

Snowboarders Andy and Tommy were the first to reach the detour with Laurence and his father Zac quickly catching up. But after misreading the clue and using three buckets instead of two to fill up a trough for the sheep, Laurence and Zac made a costly mistake.

Arriving to the detour last, Amani and Marcus fell even further behind after switching tasks halfway through. They received a helping hand when Andy and Tommy gave them the answer to the road block, but unfortunately the married couple were unable to remember the answer by the time the reached the challenge.
Both Ethan Zohn and Jenna Morasca have won the title of sole Survivor, but another $1 million prize eluded the couple when they were eliminated Sunday from The Amazing Race.

Zohn and Morasca, who have been dating for eight years, decided to attempt the challenge of racing around the world after Zohn successfully battled cancer. But after misinterpreting a clue on the second leg of the race, the couple were eliminated in the show's first-ever double elimination.

Now in Los Angeles filming their new show Everyday Health, Zohn and Morasca spoke with PEOPLE about traveling around the world together and explained the costly blunder that caused their demise.

Before the Race you both mentioned that having won Survivor could work against you. Did it?
Jenna: I thought it would more than Ethan did because I tend to be more evil when it comes to planning game stuff like that. I though, "They're going to use it against us." But it wasn't as big of a deal as I made it out to seem. It's not like Survivor.
Ethan: When you're racing, you're just with your partner against the elements. It's not like teams can gang up on you and create an alliance and force you out in any way. Everyone is doing their own thing.
For the first time in 19 seasons, two teams were sent home on The Amazing Race Sunday.

After grandparents Bill and Cathi were saved from elimination on the season premiere last week, two teams were left vulnerable as all 11 teams raced from Taipei, Taiwan, to Yogyakarta, Indonesia.

Engaged couple Ernie and Cindy left the pit stop first but their advantage disappeared when they learned that the next flight Indonesia wasn't until the next morning.

In Indonesia, Bill and Cathi arrived at the roadblock first but because they were spared the week before, they had to untangle a large knot before spelunking down a cave with the rest of the teams. Still, they maintained their lead.

Ernie and Cindy once again took the lead after the detour and headed to a local orphanage where they supposed to hand over all the money in their possession. But after misreading the clue and leaving only the money earned during the detour, they were forced to return to the orphanage to complete the task correctly.
Ethan Zohn and Jenna Morasca have been through a lot in the eight years they've been together, including his battle against Hodgkin's disease and the death of her mother to cancer.

Now the Survivor champs (he's the winner of Survivor: Africa and she won in the Amazon) just want to escape from the day-to-day – and possibly take the next step in their relationship.

Zohn, 37, and Morasca, 30, will compete against 10 other teams on the fall season of The Amazing Race, which premieres Sept. 25 on CBS, and it just might be right time for the couple to become engaged.

"He says that if he feels so moved on the Race that it's possible," Morasca says of a proposal. "It is definitely something that we think about!"
Last season may have featured familiar faces on The Amazing Race but season 19's contestants bring something else to the competition. "I'm not sure we've ever had a season like this where there are so many proven athletes," host Phil Keoghan tells PEOPLE of the teams, which include Olympians, a former NFL player, ocean lifeguards and even Survivor champs.

But even if these seasoned players are used to competition, they've never had to face the challenges of a race around the world.

"There is also a lot of effort put forth to make athletes' lives easier so they can perform," Keoghan explains. "But on The Amazing Race all those things are not taken care of. They're not going to eat what they want, sleep when they want – and they are doing it with someone else."

Just before they began filming, PEOPLE met the new teams to find out why they think they have what it takes to win $1 million. Meet the contestants:
Sisters LaKisha, 30, and Jennifer Hoffman, 26, endured five continents, 23 cities, 40,000 miles and zero emergency potty breaks to become the second all-female team to finish first in 18 seasons of The Amazing Race.

Following their big win over the Globetrotters and Gary and Mallory, the sisters spoke with PEOPLE about second chances, strategy switch-ups and how they'll spend their $1 million prize.

Just how close was this final leg?
Jen: Given the circumstances of the final task where we had to set up the entire trailer and pay such close attention to detail and the wind was so bad, it was a very close race. Even Gary and Mallory who came in after we were almost finished knocked it out. It was a great final three. It was anybody's game that whole leg and even on that bridge for those seven miles, we weren't positive we were going to win.
Kisha: You see glimpses behind you. We may have been delirious. You know someone is back there but you never know just how far behind you and that's motivating and terrifying.
These Amazing Race winners knew just what to do at the finish line.

Meghan Rickey and Cheyne Whitney ended their wedding ceremony Saturday night at the Hard Rock Hotel San Diego with an undoubtedly romantic smooch.

"When they kissed, the whole crowd started clapping and cheering loudly," a wedding guest tells PEOPLE.
The Amazing Race