American Idol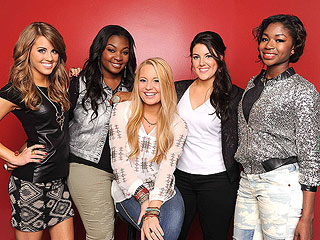 Credit: Ray Mickshaw/FOX
Let's hear it for the ladies! For the first time in its 12-season history, American Idol has an all-female Top 5. While they all have the talent to win the competition, only one can be crowned American Idol. Here's why each singer could take the title – and why you should be watching.
The end of the line is just the beginning of the story.

So it is for Lazaro Arbos, who learned Thursday, after several tough weeks, that his American Idol dream is over.

But all that means is he can focus on his other dreams – one in particular, which involves a visit to the glee club at William McKinley High School.
Did American Idol make history on Thursday?

The top six contestants of season 12, who performed Wednesday night, included five women and one man, Lazaro Arbos.

Arbos, who has a stutter that seems to disappear when he sings, started off strong in the competition. But in recent weeks, the ice cream scooper from Naples, Fla., flubbed his lyrics and struggled to get positive feedback from judges Mariah Carey, Keith Urban, Nicki Minaj and Randy Jackson.

Meanwhile, the women – Kree Harrison, Candice Glover, Amber Holcomb, Angie Miller and Janelle Arthur – were doing well, setting up a unique situation for the show: a possible all-female top five.

Keep reading to find out what happened on elimination night ...
With Sir Anthony Hopkins in the audience, American Idol's six remaining contestants took the stage to perform two songs – one from the catalogue of legendary songwriters Burt Bacharach and Hal David and another one "they wish they had written."

The best performance of the night – and according to Randy Jackson, "one of the greatest performances in the history ... of American Idol" – came at the very end of the two-hour show.

Candice Glover, who first earned a standing ovation for her soulful take on "Don't Make Me Over," sang "Lovesong" by The Cure. The crowd exploded in a raucous uproar, Keith Urban literally bowed down in front of her and Mariah Carey walked up on stage and showered Candice in glitter. The enthusiastic response brought Candice to tears. Watch her performance below.
Carrie Underwood hasn't seen her NHL star husband Mike Fisher for a week, her long tour schedule and his hockey season keeping the busy couple apart.

But she remains focused on staying tight. "You just have to make that your number one priority," Underwood, 30, who graces PEOPLE's current cover, said backstage at American Idol Thursday night.

"You see each other when you can and you talk to each other as much as you can," the singer told PEOPLE. "You just have to commit and make it work."
It's always interesting when American Idol brings back a former winner to perform on their stage. Older, wiser and much more polished, they often bear little resemblance to the contestants.

On Thursday's show, Carrie Underwood's performance showed how far she came from when she competed eight years ago on season 4. It was hard not to look at the final seven contestants and wonder if any of them would ever be able to duplicate her success.

Early in the show, Mariah Carey sized up the finalists, who performed Wednesday.

"There's so much talent on this stage," she said.

Carey has been an interesting judge this season, overusing words like "amazing" and "wonderful" while frequently dissolving into tears. Compared to her, Paula Abdul was a barracuda.

And then the lights dimmed and Ryan Seacrest began to announce the results. Would Lazaro Arbos survive after flubbing the words again?
American Idol's top seven added their own flair to classic rock songs Wednesday night with mostly strong performances, despite another lyrics flub by Lazaro Arbos.

Burnell Taylor kicked off the night with a version of Bon Jovi's "You Give Love a Bad Name" that didn't connect with some judges. "I've never seen you look more uncomfortable in a song," Keith Urban said.

Randy Jackson was booed when he said, "Everything was so behind the beat."

Although Nicki Minaj agreed with the critiques, she couldn't help but feel the love for the New Orleans native, declaring him "a little Teddy Ruxpin bear ... Even though rock is not your thing, I still want to hug you."
It only takes one bad performance to end someone's dream on American Idol.

Back in season 5, Kellie Pickler "butchered" (her word, not ours) "Unchained Melody," and was unceremoniously sent home. In a previous season, frontrunner Constantine Maroulis left the competition after an unpleasant version of Nickelback's "How You Remind Me."

It's not always their fault – Jennifer Hudson was forced to sing a Barry Manilow song on the night she left the show. But the message is clear: no matter how fabulous you have been, you're only as good as your last performance.

And the guys' last time on the stage – for the cringe-worthy group performance of "I Can't Help Myself (Sugar Pie Honey Bunch)" – was enough to send any one of them home. In a season where the girls are head and shoulders above the men, they couldn't afford a bad performance – and they had one of the season's worst on Wednesday's Motown Night.

But after all the judges' criticism, it's still America's votes that matter. Did the guys survive this week?
It was a moment every American Idol contestant dreads – live, in front of millions, a song goes off the rails.

The nightmare came true for Burnell Taylor, Devin Velez and Lazaro Arbos during Motown Night on Wednesday, as the three finalists botched a group performance of "I Can't Help Myself (Sugar Pie Honey Bunch)," the 1965 hit by the Four Tops.

It started off okay, but Arbos then forgot the lyrics, and as a group they missed their cues and strayed off key. The performance had judge Nicki Minaj fuming.

"Don't ever do that again," she said. "All three of you, go. Go! Go! Get off the stage!"

After the show, the three singers struggled to explain what went wrong.
"We're down to the last eight contestants on American Idol – and all of them are very talented," said the legendary Smokey Robinson, who was on hand as a mentor for Motown week.

Candice Glover – who later admitted that she was sweating the pressure of having to sing first – didn't let the nerves show during her bluesy take on "Through the Grapevine." The judges' verdict: "You've got one of the best voices in the competition," Randy Jackson said, summing up the whole panel's response.

Later, Lazaro Arbos took the stage to sing Stevie Wonder's "For Once in My Life." The audience loved it and although the judges weren't 100 percent positive, Keith Urban shared his take, calling "exponentially better than last week."
American Idol
Get PEOPLE Everywhere
Advertisement