American Idol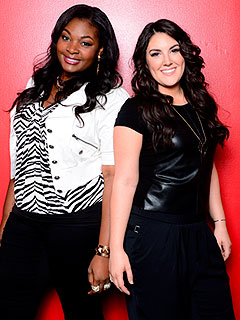 Credit: FOX/Getty
Time slowed down, and when the moment of truth arrived, Candice Glover and Kree Harrison both found themselves muttering the other's name – each believing the night belonged to their close friend and rival.

"I was saying her name, because I was just certain he was going to say it, so I was like, 'Oh yeah, Kree, Kree, Kree,' and she was like, 'No, Candice, Candice, Candice,' " a stunned Glover told reporters shortly after Wednesday's American Idol finale.

In the end, Harrison was right. But while there is only one American Idol, these two women both found, in each other, a friend for life.
There were plenty of divas on the stage at the American Idol finale Thursday night. But two of them had the distinction of being – at one time or another – judges on the show. (They're also both moms to twins!)

Mariah Carey and Jennifer Lopez took the stage during the two-hour musical extravaganza, which crowned Candice Glover the winner of season 12.

Mariah, dressed in a glittering, feathered gown and gobs of jewels, performed a medley of her hits, including "Vision of Love," "Make It Happen," "My All," "Hero" and "We Belong Together," as well as her new song, "#Beautiful." It was a fluttering – and, yes, pre-recorded – performance of vocal acrobatics from the singer and current judge.
After months of auditions, eliminations, performances and judges' feedback, American Idol finally has its season 12 winner.

Candice Glover and Kree Harrison each performed three songs on Wednesday night – a favorite of their choice from the season, one picked by producer Simon Fuller and the song that would become the winner's first single – in front of fans, friends, family and the Idol judges at the Nokia Theatre L.A. Live.

Mariah Carey said, "It's going to be very, very difficult for America" to decide a winner. Indeed, PEOPLE readers voted, giving R&B diva Candice only a slight edge over authentic country girl Kree.

So, who's the winner? Candice Glover is the new American Idol! And Kree Harrison is season 12's runner-up.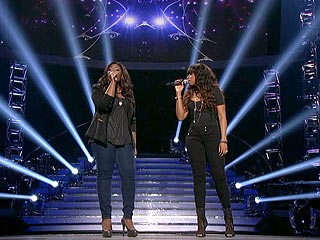 One of the biggest stars to grace the stage at the American Idol finale on Thursday night was the talent competition's own Jennifer Hudson.

The Oscar- and Grammy-winning performer – looking super slim in a black top and black jeans – took the stage to sing "Inseparable" with finalist Candice Glover.

Though Hudson, who was shockingly eliminated from the top seven of season 3, belted out high note after glorious high note, she let Candice, 23, have her a moment in the spotlight at the end of the song when she stood back and said, "Sing it, Candice."

And sing it she did! Candice held her own, hitting the final notes of the Natalie Cole song.
It couldn't be closer.

Candice Glover and Kree Harrison are in a virtual dead heat as they prepare to find out Thursday night which of them will be the next American Idol.

At this stage, it's less a battle than the final leg of a journey for these two powerful singers, who have become close friends – Harrison even fell asleep on Glover as they lounged around watching TV on Tuesday night, ahead of Wednesday's final performances. ("We just chilled and then she ordered some food," Candice told reporters Wednesday. "Me and Kree are, we get our fix by like coming to the center and knowing what we have to do the next day and getting as much rest as we possibly can.")

Each of them wants to win, of course, but neither seems to feel like the favorite.
The entire season of American Idol came down to three final performances from two dueling divas, country crooner Kree Harrison and R&B singer Candice Glover, on Wednesday night at the Nokia Theater L.A. Live.

At the end of the night, Mariah Carey summed up the competition best. After noting that both women offered something special, she said, "It's going to be very, very difficult for America tonight."

But before one note was sung, Kree seemed to have an edge – she got a more rousing round of applause when host Ryan Seacrest asked the studio audience to cheer for their favorite. Then round one seemed to change up the momentum. Here's how it all played out ...
It's an American Idol showdown!

Season 12's top two, Kree Harrison and Candice Glover, are facing off Wednesday on the final night of competition at the Nokia Theater L.A. Live. And they couldn't be more talented – or different. Kree has an authentic country vibe while Candice is pure R&B diva. They each will sing their "coronation song," a song of their choice from the season and a song chosen by producer Simon Fuller.

Judges Keith Urban, Nicki Minaj, Mariah Carey and the departing Randy Jackson are definitely making their opinions known as the contestants sing one more time for America's votes. But we want to know what you think about the all-female finale as it's happening.

Tweet your thoughts @peoplemag and your comment may end up right here on People.com.
Very little time at Monday's FOX 2013-14 upfront presentation was devoted to the elephant in New York's Beacon Theater – America Idol's troubled, near-completed season – except to compare the show's long-running success to Gunsmoke's.

This caused a moment's pause, not only with the thought that the incredibly influential, always buzzed-about Idol could ever be gone, but also with the reflection that at some time in the future it would be completely irrelevant. Ah well.

The bulk of FOX's smoothly clockwork presentation, of course, kept an eye on that future, at least a few months from now, with clips of upcoming shows. Nothing looked as remotely silly as last year's short-lived Mob Doctor, which was a relief, and there were several premieres that will have people talking:
She's made the reality television leap from singing on season 5 of American Idol to tearing up the parquet each week on Dancing with the Stars, but even Kellie Pickler thinks there's an Idol alum she'd rather see getting fake tanned and sequined.

Katharine McPhee "would do amazing," Pickler told PEOPLE while at the 20th Annual Race to Erase MS event in Beverly Hills.

The "Best Days of Your Life" singer doesn't have to stretch her imagination too far to explain why she feels the Smash actress would dominate on Dancing with the Stars.

"First of all, she's an amazing performer – obviously a very talented singer," says Pickler, 26, "but if you've seen her show Smash, she's dancing. I really don't think there's anything she can't do."
With Randy Jackson's announcement that he is leaving American Idol, who will take the veteran judge's place?

The answer is probably not Alicia Keys, who performed her new single "Tears Always Win" on the Fox show Thursday night.

"I don't know if I'd want to be a judge," she told reporters after her performance.

The "Girl on Fire" singer did express her dismay that Jackson would be leaving the panel after 12 seasons.
American Idol
Get PEOPLE Everywhere
Advertisement