American Idol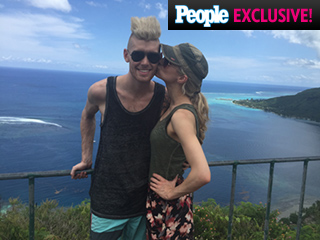 Credit: Courtesy Colton Dixon
When Colton Dixon and his new wife Annie arrived at the Polynesian resort where they stayed for their honeymoon, they remembered something that made it feel even more like paradise.


Jennifer Lopez has a lot on her plate.

Not only is she currently filming the sentimental last season of American Idol, but she also recently returned to acting in the police drama Shades of Blue. While walking the red carpet at Sunday night's Golden Globes, Lopez opened up to PEOPLE about the emotional final season of Idol and what it's like to finally get back into scripted TV.

"I was sobbing like two or three times," Lopez, 46, says of watching the most recent episode of Idol. "I'm like, 'I saw this already – why am I crying?' "
Colton Dixon tied the knot with fiancée Annie Coggeshall in Nashville Friday evening – and yes, there were tears!


When American Idol alum Colton Dixon marries girlfriend Annie Coggeshall this weekend, the wedding will be fairy-tale inspired – but Prince Charming might have to pack some tissues.


As if just making it on American Idol isn't impressive enough, contestant Lindita Halimi lost 150 lbs. to prepare for her audition.


Ryan Seacrest has been waiting 14 seasons for a moment like this.

"I've been taking Idol stuff the last couple of months: signs and photos from the original season," the American Idol host says in the current issue of PEOPLE.
American Idol