American Idol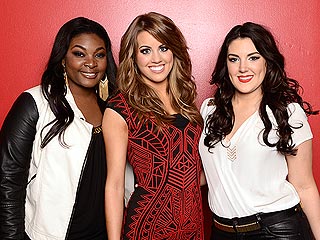 Credit: Michael Becker/FOX
Ryan Seacrest opened up Thursday's American Idol episode with a nod to Randy Jackson's announcement that he's moving on after 12 seasons.

"A little later on we'll be revealing who is leaving our show," Ryan said, standing behind the only remaining original judge. "A little heads up?"

Randy just chuckled.

The joke is that Ryan could have been talking about Idol's super talented top three – Kree Harrison, Angie Miller and Candice Glover, who performed three songs each on Wednesday. They faced one last hurdle before the season 12 finale: another elimination night.
Bye, dawg.

After 12 years at the judge's table, celebrating the soaring voices and putting down the pitchy, Randy Jackson is leaving American Idol.

Alerting his fans with statement beginning "Yo! Yo! Yo!," the exuberant Jackson – the last of the show's original judges, going back to the original Simon Cowell-Paula Abdul days – says he finally wanted to "put all of the speculation to rest" about his future.
Kree Harrison's personal history is among saddest of any contestant in American Idol history. But for everything that fell apart in her life, she is planning to put some of the pieces back together – quite literally.

The singer, who turns 23 next week, lost her father in a plane crash a decade ago, and her mother in a car accident a few years after that.

But now she is planning a project that will help her reconnect with her parents – rebuilding the Texas house she grew up in, which she visited during this week's hometown trips.
After traveling to their hometowns to perform for huge crowds of cheering fans and to reconnect with their families, American Idol's final three contestants took the stage Wednesday night to try to sing their way into the finale.

By the end of the night, during which the gals sang three songs – one picked by mentor Jimmy Iovine, one chosen by the judges and one by the show's production team – it was clear that the emotional hometown visits had a powerful effect on the performances.

Kree started off the night with Iovine's choice, "Perfect" by Pink, which left the judges underwhelmed.

"You sang it good but it didn't have a lot pizzazz for me," Randy Jackson said.
American Idol runner-up Crystal Bowersox and her husband, musician Brian Walker, are calling it quits.

"After two and a half years, we have decided to end our marriage," the couple tells PEOPLE in an exclusive statement. "The friendship and love which brought us together remains strong, and we will continue to support each other in our careers and personal lives. We are hopeful that people will be respectful of our privacy as we face this emotional and challenging time for our family."
Familiar roads, fried chicken and plenty of tears – that's what awaited American Idol's final three contestants when they ventured back to their hometowns as newly-minted stars.

On Saturday, Angie Miller, Kree Harrison and Candice Glover returned to Massachusetts, Texas and South Carolina, respectively.

Here's what they had to tell PEOPLE about their emotional visits:
Harry Connick Jr. is leaving the door open for a big possibility – becoming a future judge on American Idol.

What's it going to take to place him in the hot seat? "$600 million," Connick, whose new record is due June 11, joked with reporters backstage after his turn as guest mentor on Thursday's show.

He could learn a few things from Mariah Carey's shrewd negotiations for her salary of $18 million. Forbes magazine estimated this season's payroll alone to be $54 million. Last season, judge Jennifer Lopez took home $15 million.
After performing two songs each – a pop hit and a standard – on Wednesday night, American Idol's fabulous final four women faced elimination on Thursday.

Last week, Amber Holcomb and frontrunner Candice Glover were in the bottom two. But in a twist, no one was sent home. This week, the singer with the lowest number of votes wasn't so lucky.

And the stakes are high. Not only will the top three perform next week and stay in the running for the finale, but they will also get a hero's welcome when they go on the emotional hometown visits.

Keep reading to find out who was sent home – and who made season 12's top three ...
Nicki Minaj didn't just imagine it. Candice Glover really has lost weight since being on American Idol this season – though admittedly, not always in the most healthy way.

"We're under so much pressure, and we're going and going and going. You sometimes forget to eat until you get in the car and you're like, 'Oh ... gosh. I haven't eaten!' " the Idol finalist, 23, told PEOPLE after Wednesday's show.

Minaj commented on Glover's appearance after her amazing performance of "When I Was Your Man" by Bruno Mars. "I don't know if you lost weight, but baby girl, you look good," she said.

And that left Glover thrilled.
Last week's surprise non-elimination round left American Idol's Amber Holcomb and Candice Glover with the lowest number of votes.

So on Wednesday's show, the pressure was on for them to make up ground against Angie Miller and Kree Harrison.

Thanks to an extremely up-and-down night – that featured some controversial coaching by mentor Harry Connick Jr. – they may have done just that.
American Idol
Get PEOPLE Everywhere
Advertisement