American Idol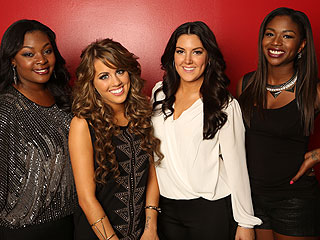 Credit: Michael Yarish/FOX
Twelve seasons into American Idol, things can sometimes get very predictable. Contestants will sing, judges will judge, America will vote and someone will go home. So at the beginning of Thursday's show, Ryan Seacrest teased the audience: "In just a bit," he said, "I will announce some shocking news that will affect the judges and turn the competition upside down."

After a group performance of Alicia Keys's "Girl on Fire" by the top four contestants (Amber Holcomb, Angie Miller, Candice Glover and Kree Harrison), the weekly segment sponsored by Ford, a surprise appearance by Drake (mostly for Candice's benefit), a performance by season 9 winner Lee DeWyze (his new single is "Silver Lining") and other filler, it was time for the twist to be announced. What would it be?

Seacrest split the finalists into two groups. Candice and Amber were on one side of the stage, Kree and Angie were on the other. To the displeasure of the audience, Seacrest announced that Candice and Amber were the bottom two. The judges also looked stumped.
Now that American Idol has whittled the competition down to its final four female contenders, it suddenly seems like one of the underdogs might end up on top.

After a season in which Kree Harrison and Candice Glover always appeared to be the frontrunners, on Wednesday's show it was Amber Holcomb and Angie Miller's turn to shine.

Amber – decked out in a flowy white pants suit – started off the night with a personal song choice, Celine Dion's "The Power of Love," and got a standing ovation from three of the judges (Mariah Carey remained in her seat but did blow a few kisses).
Looking healthy and strong, Fantasia Barrino was welcomed back to American Idol last week, singing her new song "Lose to Win," and earning approval from the show's stars and fans for taking charge of her personal life and career.

"Everyone was saying how happy they were to see me at this place," she told PEOPLE. "I think my happiness and peace is now finally showing and so they were all like 'just stay right here.' "

Since she shot to fame to win season 3 of the show in 2004, the dynamic vocalist has chased ups and downs as she paired fame with motherhood and struggled to handle her new world in the spotlight.
Now it gets interesting.

Week after week, we've watched American Idol's male finalists leave the competition. It hardly mattered in which order the guys went home – an all-female final five was basically preordained from the beginning. But after Lazaro Arbos left last week, all bets were off for Thursday's elimination night.

It says something about the quality of this season's finalists that any of them could win the competition – and they will all probably find some niche in the music industry after the show.
Angie Miller brought down the house Wednesday on American Idol with a rousing, emotional tribute to Boston – and later told PEOPLE that, believe it or not, she wished she could have been there Monday.

The 19-year-old Idol finalist, who hails from Beverly, Mass., north of Boston, played a stunning piano rendition of "I'll Stand By You" by the Pretenders – bringing the judges and audience to their feet in what's been a gut-wrenching week following the attacks at the Boston marathon. (Watch her performance below.)

After the show, Miller told PEOPLE about why she picked this particular song from the year she was born and how her loved ones are doing back east.

"I have lots of family, lots of friends, who ran [the marathon] and were there. So, yeah, it wasn't a great day," she said. "It's so weird, but I wish I could have been there. That's weird saying that, but I just wish I could have been there with my friends and family, and just been with them."
America got its first glimpse of American Idol's first all-female top five Wednesday night, but it was two other women – Mariah Carey and Nicki Minaj – who briefly stole the show with their unexpected verbal catfight.

The tense exchange happened when they were critiquing Kree Harrison, who had just performed her first song of the night, "She Talks to Angels" by The Black Crowes.

Mariah liked the performance and said, "You can sing anything and I love to hear you sing." But she felt like Kree might have been trying too hard to perform: "My favorite Kree moments are when you are lost in a song and just don't care," she added.

Fellow judge Keith Urban agreed with Mariah's critique, but Nicki did not – and things went downhill from there.
Five ladies under one roof is a lot of estrogen, but apparently not too much for American Idol's season 12 finalists, who seem more like a sisterhood than competitors.

PEOPLE caught up with each woman – Amber Holcomb, Kree Harrison, Janelle Arthur, Angie Miller and Candice Glover – on Tuesday in L.A., where they gave us a behind-the-scenes look at their lives vying for one of the biggest honors on TV ... while still remaining best friends.

Read on to find out five things about this season's Idol finalists that you won't learn from watching the show:
Let's hear it for the ladies! For the first time in its 12-season history, American Idol has an all-female Top 5. While they all have the talent to win the competition, only one can be crowned American Idol. Here's why each singer could take the title – and why you should be watching.
The end of the line is just the beginning of the story.

So it is for Lazaro Arbos, who learned Thursday, after several tough weeks, that his American Idol dream is over.

But all that means is he can focus on his other dreams – one in particular, which involves a visit to the glee club at William McKinley High School.
Did American Idol make history on Thursday?

The top six contestants of season 12, who performed Wednesday night, included five women and one man, Lazaro Arbos.

Arbos, who has a stutter that seems to disappear when he sings, started off strong in the competition. But in recent weeks, the ice cream scooper from Naples, Fla., flubbed his lyrics and struggled to get positive feedback from judges Mariah Carey, Keith Urban, Nicki Minaj and Randy Jackson.

Meanwhile, the women – Kree Harrison, Candice Glover, Amber Holcomb, Angie Miller and Janelle Arthur – were doing well, setting up a unique situation for the show: a possible all-female top five.

Keep reading to find out what happened on elimination night ...
American Idol
Get PEOPLE Everywhere
Advertisement