American Idol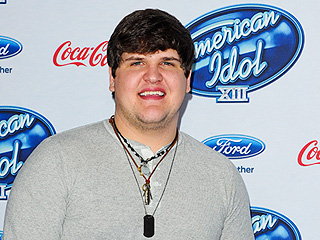 Credit: Axelle Woussen/Bauer-Griffin
Singer Dexter Roberts, who finished seventh place on last season's American Idol, abruptly left the show's live tour in July due to an unknown illness.

Now Roberts, 23, has shared via his Facebook page what was responsible for taking him down.
American Idol finalist Michael Johns died Friday from a blood clot in his ankle, according to his website and various reports.

The Australian-born singer, 35, had finished eighth on Season 7 of the singing competition in 2008.

"It is with a heavy heart and inconsolable sadness that we confirm the passing of our friend Michael Johns," the administrator of his website Tweeted on Saturday.
Move over, Benjamin Button. Jennifer Lopez is aging backward right before our eyes.


Forget being a sore loser. American Idol season 13 runner-up Jena Irene Asciutto had way too much fun spending time with eventual winner Caleb Johnson that she didn't want it to end with the finale.

Instead, the Michigan high school senior asked him to escort her to the prom.

"He's an awesome guy. We've been best friends for a couple months now. To bring him to meet all my friends is pretty cool," she said outside the North Farmington High School prom Wednesday evening, according to WWJ CBS radio in Detroit.
Keith Urban had a front-row seat on American Idol all season at the judges' table, but his favorite place to watch the show was at home with his wife, Nicole Kidman.

"We always watch it together," Urban told reporters Wednesday before Caleb Johnson was crowned the winner of season 13. "It's a delayed telecast out here [in Los Angeles], so we go home and watch it together. We get in our jammies and watch it. It's a good look."
Could Caleb Johnson's victory on American Idol take the show in an entirely new direction going forward?

If you ask the newly crowned champion – whose unconventional looks and powerful rock sound ultimately won over the audience this season – his answer is a resounding yes.

"I think for me, winning opens doors to all types of shapes and sizes and genres to come on the show and kill it," he told reporters Wednesday night shortly after his big win. "I'm probably the antithesis of what American Idols have been."
More than 75,000 auditioned, but only one could become the 13th American Idol.

"It's going to be close, I would imagine," judge Harry Connick, Jr., told reporters after Tuesday night's performance finale of the final vote, which came down to Jena Irene Asciutto and Caleb Johnson.

And as he prophesized, it was anyone's guess who would become the Fox reality singing competition's latest winner.
It took 13 seasons, but Ryan Seacrest finally sang on American Idol.

The host has often denied requests to hear him croon on the Fox reality singing competition. On Wednesday, however, he finally gave in at the season finale, where Jena Irene Asciutto and Caleb Johnson duked it out for the top prize.
American Idol
Get PEOPLE Everywhere
Advertisement