American Idol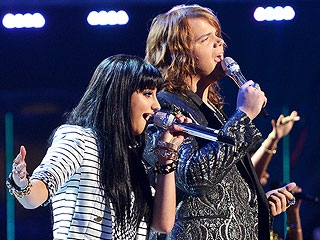 Credit: Michael Becker/FOX
Finalists Jena Irene Asciutto and Caleb Johnson may have put on quite a show Tuesday night but the American Idol producers are pulling out all the stops for Wednesday night's finale.


Permalink | Filed Under: Kiss, American Idol, American Idol, Caleb Johnson, Demi Lovato, Harry Connick Jr., Jena Irene, Jennifer Lopez, Keith Urban, Paramore, Randy Jackson
After 75,000 auditions, hundreds of Golden Tickets and countless performances, it came down to two – Caleb Johnson vs. Jena Irene – and a single song on Tuesday's American Idol.

The performance finale at the Nokia Theatre featured major contrasts – the old-school rocker with mega pipes against the teen powerhouse and first female wild-card pick to make it this far – as well as more drama than usual, as Johnson battled not only Irene but also an injured vocal cord.
Caleb Johnson hopes to be crowned the next American Idol, but first he has to get through Tuesday night's performance finale.

"I had a vocal cord hemorrhage," Johnson told PEOPLE at a press conference Monday. "It is slowly getting better, but it's still not there 100 percent."

Johnson had been battling illness for a few weeks and was almost unable to perform last Wednesday on the FOX reality singing competition.

"I wasn't able to sing my songs the couple of days prior. I didn't get to rehearse. That was probably the most scared I've ever been – walking out on stage with no voice," he said. "That was a big challenge for me."
She may still be Jenny from the block, but Jennifer Lopez has learned a lesson or two in life and love – and she's now ready to tell the tale in her first book True Love, to be published Oct. 28 in both English and Spanish.


With the finale just one week away, three young hopefuls anxiously waited to hear their fate on Thursday, but only two would become the top 2 on season 13 of American Idol.

Jena Irene Asciutto, Caleb Johnson and Alex Preston all gave strong performances Wednesday night, rejuvenated by their first trips home in over three months since becoming members of the top 13. But nerves and illness threatened their chances of being voted through to next week's finals.

"Today at rehearsals I couldn't sing at all," Johnson told PEOPLE Wednesday night of suffering from bronchitis. "So the doctor literally pumped adrenaline onto my vocal cords."

Keep reading for the results ...
There was no place like home on Wednesday's American Idol, which celebrated its 500th episode with well wishes from former winners, as the final three visited their hometowns and had memorable performances in the lead-up to Tuesday's finale.

Powerhouse teen Jena Irene, hard rocker Caleb Johnson and indie artist Alex Preston each sang three songs, the first one selected by Randy Jackson, the second one by the judges and the final one picked by their hometowns.

It was not an easy night for Johnson, who was forced to sing with a small vocal cord hemorrhage that a doctor compared to "a runner running with a badly bruised ankle."
A North Carolina textile entrepreneur locked in a too-close-to-call Democratic Party primary with former American Idol singer Clay Aiken has died.


On the outside Jennifer Lopez may have retained the enviable glow of someone half her age, but when it comes to the hard-earned wisdom of her 44 years, she's proud of every bruise and scar.


The American Idol judges may be staying together as a team, but the Top 4 still had to lose a member Thursday night.

After performing three songs each on Wednesday, the Top 4 appeared exhausted after the show. Still, the contestants were tentatively confident they had done all they could to win the hearts – and votes – of America.
Jennifer Lopez, Keith Urban and Harry Connick Jr. will return to the American Idol judges table next season, a source confirms to PEOPLE.

Dubbed "the New Dream Team" last fall, the trio have had a "fantastic" experience on the reality competition, says the source.

"They like and respect each other a lot. What you see on camera is exactly what you get when they're off – fun, playful but they all take this job very seriously."
American Idol
Get PEOPLE Everywhere
Advertisement