American Idol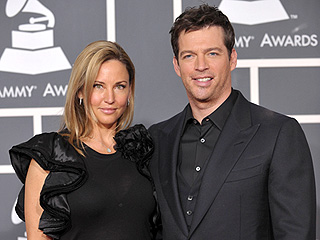 Credit: John Shearer/WireImage
It had to be her!

Though he had a tense night on Wednesday's American Idol, you wouldn't know it based on Harry Connick Jr.'s upbeat social media dedication to his wife on Thursday.

The singer made good use of the #tbt meme and melted hearts with a sweet shot from his and wife Jill Goodacre's 1994 nuptials.

"21 years with the greatest woman on earth… happy anniversary, Jill," the American Idol judge, 47, wrote of the former Victoria's Secret model, 51, with whom he has three daughters.

Things got a little icy on American Idol Wednesday.

After a mostly well-received rendition of Lenny Kravitz's "Are You Gonna Go My Way," season 14 contestant Quentin Alexander appeared visibly upset.
Joey Cook has a lot to celebrate.


American Idol took it back to the beginning on Wednesday with the Top 9 performing the songs of season 1 winner – and this week's mentor – Kelly Clarkson.

Some contestants stuck close to the original versions (as Nick Fradiani did with "Catch My Breath"), others gave Clarkson's hits an interesting twist (as newly engaged Joey Cook did with "Miss Independent"), but it was Clark Beckham, 22, who gave the performance of the evening.

"I have goosies from head to toe," judge Jennifer Lopez told Beckham after giving him a standing ovation for his rendition of Clarkson's "The Trouble with Love Is," which was featured in the 2003 film Love Actually.
Thirteen years after being crowned the first American Idol, Kelly Clarkson is returning to where it all began.

The "Heartbeat Song" singer will serve as the guest mentor on Wednesday night's American Idol, and Clarkson recognizes that she is uniquely qualified to advise the season 14 contestants.

"It's cool be able to kind of mentor a kid that basically is me 13 years ago," Clarkson tells PEOPLE. "And it's nice for them to see that you can have longevity and a career from a show like this. I know a lot of people get flack for coming from shows like this. I know I did. It's a talent show, but at the end of the day, it's not how you get into the industry, it's what you do once you're there."
You'd think a musician as successful as Keith Urban would have been able to shake some of the criticisms he's received since starting out, especially because he's been doling out advice of his own on American Idol for so long.

You'd be wrong, though. Urban explained to Conan O'Brien Tuesday night that there's one bit of criticism that still haunts him from the days when he was first starting out, and – surprise, surprise – it came from a televised talent show judge.
His American Idol story didn't quite go as planned, but now Chris Daughtry is returning to Fox with a different kind of script in hand.


Keith Urban has proven he can pull off skinny jeans.

Or, at least, he rocked them in the '80s, as seen in a throwback photo posted on Twitter on Wednesday to celebrate American Idol's Totally '80s-themed evening.
American Idol