The Bachelor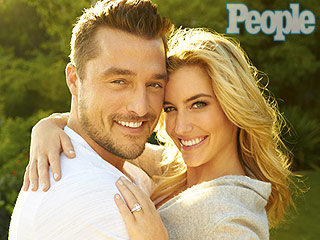 Credit: Ari Michelson
Chris Soules' split from Whitney Bischoff may have come about more suddenly than anyone would have thought – just three days prior to their joint announcement that they had decided to end their 6-month engagement, the couple were apparently as affectionate as ever at the home of Bachelor franchise alum Cody Sattler.

Sattler, who got to know Soules from their time on Andi Dorfman's season of The Bachelorette, posted an Instagram photo on Monday of himself having a "snuggle" break with his adorable tiny dog while watching this season's Bachelorette alongside the formerly engaged couple who were having a "cuddle on the couch."
It turns out Whitney Bischoff won't be moving to Iowa after all – and there's much to be said about her new plans in 140 characters or fewer.


When it comes to couples who found love on The Bachelor and its various franchises, history has shown that the odds are against an everlasting union.

However, for those of the Bachelor Nation who watched Chris Soules fall in love with Whitney Bischoff, a fertility nurse from Chicago, the news of their split following a 6-month engagement was a genuine surprise. Well, mostly.

PEOPLE spoke to the couple two days before the 19th season finale of The Bachelor revealed that Soules had chosen Bischoff over chiropractic assistant Becca Tilley, and some of their answers – in the cold light of day – appear to hint at the inevitability of a breakup just two months later.
For reality-TV fans – Bachelor fans, especially – Lifetime's upcoming drama UnREAL will feel more than a little familiar.

PEOPLE has an exclusive sneak-peek clip of the series, starring Shiri Appleby and Constance Zimmer, which offers a behind-the-scenes look at a fictitious reality romance show in which a group of women vie for the heart of one suitor (see where we're going with this?).

"It's totally realistic," former Bachelor and Bachelorette star DeAnna Stagliano (née Pappas) tells PEOPLE of the clip.

"It reminded me of the show in the way the carriage rolled up and the woman got out playing the violin," she continues. "It's totally something a contestant would do to get someone's attention!"
The Bachelorette is back!

Tuesday night's episode revealed that Kaitlyn Bristowe is the reigning bachelorette for season 11 – a decision that was made with it's fair share of drama and cringe-inducing introductions. After all, this ABC classic wouldn't be what it is without some horrendously awkward moments while on the quest for love.

Let us remind you ...
Let it be known: This former Bachelorette is happy to have moved on from her days as a reality star.

Emily Maynard has called her stint on The Bachelor and The Bachelorette "one of the darkest times of my life" in an interview with Charlotte, North Carolina, news station WCCB. She told the station that she suffered as a result of all the media scrutiny she faced due to her involvement with the show.

Maynard, however, also said she was much happier now that she was leading a more normal life. "I'm just happy to have that in the past," she said.
It's already been six months since Chris Soules proposed to Whitney Bischoff on The Bachelor and the couple are still going strong.

Bischoff, 29, commemorated the occasion Thursday with a #TBT post throwing back to the moment Soules, 33, got down on one knee, telling her: "It's not work for us. It's natural. We both want the same thing, and it feels so right. It feels so perfect. And that's what I want for the rest of my life. I love you."
The Bachelor