The Bachelor


Until recently, Sean Lowe was running around in secret with not one but two women!

But Catherine Giudici needn't worry. The other woman is Peta Murgatroyd, his pro partner on Dancing with the Stars.

Much as he did with Giudici, Lowe had to keep his relationship with Murgatroyd quiet until The Bachelor finale aired on March 11, as ABC producers didn't want to take the spotlight away from the dating show.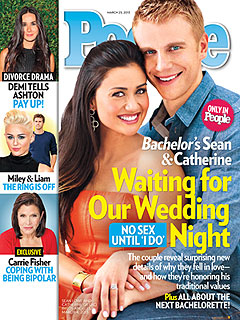 It's not every day that a man proposes to the love of his life on national television, so one can perhaps forgive Sean Lowe for getting a little ahead of himself when he popped the question to Catherine Giudici.

"I wanted to tell her why I fell in love with her and why I wanted to spend the rest of my life with her, but I got so excited that I rushed it," the Bachelor star recalls.

"I probably should have spent more time on it, but honestly, I couldn't wait to get down on one knee and ask her to marry me!"
He may have sent her home on The Bachelor, but Sean Lowe knows how much America fell in love with Desiree Hartsock.

Which is why he believes she's the perfect choice to be the next star of The Bachelorette, coming this summer.

"They couldn't have chosen a better Bachelorette," Lowe, 29, tells PEOPLE.

"I've said from the beginning, my vote was always for Des. She's America's sweetheart, and I think she's going into it with sincere intentions."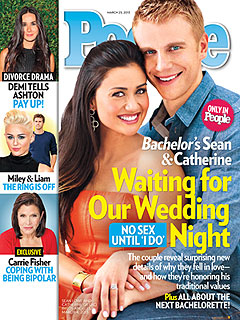 Millions watched their romantic proposal in Thailand – and now The Bachelor's newly engaged Sean Lowe and Catherine Giudici can finally proclaim their love to the world.

"I'm just so excited that the secret is out," Lowe tells PEOPLE.

Adds Giudici: "Now, we can be a normal couple and hold hands in public!"

Hold hands they will, but Lowe and Giudici have vowed to save being intimate until after the wedding.
Bucking a grand history of Bachelor tradition, Sean Lowe and Catherine Giudici are moving full steam ahead with their nuptials, revealing on Monday's After the Final Rose that they will televise their wedding on ABC.

"It's just fitting," says Lowe, 29.

Agrees Giudici, 26: "We have everything in our relationship documented so far. It's right for us!"

The pair, who got engaged with a romantic proposal in Thailand four months ago and can now finally publicly proclaim their love, are basking in newly betrothed bliss.
The reality TV road has not ended for Sean Lowe.

Fresh off the heels of a successful season as ABC's The Bachelor, Lowe, 29, has joined another hit show on the same network: Dancing with the Stars.

Tuesday's Good Morning America announced that the Dallas heartthrob will hit the dance floor on March 18 alongside returning pro, Peta Murgatroyd, when the show returns for its16th season.
Get ready to throw some rice at your TV!

After Monday's emotional Bachelor finale, Sean Lowe and his new fiancée, Catherine Giudici, appeared on ABC's After the Final Rose special for the first time in public as a couple – and spoke to host Chris Harrison about what's next.

"A marriage follows a proposal," Sean said. "We don't have a date yet, but we have decided that we think it would be cool, since our relationship started and it was developed and cultivated on a TV show – we'll have our wedding on a TV show. And ABC will cover the wedding."
Meet the new Bachelorette!

She started out as one of 26 women vying for Sean Lowe's heart on The Bachelor, but now fan favorite Desiree Hartsock (known affectionately as Des) will be calling the shots this summer as the latest star of The Bachelorette.

"I just can't even believe I'm here. With the support of everyone, it's just such a blessing," she said after Chris Harrison announced her on Monday's After the Final Rose special. "I could never have imagined signing up for The Bachelor and having this opportunity."
After a televised journey that started with 26 women, it came down to just two for The Bachelor's Sean Lowe: Catherine Giudici and Lindsay Yenter.

Going into the finale in Thailand, Sean, 29, was still undecided. But by the end of Monday's two-hour finale, he had made his decision.

After introducing both women to his family and going on one more romantic date with each of them, Sean proposed to graphic designer Catherine, 26, in the emotional season finale.
With another eyebrow-raising (literally!) season of The Bachelor coming to a close Monday, PEOPLE interrogated host Chris Harrison about the pros and cons of Sean Lowe's final two, the mysterious letter that leaves him teary-eyed in finale promos and his pick for the next Bachelorette.

The finale promos show you handing a note to Sean on decision day. Have you seen anyone guess the letter's author or intent correctly? Is it as big a deal as they have made it appear?
No one has guessed even close to what it is or whom it is from. It is extremely impactful and plays a major role in how the finale plays out as it comes right before Sean is about to make his final decision. I didn't know what it said. It was burning a hole in my pocket in the 30 minutes we had to set up me giving it to him. I was in a room by myself, it wasn't sealed and the nosy 12-year-old in me was like, "I could so read this right now." But out of respect, I didn't.
The Bachelor
Get PEOPLE Everywhere
Advertisement