The Bachelor
Hold on to your hearts, ladies: The Bachelor is less than two months away!

PEOPLE can exclusively offer up a First Look at the official key art for season 20, where Ben Higgins will go on a journey to find his future wife.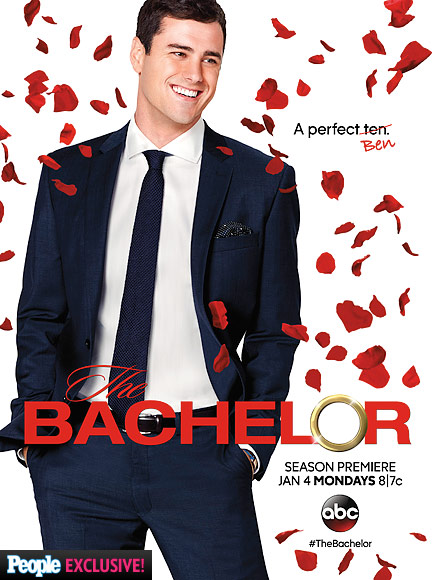 Rose petals are swirling, and America's newest sweetheart is flashing a toothy grin next to a clever tagline that calls him "A perfect ten" – wait, scratch that: "A perfect Ben"!
America watched as they met, fell in love and said "I do" on national television, and now Sean and Catherine Lowe are back to reality, starring on season 4 of WEtv's Marriage Boot Camp: Reality Stars.

"Strengthening your marriage and your relationship is always something you should be doing," Catherine tells PEOPLE exclusively of their decision to sign on. "A lot of people think that unless you're drowning, you shouldn't have to do anything. But that's really not what it is. We work on our marriage every day."
Brace yourselves: The most handsome Bachelor has officially clocked in to steal our hearts.

Fan favorite Ben Higgins was confirmed as the hit reality dating show's leading man in August, and it looks like the baby-faced Bachelor is already on the quest for love.

Series creator Mike Fleiss took to Twitter on Thursday to post a picture of Higgins in a suit and tie, looking very handsome and holding … a baby?
Lifetime's faux reality romance show UnREAL has left fans begging for more.

"A lot of people want to know if it's really what reality television is like," Shiri Appleby told PEOPLE at the Creative Arts Emmy Awards on Saturday.
A match made in Bachelor runner-up heaven?

Nick Viall and Sadie Murray, who both came in second place on their respective seasons of the reality dating show, cozied up at the Republic Records Video Music Awards afterparty at Ysabel in West Hollywood on Sunday.
To help prepare for his journey as the new star of The Bachelor, Ben Higgins reached out to a franchise alum for some guidance.

"I reached out to Sean Lowe and asked him for advice," Higgins tells PEOPLE. "Years ago, I watched his season, and I had a lot of respect for how he handled himself, as a man, as a man of faith and as a man who stood for something."
Ben Higgins handled his disappointment well after The Bachelorette's Kaitlyn Bristowe gave him the boot, and now Higgins has a heck of a consolation prize: He'll be the lead in the new season of The Bachelor!

To make sure you're ready to watch the 6'4" heartthrob's quest for love once it hits the air, we gathered five things you need to know to understand TV's most eligible Bachelor.
The Bachelor's new leading man is ready for love – and on good terms with ex-Bachelorette Kaitlyn Bristowe, who dated him through the final three before giving him the boot.

"I think Kaitlyn handled herself really well in a really hard situation," Ben Higgins said on Good Morning America on Monday, recalling the brunette beauty's words of wisdom: "Nobody can date 25 people well without making a mistake."

"You have to be true to yourself, fair to the people involved. I think Kaitlyn did that to the best of her ability," he added.
Bachelor in Paradise's most controversial contestant Joe will snap in a much different way this week as he and Samantha star in a PEOPLE photo shoot!

In an exclusive sneak peek at Sunday's episode, the Southerner and the woman of his dreams head to a gorgeous rooftop pool and get the A-list treatment when their one-on-one date includes a PEOPLE photo shoot, helmed by the magazine's Executive Editor Kate Coyne, at the Vidanta Resort in Nuevo Vallarta, Nayarit, Mexico.

"I guess I'm kind of excited, but at the same time I'm very nervous," Joe admits. "It's a lot of pressure knowing that 40 million people will see these photos."
It's the Battle of the Bens, featuring Jared and "Cupcake" – who will be the next Bachelor?

Fans are dying to know which of former Bachelorette Kaitlyn Bristowe's handsome castaways could become the next Bachelor. We've narrowed it down to the four picks with the most potential to land the coveted role of The Bachelor's season 20 leading man.
The Bachelor