The Bachelor
[YOUTUBE "ijJ-wY3lLeM"]
When it comes to breakups, Juan Pablo Galavis has a lot of experience.

The former Bachelor basically broke up with 17 women on the show to choose Nikki Ferrell. But that relationship didn't work out, and the couple split in October.

Now that some time has passed, Galavis can laugh about it – and poke fun at his image in a short film, called How To Break Up With Your Girlfriend ... by an Expert.
Former Bachelor Bob Guiney thinks America's current sweetheart Kaitlyn Bristowe is "super cool," but he isn't too hot on her Bachelorette suitors.

"I love Kaitlyn. I thought she was super cool," Guiney said Monday night at the launch of Lycos Life & The Lycos Life Project in Hollywood, referencing the current Bachelorette, who made it to the final three with Chris Soules last season. "She's really cute! I think she's very genuine, which I like."

Added Guiney, "I don't even think she realizes that she's on TV half the time."
Although Arielle Kebbel played the token "bitch" contestant on – and first booted off – UnREAL's faux dating show, she didn't draw from suitors of Bachelors past.

Kebbel, 30, hasn't watched the ABC juggernaut – not for a lack of trying.

"My girlfriend, she has like 20 girls over every week and they do food, they do the whole thing. I wanted to be social, and I told myself I would do it and I even brought brownies," she told PEOPLE at the ATX Television Festival in Austin, Texas, on Saturday night. "I literally was like, 'I have to get out of here, I'm going to throw up. I can't do it.' So as much as I love my girlfriends, it's not for me."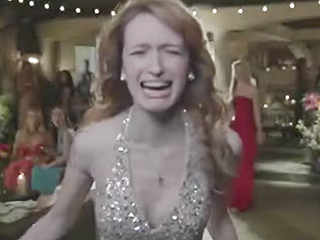 Few people know the Bachelor universe better than DeAnna Pappas Stagliano. After Bachelor Brad Womack's final-rose-free season 11 shake-up, she was selected to be the next Bachelorette. She even kept it in the family, marrying and starting a family with Stephen Stagliano, the twin brother of Bachelorette/Bachelor Pad favorite Michael Stagliano. Now DeAnna is providing her one-of-a-kind insight with weekly takes on Lifetime's TV-love drama UnREAL. Follow her on Twitter, @DeAnna Pappas!

Let's start with your own experiences. Do you remember any funny behind-the-scenes moments from your own experience that were similar to UnREAL?
Night one is really so intense and a roller coaster of emotions! I remember on my night one of filming The Bachelorette, I was wearing this gorgeous designer gown that was paper-thin and way too long for me. So the stylist draped it on the ground and stuck me in 7-in. heels! It was taped down onto my body in almost every space it possibly could be taped down. I could barely move! And for some reason, almost every guy who stepped out of the limo insisted on spinning me in a circle to get a good look at me! At one point, I almost fell from getting tangled in my beautiful dress while being seconds away from exposing my Bachelorette tatas!!

Speaking of entrances, The Bachelor is known for memorable introductions on night one. Who was most memorable on your season?
The most memorable entrance from my season had to be Jeremy Anderson. He was the last guy out of the limo, and he was gorgeous – very dapper. I remember him being the only guy who didn't seem as nervous as I was, and he actually hung around to talk to me! He didn't rush off inside as soon as he got out of the limo. It made me feel safe and that he genuinely wanted to get to know me. In that situation, I appreciated that so much. Just watching UnREAL and seeing the over-the-top entrances from the girls absolutely reminds me of the crazy impressions people try to make on night one. It's like, in the two days after you come to L.A. to be on the show, you become desperate to make a lasting impression and be remembered by someone you don't even know.
Becca Tilley wasn't exactly shocked to hear that Bachelor couple Chris Soules and Whitney Bischoff had called off their 6-month engagement, but she didn't really see it coming either.

"I think coming out of that bubble it's a struggle no matter the situation," she told PEOPLE at Saturday's iHeartRadio Summer Pool Party at Caesar's Palace in Las Vegas. "I don't think you can ever expect it because you want it to work out."
Becca Tilley, Chris Soules' Bachelor runner-up is laughing off Bachelor Nation fan suggestions that she get back together with the famous farmer now that he is single.


Nothing mends a broken heart like some pint-sized kisses.

A day after The Bachelor's Chris Soules and Whitney Bischoff confirmed they ended their engagement, the farmer's former fiancée posted a video of an adorable little girl (perhaps a relative?) blowing her kisses.

"Now this little gal knows how to make me smile! From the bottom of my heart, thank you for your outpouring love, kindness and support! It means so much to me!" the fertility nurse captioned the video.


It turns out Whitney Bischoff won't be moving to Iowa after all – and there's much to be said about her new plans in 140 characters or fewer.


The Bachelor