The Bachelor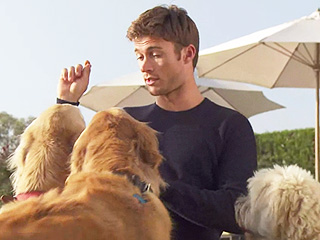 Who wants belly rubs for life from Scott Eastwood?


Right after he snags a bride, Chris Soules is going to go after a mirror-ball trophy.

PEOPLE has confirmed that Chris Soules will become the 12th celebrity on the 20th season of Dancing with the Stars. He is expected to partner with Witney Carson, the reigning champion.
As Dancing with the Stars enters its 20th season in just two weeks, one very important question has yet to be answered: Who will dance alongside Witney Carson, the winner of last season's mirror-ball trophy?


While Britt and Carly have had their fair share of detractors, no Bachelor contestant on Chris Soules's season has sparked a greater reaction from the Bachelor Nation than Kelsey.

During Monday's Women Tell All special, Kelsey faced plenty of hostility from the ladies – Tara and Ashley I. in particular.

"In every group there's a scapegoat, and then there's the bandwagon effect," Kelsey told PEOPLE following the Tell All taping. "I mean, we've all watched Mean Girls. That doesn't go away after high school, and that's something I witnessed in the house – not just with me, but I think Britt experienced it, as well. There is an element of feeling ganged-up on."
Following a dramatic Tell All special, resident Bachelor Chris Soules came away from the experience relatively unscathed.

Given how sincere and honest he's been throughout the entire Bachelor process, it's no surprise that Chris was "not nervous at all" about the Tell All, he told PEOPLE following taping.

The reigning Bachelor does admit that he's made some mistakes, though, and he revealed what he thought went wrong between him, Kaitlyn, Jade and Britt. He also discussed why he kissed so many girls and why Kaitlyn would make a "great" Bachelorette.
While the Women Tell All special was emotional for all parties, no ousted Bachelor contestant was more affected by the proceedings than Britt.

Given that she essentially got herself kicked off the show by revealing her hurt over Chris giving a group-date rose to Kaitlyn rather than herself, it was no surprise that the Tell All had Britt, well, telling all.

We spoke to Britt following the taping of the Tell All, and she talked about her hurt over Carly's betrayal and over Chris deciding to send her home, and whether or not she'd consider becoming the next Bachelorette.
If The Bachelor: Women Tell All special taught us anything, it's that Chris Harrison makes a terrible referee.

The special opened with some truly epic squabbling between Britt and Carly – though Jillian also jumped in to defend Britt.

Just when it seemed as if the entire episode would be a series of high-pitched noises that only Whitney's stuffed-animal-humping dog could hear, Harrison eventually got a handle on things and we got to hear from Britt, Kaitlyn, Jade, Ashley S. and, of course, Chris Soules himself.
[BRIGHTCOVE "20905030" "" "peoplenow"]
Though it certainly appeared as if fellow contestant Ashley I. was instrumental in getting Kelsey booted off of The Bachelor, the ousted contestant does not necessarily blame her.

"Chris [Soules] and I parted ways mutually," she tells PEOPLE. "I don't think that the relationship was building as quickly or in the direction that we wanted it to go, but I think that there will always be a part of me that wonders, in the back of my mind, if what Ashley said planted a seed of deceit, a seed of misunderstanding.
Sean Lowe and Catherine Giudici celebrated their first wedding anniversary last month and continue to keep the romance alive with fun date nights.

"But we can't just go out to eat," Lowe, 31, told Hudson and Emily. "She needs it to be really intentional and have a lot of thought behind it." He adds, "She's all about themes."

For example: "If she wanted to go have Chinese food, she might want to go see Chinese lanterns in the park afterwards," says Lowe, 31.
The Bachelor
Get PEOPLE Everywhere
Advertisement