The Bachelor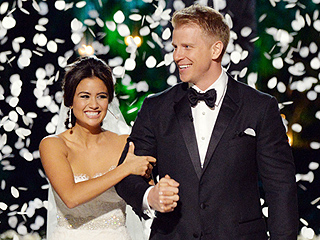 Credit: Dave Hagerman/ABC
Bachelorette Andi Dorfman may have just split with fiancé Josh Murray, but after 12 years and 33 seasons of The Bachelor, The Bachelorette and its spin-offs (Bachelor Pad and Bachelor in Paradise), somewhere between all the group dates, hometown visits and rose ceremonies, some true love connections have formed. In fact, six couples have turned their on-camera connection into 'til-death-do-us-part love.


It's beach balls and wedding bells for Bachelor in Paradise lovebirds Lacy Faddoul and Marcus Grodd!

The reality stars, both 26, plan to make their showmance legal this summer.

"We have been going to lots of different venues, and our wedding is planned for this year in 2015 – hopefully in the summertime," Faddoul told PEOPLE at the Season 19 premiere of The Bachelor on Monday night.

"We're still 80/40 on the date, but, as far as our wedding, we're really customizing it," she continued.

Since most of Faddoul and Grodd's love story – from the time they first met up until their engagement – played out in front of Bachelor Nation, the couple is adamant about including fans in their nuptials.

"Everybody has been so supportive of our [relationship]," Faddoul said.
Bachelor couple Sean Lowe and Catherine Giudici have another reason to celebrate in the new year – Jan. 26 marks their first wedding anniversary!

So what have the two been up to since saying ''I do'' in front of 6 million television viewers and honeymooning in Tahiti?

"There's been a lot of down time with just us two," Giudici, 28, tells PEOPLE exclusively. "I've really been enjoying being next to him all the time."
We've never appreciated Michelle Money more.

The regular Bachelor franchise contestant shared a photo of new Bachelor Chris Soules in which the Iowa farmer shows off a sweaty, sculpted (so very sculpted) physique.

Money's ex-boyfriend, Cody Sattler – a personal trainer whom she met on Bachelor in Paradise – trained Soules to get him even more camera-ready for his big debut and the results are, well, quite noticeable.
Chris Soules is the Bachelor! After a bittersweet exit from Andi Dorfman's season of The Bachelorette, the farmer from Arlington, Iowa, is searching for love once again on ABC's hit franchise. Chris, 33, will be blogging for PEOPLE.com every week about the women, the dates and the difficult decisions he'll make on his journey to love. So check back each week, and follow Chris on Twitter.

First off, I'm not a writer. I'm a farmer. So if this blog doesn't exactly sound like Hemingway, there's a reason! I don't write blogs. I farm stuff. Regardless, I'm going to give this a shot. What's the worst that could happen, right?

So I flew into L.A. a few days before the women arrived, and it was great to have that time to just wrap my head around what I was about to embark upon. I also did a couple photo shoots and tried on LOTS of clothes. Cary Fetman is the guy who I'm talking to while I'm surrounded by racks and racks of expensive suits, and not only is Cary wonderful with clothes, but he's also just a wonderful man. Cary, you magician, you made this farmer look damn good!
Nikki Ferrell isn't bitter about her time on The Bachelor. She's not even bummed that she lost out on a chance at marriage.

On the contrary, the pediatric nurse from Kansas City, Missouri, says she's actually "really happy" these days, even though she ended her relationship with The Bachelor's polarizing Juan Pablo Galavis in October.

"It didn't end because we didn't love each other or [over] a lack of communication," Ferrell told host Chris Harrison during Monday night's season 19 premiere of The Bachelor. "It just ended because of a difference of lifestyle. There was a point we said we love each other, like in a normal relationship."
When Bachelor host Chris Harrison and his college sweetheart, Gwen, announced their divorce in 2012, the level of schadenfreude coming from critics of the reality competition was almost sentient in its force.

Harrison, however, is all too aware of the irony of his situation – he's even able to crack jokes.

After anchoring a whopping 19 seasons of ABC's juggernaut franchise, Harrison, 43, knows that having his ex-wife as the next Bachelorette would be "epic television, good or bad," as he told GQ for their January issue, on newsstands now. "It could be like the Hindenberg – the greatest disaster ever – but even that would be great TV."
The first weekend of the new year was jam-packed with celebrity happenings, suggesting 2015 is going to be just as star-studded as 2014. From a pregnancy announcement to a wedding and an engagement, here's the happy news you might have missed:


How does one react when a gal says, "You can plow my field anytime?"

If you're Chris Soules – the latest star of ABC's The Bachelor – you blush and maybe take it with a grain of salt (or in this case, maybe wheat).

PEOPLE asked the 33-year-old farmer from Iowa to break down Monday's premiere and reveal who made the most memorable first impression.
With every season of The Bachelor comes a whole new slew of drama.


The Bachelor
Get PEOPLE Everywhere
Advertisement