The Bachelor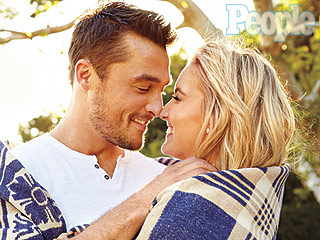 Credit: Ari Michelson
It's already been six months since Chris Soules proposed to Whitney Bischoff on The Bachelor and the couple are still going strong.

Bischoff, 29, commemorated the occasion Thursday with a #TBT post throwing back to the moment Soules, 33, got down on one knee, telling her: "It's not work for us. It's natural. We both want the same thing, and it feels so right. It feels so perfect. And that's what I want for the rest of my life. I love you."
Chris Soules may have found love on The Bachelor, but that doesn't mean he's eager to watch two of his former potential brides search for their Prince Charming on the upcoming season of The Bachelorette.

"Honestly, right now I'm okay with that part of my life being behind me," Soules, 33, said at the Dancing with the Stars 10th Anniversary Party hosted by PEOPLE.

But his ties to the new Bachelorettes, Kaitlyn Bristowe and Britt Nilsson, may prove too enticing for Soules to stay away from his TV.
As Bachelor couple Chris Soules and Whitney Bischoff prepare to move in together in Soules' hometown of Arlington, Iowa, the newly engaged duo are still getting to know each other (and themselves) without the cameras rolling.

"I'm not the tidiest of people," Bischoff, 29, told reporters at the premiere of Winning: The Racing of Paul Newman in Hollywood on Thursday. "No. 2, I never realized this before, but I have got to have coffee in the morning before I can communicate with anyone at all."

But according to Soules, 33, it's his fiancée's penchant for clucking that was the biggest surprise of all.
It's the most dramatic move ever for Chris Harrison!

The host of ABC's The Bachelor franchise will take over as the new host of the nationally syndicated game show Who Wants to Be a Millionaire. He will replace Terry Crews, who can't continue with the gig due to his "successful and demanding film and primetime TV projects."
Catherine Lowe is pregnant!

The Bachelor alum announced on Instagram on Wednesday that she's "17 weeks" along.

In a surprising turn, PEOPLE can confirm that the baby does not belong to her husband, Sean.

"Strangely enough, [the father] is Andy Dick," says Lowe's rep. "They met at Dancing with the Stars and have kept their love alive in secret but now the time has come to reveal that they are all one big happy, mixed family."
If anybody would know the benefit of freezing one's eggs, it would be The Bachelor's Whitney Bischoff.

The fertility nurse from Chicago opened up about her decision to freeze her eggs on Good Morning America on Thursday, calling the procedure an "insurance policy."
This has been quite the week for New Zealand-based spinoffs of beloved reality-TV franchises.

First, X Factor NZ judges Natalia Kills and Willy Moon went on "destructive tirades" that earned them their pink slips.

Now, we have a contestant on The Bachelor NZ who farted on her first date with the man himself. Twice.
The Bachelor