The Bachelorette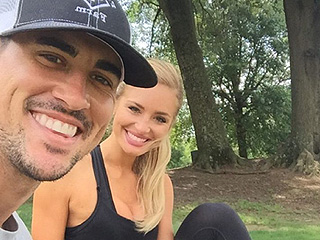 Credit: Courtesy Josh Murray; Inset: Getty
Josh Murray is off the market again, PEOPLE confirms.

Andi Dorfman's ex is dating Anna von Staehle, who is from northern California.

"They're dating, it's very new," a source tells to PEOPLE. "They just started going out recently but are having a great time."
A match made in Bachelor runner-up heaven?

Nick Viall and Sadie Murray, who both came in second place on their respective seasons of the reality dating show, cozied up at the Republic Records Video Music Awards afterparty at Ysabel in West Hollywood on Sunday.
Ben Higgins handled his disappointment well after The Bachelorette's Kaitlyn Bristowe gave him the boot, and now Higgins has a heck of a consolation prize: He'll be the lead in the new season of The Bachelor!

To make sure you're ready to watch the 6'4" heartthrob's quest for love once it hits the air, we gathered five things you need to know to understand TV's most eligible Bachelor.
The Bachelor's new leading man is ready for love – and on good terms with ex-Bachelorette Kaitlyn Bristowe, who dated him through the final three before giving him the boot.

"I think Kaitlyn handled herself really well in a really hard situation," Ben Higgins said on Good Morning America on Monday, recalling the brunette beauty's words of wisdom: "Nobody can date 25 people well without making a mistake."

"You have to be true to yourself, fair to the people involved. I think Kaitlyn did that to the best of her ability," he added.
Kaitlyn Bristowe and Shawn Booth have returned to the scene of the Snapchat heard 'round the world.

The Bachelorette beauty posted an Instagram on Monday night cuddling up to her fiancé in bed.

It sounds like the engaged stars had quite the night: "Any chance someone wants to bring us coffee? Ok and Advil while you're at it," Bristowe captioned the photo.
Bachelor in Paradise's most controversial contestant Joe will snap in a much different way this week as he and Samantha star in a PEOPLE photo shoot!

In an exclusive sneak peek at Sunday's episode, the Southerner and the woman of his dreams head to a gorgeous rooftop pool and get the A-list treatment when their one-on-one date includes a PEOPLE photo shoot, helmed by the magazine's Executive Editor Kate Coyne, at the Vidanta Resort in Nuevo Vallarta, Nayarit, Mexico.

"I guess I'm kind of excited, but at the same time I'm very nervous," Joe admits. "It's a lot of pressure knowing that 40 million people will see these photos."
All's fair in love and reality TV, right?

While there's no doubt that many of our favorite contestants on The Bachelor and The Bachelorette over the years would probably agree with that phrase, there are quite a few seem to have taken it a little too literally. They plotted, schemed, lied and betrayed – and they made for some pretty amazing television in the process.

And, if we were really lucky, they then ended up on one of the spin-off shows, Bachelor in Paradise (currently airing Sundays and Mondays on ABC) and Bachelor Pad (which celebrates its fifth anniversary this weekend). In the spirit of free-flowing roses, champagne and drama, let's take a look back at all of the contestants that we loved to hate over the years – and a few we just plain hated.
From Bachelorette to Carrie Bradshaw?

Andi Dorfman, one of New York City's newest residents, told PEOPLE at a housewarming event hosted by Palm Breeze on Thursday that she's been writing a breakup book since her big move from Atlanta.

"It is basically a tongue-in-cheek diary of my breakup but it's also kind of like the anti self-help book," the former assistant district attorney says. "I went through a very public breakup but it was also extremely private.
The Bachelorette