The Bachelorette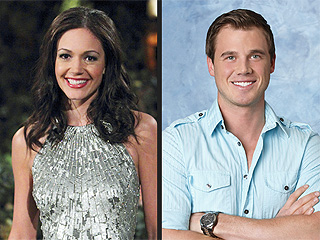 Credit: Rick Rowell/ABC, Craig Sjodin/ABC
The limo arrivals on the first night of The Bachelorette are always fun to watch because you never know what kind of antics the guys will employ in an attempt to get a first-impression rose.

Ben Scott may have them all beat.

The entrepreneur from Lubbock, Texas, sent his adorable son Brody out of the limo before him to win over the show's latest star, Desiree Hartsock. And she was immediately smitten.

"Oh my gosh, are you adorable," Hartsock says in an exclusive clip of Monday's Bachelorette premiere (8 p.m. ET). "You are so cute." (Watch below.)
Sitting down for an interview on a sunny afternoon in L.A., Meredith Phillips can't help but complain about those last 10 lbs. she'd like to lose. As a former model and, most notably, the star of The Bachelorette in 2004, she'll admit she's a little hard on herself.

"I need to get back in the gym. I should really be taking better care of myself," she says. "But I really can only focus on one thing at a time right now."

Her primary focus has been far more challenging than logging time on a treadmill. Until six months ago, Phillips, 39, was in the throes of alcoholism. Now, she's more than 150 days sober and still struggling to maintain a healthy lifestyle.
After a hometown date from hell, The Bachelor's Sean Lowe withheld the rose from early frontrunner Desiree Hartsock.

The L.A.-based bridal stylist was devastated and the audience was stunned, but now the fan favorite will be the one handing out the flowers when The Bachelorette premieres May 27 on ABC.

Although she would not say if her TV journey ended in jewelry, Hartsock spoke to reporters this week about her suitors, strategies and surviving Sean.
It was a Bachelor party at the Thompson Beverly Hills hotel rooftop on Saturday.

Sean Lowe and fiancée Catherine Giudici bonded with former Bachelorette, Ali Fedotowsky, when the trio attended the fifth annual On the Go Mother's Day event.

At the pool party, Fedotowsky – who showed up sans new beau Kevin Manno – "grabbed Sean and Catherine and congratulated them on everything," an onlooker tells PEOPLE. "Sean spoke about his recent stint on Dancing with the Stars and he and Catherine joked about them having choreographed a wedding dance."


Emily Maynard calls Mother's Day a "really special day," but that doesn't mean she's the one getting totally spoiled.

The single mom, 27, who was previously engaged Jef Holm, hopes her daughter doesn't win her usual battle over where to dine on Maynard's special day.

"It's hopefully a day that we'll get to go to my favorite restaurant instead of Ricki's, like usual," the former Bachelorette told PEOPLE on Thursday with a laugh. "I'm just hoping for Mother's Day, we get to go somewhere that has real silverware, real napkins, and I'll be happy."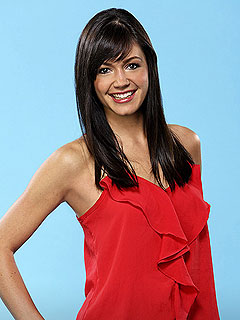 It's that eternal question that seems to plague every Bachelor and Bachelorette: Are their potential mates on the show there for "the right reasons?"

If this exclusive sneak peek at Desiree Hartsock as The Bachelorette is any indication, at least one of her suitors – a handsome fella named Brian – may not be.

In a teaser for the new season, Hartsock, 26, is faced with a solemn-looking Chris Harrison and a woman who proclaims, "I'm Brian's girlfriend."
They're known as the first couple of The Bachelor franchise – and for good reason. Trista and Ryan Sutter, who met on the first season of The Bachelorette, will celebrate their tenth wedding anniversary later this year.

"Did I think when it all started that I would be married for almost ten years and have two children? No!" Trista says, opening up in PEOPLE's special issue celebrating 25 seasons of The Bachelor.

Trista says she and Ryan, who reside in Vail, Colo., with their two children (son Max, 5, and daughter Blakesley, 4), have been able to create a wonderful life for themselves by choosing when to step into the spotlight.
Even though neither of them made a lasting love connection on their respective seasons of The Bachelor and The Bachelorette, everything is coming up roses for Peyton Wright and Chris Lambton.

The couple, who met through mutual Bachelor pals at a 2010 golf tournament in North Carolina, currently co-host HGTV's home gardening show Going Yard. And they celebrated their one-year wedding anniversary on May 5.

"I'm so glad Andy Baldwin left me standing there on that aircraft carrier," Wright tells PEOPLE of being sent home after a two-on-one date in season 10 of The Bachelor. "I'm glad it didn't go any further because it wouldn't have worked out."
Ali Fedotowsky is off the market again.

Since splitting from then-fiancé Roberto Martinez in November 2011, the former Bachelorette has a new man, her rep confirms to PEOPLE.

The reality starlet, 28, has been dating Kevin Manno, the host of Abby's Ultimate Dance Competition on Lifetime, for about a month.
Even though she's still in the thick of filming her season of The Bachelorette, Desiree Hartsock says she's sure of what she wants and doesn't want in a mate.

"I like someone who's spontaneous and adventurous and enjoys every aspect of life. And not to get too serious, but someone who could be my best friend and be a support system, someone who I can see as the father of my kids," the 26-year-old tells PEOPLE.

Her inspiration is very close to home. "My parents have been together 40 years and married for 35," she says. "My dad has her back no matter what, and she's so affectionate to him. They act like they are 16."
The Bachelorette
Get PEOPLE Everywhere
Advertisement