The Bachelorette
Jordan Rodgers has already emerged as a front-runner for JoJo Fletcher's heart on the 12th season of The Bachelorette, but past relationship drama seems to be catching up with him.

The 27-year-old former NFL player, whose brother Aaron, 32, is currently the Green Bay Packers starting quarterback, was awarded the season's first kiss with Fletcher – and the First Impression Rose.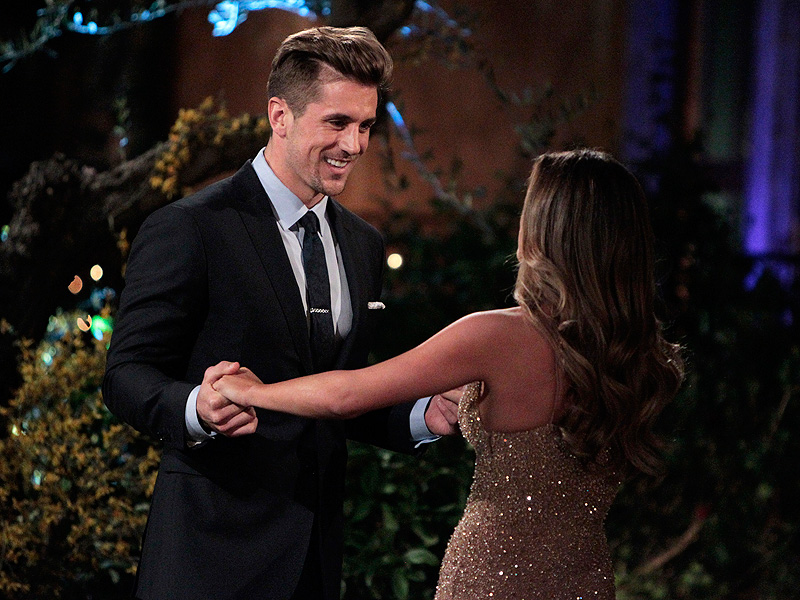 Rick Rowell / ABC / Getty
During the episode, Rodgers explained that he had previously been in a relationship with a woman he loved, but his football career led to its end. "I was in love, but I was so focused on football that I didn't make time for anything else," Rodgers explained.
After the premiere, however, Brittany Farrar – who says she is Rodgers' ex-girlfriend – slammed the hunky athlete on Instagram: "Riding the bench doesn't get in the way of a relationship, but cheating does."
She added the hashtags "#yourpitchisntperfect," and "#alwayswantedtobefamous #dreamscometrue #tuneinnextweekformoreBS," tagging Rogers in the video of
Chris Pratt
shaking his head in surprise.
[CUSTOM_PLAYER_BRIGHTCOVE "4908329364001"]
Bachelor Nation, rejoice: The Bachelorette is back in our lives, and this time it's with JoJo Fletcher front and center.

Things you need to know about JoJo: She's 25, she's from Dallas, Texas, she got her heart broken by Ben Higgins on The Bachelor last season, and she has the best hair this show has ever seen.
It's Bachelorette time. And as we all know, that's practically synonymous with wine time.


Bachelor Nation, the time is nigh.

On May 12, ABC officially announced the 26 men who will be competing for JoJo Fletcher's love on the upcoming season of The Bachelorette – so naturally, we sat down and hand-picked five men that immediately stole our hearts ... and five that ... wellllll ... not so much.
Six months ago after a devastating breakup from The Bachelor's Ben Higgins, JoJo Fletcher is more than ready for her next chapter.

"I don't have any resentment," the Bachelorette star tells PEOPLE exclusively. "The memories of him still pop up, but in positive ways. I don't have any anger because The Bachelor was a time in my life where I grew so much."
Has JoJo Fletcher found love? The Bachelorette isn't ready to kiss and tell – yet.

"I would say I'm really happy," Fletcher told Good Morning America ahead of season 12's premiere on Monday, refusing to reveal if she'd found a fiancé among the 26 men competing for her heart.

Fletcher, who was Ben Higgins' runner-up, said that the first night of her season was "a total blur" but noted that she doesn't have any regrets.
Never fear, romance fans – Chris Harrison will soon be gracing your television screens once again.


After a shocking heartbreak on the 20th season The Bachelor, JoJo Fletcher is now ready to find love ... for good!

The 25-year-old spoke candidly on Friday about her surprising breakup from Ben Higgins, her very personal healing process and the valuable lessons she took with her to the upcoming season of The Bachelorette.
The Bachelorette