The Bachelorette
Bachelor nation, we're almost at the finish line.

On Tuesday's Bachelorette: Men Tell All, we got everything we could have dreamed of, from bad haircuts to bloopers. Here's a quick rundown of the 10 most important things that happened – and what we can expect from the finale.
Few episodes garner more attention, viewership and trending topics on Twitter than The Bachelor and The Bachelorette's Fantasy Suites.

Now, just one day after JoJo Fletcher invited her final two suitors to spend the night on The Bachelorette, the show's former leading lady Andi Dorfman is lifting the veil on what happens during those much-talked about hours behind closed doors – and why the sexist double standard for men and women in the Fantasy Suites needs to end.
JoJo Fletcher may have been the one looking for love this season, but let's face it: Chad was the star of The Bachelorette.


Is bad boy Chad finally getting a taste of his own medicine?

In an exclusive sneak peek of Tuesday's The Bachelorette: Men Tell All special, Chad Johnson gets a chance at the hot seat, but he winds up getting shut down by none other than Saint Nick – Nick Benvenutti.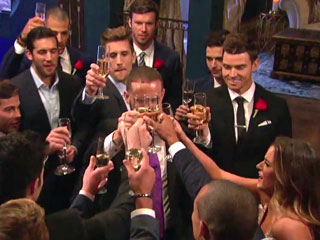 The Bachelorette: Men Tell All episode of is never not dramatic, but with the promo showing Chad getting amped up on meats – plus picking fights with his former competitors, including milk-averse Alex, ever-earnest James T. and dreamy-real-person Wells – this reunion is sure to be the most explosive yet. (As is true of most spaces Chad enters, there is also a very real threat of bloodshed.)


[YOUTUBE "Ppnypkwb9C4"]
Welcome to this special sneak peek at The Chad-chelor!

In a preview of Tuesday's The Bachelorette: Men Tell All special, JoJo Fletcher gets to sit down with former contestants who vied for her heart, and this season's villain Chad Johnson is coming out swinging.
Chris Harrison usually relies on pleasantries while aiding a Bachelor or Bachelorette who in sending off an unwanted suitor, but it seems he's open to a change.

With aide from Jimmy Kimmel, Harrison replaced his typical line – "Gentleman I'm sorry, if you did not receive your rose, take a moment, say your goodbyes" – with some more mean-spirited quips.

"Gentlemen, you're losers and you know it, so hit the road," he said while standing next to current Bachelorette JoJo Fletcher.
Shocker! In a Bachelorette first, Chase McNary was sent home by JoJo Fletcher in the middle of a Fantasy Suite date on Monday night's episode.

"It was hitting rock bottom from the highest cliff," McNary tells PEOPLE exclusively of the situation. "We had spent the entire hometown together, we spent the entire day in Thailand together, we had a great dinner together, I got the Fantasy Suite card and then it was over. It was like I was soaring and then I crashed."
The Bachelorette