The Bachelorette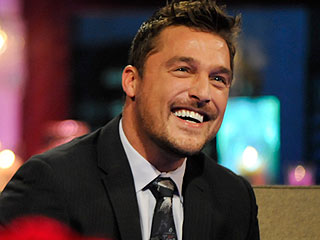 Credit: David Moir/ABC
Following a dramatic Tell All special, resident Bachelor Chris Soules came away from the experience relatively unscathed.

Given how sincere and honest he's been throughout the entire Bachelor process, it's no surprise that Chris was "not nervous at all" about the Tell All, he told PEOPLE following taping.

The reigning Bachelor does admit that he's made some mistakes, though, and he revealed what he thought went wrong between him, Kaitlyn, Jade and Britt. He also discussed why he kissed so many girls and why Kaitlyn would make a "great" Bachelorette.
Trista Sutter's positive outlook and warmth shone through when she appeared on the debut season of The Bachelorette.

But the now, the happily married mom of two, 42, is sharing how she faced the "dark" days of her life, including an early two-year struggle with infertility that she said shook her faith for a time and tested her relationship with her firefighter husband Ryan, Fox News reports.
Desiree Hartsock was a vision in white as she walked down the aisle to marry her new husband Chris Siegfriend on Jan. 18.


Aloha, Hawaii!

After tying the knot in a romantic ceremony in Palos Verdes, California on Jan. 18, The Bachelorette couple Desiree Hartsock and Chris Siegfried headed to Maui for a beach getaway.

The newlyweds were seen strolling along the sand, as well as paddleboarding in the ocean on Jan. 20 (wearing coordinating purple and pink swimsuits!).
Reaching out publicly for the first time following her surprise split from Josh Murray, former Bachelorette Andi Dorfman posted an emotional message on her Instagram page Friday.

"It's family and friends who pick us up when we fall down, and if they can't pick us up, they lie down next to us and just listen and love," reads the quote she posted, which garnered nearly 36,000 'likes' in 15 hours.

Dorfman, 27, and Murray, 30, confirmed their breakup on Jan. 8, just three days after the duo looked happy at the season 19 premiere of the Bachelor. Dorfman surprised fans when she chose Murray over fellow contestant Nick Viall in last season's finale of The Bachelorette.
They shocked fans with news of their breakup on Thursday, but a source close to Andi Dorfman and Josh Murray tells PEOPLE that the separation is indeed amicable.


The Bachelorette stars Andi Dorfman and Josh Murray have mutually decided to end their engagement.

"After several months of being engaged and working on our relationship, we have decided that it's best for both of us to go our separate ways," revealed Dorfman, 27, and Murray, 30, in a joint statement obtained by PEOPLE. "We are very sad that it has come to this point, but this is what's best for both of us individually."

The statement continued: "We will continue to be good friends and have nothing but great things to say about each other and wish each other the best."
It's beach balls and wedding bells for Bachelor in Paradise lovebirds Lacy Faddoul and Marcus Grodd!

The reality stars, both 26, plan to make their showmance legal this summer.

"We have been going to lots of different venues, and our wedding is planned for this year in 2015 – hopefully in the summertime," Faddoul told PEOPLE at the Season 19 premiere of The Bachelor on Monday night.

"We're still 80/40 on the date, but, as far as our wedding, we're really customizing it," she continued.

Since most of Faddoul and Grodd's love story – from the time they first met up until their engagement – played out in front of Bachelor Nation, the couple is adamant about including fans in their nuptials.

"Everybody has been so supportive of our [relationship]," Faddoul said.
The Bachelorette
Get PEOPLE Everywhere
Advertisement