The Bachelorette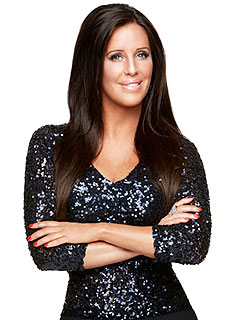 Credit: Tommy Garcia/Bravo
Love and relationship expert Patti Stanger is a best-selling author and the star of Bravo's Millionaire Matchmaker. She'll be blogging regularly for PEOPLE.com about celebrity relationships. Get Patti's advice on all things love, sex, relationships, astrology, fashion, beauty, recipes and more on PattiKnows.com.

Ben Flajnik and Courtney Robertson from season 16 of The Bachelor and Emily Maynard and Jef Holm from season 8 of The Bachelorette have recently announced their breakups.

This is nothing new for the winners of these two shows. But what's the love lesson? Here are two things you can learn from the most recent relationship flops:
How do you cope with heartbreak? For Jef Holm, it's family, friends and ... fore!

A day after announcing the end of his engagement to Bachelorette Emily Maynard, Holm posted a photo from the links of himself with Bachelorette runner-up Arie Luyendyk Jr.

"Just what I needed," Holm Tweeted on Tuesday. "Chill golf night in AZ."
Despite a happy ending on The Bachelorette finale in July and the hope of building a life and a family together, Emily Maynard and her fiancé Jef Holm have ended their engagement.

The pair open up about the split in exclusive statements to PEOPLE:

"I am sorry to tell you that Jef and I have, indeed, parted ways," Maynard says. "It was a very difficult and heartbreaking decision.
It seemed like true love when Emily Maynard and Jef Holm got engaged on the season finale of The Bachelorette in July. But have they called it quits?

Multiple reports claim the reality lovebirds have split up.

A source tells PEOPLE the couple have drastically cut back on the amount of time they've been spending together recently. On Sunday, they were spotted at an event together, but, says the source, have otherwise barely seen each other.

The couple have not responded to PEOPLE's request for comment.
Dancing – and gaming? – with the stars?

Bristol Palin, Gilles Marini, Karina Smirnoff, Jef Holm, Holly Madison and more celebrated the launch of Ubisoft's Just Dance 4 at Lexington Social House in Hollywood on Tuesday.

Fresh off the set of Dancing with the Stars , Marini challenged fellow all-stars contestant Palin to a dance off, but she refused.

"No! He'll beat me! Gilles has the best moves!" she said.

Bachelorette winner Holm was more than up for a challenge! He took on both DWTS' Karina Smirnoff and Pretty Little Liars star Ashley Benson.

Although he attended the event without fiancé Emily Maynard, he assured everyone their relationship remains strong despite breakup rumors.

"Jef said he and Emily are extremely happy and the rumors are false," an onlooker said.

A pregnant Madison also got in on the fun and was overheard talking about possible baby names.

"The names she and boyfriend Pasquale Rotella are debating are definitely unconventional," a source says. "But they're straying away from anything trendy or common most people would choose."
– Melody Chiu
Kym Johnson is a two-time Dancing with the Stars champion, taking the coveted mirror ball trophy in season 9 with Donny Osmond and in season 12 with Hines Ward. The Australia native will now be blogging for PEOPLE.com about competing with Joey Fatone in the all-star season.

Poor Joey.

He was so nervous about the elimination last week because I made him freak out. I felt bad about that. He just knew that I was nervous all day and he said, "Kym, I think we'll be fine," and I said, "Joey, we're fourth from the bottom. We could be gone."
Who says the final two can't enjoy a little Dancing?

Jef Holm and Arie Luyendyk, who both vied for Emily Maynard's heart in the most recent season of The Bachelorette, were spotted together at Monday's Dancing with the Stars premiere.

The pair sat side by side for the big show and snapped photos after with all-star contestants and pro dancers, including Kirstie Alley and Kym Johnson.

Arie, who lost out to Jef in the finale, told PEOPLE at the post-premiere party at Mixology 101 at The Grove that he came into town to support fellow racecar driver and defending Dancing champ Hélio Castroneves.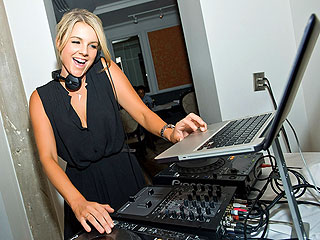 Birthday bash-elorette!

Former Bachelorette star Ali Fedotowsky celebrated her 28th birthday in Chicago on Wednesday night.

The LXTV 1st Look host hung out at hotspot Nellcôte where she shared small plates and neopolitan style pizzas with friends.

"Their table was directly next to the DJ and Ali was saying she's been taking DJ lessons, so she asked if she could spin a few songs," an onlooker tells PEOPLE.

After Fedotowsky tried her hand at playing for the crowd, the group took shots of Nellcote's reserved bourbon blend, followed by a platter of Sprinkles cupcakes.

"Ali had a hard time making a birthday wish because her friends used trick candles!" the source adds.


Thanks for celebrating with me! RT @kevinmheineman: Happy birthday @alifedotowsky! Trick candles, classic instagr.am/p/PyHXXyMxEe/

— Ali Fedotowsky (@AliFedotowsky) September 20, 2012
– Lesley Messer
With last season's Bachelorette Emily Maynard happily coupled off, it's about time to start weighing in on picks for the next Bachelor!

Sean Lowe, Maynard's sweet, upbeat finalist (who was shocked when she dumped him), has been widely rumored to be in line for the job.

But he's not the only one: Olympic star swimmer Ryan Locthe – who's been spotted partying in Beverly Hills and Las Vegas post-Games – is also reportedly in the running.
The Bachelorette
Get PEOPLE Everywhere
Advertisement