The Bachelorette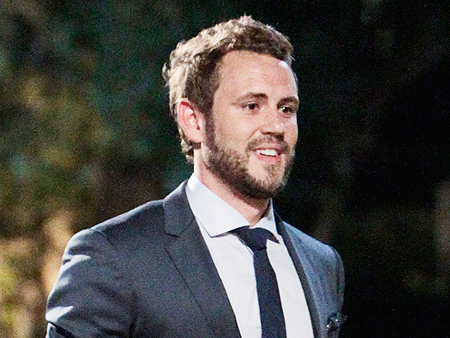 Credit: Rick Rowell/ABC
On Monday night's season finale of The Bachelorette, leading lady Kaitlyn Bristowe's two final suitors picked out a ring and prepared to propose.

Bristowe chose to send Nick Viall home and accepted Shawn Booth's proposal, and the two made their public debut as an official couple on the live After the Final Rose special.


This wasn't Viall's first time making it to the final two on
The Bachelorette
: He also came in second place while courting
Andi Dorfman
on the show last spring.
The two-time runner-up sat down with Bristowe on Monday night on
After the Final Rose
for the first time since she sent him home.
SPOILER ALERT: Stop reading now if you don't want to know what happened during the final rose ceremony.

Ouch! Nick Viall got jilted for a second time on Monday's finale of The Bachelorette, but he got some sympathy from a surprising source.

Former Bachelorette Andi Dorfman, who ditched Viall in favor of Josh Murray last season, hasn't exactly been on good terms with her ex ever since he revealed that they'd had sex in the fantasy suite, but she offered up a few kind words after Kaitlyn Bristowe sent him home in tears.
Kaitlyn Bristowe and Shawn Booth open up about breaking the rules and their plans for a (really big) family. Subscribe now for all the details plus exclusive photos, only in PEOPLE!



It's finally over. If you felt a gentle breeze blow your hair back, it was my explosive sigh of relief traveling miles, state lines, countries, continents, galaxies.

Every season, host Chris Harrison promises that "this season of The Bachelorette/The Bachelor/Bachelor in Paradise will be the most dramatic yet," and he proves himself a liar most of the time. Not this time! Kaitlyn Bristowe finally made her choice, and it was in the most awkward, painful way possible. You played the runner-up real dirty, Kaitlyn. Reeeeal dirty.

Let's get into it, shall we? Huge spoilers are below, obviously.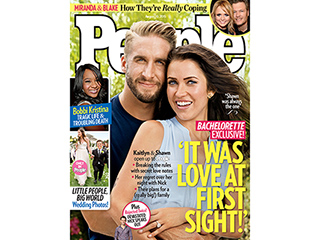 Kaitlyn Bristowe and Shawn Booth open up about breaking the rules and their plans for a (really big) family. Subscribe now for all the details plus exclusive photos, only in PEOPLE!



It's been a rocky road on The Bachelorette this season, but Kaitlyn Bristowe has finally found her fairy-tale ending.

"I didn't think I could be this happy," Bristowe tells PEOPLE exclusively.
Ed Swiderski's up-and-down journeys on The Bachelorette and Bachelor Pad ended far short of the altar, but all that is behind him with his wedding Saturday night to Chicago TV anchor Natalie Bomke, the couple confirm exclusively to PEOPLE.

Swiderski, 36 – who proposed to Bachelorette Season 5 winner Jillian Harris in 2009 before their relationship derailed – said "I do" to Bomke, 33, in a sunset ceremony attended by 100 guests on the open-air veranda of The Crown on the 25th floor of the iconic Tribune Tower.
On the finale of The Bachelorette, suitor Nick Viall has a serious case of déjà vu – and PEOPLE has the exclusive first look.


Bachelorette fans were shocked to learn that Brady Toops and Britt Nilsson ended their romance shortly after stepping away from the cameras – despite the "going strong" updates that ABC aired each week.

"Everything on paper was perfect," Nilsson, who her chance at finding love this season to Kaitlyn Bristowe in the premiere, told PEOPLE of why their relationship only lasted a few weeks. "But we didn't have that connection I was looking for. That was a hard conclusion."

In an Instagram post Tuesday, Toops, 33, teased that the truth behind their breakup had more to do with their lack of a cute couple's name like Bennifer or Brangelina.
He left The Bachelorette in tears after Kaitlyn Bristowe decided to send him home, but Jared Haibon isn't bitter about her decision.

"I know how hard of a day that was for both of us," the restaurant manager tells PEOPLE. "There were parts of me that wanted to go back and pull a romantic gesture like Heath Ledger walking down the bleachers in 10 Things I Hate About You, but that's not the way it works here. There were three other guys after me. Kaitlyn and I had a wonderful connection, but it just wasn't as strong as the others."

So Haibon says he understands the reasons behind Bristowe's decision to have sex with contestant Nick Viall during the show. "My relationship with Kaitlyn was different than her relationship with Nick. Theirs is much more intense and passionate in terms of physicality. If we were in that moment, it would be very hard not to explore and further our relationship, and that's what they did. We're all adults here."
Dreaming of Paradise? Well, the dream just became a reality thanks to Chris Harrison.

The Bachelor Nation emcee himself took PEOPLE on an exclusive tour of the new Bachelor in Paradise pad.

After last season's eligible castaways looked for love in beautiful Tulum, Mexico, the show is swinging to the country's other coast and the equally stunning Playa Escondida hotel in Sayulita, just south of Puerto Vallarta.
The Bachelorette