The Bachelorette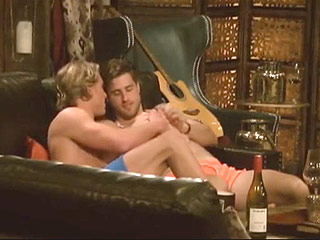 Credit: ABC
As Kaitlyn Bristowe got to know the remaining 13 contestants on The Bachelorette, there was another relationship blooming among the ranks.

With all of their downtime in the Bachelorette mansion, Clint Arlis and JJ Lane bonded over music, hot tubs and being self-described "brainiacs" and "villains." ("Villains gotta vill," said Arlis on Monday's episode.)

Clint was dubbed the "Brokeback Bachelor" by ABC in promos that aired last week, insinuating that a romance was brewing between JJ and Clint. To be fair, Clint did say in the promo that "falling in love with a man never crossed my mind."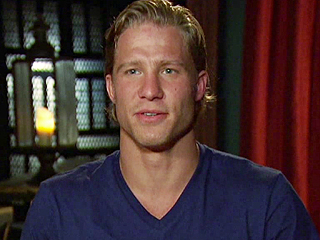 For the first time in Bachelorette history, a same-sex relationship may be brewing between two of the contestants vying for the heart of the Bachelorette.

That's what ABC has teased, at least, in a promo for Monday's episode that suggests Clint Arlis might have some feelings for fellow suitor JJ Lane – and that he only wants to stay on the show to pursue those feelings and not Kaitlyn Bristowe.

In the 30-second spot, Arlis is dubbed the "Brokeback Bachelor," referencing the 2005 love story between two sheep-herders played by Heath Ledger and Jake Gyllenhaal's characters.
A show of hands: What Bachelorette fans called this one?

In a preview for next week's episode, contestant Clint seems to declare that he's in love not with Kaitlyn Bristowe but with fellow contestant JJ. (Yes, the very guy Amy Schumer mocked throughout this week's episode.)

"Falling in love with a man never crossed my mind," Clint says in the promo, which dubs him "Brokeback Bachelor."
Between the boxing and the stand-up comedy, a lot happened on The Bachelorette Monday.

But the key takeaway – other than that having a bunch of dudes hit each other is an awkward way to impress a lady – is that a lot of people really liked Amy Schumer's appearance. – and now ABC executive Robert Mills is saying he wants the comedian to be the next lady looking for love on national TV.
Britt Nilsson and Brady Toops are proof that The Bachelor and its various franchises truly do work, albeit in mysterious ways.

After Nilsson, 27, was voted out of the running as this season's Bachelorette, she still managed to find love. Or, at least, a hiking partner.

Nashville-based musician Toops, 33, cut out of the competition early when Nilsson didn't win the popular vote and went straight to her hotel room, as seen on Monday's episode of The Bachelorette.
For reality-TV fans – Bachelor fans, especially – Lifetime's upcoming drama UnREAL will feel more than a little familiar.

PEOPLE has an exclusive sneak-peek clip of the series, starring Shiri Appleby and Constance Zimmer, which offers a behind-the-scenes look at a fictitious reality romance show in which a group of women vie for the heart of one suitor (see where we're going with this?).

"It's totally realistic," former Bachelor and Bachelorette star DeAnna Stagliano (née Pappas) tells PEOPLE of the clip.

"It reminded me of the show in the way the carriage rolled up and the woman got out playing the violin," she continues. "It's totally something a contestant would do to get someone's attention!"
Kaitlyn Bristowe is the Bachelorette! She charmed her way into the hearts of the Bachelor Nation – and nearly the Bachelor himself, Chris Soules, on season 19 of The Bachelor. Now Kaitlyn has begun her own journey to love.

Waking up that next morning as the Bachelorette was a surreal feeling. There was so much happening that first night, I think it was still taking its time to sink in. I mean, it's not every day you wake up in a beautiful house with Chris Harrison knocking at your door. But I will admit, I was so relieved to see him. There was a lot to process, and having him there to help talk me through it was much needed.

I couldn't believe that in just one night connections had already begun to develop. And there I sat, lucky enough to be the Bachelorette and eagerly awaiting my first week of dates. In the back of my mind, I had to wonder, Which of these guys voted for Britt and who voted for me? And how was Britt doing? But I couldn't allow those thoughts to take over. I had a great group of guys ready to kick these dates off with, and that's where my focus needed to be.
As any fan of The Bachelorette knows, over-the-top gowns and jewels are part of the package.

But for newly minted Bachelorette Kaitlyn Bristowe, all that glam took some getting used to.

"I wear combat boots and backwards hats and baseball tees," says the 29-year-old former dance instructor. "So it was so weird. I felt guilty putting the dresses on because I'm too much of a skid for this!"
The Bachelorette is back!

Tuesday night's episode revealed that Kaitlyn Bristowe is the reigning bachelorette for season 11 – a decision that was made with it's fair share of drama and cringe-inducing introductions. After all, this ABC classic wouldn't be what it is without some horrendously awkward moments while on the quest for love.

Let us remind you ...
The Bachelorette