The Bachelorette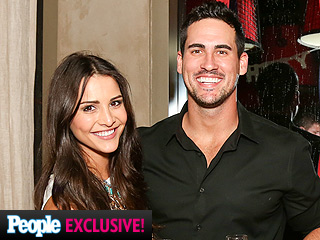 Credit: Sara Hanna Photography
Make a wish!


So this is what things really look like after the final rose.

In honor of Throwback Thursday, former Bachelorette Andi Dorfman shared a snapshot of her cuddling with fiancé Josh Murray the day after the two were engaged on the show's finale.
Former Bachelorette Desiree Hartsock is one step closer to being a blushing bride.


Celebrities spent the weekend partying, vacationing and declaring their love around the world. From Spain to Miami and Massachusetts, these A-listers are having one fun summer. Here's the news you might have missed:


First impressions are everything, they say.


After an emotional season that included dramatic goodbyes and even the unexpected passing of one of her 25 suitors, The Bachelorette's Andi Dorfman is giddily engaged and planning for a lifetime of happiness with her new fiancé, Josh Murray.

"It has definitely been a season of ups and downs, but just knowing that it's Josh and I in the end makes it all worth it," Dorfman, 27, tells PEOPLE exclusively.

For now, the couple – who are both from Atlanta – are just "enjoying being engaged" and plan to move in together later this year.
Nikki Ferrell was quite pleased with last season's Bachelor finale. But last night's Bachelorette finale was a whole different story.

Ferrell, who was chosen by Juan Pablo Galavis at the end of The Bachelor's 18th season, blasted ABC producers Tuesday night on Twitter while watching the culmination of The Bachelorette – seemingly in reference, fans say, to Nick Viall's revelation that he'd slept with Andi Dorfman – and suggesting that producers pushed him to admit it.
America has to wait a little longer to find out who the next Bachelor will be, but fan favorite Chris Soules may have dropped a big hint during Monday night's finale of The Bachelorette.

The sweet farmer from Iowa attended the taping of After the Final Rose, and though it was announced a new bachelor wouldn't be revealed, Soules – who was let go by Andi Dorfman two weeks ago – turned bright red and laughed nervously when the discussion launched.

Fans would certainly be happy if he's indeed snagged the spot. The soft-spoken contestant won over hearts when he was revealed as Dorfman's secret admirer throughout the season and further stepped up the romance game by telling her he was in love by hiring a plane to fly over his hometown date.
When Andi Dorfman signed up to be The Bachelorette this season, she was hoping to find her "great love" among a field of 25 potential suitors.
The Bachelorette
Get PEOPLE Everywhere
Advertisement