The Biggest Loser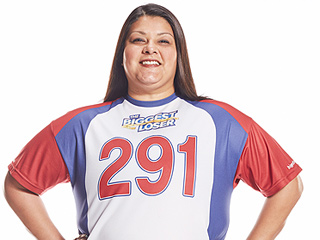 Credit: Trae Patton/NBC
Weighing in at 291 lbs., Jackie Pearson wasn't the person or mother she wanted to be.

"I just felt like I was existing in the world. I was existing and hiding," the 36-year-old mom of two tells PEOPLE. "My husband was the one who took my daughter to birthday parties and to play dates. I stayed in the house."

But now that Pearson has become a contestant on season 16 of The Biggest Loser, she has lost 83 lbs. and started living the life she's always wanted.
No one knows how to make an entrance like a Biggest Loser contestant.

Over the past 15 seasons, contestants on the NBC reality weight-loss competition have provided some amazing and shocking moments for the live finale. And, in honor of the show's 10 years on the air, PEOPLE has a video compilation of 10 of the most inspirational Biggest Loser success stories all in one place.
As a wife and mother of two, Gina Haddon always put herself last.


She was loved, she was loathed, but Sami Brady was never ignored.

And Thursday, her final day in the fictional town of Salem, was no exception. As Sami left for Hollywood, Alison Sweeney, who played the character for 21 years, posted an emotional farewell to her fans on Facebook.

"We've been through a lot together, haven't we?" she wrote. "It was quite literally a dream come true for me … I'm proud of who I've become as a result of my 21 years in Salem."
After burying his son, Mike Murburg ballooned to almost 400 lbs. – but he also credits his son for saving his life and setting him down the path to healthier living.

"It really didn't get to me until I was about five minutes away from The National Cemetery," the Biggest Loser contestant tells PEOPLE of realizing the role his son played in his weight-loss journey. "Then it occurred to me that by making me promise him that I would [get healthy], he saved my life."
For 10 years, celebrity trainer Jillian Michaels scored a huge following for thundering down tough love while motivating contestants on The Biggest Loser.

But after announcing in June that she was leaving the show – yet again – many wondered whether the fitness pro would eventually muscle her way back to prime time.

Could a solo reality show be tipping the scales?
Chandra Maple was once an all-star athlete, but after a career-ending injury she felt broken both inside and out.

"Growing up, I was always the star on the basketball team, so when I had my knee injury and that was taken away from me, I kind of lost that," Maple tells PEOPLE of ending her sports career when she was just 15. "I didn't know what it was like to succeed anymore."

At 341 lbs., Maple knew it was time to take control of her life and applied to become a contestant on season 16 of The Biggest Loser.
When Emmy Lou Munoz left The Biggest Loser ranch, she knew her biggest hurdles wouldn't be her diet and exercise, it would be her family.

"I knew talking to my mom was going to be essential. She is a big part of my life," Munoz, 32, tells PEOPLE of her mother, who she believes unknowingly instilled poor dietary habits on her as a child. "But when I got home, she was extremely ready to help me in any way possible."
At 244 lbs., Andrea Wilamowski wasn't happy.

"I never realized how sad I looked," The Biggest Loser contestant tells PEOPLE of watching herself on the 16th season of the NBC reality weight-loss competition.

Wilamowski, 43, says she first started gaining weight in her early 20s while coping with an abusive marriage. Despite being happily remarried, she feels she spent her whole life focusing on other people rather than herself.
Before Vanessa Hayden went to the Biggest Loser ranch, she wasn't even planning on walking down the aisle.

But now the former WNBA player is ready to show off her new body for all her loved ones to see.

"Initially, I thought we would just have something at the courthouse," Hayden, 32, tells PEOPLE of her plans with her fiancé. "But now I want to invite all my family and friends."

Although Hayden – who is 6'4" and arrived at the ranch weighing 366 lbs. – was sent home from the NBC reality weight loss competition after just two weeks, the former Los Angeles Sparks player has now lost more than 45 lbs. and has altered her wedding day attire accordingly.
The Biggest Loser