The Biggest Loser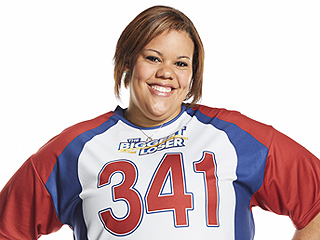 Credit: Trae Patton/NBC
Chandra Maple was once an all-star athlete, but after a career-ending injury she felt broken both inside and out.

"Growing up, I was always the star on the basketball team, so when I had my knee injury and that was taken away from me, I kind of lost that," Maple tells PEOPLE of ending her sports career when she was just 15. "I didn't know what it was like to succeed anymore."

At 341 lbs., Maple knew it was time to take control of her life and applied to become a contestant on season 16 of The Biggest Loser.
When Emmy Lou Munoz left The Biggest Loser ranch, she knew her biggest hurdles wouldn't be her diet and exercise, it would be her family.

"I knew talking to my mom was going to be essential. She is a big part of my life," Munoz, 32, tells PEOPLE of her mother, who she believes unknowingly instilled poor dietary habits on her as a child. "But when I got home, she was extremely ready to help me in any way possible."
At 244 lbs., Andrea Wilamowski wasn't happy.

"I never realized how sad I looked," The Biggest Loser contestant tells PEOPLE of watching herself on the 16th season of the NBC reality weight-loss competition.

Wilamowski, 43, says she first started gaining weight in her early 20s while coping with an abusive marriage. Despite being happily remarried, she feels she spent her whole life focusing on other people rather than herself.
Before Vanessa Hayden went to the Biggest Loser ranch, she wasn't even planning on walking down the aisle.

But now the former WNBA player is ready to show off her new body for all her loved ones to see.

"Initially, I thought we would just have something at the courthouse," Hayden, 32, tells PEOPLE of her plans with her fiancé. "But now I want to invite all my family and friends."

Although Hayden – who is 6'4" and arrived at the ranch weighing 366 lbs. – was sent home from the NBC reality weight loss competition after just two weeks, the former Los Angeles Sparks player has now lost more than 45 lbs. and has altered her wedding day attire accordingly.
Tennis superstar Zina Garrison is used to being in charge.


Make sure there's a box of tissues handy!


"Don't let fear take over!"

Those motivational words come courtesy of Jennifer Widerstrom, who, along with Jessie Pavelka, will replace Jillian Michaels for season 16 of The Biggest Loser.

Along with veterans Dolvett Quince and Bob Harper, the trainers will focus this season on 20 former athletes, including NFL players and Olympic gold medalists who have let the pounds pile up since their proverbial glory days.
The last season of The Biggest Loser may have ended with a controversy, but now a new crop of contestants are getting their chance to lose weight on the NBC reality show – and the season 16 cast includes some familiar faces!

"When I told my wife and kids, 'Hey, Biggest Loser wants me to come on,' my kids were like, 'Dad are you serious? You totally got to do this,' " former New York Jets offensive lineman Damien Woody, 36, tells PEOPLE. "I'd never watched The Biggest Loser before but my wife was like, 'Listen, go handle your business. I'd rather lose you for a few months than something happen down the road.' So here I am."
The Biggest Loser