The Biggest Loser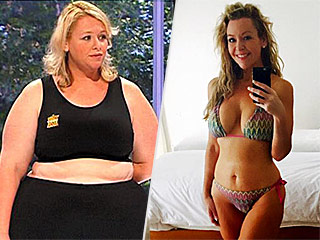 Credit: Courtesy Alison Braun
A former The Biggest Loser Australia contestant did something she never thought she would – she posted a bikini selfie to social media.


It's so hard to say goodbye.

Following last month's announcement that she was leaving The Biggest Loser after hosting the weight loss game show for eight years, Alison Sweeney admits she got a little emotional.

"Just thinking about the response I've gotten from fans and former contestants makes me tear up," Sweeney tells PEOPLE exclusively in this week's issue. "It's been an amazing run. I'm so proud."
Though there have been rumors of an all-celebrity version of The Biggest Loser for years, the show's on-camera medical consultant, Dr. Robert Huzienga, says a couple familiar faces will definitely be popping up on the weight-loss show's upcoming 17th season.

"We have two celebrity additions," Huzienga (known on the show as "Dr. H") told PEOPLE exclusively at The Brent Shapiro Foundation Summer Spectacular in Beverly Hills on Saturday. "I'll probably get chastised by NBC publicity, but we have two nugget surprises in there."

Filming began last week, but Huzienga, who is also an associate professor of clinical medicine at the University of California, Los Angeles, can't reveal the identity of these celebrities. However, he promised the stars are just as in it to win it as everyone else.
Bob Harper is about to tackle The Biggest Loser from a whole new perspective.

"I'm super excited about taking the position of host on The Biggest Loser," Harper, 50, tells PEOPLE exclusively.

Harper, who has been with the NBC reality weight-loss competition since it debuted in 2004, is making the move from trainer to host after it was announced longtime host Alison Sweeney would not be returning for season 17.
The Biggest Loser is normally about losing weight, but now the show has lost a host.

"After an incredible run together, Alison Sweeney will not be returning as host of The Biggest Loser next season," the show's producers tell PEOPLE in a statement.
Ali Vincent is off the market!

The first female winner of The Biggest Loser married her girlfriend, Jennifer Krusing, on Tuesday and shared the happy memories on her Facebook page.

"Life doesn't get better than this," she captioned a photo of herself hoisting her bouquet in the air, all smiles as she holds hands with her new wife.

Vincent, 40, wore a lace, tea-length gown for the ceremony, showing off the still-svelte figure she worked so hard to attain seven years ago in season 5 of the reality weight-loss competition, shedding 112 lbs. to earn the grand prize of $250,000.
After leaving her 21-year gig on Days of Our Livesto spend more time with her family, The Biggest Loser host Alison Sweeney has had more time than ever to spend with kids Ben and Megan.

During an event to promote Sleep Number's Better Sleep Month on April 27, Sweeney, 38, talked to PEOPLE about the crucial health lessons she hopes to pass on to her children and how she is preparing to return to Salem for Days's 50th anniversary later this year.
After months of sweat, tears and exhausting workouts, a new Biggest Loser has been declared.

The Biggest Loser: Glory Days host Alison Sweeney began Thursday's live finale with three very different contestants in contention for taking home the $250,000 prize, but only one could be victorious in the end.

Toma Dobrosavljevic, a 33-year-old senior project manager from Addison, Illinois, faced off against Sonya Jones, a 39-year-old physical education teacher from Springfield, Illinois, and Rob Guiry, a 26-year-old rugby coach from Springfield, Massachusetts.

So who emerged victorious?
The Biggest Loser