The Biggest Loser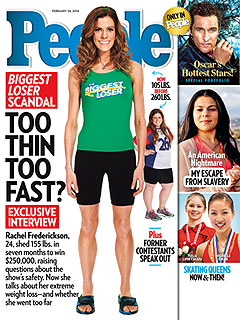 When Rachel Frederickson revealed her new, size 0-2 figure on the Feb. 4 finale of NBC's The Biggest Loser, she thought she would wow friends, family and viewers – and maybe win the title of Biggest Loser.

She did win, but the 24-year-old voice actress also ignited a firestorm of controversy about her dramatically slimmed-down figure, down to 105 lbs. from her starting weight of 260 lbs. (At 5'4", her height-weight ratio puts her BMI at 18, below the threshold doctors consider normal.)

Sitting down with PEOPLE in Los Angeles, just days after she made headlines for her striking transformation, Frederickson says she maintained a 1,600-calorie daily diet, working out six hours a day in the three months before the finale.
In the wake of The Biggest Loser's controversial finale last Tuesday, on which winner Rachel Frederickson revealed she had lost a whopping 155 lbs. – including 45 lbs. in the past three months alone – questions have been raised about the NBC show's approach to weight loss.

PEOPLE asked experts in health, fitness and public relations to weigh in on how The Biggest Loser can be improved for future contestants.
As the public continues to debate whether The Biggest Loser winner Rachel Frederickson had gone too far by dropping from 260 to 105 lbs., past winners of the NBC reality weight-loss competition shared their thoughts on the shocking reveal with PEOPLE.

"She did what she had to do," says season 10 winner Patrick House, who once tipped the scales at 424 lbs. and currently weighs 220.

"Rachel's transformation was like any Biggest Loser contestant," says the 6'2" House. "She had to do the best that she possibly could, and at the end of the day, there's a carrot dangling that's a quarter of a million dollars up for grabs."
The Biggest Loser trainer Bob Harper admits he was shocked when he saw Rachel Frederickson walk out during Tuesday's finale and show off her exceedingly thin frame.

"I was stunned. That would be the word. I mean, we've never had a contestant come in at 105 lbs.," Harper says in an interview airing next Thursday on the Rachael Ray Show.

Frederickson, 24, started the show at 260 lbs. When she left as a finalist three months ago to work on losing weight at home, she weighed 150 lbs., and later lost 45 more.
When Rachel Frederickson left The Biggest Loser Ranch three months ago, she had the same goal shared by all of the show's contestants: to continue shedding weight.

But after returning to the show 45 lbs. lighter than she left it – for a total weight loss of 155 lbs. – the spotlight is now focused on whether Frederickson, 24, may have resorted to extreme measures to lose the additional weight in advance of the show's Tuesday finale.

Currently a size 0/2 and 105 lbs., Frederickson herself briefly addressed the controversy in a conference call on Wednesday.
The Biggest Loser winner Rachel Frederickson's dramatic weight loss swiftly fired up concern over her health and well-being, and whether her 155-lb. plunge may have gone too far.

Now, the man who was instrumental in helping her shed her weight – trainer Dolvett Quince – is weighing in on the controversy.

"Last night's Biggest Loser Finale has sparked a huge reaction and I do not want the day to end without addressing it," Quince wrote in a Facebook message posted Wednesday night.
At The Biggest Loser finale, Rachel Frederickson stood proudly on the scale to show off her 155 lb.-weight loss.

But rather than be a cause for celebration, Frederickson, 24, and her transformation has sparked concern that the 5'4" contestant may have taken her weight loss too far.

Frederickson started the show at 260 lbs. and, as a finalist, left the ranch weighing 150 lbs. to work on losing weight at home on her own. By the finale about three months later she had shed another 45 lbs. and weighed in at 105 lbs. to a size 0/2.

"I just love myself and I am embracing it," Frederickson told PEOPLE on Tuesday night, seemingly unaware of the concern over her appearance.
Alison Sweeney is the host of NBC's The Biggest Loser, the award-winning star of Days of Our Lives, and author of The Star Attraction and The Mommy Diet. She's also a director, producer, wife and mom. Like she has for the past three seasons, Alison will blog each week about the latest episode of The Biggest Loser. Follow her on Twitter: @Ali_Sweeney.

What an incredible night! I am so proud and thrilled for all The Biggest Loser contestants – and their families!

I tell the contestants during rehearsals that this is just a big party, a celebration for what they've all accomplished, and it's true. The wave of love coming toward the stage from the wonderful audience of family, friends and fans just blows me away every season. So whether you were cheering at home or in the theater, thank you! And your support was felt by all on stage.
On The Biggest Loser, when you lose, you win. You win big.

With a $250,000 prize at stake, three very different contestants stepped up to the scale on Tuesday night's finale to see if they had lost what it would take to win the grand prize and the title of The Biggest Loser.

In a season that celebrated second chances, finalist Bobby Saleem, 28, epitomized the theme of the 15th edition of the NBC weight-loss competition. Saleem – whose struggles with his sexuality inspired his trainer Bob Harper to make his own public declaration – had been eliminated in week nine, but the attorney from Chicago earned a spot in the top eight as the biggest at-home loser of all the eliminated contestants up to that point in the season. This pool of contestants included American Idol's Ruben Studdard, who had already returned once earlier in the season amid controversy.
The Biggest Loser
Get PEOPLE Everywhere
Advertisement