The City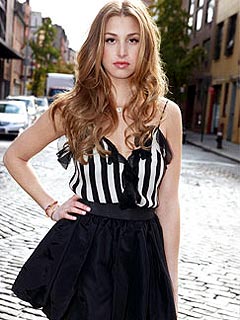 Credit: courtesy MTV
First The Hills ended, and now The City.

The MTV reality show, which followed California Girl Whitney Port as she broke into world of New York's fashion industry, won't be back for a third season, its star confirms.

"It's always sad when one major chapter in your life comes to a close, but for me, this is the beginning of an entirely new one," Whitney wrote on her official blog. "I loved filming The City. It was just such an adventure and I'm so grateful for every opportunity it gave me."

The show, which was a spin-off of The Hills (itself a spin-off of Laguna Beach), also starred Olivia Palermo as Whitney's fashionable nemesis, Roxy Olin as a friend and roommate and People's Revolution's Kelly Cutrone as her no-nonsense mentor in the fashion PR world, among others.
With the end of The Hills, it looks like Whitney Port is stepping up the drama on The City!

First, she and Roxy had a fight over a celebrity styling session. Then, Roxy moved out. And now, it looks like Whitney might be biting the hand that feeds her. In a clip from the season finale, which airs tonight (10:30 p.m. EST) on MTV, Whitney has to answer to mentor Kelly Cutrone after meeting with competing agency Alison Brod Public Relations.

"She is saying that you've left People's Revolution and that you're joining her firm. I've already talked to three like, 'Did Whitney fire Kelly?' " Cutrone tells her. "I don't know how this can go from me helping you to me getting fired."

"The last thing that I want is to upset you or to hurt you or your company," Whitney says in response.
After their
backstage fight
,
Whitney Port
is surprised to come home and see
Roxy Olin
packed and ready to leave her apartment on Tuesday's episode of
The City
.
"I had no idea you were leaving so soon," Whitney says.
"I just thought, 'Why not like rip it off like a Band-Aid and just get it over with?' " Roxy says in reply. "I can't really take the tension here ... I'm going to stay with a friend for now."
Any designer would strive to dress the next big artist, so when
Whitney Port
has the chance to work with an up-and-coming musician on
The City
she gets some help from
pal
Roxy Olin
to style the look.
Kelly Cutrone is doing what she does best by giving protégé Whitney Port some frank advice on her fashion line.


In an upcoming episode of
The City
,
budding fashion designer
Whitney Port
has to hear some harsh criticism from someone who really matters – and it's not
Elle.com
's
Olivia Palermo
. In fact, it's
Elle
editors
Joe Zee
and
Anne Slowey
.
After
her show at Fashion Week
,
Whitney Port
gets to work on marketing her line with the help of
Kelly Cutrone
, who delivers some good news in a clip from Tuesday's episode of
The City
.
The City