Grey's Anatomy
Finally, change we can believe in.


A day after breaking their hearts, Patrick Dempsey thanked Grey's Anatomy fans for their support for more than a decade.

"I want to thank all the fans, what an incredible 11 yrs, I love you all," Dempsey, 49, Tweeted on Friday.

In a shocking twist, his character Dr. Derek Shepherd got killed off in this week's episode, struck by a truck just after saving strangers from an earlier car wreck.
Patrick Dempsey played an integral role in the success of Grey's Anatomy, yet the only thing more stunning than his surprise death Thursday was the way he went out: with absolutely little to no fanfare or statements from fellow cast members.

Dempsey told Entertainment Weekly in an exclusive interview that his final day on the drama's Los Angeles set was "very quiet. It was raining, which was really touching." None of his costars came to the set to say goodbye before he walked alone to his car and drove home.

While he said that he's leaving the show on good terms with his fellow actors, star Ellen Pompeo (Meredith Grey) and Grey's other longtime stars like Justin Chambers (Alex Karev) were not available to comment to EW about Dempsey's departure.
Let's go back to a happier time, a time before Grey's Anatomy aired on Thursday night.

You with us? Okay.
On Grey's Anatomy, it's usually "a beautiful day to save lives" – sadly, for one major character, however, Thursday night wasn't one of them.

Dr. Derek "McDreamy" Shepherd (Patrick Dempsey), one of the ABC drama's original cast members, said goodbye during the emotional episode, titled "How to Save a Life," after the show's soundtrack mainstay by The Fray.

After heroically saving the lives of a family during a car accident, McDreamy is then T-boned by a truck as he's driving away from the scene. Derek narrates the attempts to save his life, highlighting the mistakes made by his ill-prepared surgeons, before finally being declared brain dead. His wife, Dr. Meredith Grey (Ellen Pompeo) tearfully pulls the plug.
World-renowned brain surgeon Derek Shepherd has died.

The talented doctor, whose car was broadsided after he helped to rescue victims of another accident, died Thursday shortly after doctors failed to properly diagnose the extent of his injuries.
Meredith was left reeling in last week's episode of Grey's Anatomy when plane crash victims were rushed into Grey Sloan Memorial, reminding her of the loss of Mark and Lexie. Further heightening her anxiety was the fact that Derek was a no-show to his meeting in D.C., causing her to worry about his safety.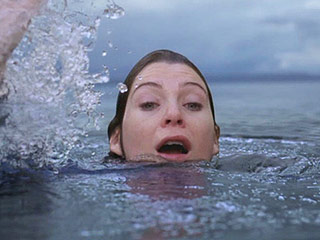 Sure, the doctors on Grey's Anatomy are all touted as the best in their fields. So when they're faced with the umpteenth catastrophe to hit Seattle (a ferry crash! a shooting! an earthquake!), it begs the question: Why don't they all make like Addison and head south for sunny Los Angeles?

But, for better or for worse, over the past ten years, the surgeons at Grey Sloan Memorial Hospital (once known as Seattle Grace Mercy West and before that, simply Seattle Grace) have stuck around through an endless series of disasters.

Here are just a few of the most traumatic incidents Meredith Grey and company have have been put through over the last decade:

The Train Crash
In the Grey's Anatomy version of Seattle, the city has a bit of crash problem, no matter the vehicle. The train crash in season 2 was particularly gruesome. A number of casualties come pouring through Seattle Grace's doors, but the most memorable was Bonnie and Tom, two strangers with a pole struck through their middles. As Bonnie's injuries were more severe than Tom's, she died shortly after after the doctors removed the pole.
Grey's Anatomy
Get PEOPLE Everywhere
Advertisement