Grey's Anatomy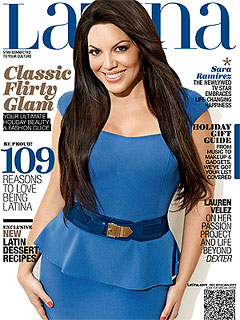 Credit: Courtesy Latina
Sara Ramirez has a lot to smile about these days.

"I have a very romantic outlook on life right now. I'm really happy and I'm focusing on the light and the love all around," the newlywed Grey's Anatomy star tells Latina in its December/January issue.

Ramirez, 37, tied the knot in a beachfront ceremony on Independence Day this year with business analyst Ryan Debolt.

"We had a very intimate ceremony with friends and family and there was so much love in that space, I can't even tell you," the actress says, reflecting on her special day.
The doctor is in ... love.

Grey's Anatomy hunk Jesse Williams, who plays brash surgeon Jackson Avery on the hit ABC drama, tied the knot with his longtime girlfriend, real estate broker Aryn Drake-Lee, in Los Angeles on Saturday, a source confirms to PEOPLE.

The couple exchanged vows in a romantic, elegant, evening ceremony in front of close family and friends.

"Jesse was beaming with joy throughout the entire ceremony," said a guest at the wedding. "It was the perfect night with lots of smiling, laughing and emotion. You could feel the love they have for each other. They're madly in love!"
Eric Dane is hanging up his scrubs.

The actor announced Thursday that he will not be returning to ABC's Grey's Anatomy, telling TVLine in a statement, "I am extremely grateful to everyone at Grey's, ABC and Shondaland for the experience and memories I have had over the course of this run. It has been wonderful to work alongside and learn from a creative force such as Shonda Rhimes."

The actor, who plays Dr. Mark Sloan (aka "McSteamy") on the drama, did not come to the decision to leave the show lightly, says show creator Rhimes.
The Avengers, move over.

Patrick Dempsey played a real-life action hero last week, when, using a crowbar, a fire extinguisher and quick timing, the Grey's Anatomy star pulled a teenage boy to safety after his car flipped over near Dempsey's Malibu, Calif., home.

"I was scared for my life. I was upside down," driver Weston Masset, 17, told ABC News after he lost control of his Mustang, which rolled over three times, trapping and leaving him barely conscious. (Watch the interview here.)

After rescuing Masset, Dempsey, a father himself, called paramedics and stayed by the teen's side along with his wife Jillian and three neighbors as Masset was airlifted to the hospital. He was treated for a concussion and an eye injury and is expected to make a full recovery.
Fans may love Patrick Dempsey best as Dr. Derek Shepherd on Grey's Anatomy but the actor says he's got another passion to pursue before he'll commit to another season on the show.

"The biggest point for me in negotiations is getting time off to come race, so if I don't miss races, I'll probably stay on Grey's Anatomy, Dempsey told reporters Sunday at the Daytona International Speedway where he was testing his car for an upcoming race.

Last year, Dempsey (who turns 46 on Friday) said the next season of the show would be his last, but his publicist downplayed those comments, saying that the actor was referring to his contract being up.

Now, it seems, he may have more life on Grey's after all.
Eric Dane isn't the only Grey's Anatomy star expanding his family.

Less than a month after news broke that Dane's wife Rebecca Gayheart is expecting again, Dr. McSteamy's costar Sarah Drew – who plays Dr. April Kepner on ABC's hit show – is announcing a pregnancy of her own.

The actress, 30, is due in January, her rep tells PEOPLE exclusively. This will be the first child for Drew and husband Peter Lanfer.
– Dahvi Shira
Grey's Anatomy star Eric Dane recently entered a rehab clinic in Los Angeles to battle an addiction to painkillers.

"Actor Eric Dane voluntarily checked himself into a treatment facility to help him get off of pain medication that he was prescribed for a sports injury that he suffered over the recent hiatus. He reports back to work this week. Business as usual," his rep says in a statement.

The news comes just a few weeks after PEOPLE confirmed that Dane, 38, and his wife Rebecca Gayheart, 39, are expecting their second child. Daughter Billie is 16 months old.
Sara Ramirez can start putting her acting skills to good use.

Fresh off the heels of a small screen Grey's Anatomy wedding, the actress – who plays Callie Torres on the hit show – will prepare to walk down the aisle in real life.

"Sara Ramirez and her longtime partner, Ryan Debolt, are thrilled to announce their engagement which took place in Paris, France, on June 17th, 2011," her rep tells PEOPLE in a statement.

This will be the first marriage for Ramirez, 35.
– Dahvi Shira
Farewell McDreamy?

Patrick Dempsey had his fans' hearts pounding when he hinted to Italian Vogue that he won't be returning to Grey's Anatomy after next year, the show's eighth season.

"It will be my last," Dempsey said. "I do not know what's going to happen to the other characters but for me it's done."
Will Patrick Dempsey hang up his scrubs and quit Grey's Anatomy after one more season?

It would seem so, judging by a recent interview he gave to the Italian edition of Vanity Fair, in which the actor, 45, suggested he will leave ABC's hit medical drama.

"It will be my last," he said. "I don't know what will happen with the other characters, but for me, it's done." He adds that the decision is "bittersweet because it's been a great part of my life. But I can't see me doing it anymore."
Grey's Anatomy
Get PEOPLE Everywhere
Advertisement