Gossip Girl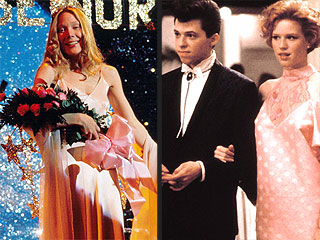 Credit: Moviestore Collection/REX USA; Paramount/Everett
The myth. The legend. The prom.


Kelly Rutherford's attempt to regain custody of her two kids has failed.

A judge has ruled that though Rutherford and her ex-husband, Daniel Giersch, technically have joint custody, their children – son Hermes, 7, and daughter, Helena, 4½ – will continue to reside in Monaco, where he lives, according to court papers obtained by PEOPLE.

The former Gossip Girl star, 45, plans to appeal the judge's decision.

"It strikes me as outrageous and unconstitutional that children can be effectively deported in order to accommodate their exiled father without knowing why he can't come back in and he has not been required to make any efforts to try to get back to the U.S. by the U.S. courts," she tells PEOPLE.
Kelly Rutherford has filed for bankruptcy.

The Gossip Girl actress's financial problems stem from the lengthy custody dispute involving her ex-husband Daniel Giersch, TMZ reports.

The bankruptcy petition, according to legal documents obtained, shows that Rutherford, 44, spent almost $1.5 million on legal fees as the divorce/custody battle played out in court, adding that she also owes $350,000 in income taxes for 2012 and has an American Express bill of $25,251.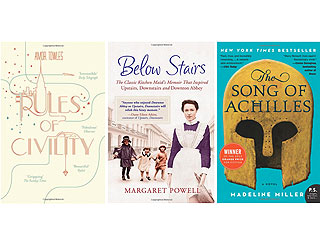 Reading is like clothes shopping: when you do it with friends, sometimes that thing you just know isn't your style turns out to be a perfect fit. Below, our comfort-zone expanding book club picks. Tell us what you think – and let us know what you're reading.


New couple Leighton Meester and Adam Brody stepped out for an early dinner in Venice, Calif., on Thursday evening.

Just after 6 p.m., Brody – who wore a red sweatshirt – and Meester – who dressed in an oversized cardigan – met up with a pal at La Fiesta Brava, a local Mexican restaurant.

An onlooker tells PEOPLE that both Brody and Meester ordered enchiladas while chatting about film with their friend. "She sipped on a Mexican coke and sat back smiling and listening to the boys," the source adds.
Did you figure it out?

The series finale of Gossip Girl, which aired Monday on the CW, had it all: two weddings (Blair marries Chuck; Serena marries Dan), two stunning wedding gowns (powder blue, beaded Elie Saab Couture on B, and a gold and white strapless Georges Chakra Couture on S), cameo appearances by New York City Mayor Michael Bloomberg, Rachel Bilson and Kristen Bell (as themselves, reading the roles of Blair and Serena from a script written by Dan), the return of Jenny Humphrey (briefly!) and the reveal of Gossip Girl's identity. And it's not Dorota.

The person behind the mysterious blog that has kept tabs on the Upper East Side's elite was not a girl at all – it was Brooklyn's very own Dan Humphrey (Penn Badgley).
The Twilight Saga might be coming to a close, but Robert Pattinson's career continues to make headlines.

Deadline confirmed that Pattinson will star opposite Carey Mulligan in Hold On To Me, the inspired-by-true-events story of a kidnapping gone wrong directed by James Marsh (who won Oscars for his films Man On Wire and Project Nim). The steamy crime drama follows a couple who kidnap the richest man in town for ransom and bury him.

Glee and Gossip Girl also announced a slew of cameos, while Aaron Paul secured a very different film role for the Breaking Bad star.

Keep up with who has been cast below:
Permalink | Filed Under: Glee, Gossip Girl, Movie News, TV News, Aaron Paul, Bette Midler, Carey Mulligan, Cory Monteith, Katie Cassidy, Kristen Wiig, Lea Michele, Nick Nolte, Robert Pattinson, Taylor Momsen
Art imitates life!

Blake Lively's been photographed in a wedding dress … but it's not the Marchesa gown she wore to wed Ryan Reynolds during their super secret ceremony last month.

The newlywed, 25, was snapped donning a gold and cream Georges Chakra Couture strapless gown on the set of Gossip Girl on Tuesday, as she stood opposite costar Penn Badgley.

Lively's real life wedding dress will be revealed in a photo package in the December issue of Martha Stewart Weddings, as the event planning powerhouse herself was behind the affair.
Blake Lively was back to work Monday – but her return to the Gossip Girl set wasn't all business.

The newlywed, 25, received many words of congratulations on her marriage to Ryan Reynolds, and was even toasted to, according to a set source, who says that while filming a scene, the cast raised a glass to Lively with faux Champagne – which was actually ginger ale.

One of the show's producers also wished her well. "[The producer] said, 'Someone got hitched!! Mazel tov!'" the source tells PEOPLE. "Blake said, 'I know, I heard,' and then laughed and said, 'Thank you so much!' "
Spotted: Newlywed Blake Lively getting back to work.

The actress returned to the New York City set of Gossip Girl on Monday – and was photographed talking on the phone in a jacket that appears to be hiding some seriously stylish Serena van der Woodsen duds.

Lively, 25, and Ryan Reynolds, 35, tied the knot Sept. 9 in a secret ceremony near Charleston, S.C., where they were spotted days later shopping and smiling by locals.
Gossip Girl
Get PEOPLE Everywhere
Advertisement