Gossip Girl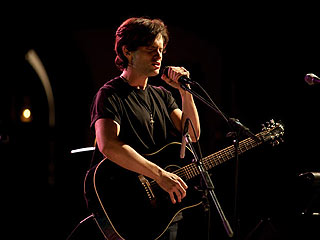 Credit: Smuggler Films
For the past few years, he's played brainy Dan Humphrey on the CW series Gossip Girl, but now, Penn Badgley is ready to take on more serious roles – and be a part-time musician.

In his new film, Greetings from Tim Buckley, Badgley, 25, plays (and sings as) late singer Jeff Buckley.

"For the first time I can say that I'm incredibly excited to be an actor and have done something creative that I'm proud of," Badgley tells PEOPLE from the Toronto International Film Festival. "I really want to focus on is the fact that this is a movie where I'm acting."
Penn Badgley is in Toronto promoting his new film Greetings from Tim Buckley, but the news of his ex Blake Lively unexpectedly tying the knot with Ryan Reynolds in South Carolina traveled fast.

"I actually didn't know until last night, but I think it's fantastic," Badgley, who still costars on the CW show with Lively, tells PEOPLE. "I couldn't be happier for her."

Badgley and Lively, both 25, became a couple during filming of their CW show Gossip Girl, and broke up in 2010. (He's now dating Zoe Kravitz.) Still, he thinks that the newlyweds are "pretty spot-on."
Locked in an international custody battle since she and Europe-based ex-husband Daniel Giersch divorced in 2009, Kelly Rutherford refuses to give up the fight – even after a judge on Tuesday ruled that the Gossip Girl actress's schedule is flexible enough to allow her to travel back and forth to Monaco to visit her two children.

"I will never stop fighting for my children. They're my babies and they're very young and this is going to affect them profoundly and I want to be there as much as I can to show them that this isn't my fault, this isn't something I wanted, and that's my concerns," Rutherford, 43, said on Saturday's edition of ABC's Good Morning America.

In court on Friday, Rutherford's request for her kids – Hermes, 5, and Helena, 3 – to be brought back to her in New York while she appealed Tuesday's legal decision was denied.
Over the course of 100 episodes of Gossip Girl, Penn Badgley has had his share of encounters with fans. But none were quite as intense as his first.

The cast was shooting at New York's Metropolitan Museum of Art a few days after the show's premiere, Badgley, 25, told PEOPLE at the CW show's 100th episode party. He wasn't shooting, but his costars were texting him to come down, as the set was being besieged by fans.

"I tried to come down and wasn't able to get to the Met because probably, like, 40 or 50 Catholic schoolgirls all swarmed me and pinned me up against a chain-link fence," Badgley says.
Leighton Meester hosted a party in the Big Apple for Music Unites and Roger Vivier's new fall-winter collection. The Gossip Girl star was an a "delightful mood," an onlooker says, as she snapped pictures with partygoers. "She was a fantastic hostess." Alexandra Richards deejayed the bash and guests sipped champagne and nibbled on beef tartar, caviar and glitter-coated macaroons. – Jessica Wedemeyer
She won't be taking on Wonder Woman, but Elizabeth Hurley will still soon have some tough – not to mention fashionable – competition.

The actress, who was to play the super-vixen's rival Veronica Cale in the failed Wonder Woman reboot on NBC, has a new television gig on Gossip Girl.

Hurley, 46, will tackle the Upper East Side and its flashiest residents in the upcoming fifth season – which premieres Sept. 26 – for a multi-episode story arc, reports TVLine.
There's going to be a shakeup on the Upper East Side!

Although Gossip Girl has been renewed for a fifth season, not all its fashionable characters will be back: Taylor Momsen, who plays Jenny Humphrey, and Jessica Szohr, who plays Vanessa Abrams, will not return as series regulars, PEOPLE can confirm.

The news may not come as a total shocker – Momsen, 17, hasn't appeared on many recent episodes, and in season 4 the character played by Szohr, 26, left town.

Still, both stars may make guest appearances in season 5 – and Momsen fans can check her out when she performs with her rock band, The Pretty Reckless.


Has Blair finally met her Prince Charming?

Last we saw Blair (Leighton Meester) and Dan (Penn Badgley), they were sharing their first kiss. But in an exclusive first look at a new Gossip Girl promo for upcoming episodes, B finds herself caught in a love rectangle with Dan, Chuck (Ed Westwick) and Prince Grimaldi.



"It was truly a life changing experience," Blair says of her smooch in the clip. "That one kiss changed me."


Florence + the Machine is in demand.

The Grammy Awards nominee for best new artist has been asked to perform at Elton John's annual AIDS Foundation Academy Awards gala on Feb. 27 in West Hollywood. But before that happens, she's performing at a Fashion Week kick-off party on Gossip Girl.

According to a show source, Florence Welch (a.k.a Florence + the Machine) is friends with Blake Lively, who stars as Serena on the show. "Blake suggested to the [Gossip Girl] producers that they use Florence + the Machine music on the show, which they did last season several times," the source says. "And now [she has] the cameo this season."
Taylor Momsen suffered another onstage setback last week – only, this time, it was not of the nipple variety.

While performing in Glasgow with her band, The Pretty Reckless, the provocative performer, 17, excitedly told the audience they were "the craziest crowd in the whole of England." Only one problem: Glasgow is in Scotland.

Local student Paul Krane, 26, says the mistake was ill received, telling the Daily Record newspaper, "People began to cheer as they presumed she was going to say Scotland, but when the penny dropped all you could hear was boos."
Gossip Girl
Get PEOPLE Everywhere
Advertisement