Jersey Shore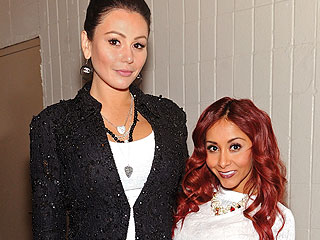 Credit: Jamie McCarthy/Getty for Clear Channel
Pregnancy is a wonderful thing, but as Nicole "Snooki" Polizzi reminds expectant BFF Jenni "JWoww" Farley, it can also be a pain in the butt – literally.

Fortunately, the reality star and mom to 16-month-old son Lorenzo offers her Snooki and JWoww costar some sage advice on how to stay comfortable.

"Sleep safe and keep hydrated, no Advil or Aleve," Polizzi texted in an exchange Farley posted to Instagram Christmas night. "No pushing on the toilet either."

"Yes mom!" replied Farley.
A Southern-fried Snooki?

If early buzz is any indication, it looks like the Jersey Shore is going country in Party Down South, CMT's new reality show premiering Jan. 16.

The show, which is the brainchild of Jersey Shore creator SallyAnn Salsano, follows the drinking and drama of eight Southern guys and gals as they summer on the South Carolina coast.
It's not every awards show where the ratio of cowboy hats per head outnumbers, well, everything else. Throw in a lot of boots and big hair and songs referencing various types of automobiles, and we reckon your Honky Tonk Badonkadonk's definitely at the CMA Awards.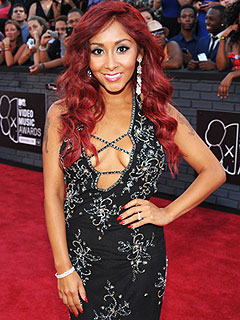 Nicole "Snooki" Polizzi loves being a mom to her 1-year-old son, Lorenzo, but there's one aspect of motherhood she's not so thrilled about – the toll it took on her body.

The former Jersey Shore star, who slimmed down after welcoming her first child with fiancé Jionni LaValle last year, reveals on Friday's episode of Bethenny that she hates her post-baby breasts.
It sounds like a long lasting friendship between Nicole "Snooki" Polizzi and Mike "The Situation" Sorrentino isn't a shore thing.

The former Jersey Shore costars, who experienced many ups and downs during the course of their time living together while filming MTV's hit show, are no longer in touch.

When asked if new Dancing with the Stars contestant Polizzi, 25, has received any pointers from Sorrentino – who competed with Karina Smirnoff on season 11 – she told PEOPLE on Monday, "I haven't heard from him in like a year and a half."
Snooki's son celebrated his first birthday Monday with a major milestone: He took his first steps!

Video of little Lorenzo, posted by Nicole "Snooki" Polizzi's fiancé, Jionni LaValle on his Instagram account, show the Jersey joy's first steps, which, happily, took place at home and not on a boardwalk.

In the video, the newly minted 1-year-old takes a few bold steps before taking a tumble onto a cushy rug.
Nicole "Snooki" Polizzi may have reformed her hard-partying ways, but her temper is still very much intact.

The former Jersey Shore star ripped into residents of Pelican Island, a community within the beach region that put her on the map, after they took action to try and stop her from filming part of the new season of Snooki & JWoww there later this summer.

On Sunday, more than 40 people met at the Pelican Island Property Owners Association meeting, and brainstormed ways they could prevent the pint-sized mama and her crew from filming in their community, which sits just outside of Seaside Heights where the original Jersey Shore was filmed.
Oh, mom!

When Jersey Shore star Vinny Guadagnino signed up to host his own talk show with his mother Paola, one thing he didn't expect was that she'd reveal his biggest secret.

"The most embarrassing thing that my mom has ever said about me was that I wasn't circumcised," Guadagnino, 25, tells PEOPLE. "That trumps everything! She said that when Jenny McCarthy came to do the show. I ran out of the room and I was like, 'No, no!'"
From T-shirt time to suit and tie!

Pauly D – real name Paul DelVecchio – shared a new look with his Instagram followers on Monday.

The former Jersey Shore star posted a photo of himself giving a double thumbs up to a very different hair do. It appears Delvecchio, 32, swapped his trademark blow-out for a sleek new hairstyle.

The "Back to Love" deejay captioned the photo, "#TheGreatDJGatsby !!!"
Jersey Shore