Jersey Shore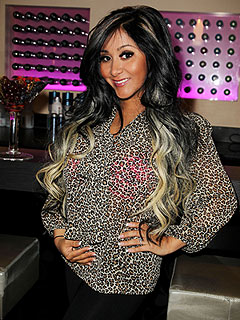 Credit: Amanda Schwab/Startraks
The world has just met its youngest guido.

Nicole "Snooki" Polizzi gave birth to a baby boy shortly before 3 a.m. Sunday, at Saint Barnabas Medical Center in Livingston, N.J.

"The world just got another Guido!!! Lorenzo Dominic LaValle has entered the world weighing 6 lbs, 5 oz. Nicole, Jionni & Enzo are doing great!" reports MTV.
Nicole "Snooki" Polizzi is about to become a mom.

The Jersey Shore star, 24, is in labor, her reps confirm to PEOPLE.

"Yes, Nicole has gone into labor," reps said late Saturday night. "While we understand she has fans everywhere – hospitals now included – we ask that her privacy be respected moving forward. We'll all get to meet her Italian Stallion newborn soon enough."

The baby boy, whom Polizzi has said she plans to name Lorenzo, will be the first child for the reality star and her fiancé Jionni LaValle.
– Lesley Messer
Call it fist-pumping for the future.

Having said he'd be available to deejay in the delivery room when his Jersey Shore castmate Nicole "Snooki" Polizzi has her baby boy in early September, Paul "Pauly D" DelVecchio is already sounding like a proud uncle.

"Snooki is going to make a great mother," DelVecchio, 32, told PEOPLE at Sunday's 2012 Teen Choice Awards. "She's a really nice girl, a sweet girl, and now that the partying is done because she's having this baby, I think she's going to be a great mother."

And when he's not spinning turntables or focusing on his Jersey Shore spinoff The Pauly D Project, the well-tanned man with the architecturally-impressive hair very much wants to play a major role in Snooki's newly reconstituted life.
Snooki might not be the only Jersey Shore star tying the knot soon.

Her costar Jenni "JWOWW" Farley and her long-term boyfriend Roger Mathews are also considering marriage, Farley tells PEOPLE.

"[Roger's] dad is dying for us to get married," she says. "He wants grandchildren. He texts me almost every day for that."
Snooki is really taking this baby thing seriously. She's quit drinking, she's cut back on partying and she's even quit tanning. Plus, she's getting practice with a stroller

Well, a stroller full of beer and party supplies.

Sporting hot pink shades, an oversized brown shirt that read "Boss," and – of course – her growing baby bump, Snooki looked more or less like her usual self when photographers caught her strolling through Seaside Heights, N.J., Monday.
Nicole "Snooki" Polizzi may be pregnant and sober, but she still couldn't stay upright while going for a stroll in platform sandals on the Jersey shore.

The Snooki & Jwoww star has taken spills before – but that's back when she and her Jersey Shore costars were partying! Now, they are back in Seaside Heights, filming Season 6, but none of her costars were around at the time.

"She's fine. She slipped. I don't know if it was the shoe that was the issue or something on the sidewalk like a bump or something that she tripped over," a source tells PEOPLE. "Sad thing was that the paparazzi all kept snapping their photos and no one went to help her. That's kind of sleazy. If you see any pregnant woman fall you should help them."

Maybe just flats from now on? Not anytime soon, adds the source: "She's feeling good and she loves her footwear. Jessica Simpson wore heels almost to the end."
– Evan Lambert and Lesley Messer
When reality TV star Nicole "Snooki" Polizzi found out she was pregnant last winter, she was nervous it would affect her plans for a Jersey Shore spinoff with castmate Jenni "JWOWW" Farley. However, as nerve-wracking as it was to 'fess up to her best friend, Polizzi says telling her father, Andy, was an even bigger ordeal.

"Oh, I was scared to tell my dad, of course!" says the 24-year-old, whose pregnancy was unplanned.

But these days her family is behind her 100 percent. "[My dad] is excited now. I think [my parents] are more excited than we are," Polizzi tells PEOPLE.

"I'm their only child and this is going to be their [first] grandchild."
If I were on a desert island with Jersey Shore's Mike "The Situation" Sorrentino, I would swim away into shark-infested waters. But Snooki? I would ignore passing ships. Maybe she would ask why the ocean has so much water. What an adorably dumb question! Maybe she would compare herself to that Gilligan Crusoe dude. I would smile indulgently and spear a fish for her supper. All Snooki moments are magical.

Snooki is the star, along with Jersey Shore colleague JWOWW, of the unimaginatively titled side project Snooki & JWOWW, premiering Thursday (10 p.m. ET) on MTV. Filmed during her current pregnancy and engagement to Jionni LaValle, the show allows Snooki to say of her unexpected journey to motherhood: "Instead of life throwing me a curve ball, it threw me a sperm ball."


Looking for a new home is serious business – but not if you're Nicole "Snooki" Polizzi and Jenni "JWOWW" Farley.

With their foul mouths and lack of boundaries, they can make just about anything – including parallel parking – seem entertaining. Or at least that's what they do in these clips from Snooki & JWOWW, which premieres Thursday (10 p.m. ET) on MTV.

While waiting on a realtor to meet them and show them around a potential new apartment, the roommates-to-be quickly realize that Snooki's going to have to parallel park her "ridiculously ghetto truck" on the side of the road. Problem is: Snooki doesn't really know how – so the scene quickly devolves into JWOWW manually pushing Snooki's truck out of the way of the other cars while Snooki drives. (Watch above.)
Nicole "Snooki" Polizzi headed back to the beach to begin filming the next season of MTV's Jersey Shore, and true to tradition, she hit club Karma on Saturday night – for the cameras.

But the engaged reality star, who is pregnant with a baby boy due in September, hardly seemed like the hard-partying girl viewers have come to know.

"She was sitting the whole time. It was very subdued of her," says a source, who adds that Polizzi, 24, did not appear to be drinking alcohol.
Jersey Shore
Get PEOPLE Everywhere
Advertisement