Jersey Shore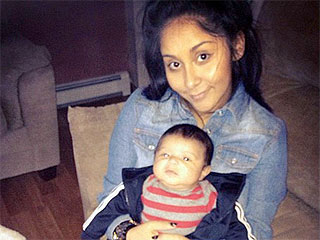 Credit: Courtesy of Nicole 'Snooki' Polizzi
Since becoming a mom in August, Nicole "Snooki" Polizzi has put a new spin on GTL: gym, tan ... Lorenzo!

So has she switched up her beauty routine, too?

The Jersey Shore star, 24, cuddled up to her 2-month-old son in a sweet, au naturale photograph. (That's right – no eyeliner, no problem!)

"Mommy & son," she Tweeted Saturday of the low-key glimpse into her life as a new mother.
It's pizza time!

On Wednesday night, Jersey Shore's Paul "Pauly D" DelVecchio and Vinny Guadagnino stopped into Artichoke Basille's Pizzeria & Bar in New York City for a late night snack.

"They came in and had pizza and drinks," an onlooker tells PEOPLE. "They were very friendly and hanging out with other customers."

"Vinny and Melanie Iglesias were sitting together for most of the time. She kept trying to get the group to leave but Pauly D was holding them back, socializing with the crowd, having a blast!" the source adds.
In Seaside Heights, N.J., Mike "The Situation" Sorrentino seems more likely to show ladies his rock-hard abs than his softer side.

But when it comes to animals, the Jersey Shore star trades GTL for a little TLC. This month, the reality star flaunted his six-pack for a cause, doffing his shirt on behalf of the People for the Ethical Treatment of Animals to speak up about pet overpopulation.

"I am happy that my fans are getting to see another side to me. I feel that a person has many sides to them," he tells PEOPLE of his decision to pose in a set of ads for the animal-rights group. "I am proud to be caring and sensitive, so I'm really excited that my fans are finally getting to see that."
I love food! So it's not much of a surprise that I prefer to get my nutrients from meals rather than pills, powders and potions.

But even without me as a customer, the supplement industry is BOOMING. Americans spend billions of dollars on products touted to help them lose weight, boost energy, restore hair loss or improve sleep. Just yesterday I saw not one, but two different cast members of MTV's Jersey Shore hawking weight loss pills on Internet ads.

When I was in graduate school, I worked as a nutrition scientist for the Department of National Defence in Canada.

My first assignment was to review all the research that had ever been published on supplements that claimed to increase strength, endurance, energy and muscle gain.

I was shocked to learn that many of the "magic pills" marketed to the general public are nothing more than hype. From smilax to velvet deer antler, and boron to vanadyl, there was no evidence to show these things actually did much of anything helpful.

It made me wonder why no one was asking for proof. Where was the hard evidence these companies claimed to have that proved their products were as effective as the advertising promised?
The final season of Jersey Shore is quickly approaching, but that doesn't mean the party's over just yet!

Paul "Pauly D" DelVecchio, Mike "The Situation" Sorrentino and Ronnie Ortiz-Magro spent a night out at Bootsy Bellows in West Hollywood on Tuesday.

Wearing their signature T-shirts, the cast mates arrived around 11:30 p.m. but didn't spend too much time together.

Nestled in a VIP room, "Ronnie spent a lot of time texting and on his phone while Mike was laid back and relaxed," an onlooker tells PEOPLE. "Pauly was the most social chatting with a lot of people."

Around 12:15 p.m. Pauly left the VIP room to say hello to Paris Hilton.

While there was no fist-pumping to be seen, that didn't stop the Jersey Shore stars from staying until the club closed.
– Jennifer Garcia
JWOWW, that's a big ring!

Jersey Shore's Jenni "JWOWW" Farley is engaged to boyfriend Roger Mathews, the reality star confirms.

Mathews, 37, asked for his girlfriend of two-and-a-half years' hand in marriage after the couple went skydiving, presenting Farley, 27, with a pink and white diamond engagement ring that boasts roughly 7.5 carats.

On Wednesday, Farley thanked fans on Twitter for their support. "Thank u everyone on the engagement wishes," she wrote.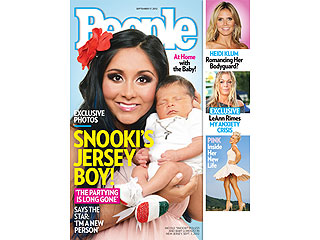 Talk about sacrificing for your kid.

For months now, it's been fifty shades of pale for Nicole "Snooki" Polizzi, who had to forgo the tanning light after becoming pregnant with her first child.

Now, the wait is finally over. Snooki has her bronze mettle back!

"Omg," Tweets the pint-sized Jersey Shore star, 24, who gave birth to son Lorenzo on Aug. 26, "just went tanning since like a year ago."


Call him Uncle Pauly D!

Nicole "Snooki" Polizzi's Jersey Shore costar gushed to PEOPLE about being a part of her newborn son's life.

"That baby is adorable," he says of Lorenzo, who graces the cover of PEOPLE this week. "He already has hair! We are doing a blow out!"

The deejay, who attended MTV's VMA bash Thursday, says the upcoming premiere of his reality show's final season will be "bittersweet."
For the past few summers, Nicole "Snooki" Polizzi relished going to the Jersey Shore while film crews captured her every salacious move.

But last summer, when the 4'9" reality star was entering her third trimester (she welcomed son Lorenzo Dominic with fiancé Jionni LaValle on Aug. 26), everything felt different.

"It was definitely a little lonely," Polizzi, 24, reveals. "Everyone was still going out and staying up late and I just wanted to go to bed at 8 o'clock. I didn't want to do everything that everyone else was doing."

As she says in this week's cover story, Polizzi became "a new person" after discovering she was pregnant with her son. "Everything changed," she reflects. "The partying is long gone."
It's the end of the first-pumping era.

Almost three years after the world was introduced to Guidos and grenades, MTV will air the premiere of Jersey Shore's final season on Oct. 4 at 10 p.m. ET, the network announced in a statement on Thursday.

On Sept. 6, the network will air a special called Gym, Tan, Look Back, airing at 6 p.m. ET, where the cast will reflect on prior seasons and a sneak peak will be shown of what's to come in the final one.
Jersey Shore