Jersey Shore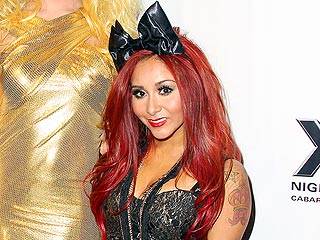 Credit: Kristina Bumphrey/StarTraks
No meatball here!

Just five months after giving birth to son Lorenzo, Nicole "Snooki" Polizzi says she's shed the 44 lbs. she gained during her pregnancy.

"Right now I'm 109 lbs., and I've been working out with a trainer since Halloween," Polizzi, 25, told PEOPLE at Logo's season 5 premiere party for RuPaul's Drag Race in New York on Friday. "I go four times a week, and we do legs, arms and everything. And after every one-hour workout, I do an hour of cardio."

But she's the first to admit earning her post-baby body was hard work.
It was just four short months ago that Nicole "Snooki" Polizzi gave birth to a baby boy, Lorenzo, revealing her maternal side to world.

But the pint-sized reality star says she's already thinking about giving the little meatball a sibling.

"I already want another baby," the Jersey Shore star, 25, tells Cosmopolitan.com.
Gym, tan, laundry ... and tears.

Three years, six seasons and two spin-offs after Jersey Shore's December 2009 premiere, the pop culture phenomenon that extended Ed Hardy's shelf life and gave the importance of hair gel an entirely new meaning is bidding adieu to TV.

In honor of the reality show's grand finale, airing at 10 p.m. on Thursday, PEOPLE caught up with the cast and got some behind-the-scenes scoop from the final days of filming.

Here are five things we know you won't be seeing in the finale that Mike "The Situation" Sorrentino, 31, calls, "humorous with a little irony":
Nicole "Snooki" Polizzi has traded in dance clubs for diaper duty, but that doesn't mean she's ashamed of her hard-partying ways.

"[My wild days] aren't really a big deal," the Jersey Shore star and new mom to son Lorenzo told PEOPLE on Tuesday. "Everyone thinks, 'Oh my God, what are you going to tell Lorenzo?' "

Explains the 25-year-old, "I was 21 years old and I did what everybody else did, but it was just on camera. [I'll tell him], 'Learn from my mistakes and once you go through them, you're going to know how to deal with them.' "
Stars are stepping up to help with relief efforts after Superstorm Sandy ravaged the East Coast.

Lady Gaga announced on her website she would pledge $1 million to New York and American Red Cross for Superstorm Sandy relief.

"If it wasn't for NYC: the Lower East Side, Harlem, the Bronx and Brooklyn, I would not be the woman or artist that I am today," she wrote. "New York is relentless ambition, a drive to succeed, a place where there is a natural pursuit of diversity through compassion."
Since becoming a mom in August, Nicole "Snooki" Polizzi has put a new spin on GTL: gym, tan ... Lorenzo!

So has she switched up her beauty routine, too?

The Jersey Shore star, 24, cuddled up to her 2-month-old son in a sweet, au naturale photograph. (That's right – no eyeliner, no problem!)

"Mommy & son," she Tweeted Saturday of the low-key glimpse into her life as a new mother.
It's pizza time!

On Wednesday night, Jersey Shore's Paul "Pauly D" DelVecchio and Vinny Guadagnino stopped into Artichoke Basille's Pizzeria & Bar in New York City for a late night snack.

"They came in and had pizza and drinks," an onlooker tells PEOPLE. "They were very friendly and hanging out with other customers."

"Vinny and Melanie Iglesias were sitting together for most of the time. She kept trying to get the group to leave but Pauly D was holding them back, socializing with the crowd, having a blast!" the source adds.
In Seaside Heights, N.J., Mike "The Situation" Sorrentino seems more likely to show ladies his rock-hard abs than his softer side.

But when it comes to animals, the Jersey Shore star trades GTL for a little TLC. This month, the reality star flaunted his six-pack for a cause, doffing his shirt on behalf of the People for the Ethical Treatment of Animals to speak up about pet overpopulation.

"I am happy that my fans are getting to see another side to me. I feel that a person has many sides to them," he tells PEOPLE of his decision to pose in a set of ads for the animal-rights group. "I am proud to be caring and sensitive, so I'm really excited that my fans are finally getting to see that."
I love food! So it's not much of a surprise that I prefer to get my nutrients from meals rather than pills, powders and potions.

But even without me as a customer, the supplement industry is BOOMING. Americans spend billions of dollars on products touted to help them lose weight, boost energy, restore hair loss or improve sleep. Just yesterday I saw not one, but two different cast members of MTV's Jersey Shore hawking weight loss pills on Internet ads.

When I was in graduate school, I worked as a nutrition scientist for the Department of National Defence in Canada.

My first assignment was to review all the research that had ever been published on supplements that claimed to increase strength, endurance, energy and muscle gain.

I was shocked to learn that many of the "magic pills" marketed to the general public are nothing more than hype. From smilax to velvet deer antler, and boron to vanadyl, there was no evidence to show these things actually did much of anything helpful.

It made me wonder why no one was asking for proof. Where was the hard evidence these companies claimed to have that proved their products were as effective as the advertising promised?
Jersey Shore