Project Runway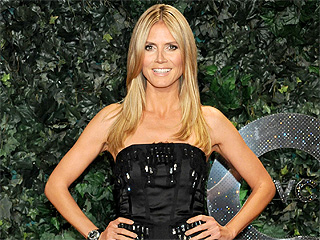 Credit: Gregg DeGuire/WireImage
Heidi Klum may have dressed up as a 95-year-old woman for Halloween – complete with wrinkles and age spots – but the supermodel insists that she's not scared of getting old.

She finds the idea of plastic surgery far more frightening.

"I've never done anything," Klum, 40, said during an interview on Access Hollywood Live on Thursday. "I've been too scared, to be honest with you."

The Project Runway host says she hasn't had fillers or injections and has come up with a simple solution for those pesky lines on her forehead.
Heidi Klum believes in letting out her wild side in between the sheets.

"It's good to make an effort to dress up sometimes – to do things outside of the norm," the fashion mogul, who is currently courting bodyguard Martin Kirsten, tells Marie Claire in its February issue.

"Some people are more experimental in bed and others are more boring. If you are wild and crazy, bring it on so the other person is well aware that you have little devil horns that come out every once in a while."
Heidi Klum has so far been successful in passing down strong sense of style to her children.

"We have a rule in the house," the supermodel recently told reporters during a conference call. "Rule No. 1 is always to look cool, and rule No. 2 is don't forget about rule No. 1. We have other rules ... but the No. 1 rule is to always look cool."

Of her four kids – Leni, 8, Henry, 6½, Johan, 5½, and Lou, 2½ – the first two take the rule "very seriously," Klum says. "Henry changes clothes 10 times a day and he wants to be very cool. I mean, he would wear a T-shirt and then he will wear a tie just around his neck, knotted, and then a belt over the shirt."
Another trip down the aisle for Heidi Klum? Maybe not.

In a rare moment of candor, the Project Runway judge told the weekly newspaper Bild am Sonntag" that she's not sure she'll ever marry again – although she did love being married to Seal.

"I don't know if I'll get married again," Klum, whose separation (after seven years of marriage) was announced in January, is quoted as saying.

"Although I really enjoyed being married. I'm a dreamer. I loved our annual fairy tale weddings that were our big family parties. But sadly, it somehow didn't work out."
For Katie Holmes, the show must go on.

The actress, who on Friday filed for divorce from her husband of five years, Tom Cruise, kept her previously scheduled Monday appearance on the Lifetime reality fashion competition Project Runway: All Stars, PEOPLE has learned.

And according to judge Isaac Mizrahi, Holmes, who appeared as a guest judge, was a nice addition to the show. "She did great," he told PEOPLE after the taping.
Looking sharp!

Last year, Project Runway host Heidi Klum shed her clothes to kick off the new season of the show.

But for season 10, Klum "covered up with lingerie" and lounged atop hundreds of pairs of scissors.

The model, who is no stranger to out-there photo-shoots or posing nude, admits that she was a little scared by the prospect of blades at her back.

"I got to the shoot and I thought they'd add the scissors in editing afterward," she tells PEOPLE. "But nope, they wanted me to lie down right in the middle of the pile!"


Project Runway is back! And it's the design competition's 10th anniversary season.

"I can't believe that it is Project Runway's 10th anniversary already!" says host and judge Heidi Klum."What an amazing milestone. I'm incredibly proud of the show and everything we've accomplished."

The new season, which kicks off Friday with a live runway show in New York City's Times Square, will begin airing July 19 (9 p.m. ET) on Lifetime.
Thursday's Project Runway All Stars finale was its own animal: designers had just four days to create a six-piece collection, shown to a fashionable crowd at New York's Gotham Hall. No extra time, no New York Fashion Week – and no Tim Gunn.

But the finalists – Austin Scarlett, Michael Costello and Mondo Guerra – pulled it off, each presenting a polished mini-collection that showcased their personalities.

Judges Angela Lindvall, Georgina Chapman, Isaac Mizrahi and guest judges Tommy Hilfiger and Neiman Marcus fashion director Ken Downing loved all three, calling Austin's the "most artistic," Michael's "commercial" and Mondo's "cohesive" and even "witty." So who won? Keep reading to find out.
It's been a while for Tim Gunn, but don't feel sorry for him.

The Project Runway star revealed Tuesday on the ABC talk show The Revolution that he hasn't been intimate with anyone for 29 years. But that's just fine with him, he added.

"I haven't had sex in 29 years. Do I feel like less of a person for it? No. Not even remotely," said Gunn, 58, to applause from the audience.
He tied the knot just seven weeks ago, but Isaac Mizrahi is already singing the praises of married life.

"It's amazing," the designer, 50, told PEOPLE during Thursday's Project Runway All Stars panel at New York's Paley Center. "I recommend it a lot."

Mizrahi eloped with his partner of six years, Arnold Germer, at New York's City Hall on Nov. 30. But the news of his nuptials didn't make headlines until early January, when he appeared on The Wendy Williams Show.
Project Runway