Project Runway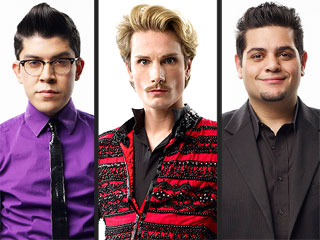 Credit: Joey L/Lifetime
Thursday's Project Runway All Stars finale was its own animal: designers had just four days to create a six-piece collection, shown to a fashionable crowd at New York's Gotham Hall. No extra time, no New York Fashion Week – and no Tim Gunn.

But the finalists – Austin Scarlett, Michael Costello and Mondo Guerra – pulled it off, each presenting a polished mini-collection that showcased their personalities.

Judges Angela Lindvall, Georgina Chapman, Isaac Mizrahi and guest judges Tommy Hilfiger and Neiman Marcus fashion director Ken Downing loved all three, calling Austin's the "most artistic," Michael's "commercial" and Mondo's "cohesive" and even "witty." So who won? Keep reading to find out.
It's been a while for Tim Gunn, but don't feel sorry for him.

The Project Runway star revealed Tuesday on the ABC talk show The Revolution that he hasn't been intimate with anyone for 29 years. But that's just fine with him, he added.

"I haven't had sex in 29 years. Do I feel like less of a person for it? No. Not even remotely," said Gunn, 58, to applause from the audience.
He tied the knot just seven weeks ago, but Isaac Mizrahi is already singing the praises of married life.

"It's amazing," the designer, 50, told PEOPLE during Thursday's Project Runway All Stars panel at New York's Paley Center. "I recommend it a lot."

Mizrahi eloped with his partner of six years, Arnold Germer, at New York's City Hall on Nov. 30. But the news of his nuptials didn't make headlines until early January, when he appeared on The Wendy Williams Show.
Thirteen veteran designers, who were sent home early from their seasons of Project Runway, faced off on Thursday's premiere of Project Runway: All Stars, hoping for a chance to win a prize package worth nearly $500,000.

For their first challenge, the all-stars were each given $100 to shop at a 99-cent store and had to compile an outfit from their purchases.

In the top were season 5's Jerell Scott, who used scarves and placemats to make a dress, and season 8 runner-up Mondo Guerra, who opted for trash bags and electrical tape.

But judges Isaac Mizrahi and Georgina Chapman were most impressed with season 4 runner-up Rami Kashou's dress, which was constructed from laundry bags, Christmas tinsel and other household materials. He won the first round of competition.
Michael Kors stepped out for dinner with two friends at The Stand in New York. The designer and his pals all ordered classic burgers with American cheese, onion rings and fries. Says a source of the Project Runway judge, who's always quick with a snarky quip: "He was polite and relaxed." – Kristin Boehm
When she auditioned for Project Runway, she admitted she'd only been sewing for four months, but now Anya Ayoung-Chee is a bona-fide designer – with more than $100,000 in the bank.

The former Miss Trinidad and Tobago won Project Runway, a well-kept secret not revealed until Thursday night's episode.

"I finally feel like I can enjoy it now that I can tell everybody," Ayoung-Chee tells PEOPLE. "It's really overwhelming. I came from not expecting to go past the casting because of my sewing skills ... it's just the most unbelievable story, and I'm just along for the ride."
It came down to four.

The finalists of Project Runway's ninth season – Viktor Luna, Joshua McKinley, Kimberly Goldson and Anya Ayoung-Chee – had five weeks and $9,000 each to create a collection to be showcased at New York's Fashion Week.

So, which designer made it in the end? Keep reading to find out:
A lot of designers are out – but four are still in. Project Runway chose its finalists Thursday night, and in a not-so-surprise twist (it's happened before) all four remaining designers were sent through to New York City Fashion Week.


When Heidi Klum told the Project Runway contestants they'd have to "spread [their] wings" this week, no one would've guessed she was being literal.

But designers met Tim Gunn in the workroom, and were greeted by four live birds – the inspiration for Thursday night's challenge.

The remaining six were split into teams of two and tasked with designing garments based on the bird assigned to their team. But Tim soon threw in a twist: teammates would actually be working against one another, creating their own looks. One team member would end up on top, the other in the bottom three. The winner would have his or her look featured in a L'Oréal advertorial – and win $20,000.
When everything that can go wrong does go wrong – well, sometimes, it's not necessarily a bad thing. That seemed to be the motto of Thursday's Project Runway, which centered on a frazzled Anya – who ultimately came out on top.

This week's assignment was to create a look inspired by the 1970s (not to be confused with their last challenge) and the winning garment would be produced and sold on Piperlime.com. Designers had $100 for their trip to Mood; some went for muted shades, some grabbed prints – and Anya lost her $100 after it fell out of the top of her pocket-less dress and disappeared into the rows of fine fabrics.

With no cash, the Runway standout had to scrape together whatever change her fellow contestants would give her; she ended up with $11.50 (courtesy of Anthony Ryan), enough to buy minimal yardage of a black-and-tan printed fabric, some buttons and a zipper.
Project Runway