The Real Housewives of Atlanta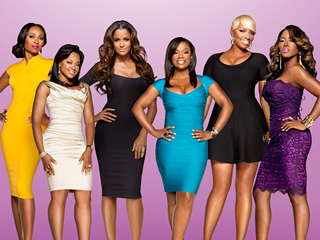 Credit: Alex Martinez/Bravo
NeNe Leakes tossed enough shade on Sunday's The Real Housewives of Atlanta to chill the state of Georgia.

At a spa day with Kandi Burruss, Phaedra Parks and Porsha Williams, Leakes opted to massage her vocal muscles, first taking on former BFF Cynthia Bailey.

"When we stopped talking, I missed her friendship," Leakes said of Bailey, recalling their feud on last season's reunion. "Now I'm over it. Cynthia is trying to make her mark. It really doesn't look cute on her. I'm never gonna be friends with her again. Ever!"
Just when you thought things couldn't get any uglier between Phaedra Parks and husband Apollo Nida, the relationship went from bad to worse on Sunday's The Real Housewives of Atlanta.

"Phaedra is very calculated," said Nida, who is currently serving eight years in prison for bank fraud. "I despise everything about her, but I still love her."

Nida secretly met with an attorney to discuss divorcing Parks – before she could divorce him while he was in jail.

"I don't have anything," Nida told the laywer. "The government's taken everything."
Apollo Nida dropped a bombshell on Sunday's The Real Housewives of Atlanta when he apologized to Kenya Moore and admitted he lied about her wanting to have sex with him in L.A. last season.

"I apologize to you. It was a lie," Nida said of the allegation that infuriated his wife, Phaedra Parks, last year and made her and many of the wives turn their backs on Moore.

"You don't get what I've been through because of the things you said to your wife," said Moore. "She [said] I did these things, and they believed it. I've never been anyone's whore."
Season 7 of The Real Housewives of Atlanta started where The Real Housewives of New Jersey ended – with some of its cast in legal trouble.

On its premiere Sunday night, viewers were able to peek behind the scenes at Phaedra Parks's husband Apollo Nida's sentencing day, just as they were for Joe and Teresa Giudice's fraud indictments.

"Life is extremely difficult right now," said Parks, who took her two sons, Ayden and Dylan, leaving her husband alone on his day in court. "Apollo's actions are the ultimate betrayal … I thought he was a changed man."
Real Housewives of Atlanta star Phaedra Parks says she had no clue that her estranged husband, Apollo Nida, had been engaging in illegal activities, telling Ellen DeGeneres that she was blindsided up until the moment he contacted her for help after he was in police custody.

"I didn't have any idea this was going on until he called me and said 'Hey, I've been arrested,' " Parks confides on The Ellen DeGeneres Show in an interview airing Wednesday.
Real Housewives of Atlanta star Phaedra Parks's impending divorce is far from the happy ending she was hoping for.

"Phaedra is really disappointed with how all of this has turned out," a source close to Parks tells PEOPLE.

Her estranged husband, Apollo Nida, is currently serving an eight-year prison sentence on multiple fraud charges.

Despite Nida's previous run-ins with the law, including a stint in prison prior to their 2009 wedding, the source says, "I don't think [Phaedra] had any idea that [illegal activity] was going on."

Moving forward, "this divorce is going to be the best thing for her," says the source. "Apollo was always really jealous of her success and the fact that she was the breadwinner."
Phaedra Parks and Apollo Nida are no more.

The Real Housewives of Atlanta star "has retained an attorney with the intent of amicably ending her marriage," her rep Steve Honig tells PEOPLE.

The news shouldn't come as a surprise to Nida, who told radio station Atlanta B100 in July that he doubted his marriage would survive his stint in jail.
There's a new housewife in Hotlanta – and one Southern belle is missing from the lineup.

Porsha Williams will only have a "recurring role" in the new season of Real Housewives of Atlanta, Bravo announced Wednesday.

Williams infamously fought with frenemy Kenya Moore during the spring taping of the reunion special, and their brawl landed her in jail on a battery charge.

Now, the network says, the ex-wife of football player Kordell Stewart is "enjoying a fresh chapter in her life" as a single woman and entertainment correspondent on Dish Nation.
The Real Housewives of Atlanta
Get PEOPLE Everywhere
Advertisement